Floyd Mayweather Is in Enjoyable Position of Power over Manny Pacquiao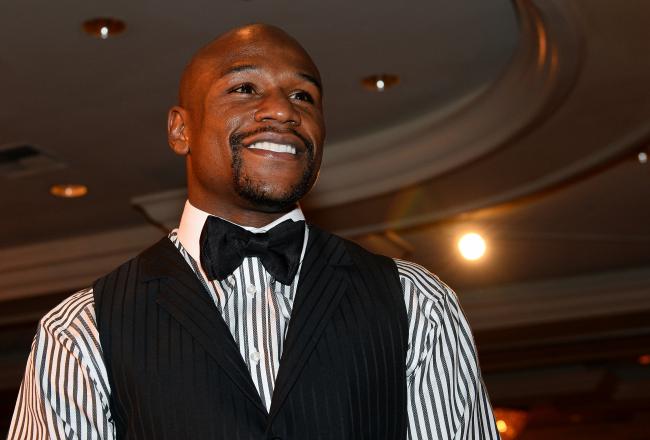 Ethan Miller/Getty Images
Floyd Mayweather is in a position to hand Manny Pacquiao a knockout without ever stepping into the ring with him. And I'm sure he is loving it.
While Mayweather's career continues to roll along in spectacular, undefeated fashion, Pacquiao's is stalling out with two straight defeats—the last of which was a brutal knockout.
This leaves Mayweather in an obvious position of power in the long standing negotiating relationship between these two.
The two fighters have had a long and contentious battle as multiple attempts to get them in the ring together have failed. Things got sidetracked far enough between the two that Pacquiao actually sued Money for defamation after Mayweather accused Pacman of using performance enhancers.
Pacquiao wound up dropping the lawsuit, but the message has made clear time and again that these two have ample amounts of animosity between each other, and their competitive spirit has found them waging battles outside of the ring.
This also has been apparent in the haggling over the cash dispersal for this fight.
Money has embraced his identity as the sport's highest earner as much as he has as the pound-for-pound best fighter. He will flaunt it to anyone who will listen, and he has been intent on proving this to Pacquiao.
He's wanted a bigger share from this fight than Pacquiao all along. Meanwhile, Pacquiao's camp has begun agreeing to make concessions in the pay department.
According to Pacquiao's adviser Michael Koncz, via ESPN last May, the Filipino legend is willing to get in the ring with Mayweather for 40 percent.
Meanwhile, none of the concessions appear to be bringing us any closer to this fight actually becoming a reality.
While just a couple of weeks ago Mayweather told the world he would fight Pacman if the former champ agreed to sign with Mayweather promotions, he is now saying there is no chance the two will fight.
In that video, courtesy of MLive.com, Floyd says:
How are things today? He's not going to get a chance to fight me. I was feeling that way weeks ago. Now, I'm feeling like I wouldn't even give him a chance. He had a chance, he blew it, so that's what it is.
Make no mistake about this comment, it is not just a jab at Pacquiao but a chance for Mayweather to stick it to his former, and Pacquiao's current, promoter Bob Arum.
Now, none of this means that Pacquiao and Mayweather will never fight. As we've seen, Money can change his mind in a hurry. However, what I am sure of, is that Money is not going to fight Pacquiao unless it is a deal that clearly benefits him.
With Pacquiao's reputation in the ring sinking, Mayweather isn't getting heat for ducking Pacquiao any longer—especially now that he is taking on the undefeated Saul Alvarez. This means there is little to no backlash for Money not agreeing to a fight with Pacquiao.
This allows Money to sit back and patiently wait for the deal that is right for him—all the while flexing his muscle as the king of the boxing world.
And with Mayweather, I believe he receives just as much contentment with a victory in the business sense as much as any victory in the ring.
This article is
What is the duplicate article?
Why is this article offensive?
Where is this article plagiarized from?
Why is this article poorly edited?