NASCAR Pure Michigan 400 2013: Live Results, Updates and Reaction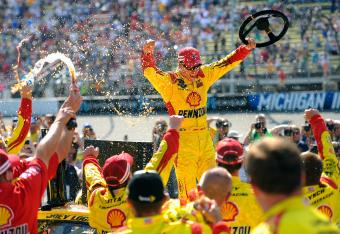 Jared C. Tilton/Getty Images
After a race at Michigan International Speedway that was filled with cautions, Joey Logano managed to save enough fuel to get his first win of the season, and his first win as a driver for Penske Racing!
There were several drivers who ran strong today, from Dale Jr to Greg Biffle.
However, tires seemed to be a major issue throughout the day with drivers spinning out and hitting the wall as tires would go flat.
Tires were also part of the strategy in pit road. Crew chiefs gambled on taking two tires instead of four, in favor of track position. A driver could go from running up in the front to running back in 15th, and wouldn't be able to get back into the top 10 because of all the traffic.
More importantly though, Joey Logano's win at Michigan shakes up the wild card spots for the Chase. Logano is now a contender for one of the two wild card positions, and if he can continue to run well in the last three remaining races of the season, he could make the Chase.
Other drivers like Brad Keselowski and Kurt Busch continue to make strides to grab a post season spot, while drivers like Jeff Gordon continue to slip.
And while it seems as though Jimmie Johnson is a strong contender at every track NASCAR goes to, his bad luck at Michigan continued as he blew his engine and saw his day end early.
There are three races left until the Chase, and the standings continue to change as more drivers make a push for the post season.
Make sure to join us here at the Bleacher Report next weekend as we cover the Irwin Tools Night Race at Bristol Motor Speedway.
Winner at Michigan: Joey Logano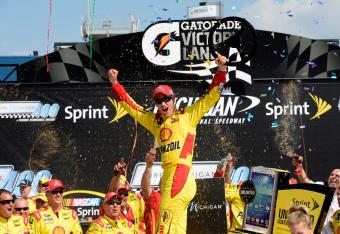 After a race filled with cautions and fast speeds, Joey Logano managed to save enough fuel to win, and now has a solid chance to make the Chase!
Thanks for joining us here on the Bleacher Report, and make sure to join us again next weekend for the Irwin Tools Night Race at Bristol Motor Speedway.
Logano gets his first win of the season, and his first win as a Penske Racing driver. He also looks like a possible wild card driver for the Chase, if he can continue to run well at the upcoming races.
Joey Logano wins at Michigan!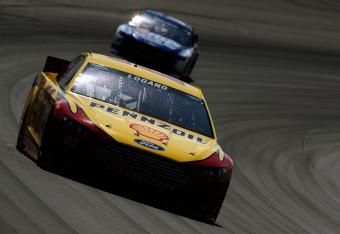 Mark Martin is out of gas with four Laps to go. Logano is the new leader.
Mark Martin isn't the only driver worrying about fuel. Logano, Harvick and several other drivers are pushing it to the max with their fuel.
Mark Martin: "I have not touched the brakes since the restart, so that's about all I can do."

— Jeff Gluck (@jeff_gluck) August 18, 2013
14 laps to go. Can Mark Martin hold off Joey Logano?
Top 10: Martin, Logano, Harvick, Kurt Busch, Menard, Bowyer, Ambrose, Kahne, Burton, Biffle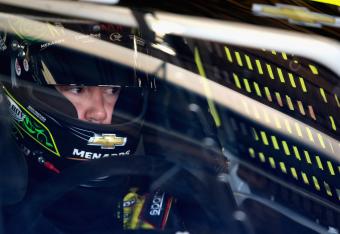 Paul Menard is running very well today. He is currently in fifth place. Michigan is one of his better tracks. He doesn't have a real chance to make the Chase, but today is shaping up to be a solid run for the young driver nonetheless.
The two team decided to play it conservatively. He will be able to go full force while others will have to save fuel.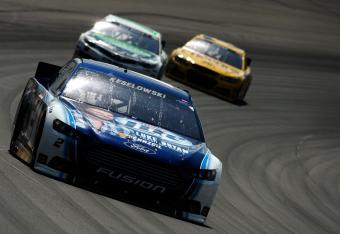 With Kyle Busch spinning out, it gives Brad Keselowski a huge break. They decide to pit because they don't want to risk running out of gas.
Caution comes out as Kyle Busch spins again.
Looks like this race is turning into a fuel mileage battle. Keselowski is being told that other drivers are 1-3 laps short on fuel, and will need to pit again if they can't stretch it out.
Top 10: Keselowski, Martin, Almirola, Harvick, Kurt Busch, Logano, Newman, Menard, Bowyer, Burton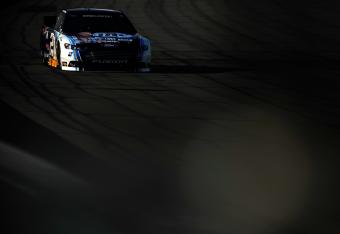 Keselowski gets passed Mark Martin for the lead.
back to green flag racing again, and drivers continue to go four wide through turn one.
Even though drivers went to pit road, they are still short on fuel. They will have to try and save fuel and gamble, or eventually pit again.
Kyle is lucky he didn't get hit as he spun out at about 190 mph. Will he be able to recover?
Trouble on turn two. Kyle Busch seemed to spin out, and possibly hit the wall. He saved the car though.
Back to green flag racing. These drivers are going four wide into the first turn!
Top seven cars stay out, and others like Keselowski and Kyle Busch head to pit road.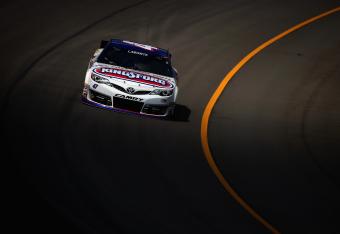 Caution out as bobby Labonte spins out. Seventh caution of the day.
Top 10: Logano, Harvick, Kenseth, Biffle, Menard, Edwards, Montoya, Keselowski, Kahne, Kyle Busch
Jeff Burton who was having a good day, took four tires when he went to pit road. He went from third to 16th.
Dale went back to the garage. How much of this race will the 88 team be able to salvage?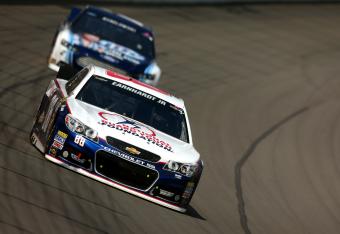 Dale hit the wall, and wants to put a fresh tire on the car to see if they can stay out and race. If he has to go to the garage, it could impact his spot in the standings dramatically since other drivers who are lower in the standings are running well today.
This article is
What is the duplicate article?
Why is this article offensive?
Where is this article plagiarized from?
Why is this article poorly edited?