Picking the Right Manchester City XI to Face Newcastle in Premier League Opener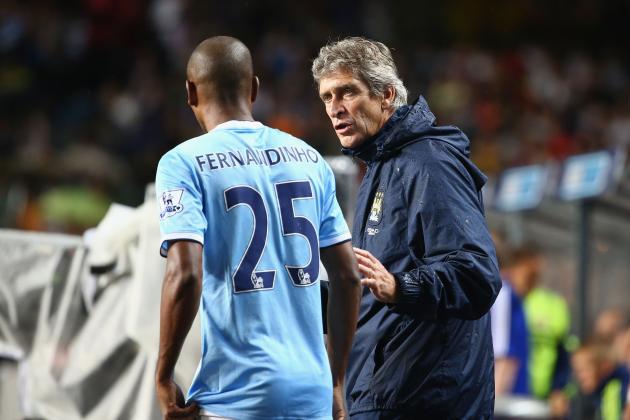 Robert Cianflone/Getty Images
Just a couple of guys embarking on the adventure of a lifetime.
Manchester City open their 2013-14 Premier League campaign against Newcastle United at Etihad Stadium this coming Monday.
Newcastle put in a largely underwhelming shift last season and may have been lucky to avoid the drop.
Before you mark these as three easy points to City, though, recall that the Sky Blues opened last season at home to newly promoted Southampton and quite nearly made a meal of it.
City manager Manuel Pellegrini is not going to outsmart himself picking his XI for his first Premier League match.
As Simon Curtis of ESPN FC aptly put it, while City's preseason left them with more losses than wins, it did provide "insight into which players may be expected to start against Newcastle United."
Realistically, then, there are only two or three starting positions in question at Manchester City.
Here is what Monday's XI might look like.
Begin Slideshow

»
Robert Cianflone/Getty Images
Raise your hands if you're starting against Newcastle.
You were expecting Costel Pantilimon, or maybe Richard Wright?
Joe Hart is City's first-choice keeper. He is also England's first-choice keeper.
Perhaps he could do with some rest once in a while, as City have sent Hart out for every Premier League match since he became their starting keeper.

Until further notice, though, no City XI in the Premier League or in Champions League play will be without Hart unless he is injured.
Certainly, Pellegrini is not going to gamble with anyone else in his Premier League debut match.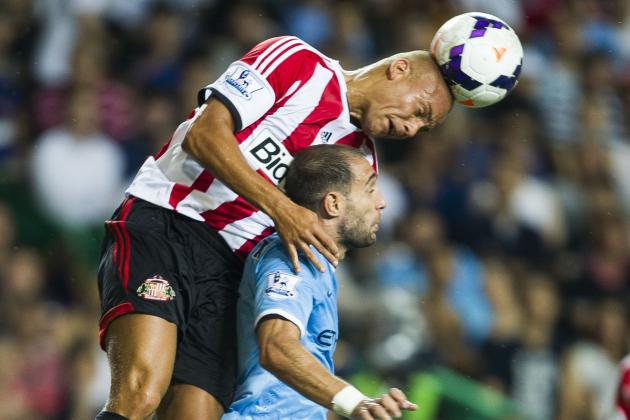 Victor Fraile/Getty Images
Zabaleta will need to stand tall for City again this season.
It is a rare thing when a right back can be a team's best player. But that is exactly what Pablo Zabaleta was for Manchester City for long stretches of City's star-crossed 2012-13 season.
Zabaleta was compelled to become much more of a two-way threat for City last season by injuries to some teammates and the ineffectiveness of some others.
While Zabaleta does not play with the flair of Gael Clichy or the staunch immovability of Vincent Kompany, he is plenty effective.
Pellegrini is fortunate to have three backs he can trust entering the season. Zabaleta is one of them.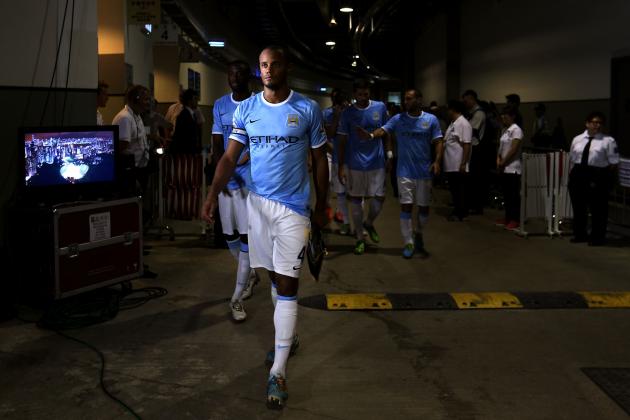 Chris McGrath/Getty Images
Kompany is always the picture of cool.
The 2012-13 season was not a great one for Vincent Kompany, who missed time with nagging injuries and had occasional moments of iffy play.
Still, Kompany is a world-class defender in a league where exceptional centre-backs are in terrifically short supply.
Kompany figures to be playing with plenty of motivation. He is City's captain. His side is coming off a disappointing season in their own right, and Kompany will want to show that he is still elite.
As with Hart, none of City's plans going forward do not involve Kompany.
Especially with the recent injury to Matija Nastasic, Pellegrini will be leaning heavily on Kompany for the foreseeable future.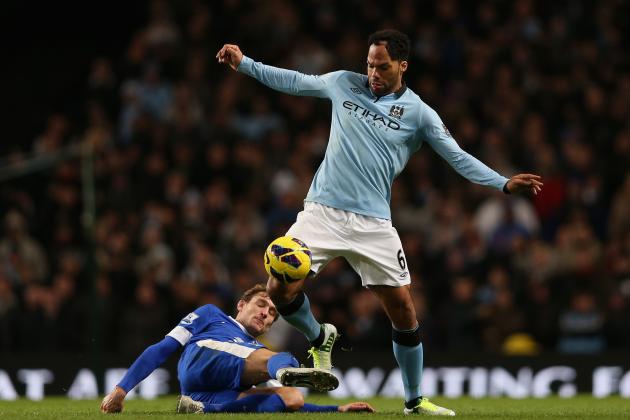 Clive Brunskill/Getty Images
Will turnabout be fair play for Lescott at City?
A number of Manchester City players were reported to be relieved when Roberto Mancini was sacked last spring.
Joleon Lescott could be excused for rejoicing, at least inwardly.
Lescott lost his job to Matija Nastasic early in the 2012-13 season and never seriously threatened to win it back.
Now Nastasic is laid up, and City is ostensibly short a centre-back.
That is, unless Lescott can again summon up the high level of play he exhibited at the Etihad before last season. Perhaps being paired again with Kompany will help Lescott find his form.
Pellegrini has little choice but to start Lescott against Newcastle.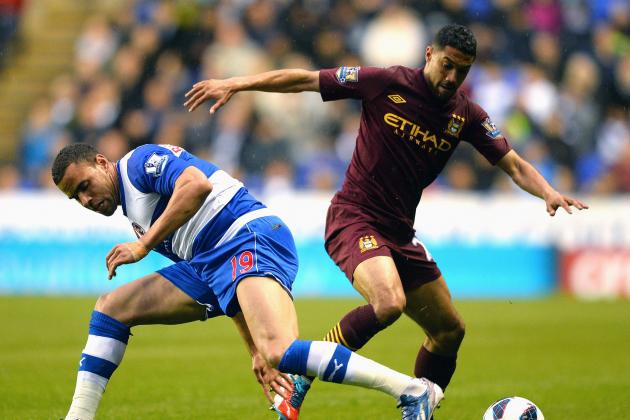 Laurence Griffiths/Getty Images
Clichy is a key cog in Man City's defensive machine.
Gael Clichy overcame a few early stumbles to solidify his place in City's starting lineup as the 2012-13 season wore on.
City had the stingiest defense in the Premier League. Clichy could lay more than a small claim to credit for City's defensive prowess.
Clichy was so consistently good last season that, on a side where just about every position is contested by two or even three players, no one is much pushing Clichy for his spot these days.
Pellegrini would be wise to leave his left-back just as he found him.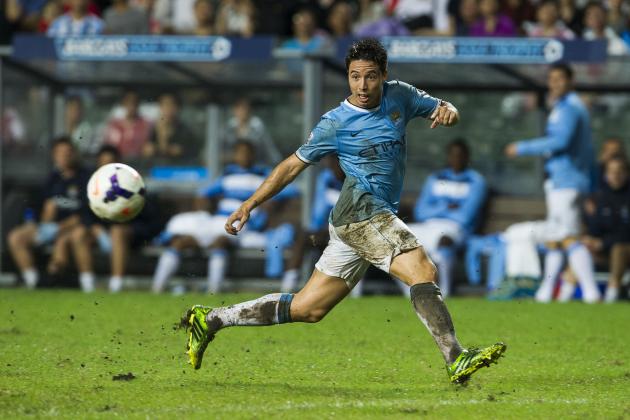 Victor Fraile/Getty Images
Nasri has found new life under Manuel Pellegrini.
Looking back, it is sort of too bad that Manchester City did not threaten Samir Nasri with a hasty transfer before winter set in last season.
Nasri was really good after rumours started flying around about his being on his way out at the Etihad, though by the time Nasri figured things out the season was already a lost cause.
Pellegrini's arrival in Manchester has seemingly rejuvenated Nasri, who looks to be enjoying the freedom the new manager's system imbues his players with.
This is a hunch, but my guess is Pellegrini takes a chance and starts Nasri over a more stable midfielder like James Milner.
He can always bring Milner on in the second half if the Citizens have a lead.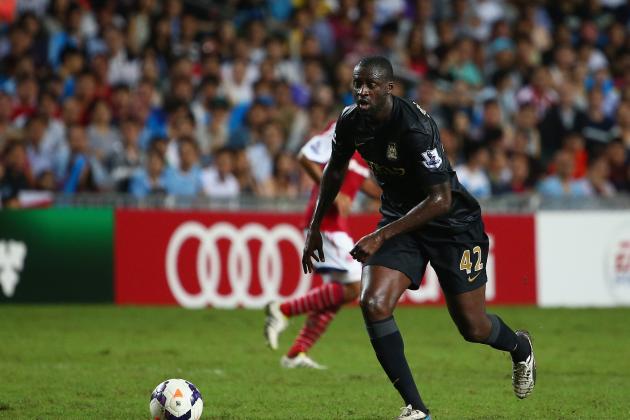 Robert Cianflone/Getty Images
Seeing Yaya Toure patrol the midfield is always reassuring to Sky Blues fans.
Perhaps more than any Sky Blue, as Yaya Toure goes so go Manchester City.
Like many of City's stars last season, Toure's 2012-13 campaign was pretty lacking in comparison with the one that came before.
Naturally Yaya still had moments. But those moments were too far apart to keep City in the Premier League title race in any meaningful way.
Still, Yaya is enough of a force of nature that City felt compelled to lock him down long-term even given a season that was less than memorable.
With all the midfield talent City has now, Yaya probably does not need to play every Premier League match.
Pellegrini will have him out there for this one, though.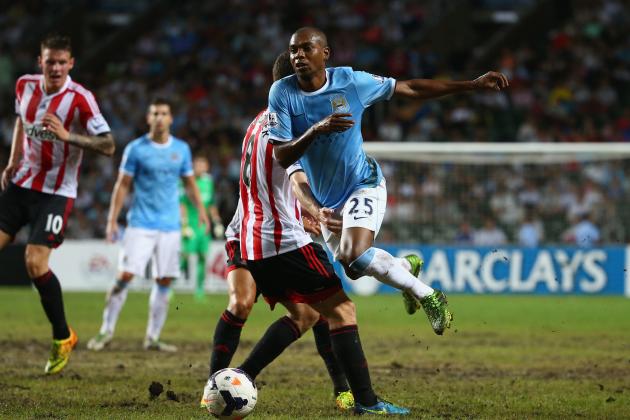 Robert Cianflone/Getty Images
Fernandinho does not need to leap tall buildings in a single bound for this City side.
Looking back, it sure did not hurt that Fernandinho wanted to come to Manchester.
City approached last summer's transfer window appearing to believe that the first team was all set and that all they needed to do was add role players.
That is how a club ends up spending millions of pounds on Javi Garcia, Maicon and Scott Sinclair.
Pellegrini undoubtedly observed that travesty from afar and resolved not to repeat that sort of history once he took over.
Fernandinho was one of Pellegrini's first signings. He will be out there against Newcastle.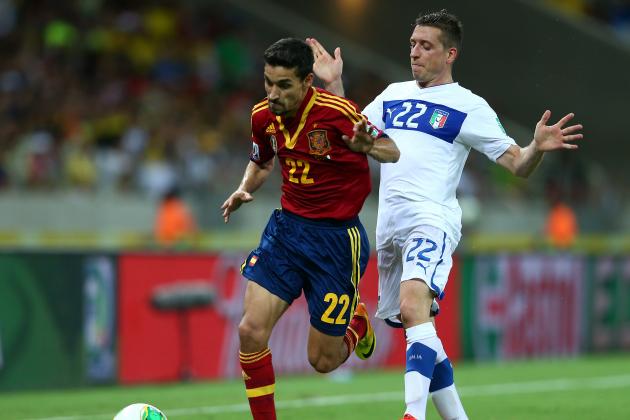 Clive Mason/Getty Images
City will be looking for speed and width from Navas this season.
According to Sky Sports, Manuel Pellegrini has promised attractive football at Manchester City this season.
In case you were wondering what that meant, Pellegrini underscored it for you by signing two midfielders, two strikers and no defenders this summer.
Even after Matija Nastasic went down, Pellegrini seemed convinced that he had enough talent on the defensive side of the pitch.
Besides, Pellegrini seems to be saying that if City score enough goals, the four guys he puts on the back line will barely be noticed.
Jesus Navas is one of the two midfielders Pellegrini brought in to supercharge City's offense.
Given the investments both City and Pellegrini have placed in Navas, he projects to start against Newcastle.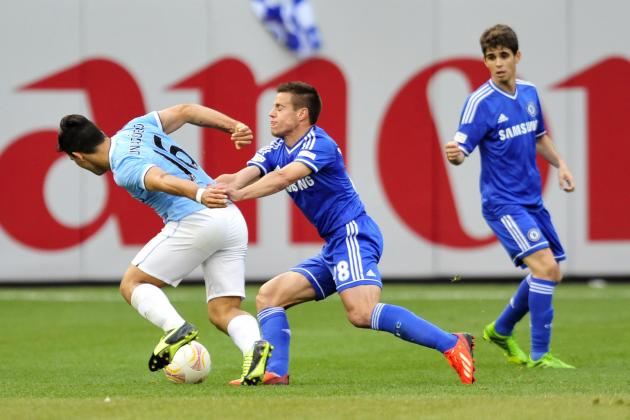 Joe Camporeale-USA TODAY Sports
Aguero will be trying to create separation (and draw fouls) for City.
As with Yaya Toure and Vincent Kompany, Sergio Aguero's 2012-13 season was a pale imitation of its predecessor.
Aguero led the Citizens with 23 Premier League goals two seasons ago. Including, you know, that goal.
But Aguero managed only 12 Premier League goals last year. Nagging leg injuries and inconsistent service from his midfielders combined to limit Aguero's opportunities and thus his productivity.
Assuming Aguero is fully healthy, he is still capable of magic.
If Aguero can go against Newcastle, he will.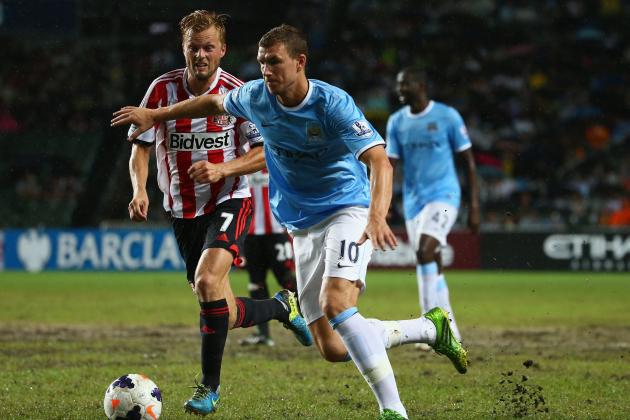 Robert Cianflone/Getty Images
Dzeko wants to repay Pellegrini's stated faith in him.
There is no need to mince words about Edin Dzeko's tenure at Manchester City. It has been, at best, uneven.
Dzeko led City in Premier League goals last season but was only deemed good enough to start 16 times out of 32 total appearances.
Pellegrini appears to realize that Dzeko, like most strikers, needs to hear just how much he is loved by his manager.
So Pellegrini has spoken his affection for Dzeko, as reported by ESPN's Richard Jolly, letting the world know that Dzeko is no super-sub in his eyes.
This is a brilliant ploy from Pellegrini, by the way. What, really, does he have to lose? If Dzeko starts strong, Pellegrini gets the credit. If Dzeko stumbles out of the box, Dzeko will be blamed for failing to justify his manager's faith in him.
That is why Pellegrini is likely to start Dzeko against Newcastle.