Ana Julaton Eyes Big Leap for Women's Boxing, Mayweather vs. Canelo Undercard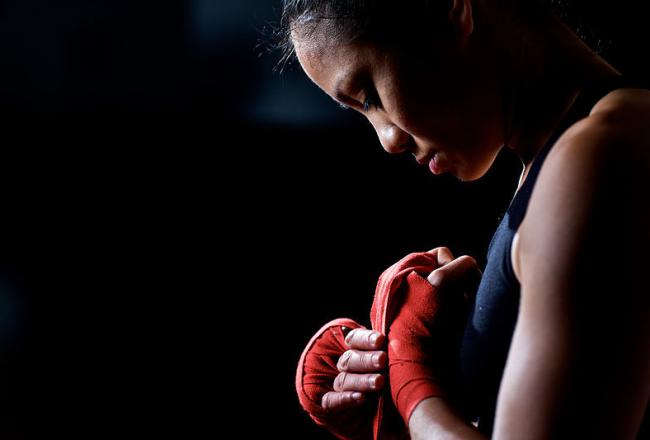 Ana "The Hurricane" Julaton eyes big opportunities.

Ana Julaton might be just what boxing needs.
The smart, talented and passionate former champion is rumored to be on the verge of taking a giant leap for all women in boxing next month. In July, Fighthype.com reported on the possibility of Julaton appearing on the televised undercard portion of Showtime's Floyd Mayweather vs. Saul "Canelo" Alvarez card this September.
If that scenario holds true, the 33-year-old former WBO and IBA world champion, Julaton, will take on IBF bantamweight champion Yazmin Rivas.
Julaton, nicknamed "The Hurricane," has won three of her last four bouts and is 12-3-1 as a professional with 2 KOs. In her last fight, Julaton knocked out Abigail Ramos in what, at just 19 seconds, is believed to be the fastest knockout in the history of Mexico's Yucatan region.
The proposed bout against Rivas would mark a stark shift in stodgy old boxing's status quo.
Women's boxing? Added to the biggest fight card of the year? On a premium American television outlet? Is that even legal?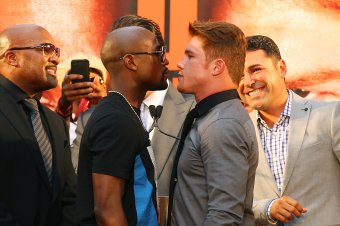 Mike Stobe/Getty Images
Julaton, a history buff, knows how important a step like this would be for women's boxing. In fact, she told Bleacher Report the time may finally be here for women's boxing to truly take flight.
"Being a female boxer during this time, being able to see the invisible momentum that's happening in the United States, is really something," said Julaton.
The San Francisco-born Filipino-American said she and her fellow women boxers are ready for it. For them, it's been a long time coming. Julaton said she's been particularly inspired of late by women's tennis pioneer and equality advocate, Billie Jean King.
"I think she laid out the blueprint for how to deal with society as a woman athlete. I mean, she couldn't even get a credit card because she was a woman! Today, women don't have to deal with things like that. So that blueprint is already there, and I feel like all women need to do today is just stay strong, keep a positive attitude, be around a lot of positive people and just work the path."
Julaton's path has taken her far and wide. She's already tremendously popular in the Philippines, where her fights are said to outdraw popular men fighters such as Nonito Donaire. Moreover, in his excellent feature on Julaton for Ring Magazine, Mark Ortega reported last week that she does just as well as a live gate attraction, too.
Julaton also draws. In San Jose, she outsold Jeffries, who was from Gilroy, Calif., about a 10-minute drive from where the fight took place. Julaton, from the nearby Bay Area, brought Filipino fans in droves. Her follow-up fight against Donna Biggers in San Jose also drew well. Those two cards each drew nearly 4,000 fans, which outdid shows that major promoter Goossen-Tutor put on at the HP Pavilion the year before.
It's no surprise to Julaton. She told Bleacher Report she's just working her path.
"By work the path, I mean doing what you need to do to get your name out there, despite what critics will say," said Julaton. "Critics are going to be there for anything you do. You can be in boxing, the business world, it doesn't matter. The CEO of Yahoo is a woman. There are women presidents out there in different countries. Can you imagine what they have to deal with?"
Julaton shrugged off the criticism she's faced as a woman athlete in a male-dominated sport, but blog posts on her website detail some of what she's had to deal with as a female fighter. It's a shame. Despite being around for longer, boxing has done a relatively poor job in comparison to MMA of supporting and promoting its female participants.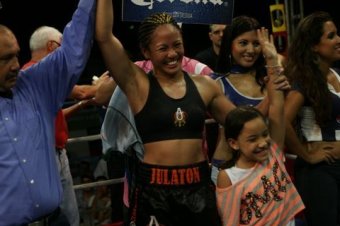 Julaton believes that could all be changing soon, but she said it will take more than just one fighter to get it done.
"I think it takes more than just one person. Muhammad Ali needed Joe Frazier. Sugar Ray Leonard needed Marvin Hagler. He needed Tommy Hearns and Roberto Duran. It's going to take a division, not just one person. It takes two to tango. So it's not just one person who can carry the sport."
The history buff coming out in her out again, Julaton referenced potential fights in the past that could've helped move the ball forward for women in boxing but never happened for one reason or another.
"Laila Ali needed Ann Wolfe. Christy Martin needed Lucia Rijker. You need big fights in order to step up to that next level. You have to be willing to take risks, because no one will know who you are unless you have someone who can take you to the next level."
The next level for Julaton, of course, would be fighting on Showtime PPV underneath Mayweather-Canelo. Before that, though, Julaton has to face an upset-minded 24-year-old named Celina Salazar on August 17. The Golden Boy-promoted bout will take place in Cancun, Mexico and broadcast live in both the United States and Mexico on Televisa.
Salazar lives and trains in San Antonio, Texas and has been fighting professionally since April 2009. She is trained by Arturo Ramos.
Julaton said she didn't know much more about her opponent than that, but she'd know plenty about her after the bell rings on August 17.
"I don't personally look at any tapes of my opponents. I just work on what the game plan is. I feel like in the fight, whether you watch someone on tape or see them live, it will depend more on what you see when you get out in the ring. That's when you'll see what kind of fight you have."
Julaton will be fighting more than just Salazar though, and she knows it. While she wouldn't confirm or deny the Showtime PPV rumors outright, she did say she was reading up on Billie Jean King's road to her 1973 "Battle of the Sexes" match against Bobby Riggs.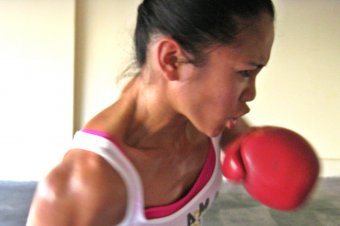 "I'm not saying what I deal with now is in the same context at what she had to deal with, but can I see the threads of continuity? Yes. Can I see the similarities? Yes. She laid out the blueprint of what to do."
Julaton let out a little chuckle when she realized she'd gone off into history buff mode again.
"I love history!" she explained with a smile.
And that's a probably good thing. Because if everything goes according to plan for Ana "The Hurricane" Julaton, she'll be an important part of it someday, too.
This article is
What is the duplicate article?
Why is this article offensive?
Where is this article plagiarized from?
Why is this article poorly edited?