Position-by-Position Breakdown of the Colorado Rockies' Standout Prospects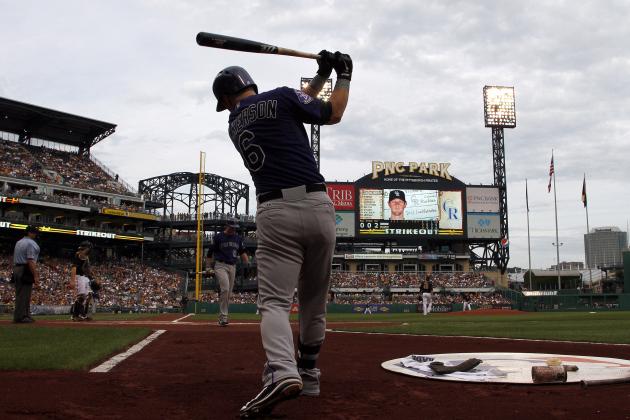 Justin K. Aller/Getty Images
Prospect Corey Dickerson is red hot since his most recent call-up.
The Colorado Rockies were stuck in limbo at this season's July 31 trade deadline.
Sitting seven-and-a-half games back in the division, GM Dan O'Dowd was faced with the decision to buy, bolstering a roster in an attempt to fight for a division crown and a playoff berth; to sell, dumping names like Michael Cuddyer and Dexter Fowler to reinforce the farm system; or to remain stagnant.
The Rockies chose to stay put, holding on to their top prospects and hoping the team could compete with what they have. It was a safe move by an organization that traditionally doesn't make too much noise at the deadline.
The result? The Rockies have gone 1-4 since the deadline and are now 11 games back in the NL West. However, their farm system is shaping up to be one of the best in baseball, as the Rockies' top prospects continue to show significant promise and growth.
Here is a position-by-position breakdown of the Rockies' top prospects who are separating themselves from the pack this season.
Begin Slideshow

»
Drafted in the third round of last year's MLB draft, University of Buffalo product Tom Murphy is doing some serious damage for Single-A Asheville.
For the last few seasons it's been Will Swanner as the Rockies' coveted catching prospect. This season, Murphy has ended that discussion, batting .288 with 19 home runs. His 74 RBI are good enough for second-most in the South Atlantic League.
In fact, Murphy has hopscotched over Swanner in the system with yesterday's promotion to Double-A Tulsa.
Compared to Coors Field's elevation of 5,000 feet, Asheville sits just over 2,000 feet above sea level. The dimensions at McCormick Field are significantly smaller than that of Coors—373 feet to dead center and 297 down the right field line.
Balls fly out of McCormick Field on a regular basis, which will inflate Murphy's slugging percentage (.590), but his .288 average is a testament to his ability at the dish.
In the field, the 22-year-old has improved considerably over his 2012 campaign. He's throwing out 30 percent of base runners and owns a fielding percentage of .993.
The Rockies are currently stable at the catcher position with Wilin Rosario. Look for Murphy to be used as a possible trade chip in the coming years. With Todd Helton's presumed retirement lingering, the Rockies could also look to convert Murphy to first base.
Tulsa Drillers first baseman Kiel Roling is looking to continue his hot hitting.
Through the first full 102 games with Tulsa, Roling is batting .265 with a team-leading 23 homers and 76 RBI. His 76 RBI are good enough for second in the Texas League.
His power numbers have been impressive, even in a city that sits just 722 feet above sea level. That being said, Roling has the potential to actually increase those power numbers with a promotion to Colorado Springs or Denver.
There are a few question marks surrounding Roling's ceiling, all of which place him outside the discussion as a Rockies top-20 prospect.
His .265 average in combination with his 95 strikeouts make him a free-swinger. In some respects, that's a good thing considering the power numbers, but a promotion will likely result in a drop in productivity.
Another aspect of his game in question is his ability with the glove. With the increase in offense over the last few seasons, his fielding percentage has dipped. He's a true first baseman and is capable of being one at a major league level, so expect the errors to diminish over time.
Rockies fans should see the now 26-year-old Roling in the bigs either at the end of this season or the beginning of next.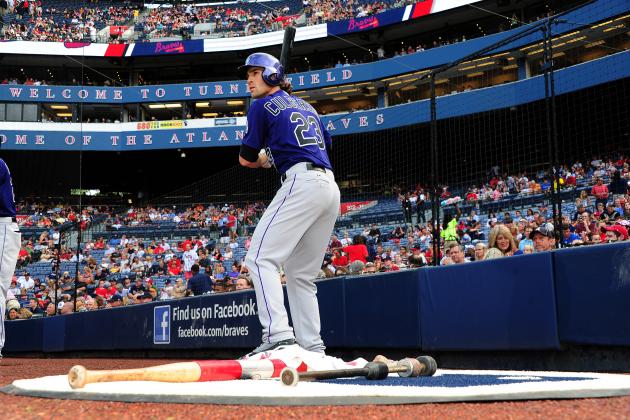 Scott Cunningham/Getty Images

The Rockies organization has been historically weak at second base.
After years of searching, last season Josh Rutledge looked like the answer to the Rockies second base woes. Unfortunately, Rutledge has yet to pan out.
The organization decided to turn to their top second base prospect Charlie Culberson in a desperate attempt to fix the problem.
Culberson batted .310 with 14 home runs and 64 RBI for Colorado Springs before his call-up last month.
So far, the 24-year-old, who's played more left field than second base, has just one hit in 13 at-bats. He's looking particularly uncomfortable at the plate and even shaky in the field at times.
While it's too early to determine whether Culberson or Rutledge is the better option at second, DJ LeMahieu continues to outplay both of them in the field and at the dish.
As the season goes on and if the Rockies continue to fall further out of contention, Culberson will get his chance with more spot starts.
This season's struggles for shortstop prospect Trevor Story have shifted the spotlight towards Dominican-born Rosell Herrera, who's putting up astronomical numbers for Asheville.
Herrera, who came to the Rockies in 2010 as a 17-year-old, has improved offensively in each of his four minor league seasons.
He's currently second in the South Atlantic League in batting average at a ridiculous .358 clip. His high walk-to-strikeout ratio shows maturity as a hitter and his 16 home runs and 73 RBI illuminate his power.
Herrera is also getting it done on the bases with 20 bags swiped.
Before I go calling Herrera one of the most promising five-tool players in the minors, there's one gaping problem in his game—the man can't field.
In four minor league seasons, Herrera has a ridiculous 97 errors, including 27 in just 80 games at short this season.
No matter how solid a player's bat is, Herrera will not see the limelight of Coors Field with those defensive numbers.
Herrera is still a few years away from the majors and is a tantalizing prospect. With the Rockies already struggling defensively, along with their stability at shortstop, Herrera could also find himself on the move sooner than later.
The Rockies farm system is extremely shallow in terms of third baseman.
With Nolan Arenado taking over the everyday third base job, it's become virtually dried up.
However, Ryan McMahon, the Rockies second-round pick in this year's MLB draft, has one of the highest ceilings among third base prospects in baseball and was one of the steals of the draft.
In rookie ball this season, McMahon is batting .311 with four home runs and 25 RBI. His walks are high, his strikeout total is relatively low and his OBP sits at a respectable .406.
Granted, it's the Pioneer League, but as an 18-year-old getting his first crack at Minor League Baseball, the numbers are reputable.
While there's a lot to look forward to with McMahon, he will need time to develop in the system. It will be at least three to four years before Rockies fans see his name in the lineup.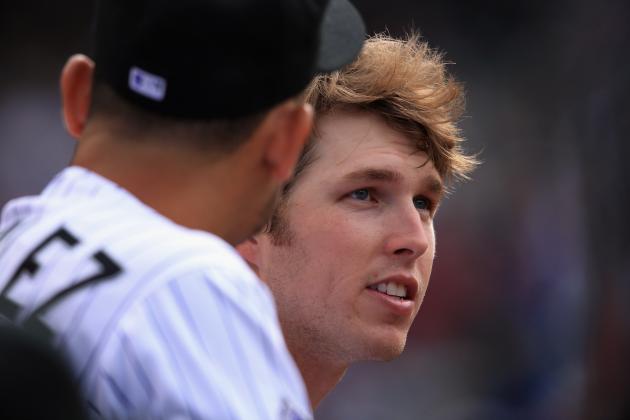 Doug Pensinger/Getty Images

David Dahl, 19, may seem like the most obvious choice as the Rockies standout outfield prospect, currently batting .379 in the Pioneer League. Or, maybe even Tim Wheeler, who's put up some ridiculous numbers over the last few seasons.
Not so fast.
When Corey Dickerson was called up on June 21, he struggled out of the gate. The 24-year-old batted just .212 with two RBI in 15 games before packing his bags for Colorado Springs.
Since returning to the Rockies on July 21, Dickerson has surged, hitting an even .400 in 27 at-bats. He's struck out just five times over that stretch and is looking considerably more comfortable in the box.
There's no use keeping Dickerson in Colorado Springs. He's batting .371 with 11 home runs and 50 RBI for the Sky Sox in just 75 games.
With Carlos Gonzalez heading to the disabled list, Dickerson will get a considerable amount of playing time in left field.
Performing well of late at a major league level, Dickerson is by far the most impressive outfield prospect at this point.
Christian Bergman is the most major league-ready prospect that no one is talking about in the Rockies farm system.
Bergman, who is overshadowed by names like Jonathan Gray, Eddie Butler and Tyler Matzek, is having yet another incredibly productive season and outpitching the latter.
After going 16-5 with a 3.65 ERA last season for Single-A Modesto, Bergman has returned in 2013 for Double-A Tulsa with even more impressive numbers.
Through his 22 starts this season, Bergman has a 3.32 ERA with 96 strikeouts and a 1.11 WHIP. He's proved his durability by pitching more innings than any other pitcher in the entire organization, doing so in pristine fashion.
Bergman was selected for the second time as a Texas League All-Star and is looking at a promotion to Triple-A if he continues to pitch masterfully.
Rockies fans should see the 25-year-old Bergman in the majors to make a spot start or two towards the end of the season.