Poor Michael Young.
It appeared that if anyone was going to get traded before Major League Baseball's July 31 trade deadline, it was going to be Young. And yet, instead of packing his bags and saying his goodbyes, he's starting at first base for the Philadelphia Phillies on Wednesday night, according to Todd Zolecki of MLB.com:
Tonight's lineup. Michael Young is at first. pic.twitter.com/jiAyDIfiME

— Todd Zolecki (@ToddZolecki) July 31, 2013
The deadline has now come and gone, and it appears that Young is going to be with the Phillies for the remainder of the season. It had to have been a rough couple of days for the veteran infielder, as it seemed like there was a new report every 10 minutes about which teams he'd waive his full no-trade clause to go to.
It all started when Ken Rosenthal of Fox Sports reported that Young would only waive his no-trade clause to head back to the Texas Rangers:
That last tweet should read, #Phillies' Michael Young only WILL approve trade to #Rangers. Left out a word. Again: Full no-trade clause.

— Ken Rosenthal (@Ken_Rosenthal) July 30, 2013
The infielder's biggest problem was that Texas didn't want to bring him back for a reunion. T.R. Sullivan of MLB.com reported a few days before the deadline that the Rangers weren't interested in trading for him, and that a deal between the Rangers and Phillies wasn't going to happen.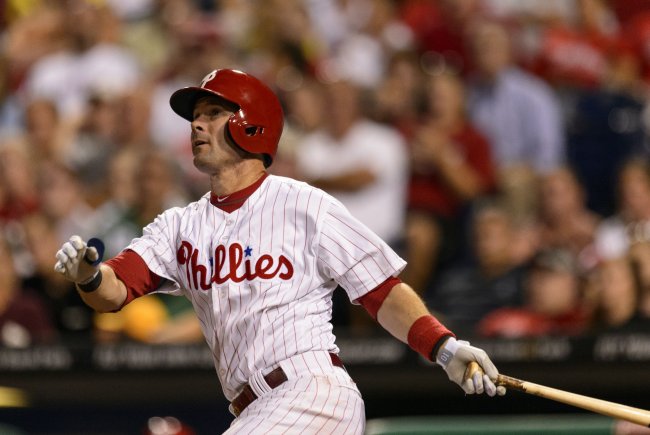 Howard Smith-USA TODAY Sports
Once Rosenthal came out with the report, everyone wondered if it was true, and whether Young would really be reluctant to go to a contending team like the Boston Red Sox or the Baltimore Orioles, among others. Would he turn down the opportunity to play for the New York Yankees?
The Phillies were the ones who gave Young the no-trade clause in the first place, and as Jeff Passan of Yahoo! Sports points out, they probably regret it after they were having a tough time finding a landing spot for him:
Part of Michael Young deal last year included Phillies giving him a no-trade clause. May be regretting it now. Team wants to move him.

— Jeff Passan (@JeffPassan) July 30, 2013
Philadelphia general manager Ruben Amaro may not have cared to hear that Young would only be willing to go to the Rangers—if that was even accurate—so it appeared that he started to play hardball. Amaro promoted the team's future third baseman, Cody Asche, to the big leagues on Tuesday, per the Associated Press via USA Today.
Anthony Gruppuso-USA TODAY Sport
Young was still in the lineup for the Phillies against the Giants on Tuesday night, and he even hit a home run. But it was expected that in the coming days and weeks, Asche would be getting the nod at the hot corner over Young, which could mean the veteran would be forced to come off the bench, per Matt Gelb of the Philadelphia Inquirer:
Even if Michael Young stays beyond July 31, I would expect him to fill a bench role. Cody Asche is here to start every day.

— Matt Gelb (@magelb) July 30, 2013
Whether the idea of that sat well with Young or not, deadline day came and went. At 4:01 p.m. ET, he was still a member of the Phillies. It doesn't seem likely that he would pass through waivers in a potential late-season deal, so now the 36-year-old is stuck in Philadelphia for the remainder of the year.
Is Young the deadline's biggest loser?
Through 99 games, Young is hitting .279/.345/.411 with eight home runs and 34 RBI. A contender definitely could've used him at third base or as a designated hitter for the last stretch of the season. But nope. Young will likely see a large drop in playing time and will enter the offseason as a free agent seeking a new home.
Young could've been a key factor in midst of a playoff run for one of the better teams in the game. Instead, he'll be riding the bench of the rest of 2013 for the 50-56 Phillies.
Michael Young is, without a doubt, the biggest loser of this year's trade deadline.
All statistics in this article were obtained via FanGraphs unless otherwise noted and are current through July 30. All injury information in this article was obtained via Baseball Prospectus and all contract information was obtained via Cot's Contracts.