Notre Dame Football: Breaking Down the Vegas Odds on Each Irish Game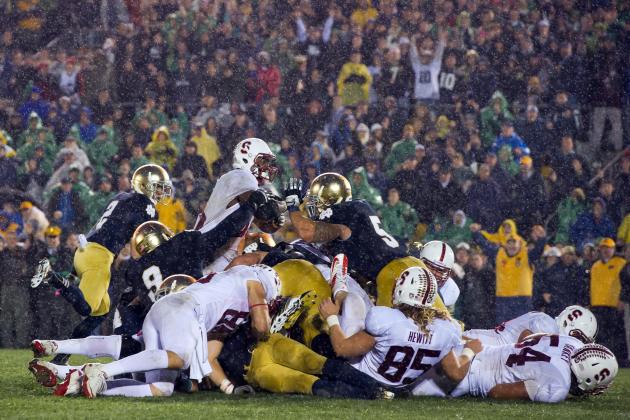 Matt Cashore-USA TODAY Sports

With only one month until kickoff, it's time to look at where Notre Dame stands by the most accurate predictor in all of college football—Las Vegas.
Last year, we analyzed the preseason point spreads for each Fighting Irish game. We hit eight of 12, so if you listened to us, you could have won enough money to cover your ticket to the BCS Championship Game.
Unwilling to rest on our laurels, we'll try to do the same for the 2013 Notre Dame schedule, using the point spreads released last month by the Golden Nugget sportsbook.
We'll tell you the current point spread, the point spread at which we would have listed the game, as well as a prediction for which side to play. Keep in mind that our point spreads are where we think the line should be, not necessarily whom we are predicting to win the game.
Here we go.
Begin Slideshow

»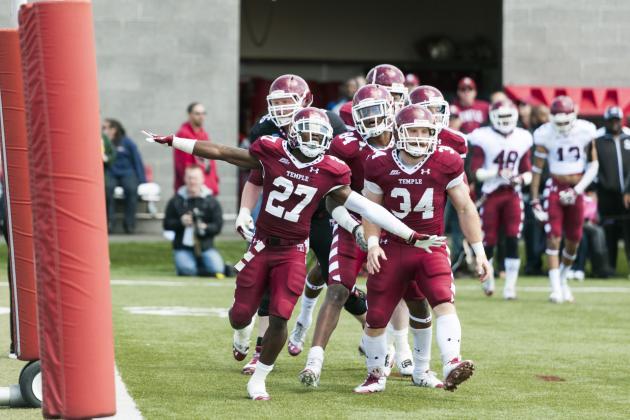 Howard Smith-US PRESSWIRE

Golden Nugget Point Spread: Notre Dame -24
Our Point Spread: Notre Dame -27
Temple and Notre Dame meet for the first time to open this season. New Owls coach Matt Rhule will make his head-coaching debut in Notre Dame Stadium.
With the loss of their top two running backs and uncertainty at quarterback, it's hard to foresee the Owls doing anything offensively against a stout Irish defense.
While Notre Dame struggled at home last season, it did cover three of the six games there. With Notre Dame likely needing only around 30 points to cover, take the Irish and lay the big number.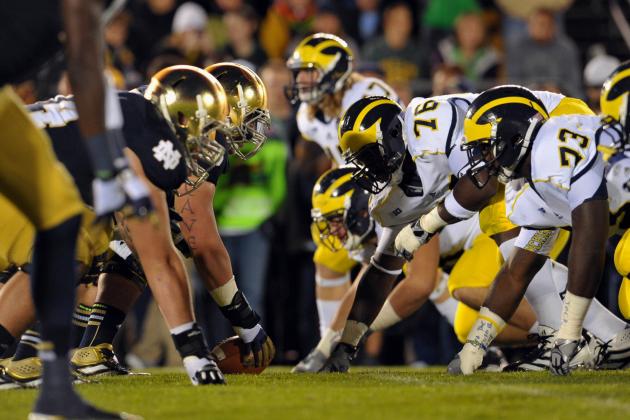 Matt Cashore-USA TODAY Sports

Golden Nugget Point Spread: Even
Our Point Spread: Michigan -3
This might be the most difficult game to project on the entire Notre Dame schedule. Each of the past four meetings have been decided by a touchdown or less, with Michigan completing three straight last-minute comebacks before falling in South Bend last year.
The underdog has won seven of the past nine meetings. The hosts appear to have the edge at the skill positions, but the Irish are stronger up front.
If you believe in the old adage that games are won in the trenches, take Notre Dame to end a three-game losing streak in Ann Arbor in what will be its final visit to Michigan Stadium before the series goes on hiatus following the 2014 season.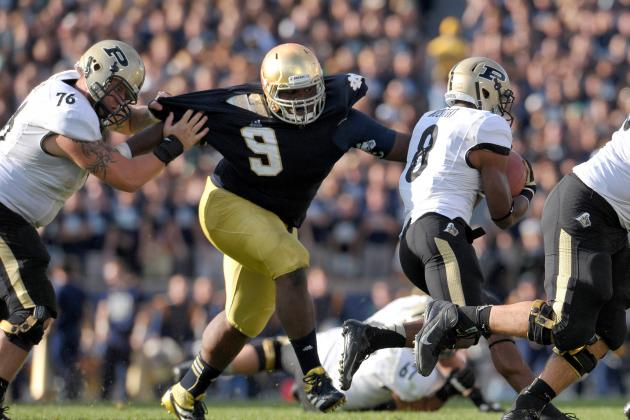 Matt Cashore-USA TODAY Sports

Golden Nugget Point Spread: Notre Dame -14
Our Point Spread: Notre Dame -12
Purdue enters a transition year in 2013 under first-year head coach Darrell Hazell. The Boilermakers put major scares into both teams that finished the regular season undefeated last season, falling at Notre Dame on a last-second field goal and at Ohio State in overtime.
Notre Dame has won three of its last four trips to West Lafayette, but this year's meeting comes in between games with Big Ten heavyweights Michigan and Michigan State. Notre Dame barely survived a similar "sandwich" game last year against BYU, which fell in between showdowns with Stanford and Oklahoma.
We told you earlier this month this was the biggest trap game on the Irish's schedule, and we stand by that. Notre Dame survives to win its sixth straight over the Boilers, but Purdue will cover the double-digit spread.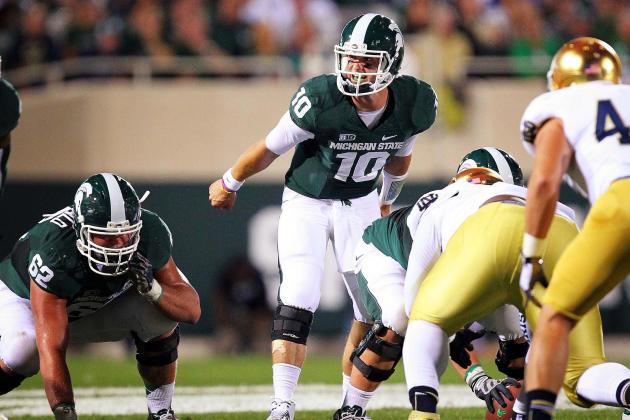 Mike Carter-USA TODAY Sports

Golden Nugget Point Spread: Notre Dame -6
Our Point Spread: Notre Dame -8
Notre Dame physically manhandled the Spartans last year in a 20-3 win in East Lansing. Michigan State never recovered, dropping all four of its Big Ten home games in a disappointing 7-6 season.
Sparty has won six of its last eight trips to South Bend, although Notre Dame has won the last two. Michigan State again sports arguably the best defense in the Big Ten and figures to catch a few more breaks than it did a year ago.
Expect this series to revert to its tradition of tight, 60-minute games. If the line climbs over a touchdown, which it would if Notre Dame starts 3-0, take the points.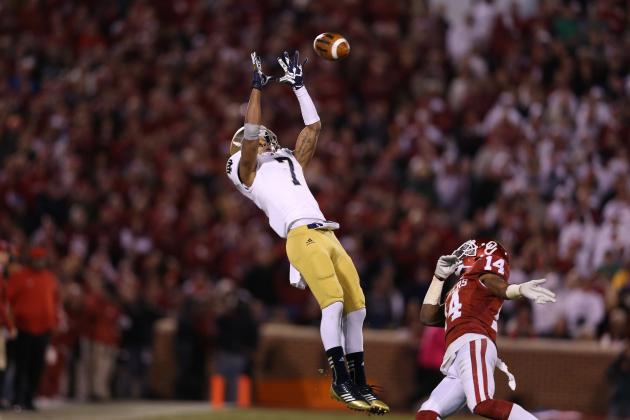 Matthew Emmons-USA TODAY Sports

Golden Nugget Point Spread: Notre Dame -2
Our Point Spread: Notre Dame -5
Despite a convincing 30-13 win in Norman last season, Notre Dame was installed as a meager two-point favorite for the Sooners' first visit to Northern Indiana since 1999.
Oklahoma will be young on the front seven and hands over the full-time quarterback reigns to Blake Bell after he served as a short-yardage specialist the past two seasons.
Like many of its 12 wins a year ago, Notre Dame won this game at the line of scrimmage and will employ the same strategy this season. Take the Irish to complete an improbable sweep of the home-and-home series and lay what should be a tiny number.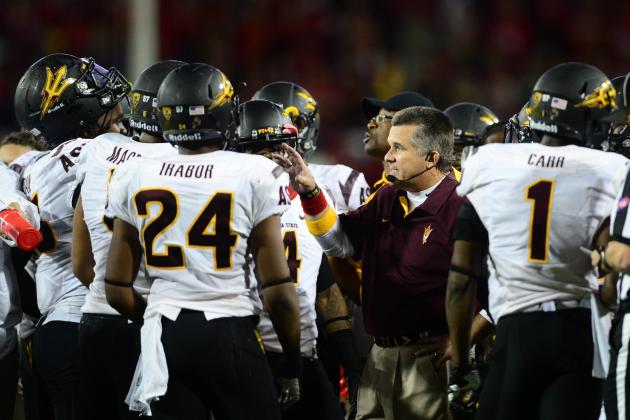 Mark J. Rebilas-USA TODAY Sports

Golden Nugget Point Spread: Notre Dame -4
Our Point Spread: Notre Dame -7
While we are extremely high on the Sun Devils this season, we were a bit surprised to see Las Vegas take a similar stance. Arizona State finished 8-5 last season but could start 2013 in the Top 25.
Defensive tackle Will Sutton may be the best defensive player in college football not named Jadeveon Clowney and should challenge a young Irish interior offensive line. Offensively, junior Taylor Kelly is poised for a breakout season in his second year in Todd Graham's offense.
Graham has beaten Notre Dame before—while at Tulsa in 2010—and nearly upset the Irish as the head coach at Pittsburgh in 2011. Even on the heels of games with Stanford and USC, take Arizona State here to cover and quite possibly pull an outright upset in palatial Cowboys Stadium.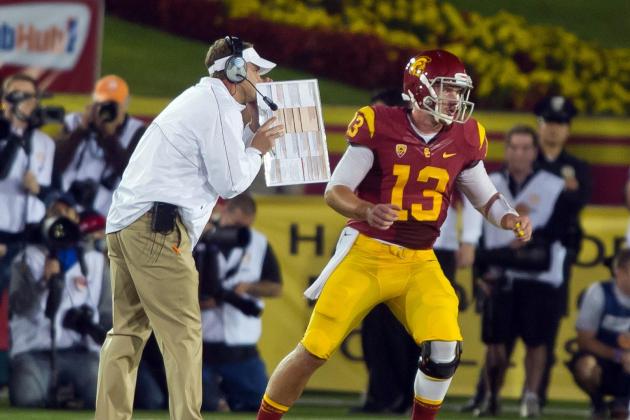 Matt Cashore-USA TODAY Sports

Golden Nugget Point Spread: Notre Dame -5
Our Point Spread: Notre Dame -7
The Irish will be looking to snap a six-game home losing steak to their intersectional rival when the Trojans come to South Bend. USC has nowhere to go but up after a disastrous 7-6 season in 2012, but as usual it faces a challenging schedule.
While USC loses both Matt Barkley and Robert Woods, the Trojans still possess the most dangerous weapon in college football in junior wide receiver Marqise Lee. The Irish held Lee in check last season and will have to do so again to make it three out of four over the Trojans.
While Notre Dame came out flat in a similar situation off of a bye two years ago against USC, it has played two of its best games in the Brian Kelly era with an extra week to prepare—2010 against Utah and 2012 against Miami (FL). Take Notre Dame to regain firm control of the rivalry with a 10-point win.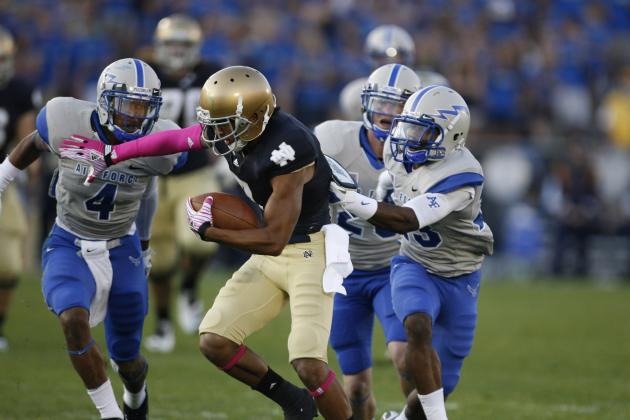 Brian Spurlock-USA TODAY Sports

Golden Nugget Point Spread: Notre Dame -18
Our Point Spread: Notre Dame -15
A lot of factors play into the Falcons' favor here. Notre Dame will be coming off a rivalry game with USC. South Bend is a long way from Colorado Springs. The thin Rocky Mountain air often causes difficulties for unaccustomed visitors.
These two teams last met in 2011, a 59-33 shootout in South Bend won by the Irish. Air Force will have a first-year quarterback for the second year in a row, but seventh-year coach Troy Calhoun has maintained steady production under center during his time at the academy.
While Notre Dame isn't in danger of losing this game due to a significant physical advantage, expect the Irish not to bring their "A" game and let the Falcons hang around.
Don't buy the trap game talk here, but if the number stays where it is, take Air Force to cover, potentially with a late garbage-time touchdown.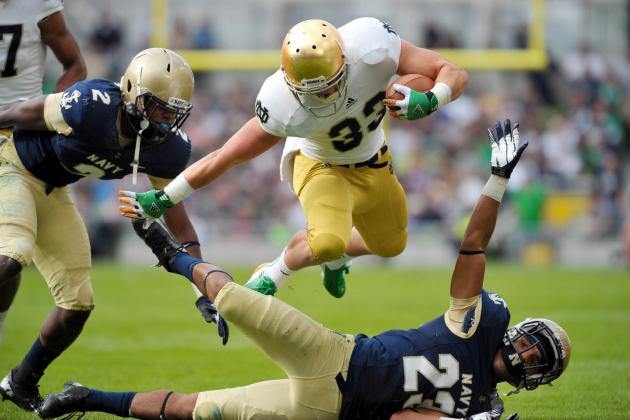 Matt Cashore-USA TODAY Sports

Golden Nugget Point Spread: Notre Dame -18
Our Point Spread: Notre Dame -23
Notre Dame has righted the ship (pun intended) against the Midshipmen after dropping three of four, winning the past two meetings by an average of 41 points.
During its brief period of success against the Irish after 43 straight losses between 1964 and 2006, Navy was able to take advantage of subpar Irish line play.
Those days are over.
The 35-17 loss to Navy in Kelly's first season was an anomaly, as this Notre Dame coaching staff has figured out how to defend the triple-option. Take the Irish to easily cover a surprisingly small number.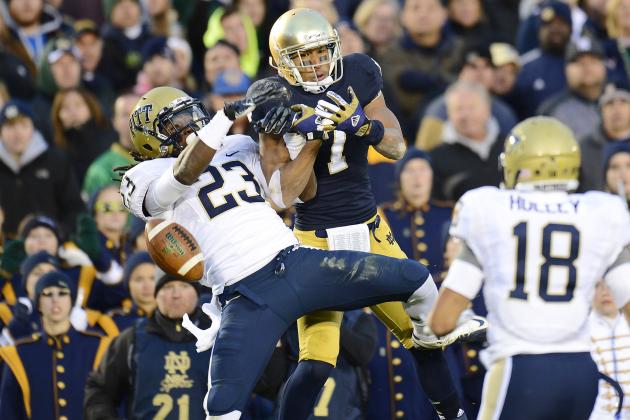 Mike DiNovo-USA TODAY Sports

Golden Nugget Point Spread: Notre Dame -10.5
Our Point Spread: Notre Dame -8
The Irish needed a miraculous rally last season to stay unbeaten in a 29-26 triple-overtime thriller against Pittsburgh in South Bend. The teams will meet for the sixth straight season this fall before taking a one-year break in the series.
The Irish have enjoyed their visits to Heinz Field over the years, winning three of four meetings, including twice as an underdog. The Panthers defense should be solid, but questions on offense put a sixth straight bowl trip in question.
It won't be quite as thrilling this time around. Notre Dame will hold Pittsburgh's offense in check for a two-touchdown win heading into its second bye week.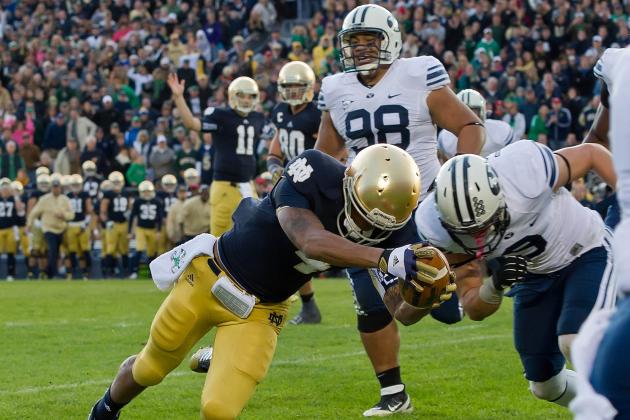 Matt Cashore-USA TODAY Sports

Golden Nugget Point Spread: Notre Dame -11
Our Point Spread: Notre Dame -9
We thought at this time a year ago that BYU would be the trap game for the Irish. It nearly was, as Notre Dame needed a fourth-quarter touchdown run from George Atkinson III to eke out a 17-14 win over the Cougars.
Bronco Mendenhall is one of the most underrated coaches in college football, continuously producing elite defenses despite never having 5-star talent.
Notre Dame will be much fresher this year than last year after a bye week, and the Irish are 3-0 on Senior Day under Kelly. Despite our tremendous respect for BYU, we're going with a gut feeling here and taking Notre Dame to cover.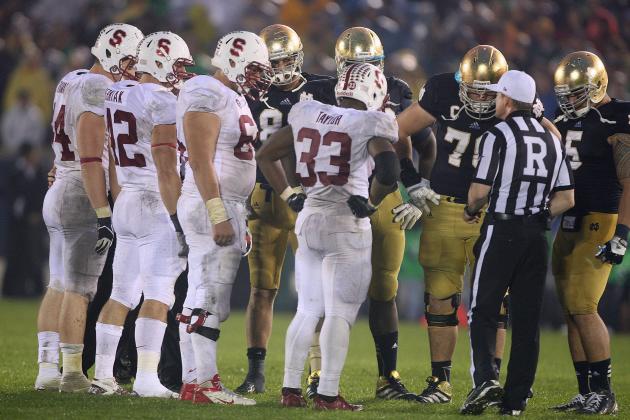 Brian Spurlock-USA TODAY Sports

Golden Nugget Point Spread: Stanford -5.5
Our Point Spread: Stanford -6
One of the best games of the 2012 season saw the Irish come up with a controversial goal-line stand in overtime to defeat the Cardinal for the first time in four years. This year's meeting is in Palo Alto, where Notre Dame was whipped two years ago, 28-14.
Stanford returns most of its defense, which held Oregon to 14 points and led the Cardinal to the Pac-12 title. Notre Dame did not have to face quarterback Kevin Hogan last season, as the rising sophomore started only the final six games.
Even with a possible Pac-12 Championship Game on the horizon, expect Stanford to be fully focused on exacting revenge on the Irish after last year's loss. It won't be quite as dominant as the 2011 game, but take Stanford to win both outright and against the spread.