San Jose Sharks: Top 5 Prospect Progress Report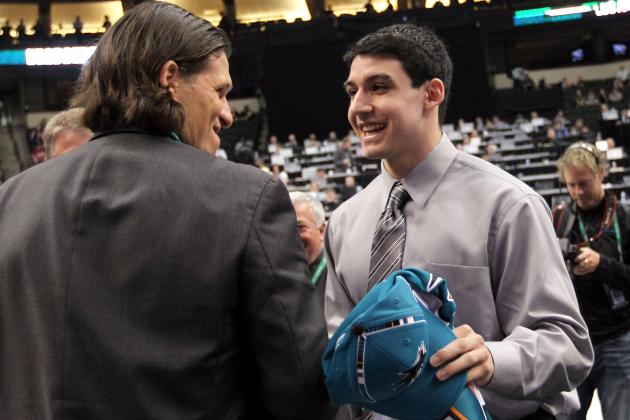 Bruce Bennett/Getty Images
The San Jose Sharks have several prospects they may need big things from soon
The lower salary cap has slowed free agency to a crawl, but even teams like the San Jose Sharks that seem idle have no problem keeping busy. Every team has had its prospect development camp as they work on their rosters beyond 2013-14.
San Jose is not in an enviable position. After years of selling draft picks and prospects to make failed Stanley Cup runs, the talent in the system is depleted at just the wrong time.
The Sharks have maybe one more run with the current core. Nine current projected starters will be free agents next summer, with five being unrestricted. It is possible that they will either be unable to or choose not to re-sign four of those players, leaving too many holes for the current prospect pool to fill.
The depth roles can be filled by low-cost veterans over the season, or by career reserves like Nick Petrecki for a few games that have multiple injuries at one position. Only a true prospect can fill the kind of major roles that could be vacated by Dan Boyle, Patrick Marleau and Joe Thornton.
A true prospect is someone with virtually no NHL experience but the very real potential of filling a No.1 role in net or playing on one of the top two lines and pairs.
If a player is not listed on the current roster they are not in line for an invitation to training camp this September. Such prospects are probably too far away to make anything more than a cameo appearance in 2014-15: Mirco Mueller, Sena Acolatse, Freddie Hamilton, Travis Oleksuk and Sebastian Stalberg.
However, there are five players to watch that might make an appearance in 2013-14 and have a chance of filling a significant role the next season:
Begin Slideshow

»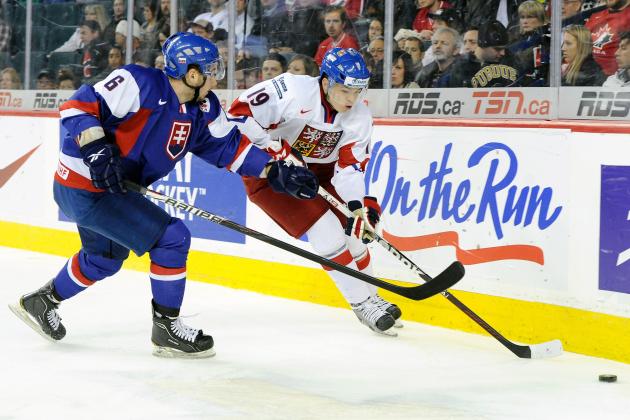 Richard Wolowicz/Getty Images

Tomas Hertl is the most obvious choice for this list. The 2012 first-round pick of the San Jose Sharks has the talent to fill the largest role and is expected to step in the soonest—possibly even to a scoring-line role in 2013-14. He was the top goal-scorer in the elite-league team he played for in his native Czech Republic.
A player taken after 15th in the NHL Draft playing a second-line role the next year is so rare most would be hard-pressed to name one. Further complicating matters, he is still not fluent in English and the only other Czech player in San Jose is too injured if not too unwelcome to be there to help.
However, Hertl shined in training camp according to CSN Bay Area Insider Kevin Kurz. The included video shows the resulting enthusiasm that general manager Doug Wilson could hardly contain in an interview with Jim Kozimor.
Look for Hertl to play only a spot role on the second line initially, including most of the season on that power play unit. Most of his time will probably be on the fourth line in 2013-14, but he will be a scoring-line fixture in 2014-15.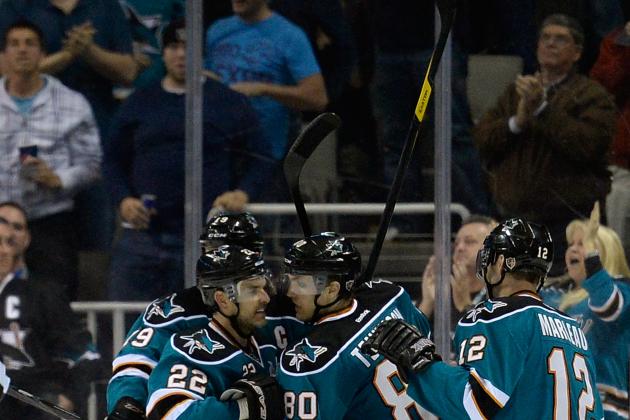 Thearon W. Henderson/Getty Images

Having already played in four games (with two assists) for the San Jose Sharks, Matt Tennyson is another obvious choice for promotion. The Pleasanton, CA native could even play on the second pair if Dan Boyle is not retained for 2014-15.
Tennyson is good on both sides of the ice at the AHL level, but he will have to earn the trust of San Jose's coaches. In every full season for which stats are available through the team website, at least a dozen games were required from below the seventh spot on their blue-line depth chart.
He could get enough seasoning at both levels in the next season to be valued for a second-pair role because of his offensive skill. He was one of four players singled out by CSN Bay Area Insider Kevin Kurz, drawing praise from director of scouting Tim Burke.
If the undrafted prospect continues his meteoric rise, he could even compel a trade of Scott Hannan and/or Jason Demers in 2013-14.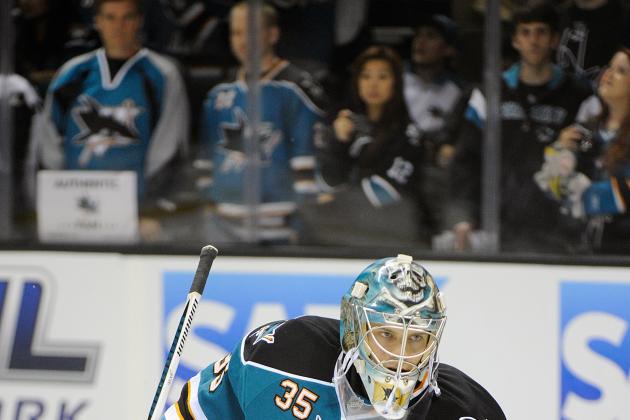 Thearon W. Henderson/Getty Images

Harri Sateri has already been the emergency backup goalie during the regular season for the San Jose Sharks and will be competing for that role on a daily basis with fellow prospect Alex Stalock. (As the projected backup, he was not included in this list.)
He may not ever be the No. 1 in San Jose, but stands a good chance of coming out of that goalie factory and serving that role elsewhere. He should get his first NHL action in a mop-up role when one of the two goalies projected ahead of him is hurt.
Sateri should finally get a chance to carry the load in Worcester and work on his game. In just over two seasons, he has played in only 84 games and been the goalie of record for 79: 30-44-5 record, 2.85 GAA and .906 save pct.
He has never played more than 39 games while battling with what was once the deepest goalie prospect pool. If he gets a chance to face even a little NHL action and gets a rhythm going at the AHL level, he could take that next step and play a significant role as an everyday backup.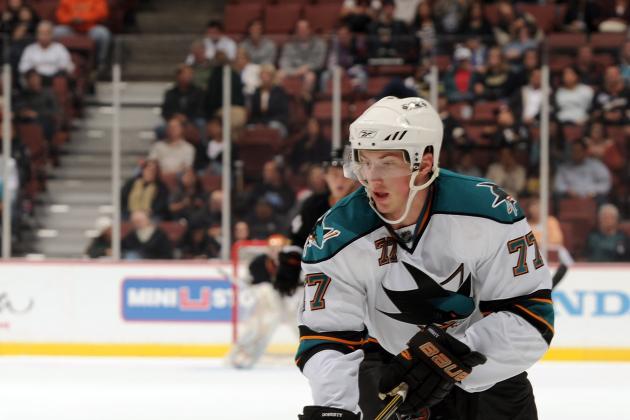 Harry How/Getty Images

Taylor Doherty has been a prominent stay-at-home defenseman for the Worcester Sharks that saw training camp action as early as 2010.
One may wonder why a player that has failed to play a single game in San Jose three years after first attending camp would be a prospect. Were it not for a sliced Achilles tendon before the NHL lockout was over, he might have played last season.
The 22-year-old was a scorer in the OHL, but has only one goal and 15 assists in 106 games at the AHL level. However, his 6'7", 220-pound frame requires no more, and he was singled out in two separate articles by CSN Bay Area Insider Kevin Kurz, who described him as "very poised with the puck".
While he will not climb above ninth on the San Jose depth chart, his progress could make the team more willing to move players ahead of him and give him his first NHL action in 2013-14. If he does well in limited action, they could choose to give him one of those all-important top-seven roles the next season.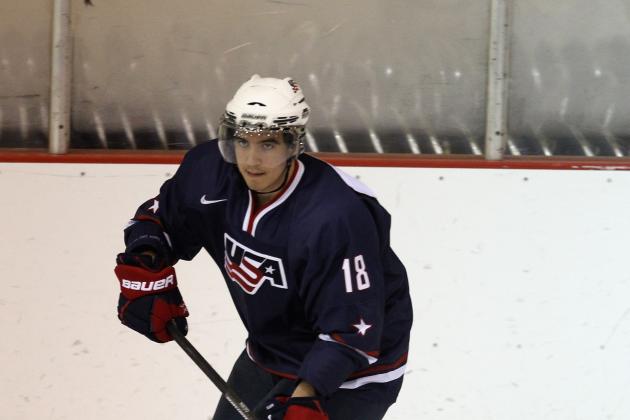 Bruce Bennett/Getty Images

Matt Nieto is another California-native prospect for the San Jose Sharks. A major contributor to the USA Under-18 team as early as 16 years old, the skilled forward has a lot of upside.
However, he is a long shot to play a significant role in 2014-15, having yet to even attend an NHL camp. Taken late in the second round of 2011 NHL Entry Draft, he just finished college and played his first AHL games in 2013.
Still, he was the first player mentioned by CSN Bay Area Insider Kevin Kurz as standing out at the prospect camp this summer. He had 79 points in his last 76 games for Boston University. Between those assignments this spring, he scored six points in 11 games with the Worcester Sharks.
If he can score at the AHL level, he could find himself in his first NHL game if injuries are heavy or trades are made to make room for young talent. In either case, he could get just enough action to be given a legitimate shot at a daily role in 2014-15.
MJ Kasprzak is the original community leader for the Green Bay Packers and San Jose Sharks on Bleacher Report, and now covers the latter as well as Bay Area Christian issues professionally for Examiner.com.