An All-Star Rookie's Look Behind the Scenes at Richmond International Raceway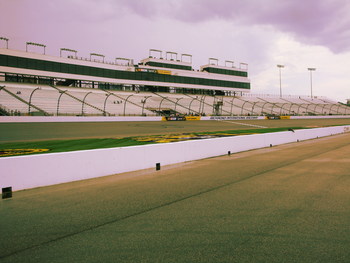 As a long time NASCAR fan, I've seen my fair share of races at my "home track," but on May 1-2, 2009, I had my first opportunity to take a look beyond the grandstands of Richmond International Raceway as a credentialed member of the media.
It was an experience that I will not soon forget.
Many thanks to Bleacher Report for helping to make this happen. Your support and encouragement does not go unnoticed.
Here is an up close and personal look behind the scenes at what goes on before the race begins.
Once you're in, you'll never want to come out!
Kara Martin, Unprofessional Photographer.
Beyond The Pit Walls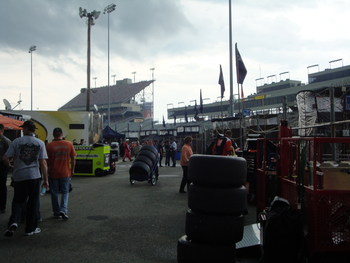 Through the looking glass.
The Inner Sanctum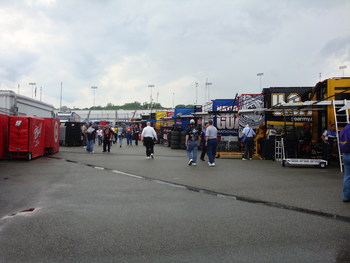 A look at the Sprint Cup haulers lined up on the infield.
Setting Up Shop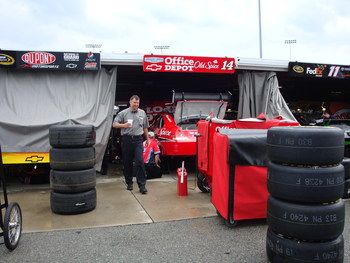 How Pit Crews start their day.
Sprint Cup Garage Area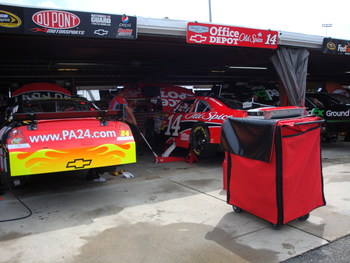 No. 24 Dupont Chevrolet and No. 14 Office Depot Chevrolet.
Sprint Cup Garage Area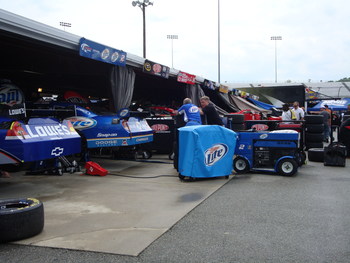 The No. 48 Lowe's Chevrolet and No. 2 Miller Lite Dodge.
Dale Earnhardt Jr. Garage Area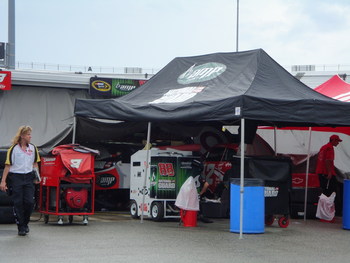 The No. 88 Amp Energy Chevrolet.
Kurt Busch Garage Area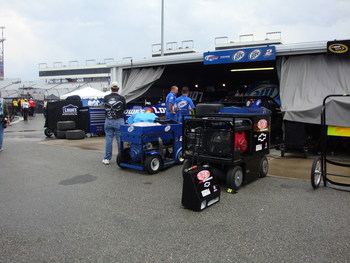 The No. 2 Miller Lite Dodge.
Kyle Busch Garage Area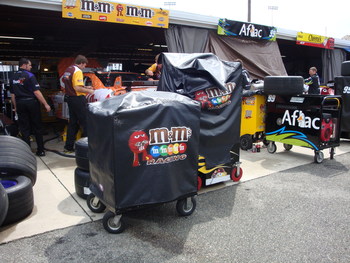 Jeff Gordon Garage Area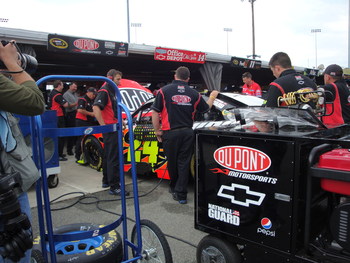 Tony Stewart Garage Area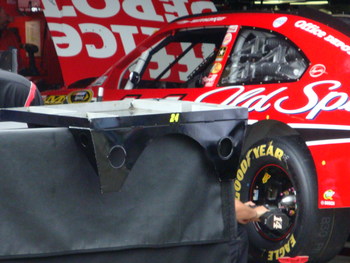 The No. 14 Office Depot Chevrolet.
Michael Waltrip Garage Area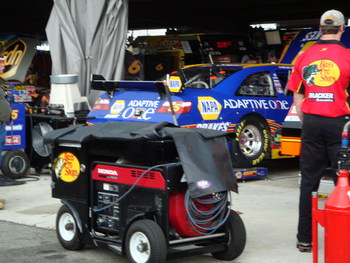 Casey Mears Chevrolet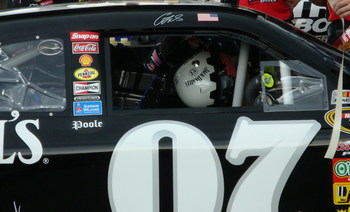 The No. 07 Jack Daniels Chevrolet.
Tony Stewart Hauler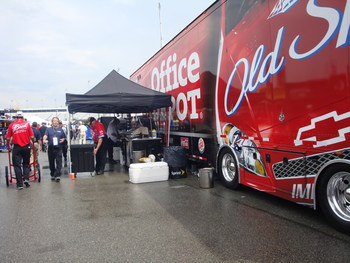 This was the only hauler that had a full service grill in front of it.
Inside Looking Out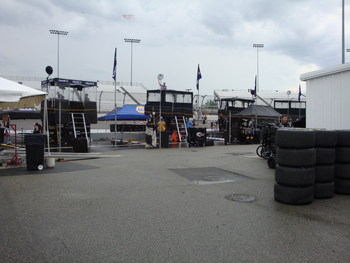 A view from the infield looking out.
Stewart-Haas Racing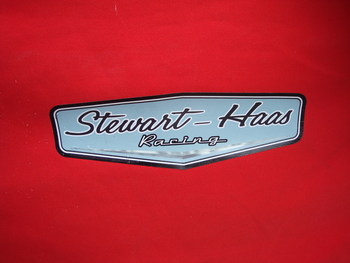 Stewart-Haas Racing equipment cover.
Pace Car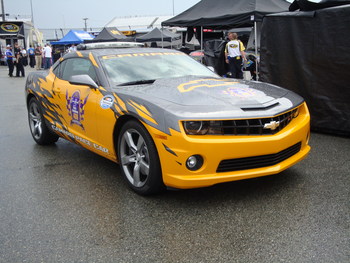 Chevrolet Camaro. Official pace car of the Crown Royal Presents The Russ Freeman 400.
Two are always better than one
Official Sprint Cup pace cars.
Stormy Skies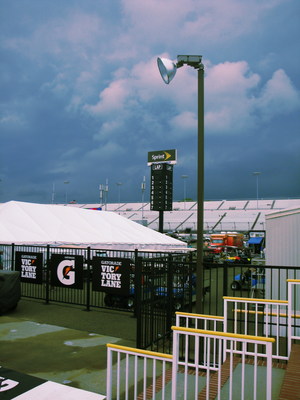 The skies over Richmond threatened to open all afternoon...
Rain Delay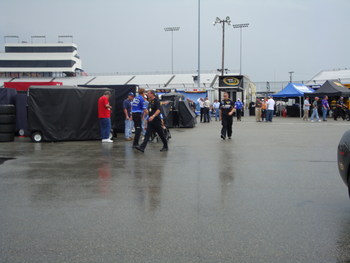 ...and eventually they did! Many thanks to Casey Mears' hauler for the shelter from the storm.
Team Shock Absorbers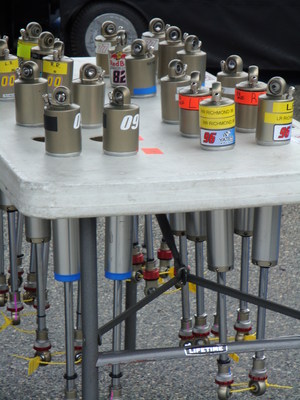 There were tables and tables of these.
Tires!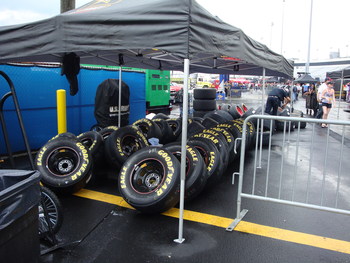 There would be no racing without A LOT of spare Goodyear Eagles.
And More Tires.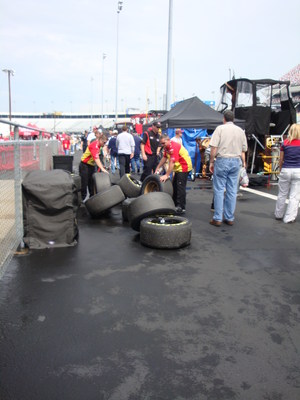 Told you, can't have enough tires on race day!
Team Gas Can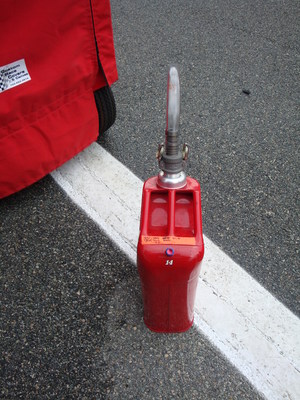 A much smaller version of the ones they use on the track.
Water Barrels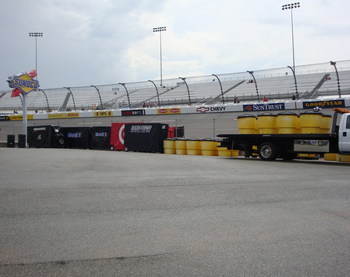 Used at the entrance to pit row for safety.
Trucks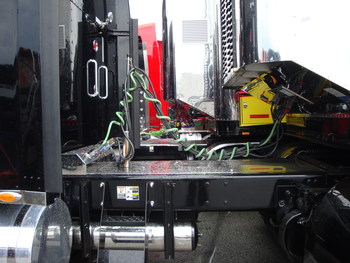 A line up of 18-wheelers used to haul the race cars.
Spare Racing Hood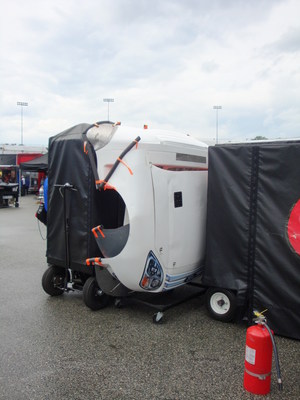 We all have one of these just lying around, don't we?
Here Comes The Rain Again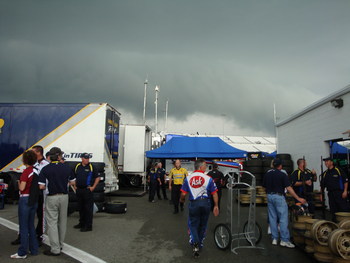 Right before a second downpour.
Headed for Inspection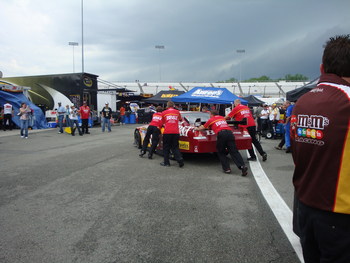 All cars are manually pushed to the inspection area.
Sprint Cup Inspection Entrance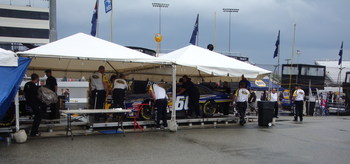 Sprint Cup Inspection Exit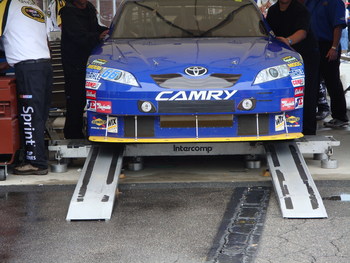 And eventually come out.
All cars must pass inspection before they can race.
Kevin Harvick Chevrolet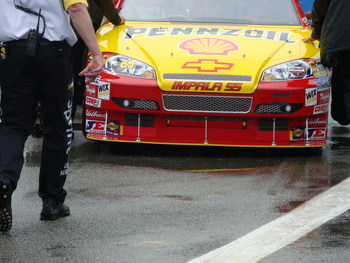 The No. 29 Shell/Pennzoil Chevrolet.
Heading to the Pits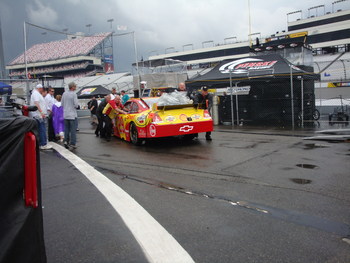 Every race car is manually pushed to it's individual pit box.
No. 29 Team Pit Box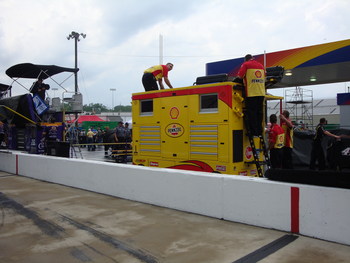 Home of Kevin Harvick's crew on race day.
No. 18 Team Pit Box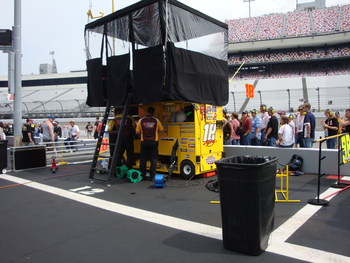 Home of Kyle Busch's crew.
Pit Row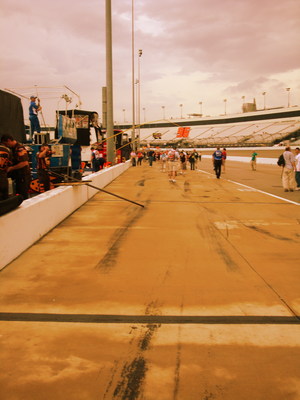 On the Track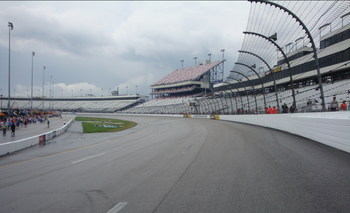 Turn Four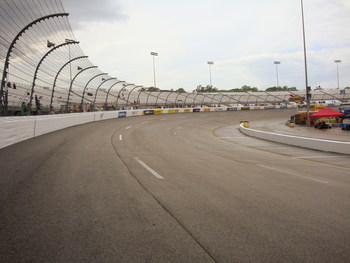 Last turn before the start-finish line.
Frontstretch Grandstand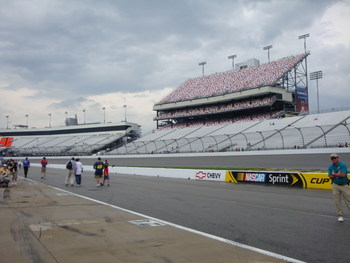 Start/Finish Line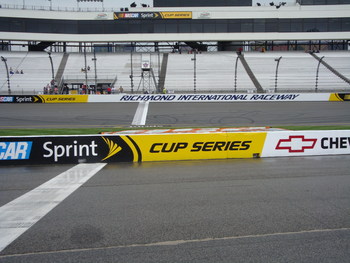 This is where the magic happens.
Victory Lane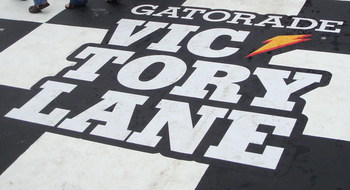 Keep Reading