Bubble Watch for Arizona Cardinals Training Camp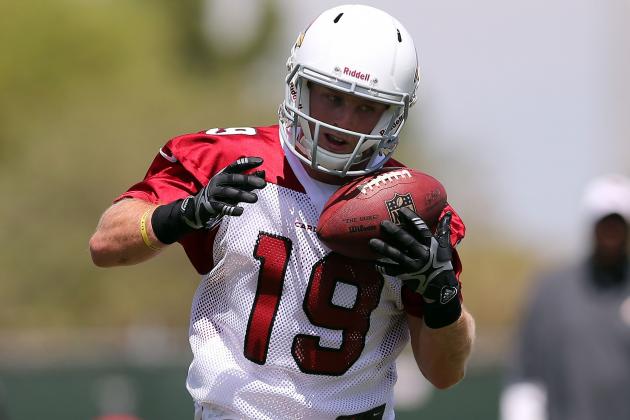 Christian Petersen/Getty Images
Rookie receiver Ryan Swope finds himself on the roster bubble after missing OTAs.
While bubble watch lists are fun for fans and writers to talk about, it is a very real thing for the players on those lists. For the Arizona Cardinals this offseason, there has been enough change—at all levels—to warrant some veterans' worry about their roster spots.
If they don't impress their new coaches quickly, they may be on the outside looking in September 8.
There shouldn't be any shockers this year unless something drastic happens (like, say, Levi Brown being cut because Nate Potter outperforms him), but there are bound to be a few players on this list who may not have been if Ken Whisenhunt were still coaching the Cardinals.
Here is the list of players on bubble watch as Arizona enters camp.
Begin Slideshow

»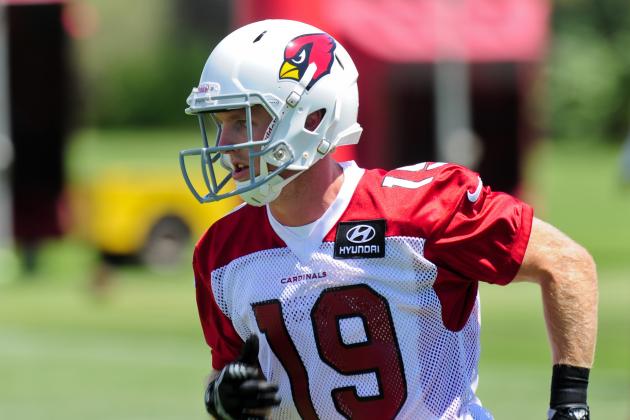 Matt Kartozian-USA TODAY Sports

Experience: Rookie
Depth Chart Position: 4th-string wide receiver
Analysis: There is no doubting Ryan Swope's impact on a football field. He is quick and possesses good hands despite them being smaller than ideal for a receiver (8.5-inches).
But missing as much time as he did during voluntary organized team activities due to reported complications (via NFL.com) stemming from four concussions he suffered in college is worrisome. The fact that he has yet to be cleared by doctors could derail his NFL career before it ever gets going.
The Cardinals took a chance on Swope in Round 6 knowing of his medical history. Swope didn't miss a single game in college, his concussions notwithstanding, and that is perhaps why head coach Bruce Arians was, "very, very very surprised," he missed OTAs.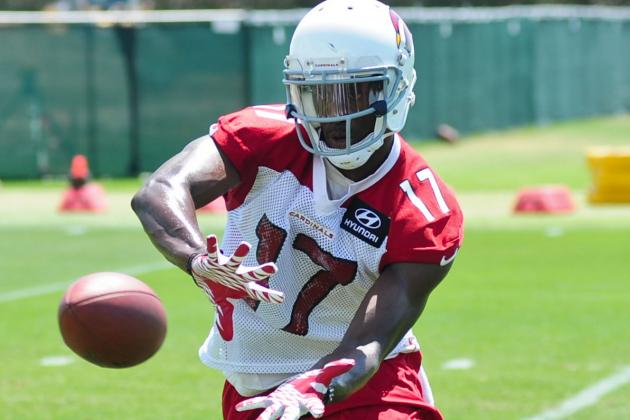 Matt Kartozian-USA TODAY Sports

Experience: 1 year
Depth Chart Position: 5th-string wide receiver
Analysis: If Swope has the misfortune of being a drafted rookie who gets cut, LaRon Byrd may luck out. He (sort of) earned the praise of his coach while at the same time being slammed by him. Arians had this to say to Darren Urban of AZCardinals.com when asked if he had seen strides from Byrd:
Not really, to be honest. He had a couple nice catches that were unbelievable throws. (But) he's too inconsistent right now. He has talent and a good future, but he's got to get more consistent.
Welcome to Bubble Watch 2013, Mr. Byrd.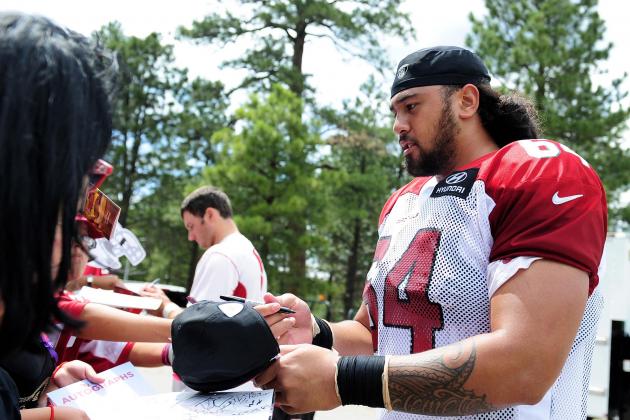 Jennifer Stewart-USA TODAY Sports

Experience: 1 year
Depth Chart Position: 3rd-string right guard
Analysis: A fifth-round pick in 2012, Senio Kelemete played just one game as a rookie—the final game of the season against the San Francisco 49ers. Daryn Colledge replaced Adam Snyder at right guard, so there is a 16-game starter in front of Kelemete.
There also is a five-year veteran backup, Mike Gibson, ahead of him as well.
Kelemete has potential, so maybe coaches are willing to develop him. But having been on the 53-man roster all of last year, he is not eligible for the practice squad. He would have to develop with the big club if they so choose.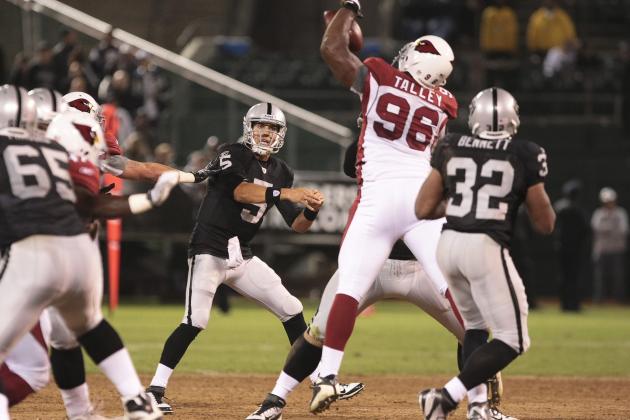 Kelley L Cox-USA TODAY Sports

Experience: 3 years
Depth Chart Position: 3rd-string defensive end
Analysis: Being unable to crack the top two on the depth chart for two seasons, time may be running out for Ronald Talley's Cardinals career. General manager Steve Keim added good depth all across the defensive line this offseason, making Talley very expendable.
Without an impressive camp, he could find himself looking for work before long—especially since he isn't practice squad eligible.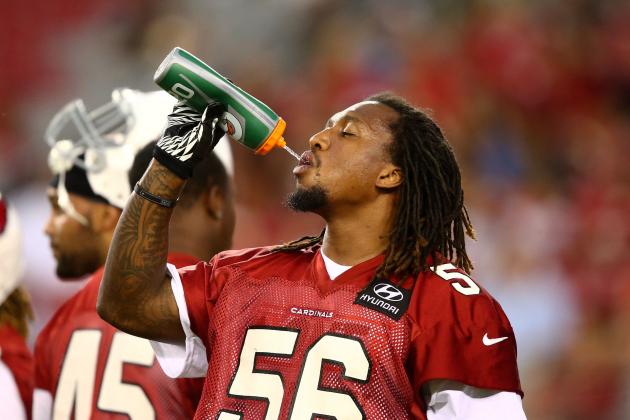 Mark J. Rebilas-USA TODAY Sports

Experience: 4 years
Depth Chart Position: 3rd-string right inside linebacker
Analysis: As with the defensive line, the inside linebacker position suddenly has a wealth of talent and depth. That could be a problem for Reggie Walker if he can't find his way onto the field.
He has played outside linebacker throughout his career and actually is a good fit, so he may want to think about rushing the passer a bit more to help the team in any way he can. Versatility is a virtue in the NFL, and it could end up saving Walker's job.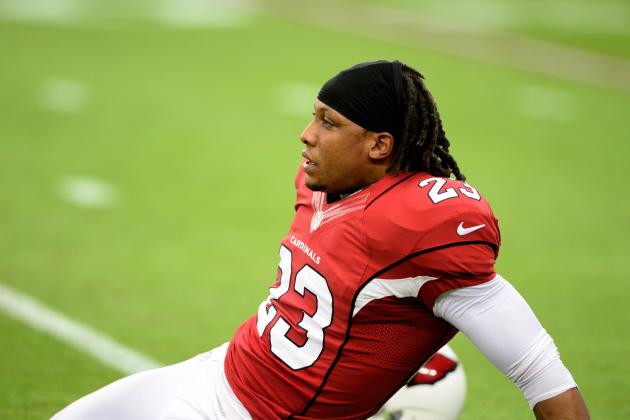 Mark J. Rebilas-USA TODAY Sports

Experience: 1 year
Depth Chart Position: 2nd-string left cornerback
Analysis: Don't let the depth chart position fool you. Being Patrick Peterson's backup makes one about as useful as a backup kicker in the NFL—good luck seeing the field at all.
Just like the last two players' positions, the cornerback depth chart was improved this offseason despite losing Greg Toler to free agency. Jerraud Powers, Antoine Cason and Javier Arenas all were added to compete for starter, nickel and dime roles, so it could be a long season for Fleming.
One position of need is safety, so it may be good for his future to switch positions.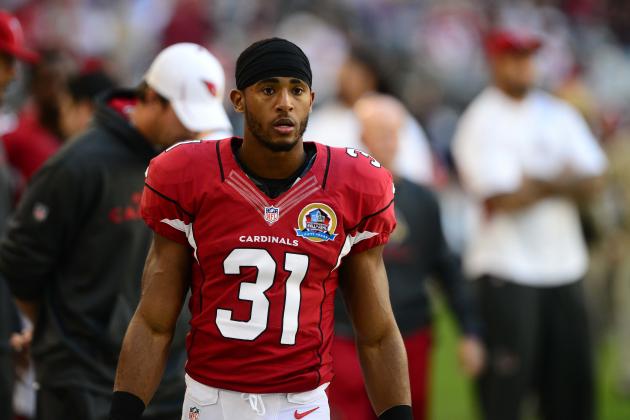 Mark J. Rebilas-USA TODAY Sports

Experience: 1 year
Depth Chart Position: 3rd-string left cornerback
Analysis: Making the move from safety to corner is curious for Justin Bethel. Coaches told him upon arrival for offseason work he would play CB this year, and with a need for safety depth that may speak to Bethel's athleticism.
He added considerable bulk this offseason, perhaps preparing himself to play safety. So the move to corner had to surprise him (and, in fact, it sounded as though it did).