Stock Up, Stock Down for Chicago Cubs Top 10 Prospects for Week 15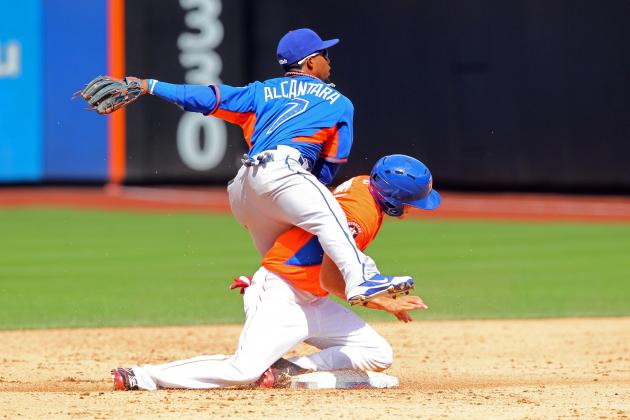 Brad Penner-USA TODAY Sports

With Chicago Cubs lone All-Star representative Travis Wood unlikely to pitch in the All-Star Game after starting on Sunday night, the highlight of All-Star weekend for the Cubs came on Sunday, when shortstop prospect Arismendy Alcantara homered for Team World in the 2013 Futures Game.
Alcantara is just one of a handful of promising young players currently suiting up in the team's minor league ranks, and that organizational depth will no doubt improve in the weeks ahead, especially if Matt Garza is moved.
For now, here is a look at the team's current top 10 prospects, how they performed over the past week, and whether their performance is trending up or down.
Note: Top prospects according to Baseball America Prospect Handbook.
*No. 3 prospect RF Jorge Soler (fractured left shin) is currently sidelined and will not be included until he's active. He was hitting .281/.343/.467 with 8 HR and 35 RBI at the time of the injury.
*No. 4 prospect SP Arodys Vizcaino (recovering from Tommy John surgery) is currently sidelined and will not be included until he's active.
*No. 5 prospect CF Brett Jackson (strained quad) is currently sidelined and will not be included until he's active. He was hitting .223/.300/.367 with 6 HR and 23 RBI at the time of the injury.
*No. 9 prospect RP Kyuji Fujikawa is not included since he is currently playing at the major league level.
Begin Slideshow

»
2013 Stats
.292/.360/.387, 19 2B, 4 3B, 2 HR, 37 RBI, 50 R, 20 SB
Overview
A Futures Game participant back in 2011, Matt Szczur continues to refine his game after being taken in the fifth round back in 2010 following a two-sport career at Villanova.
The former football player remains a supreme athlete, and as he's gotten more and more playing time under his belt, those tools have begun to turn into production. He ended last week hot, going 6-for-16 over his past four games, and he'll look to keep that going this week.
Last Week's Stats
6-for-26, 3 R
Stock
Even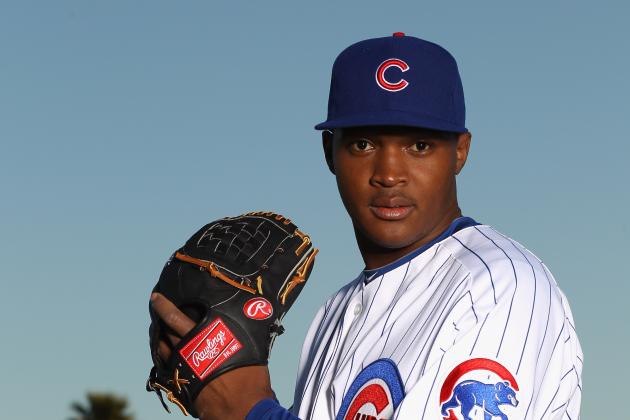 Ezra Shaw/Getty Images

2013 Stats
18 GS, 9-3, 3.20 ERA, 39 BB, 107 K, 112.2 IP
Overview
For an organization that was incredibly thin on pitching entering the season, the emergence of Alberto Cabrera has been one of the best surprises of 2013, and he looks like the team's Minor League Pitcher of the Year as of now.
Cabrera spent much of the second half last year in the Cubs' bullpen, but he was shipped to Double-A to work as a starter this season. The 24-year-old has been terrific in that role, particularly of late, as he's gone 4-0 with a 1.71 ERA in his last six starts.
Last Week's Stats
1 GS, 7 IP, 1 ER, 3 H, 1 BB, 3 K, W
Stock
Up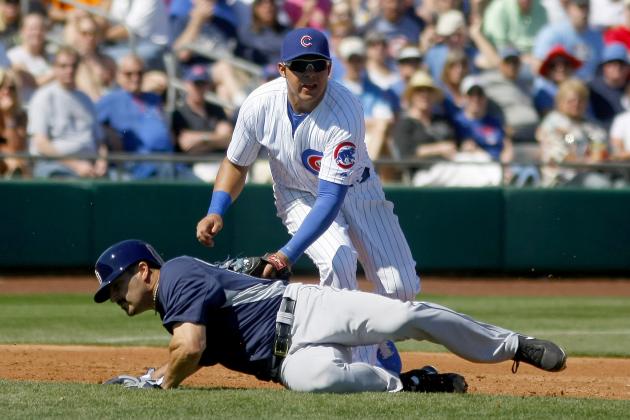 Rick Scuteri-USA TODAY Sports

2013 Stats
.257/.312/.450, 23 2B, 2 3B, 12 HR, 47 RBI, 35 R
Overview
Ranked as Baseball America's No. 100 prospect in baseball prior to last season, Christian Villanueva was acquired from the Rangers at the deadline last season for Ryan Dempster, and he has looked solid in his first full season in the Cubs' organization.
His on-base skills still need some refinement, but there is undeniable power potential there with 37 extra-base hits in 327 at-bats. He'll quickly be pushed on the organizational depth chart by 2013 first-round pick Kris Bryant, but the 22-year-old still has plenty of time to develop into an impact big leaguer.
Last Week's Stats
5-for-24, 1 2B, 1 HR, 3 RBI, 2 R
Stock
Even
2013 Stats
1 GS, 0-0, 0.00 ERA, 0 BB, 4 K, 3 IP
Overview
After dealing with lengthy visa issues, Juan Carlos Paniagua finally made it to Arizona last week, as the 23-year-old kicked off his 2013 campaign in the middle of July.
He made four appearances for the team's Dominican Summer League team, allowing just four hits and no runs while striking out 13 in 12.1 innings of work. Now, he'll look to get back on the developmental track and prove he was worth the $1.5 million investment the Cubs made last July.
Last Week's Stats
1 GS, 3 IP, 0 ER, 2 H, 0 BB, 4 K, ND
Stock
Up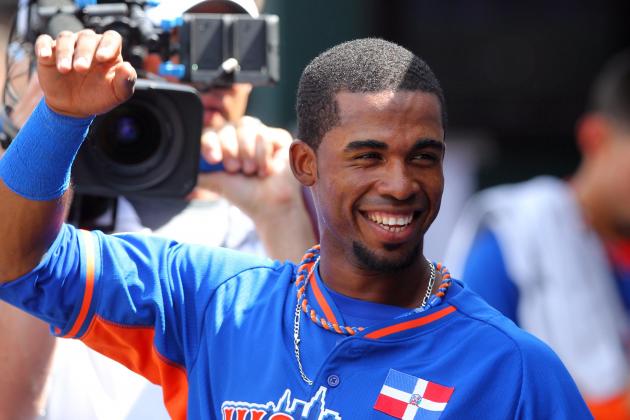 Brad Penner-USA TODAY Sports

2013 Stats
.280/.354/.475, 23 2B, 2 3B, 13 HR, 45 RBI, 47 R, 22 SB
Overview
What has been an impressive 2013 season for Arismendy Alcantara continued on Sunday, as he started at second base and hit second for Team World in the Futures Game. He went 1-for-3 in the game with a big solo home run into the second deck down the right field line in the fourth inning.
Essentially an unknown prospect entering last season, Alcantara hit .302 in a full season at High-A, and this season he found himself in the team's top-prospect picture for the first time as a result. He's continued to flash a terrific mix of power and speed this season, and he could be a key piece of the team's future.
Last Week's Stats
7-for-23, 1 HR, 5 RBI, 3 R, 1 SB
Stock
Up
2013 Stats
.252/.335/.373, 25 2B, 5 HR, 32 RBI, 41 R
Overview
It's been an up-and-down season for Jeimer Candelario, but it's important to remember that he's still just 19 years old and in this his third pro season.
He's riding a solid hot streak right now, hitting .294/.400/.471 over his past 10 games, and he takes a modest six-game hitting streak into Monday. The organization is in no rush to move him up the ranks, but a strong finish to the season could help solidify his standing as a top prospect.
Last Week's Stats
7-for-18, 2 2B, 1 HR, 2 RBI, 2 R
Stock
Up
2013 Stats
.277/.346/.449, 17 2B, 14 HR, 58 RBI, 39 R
Overview
A second-round pick in 2011, Dan Vogelbach has turned in a solid performance so far in his first full year above Rookie League ball, continuing to flash impressive power potential.
After posting a 1.051 OPS with 21 home runs and 17 doubles in 245 at-bats last season, the 20-year-old has continued to pile up extra-base hits this season. His 14 home runs are currently tied for third in the Midwest League, and his 58 RBI are ninth.
Last Week's Stats
4-for-18, 1 HR, 2 RBI, 1 R
Stock
Down
2013 Stats
13 GS, 5-5, 3.10 ERA, 22 BB, 74 K, 69.2 IP at Low-A Kane County
4 GS, 2-1, 2.86 ERA, 8 BB, 18 K, 22 IP at High-A Daytona (Promoted on June 20)
Overview
Taken with the No. 43 overall pick in last year's draft, Pierce Johnson has moved quickly to this point. And as a high-floor prospect, he's shown solid middle-of-the-rotation potential.
He earned a promotion to High-A Daytona on June 20, and after an unimpressive first two starts, he's allowed just 10 hits and one earned run in 11 innings of work at that level. The 22-year-old could get a look in Double-A before the season is over, and he could be in Chicago at some point next season if all goes well.
Last Week's Stats
1 GS, 6 IP, 5 H, 1 ER, 1 BB, 4 K, W
Stock
Up
2013 Stats
.331/.366/.489, 13 2B, 3 3B, 3 HR, 19 RBI, 32 R
Overview
The Cubs top selection last season and the No. 6 pick overall, Albert Almora has quickly made up for lost time after a broken hamate sidelined him until May 22 to kick off the season.
Still only 19, his all-around game is already incredibly polished, and while he may not dominate in any one area, he should develop into a reliable producer across the board and an anchor in center field. Expect him to be brought along slowly this year, but he could move quickly next season.
Last Week's Stats
4-for-22, 2 2B, 1 RBI, 2 R
Stock
Down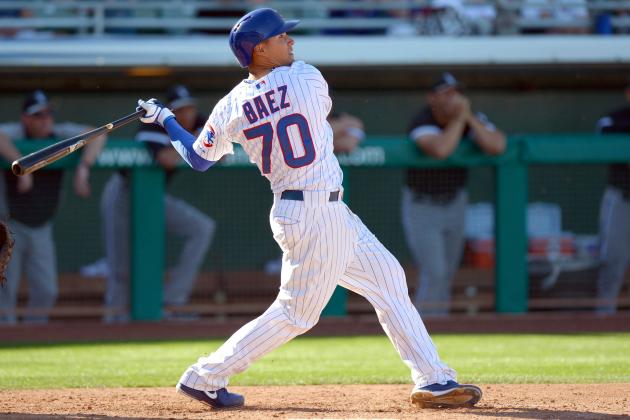 Jake Roth-USA TODAY Sports

2013 Stats
.274/.338/.535, 19 2B, 4 3B, 17 HR, 57 RBI, 59 R, 12 SB at High-A
.206/.250/.471, 3 HR, 5 RBI, 3 R at Double-A (Promoted on July 6)
Overview
Fresh off of his first full week at the Double-A level, Javier Baez continues to show elite-level power potential, as he's now reached the 20-HR mark overall on the season.
The 20-year-old closed out the week going 6-for-16 over his final four games, including a pair of home runs. It remains to be seen if he'll earn a September call-up, but either way, he's put himself into a position to compete for a big league job at some point in 2014 with his impressive play this year.
Last Week's Stats
6-for-27, 2 HR, 4 RBI, 2 R
Stock
Even