Stock Up, Stock Down for Philadelphia Phillies' Top 10 Prospects for Week 15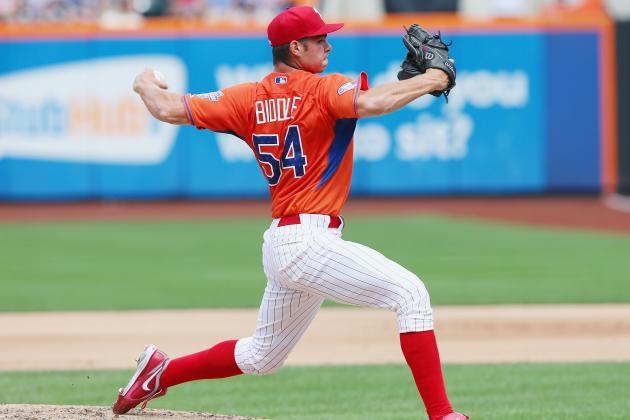 Elsa/Getty Images

The Philadelphia Phillies may be heading into their All-Star break this week, but the majority of their minor league teams will continue on with their respective seasons.
The Phillies have reached the All-Star break with a record of 48-48, adding to the mystery of whether the team will buy, sell or do a little of both with the non-waiver trade deadline approaching.
What's more certain, however, is that a number of prospects may see their futures with the team impacted depending on what the Phillies decide to do.
While general manager Ruben Amaro, Jr. and the front office decide whether to add to the farm system or use current minor leaguers as trade pieces, the team's prospects must continue progressing and try to follow in the footsteps of Jonathan Pettibone and Darin Ruf.
One prospect who is not ranked in the top 10 but who has had an outstanding season so far is Severino Gonzalez.
In the South Atlantic League, Gonzalez has 31 strikeouts to just three walks in 21.1 innings and, combined with his numbers from the Florida State League, has 64 strikeouts and has walked just six batters this season.
But how did the rest of the Phillies' top 10 prospects, according to Baseball America, fare this week? Did Jesse Biddle and Maikel Franco shine at the Sirius XM All-Star Futures Game?
Let's take a look at whose stock is up and whose is down following Week 15.
*All statistics courtesy of MiLB.com unless otherwise noted.
Begin Slideshow

»
Stats: 81 games, .229 BA, 17 RBI, 67 H, .283 OBP
Last Week: 4 hits in 18 at-bats, 2 RBI
Stock: Even
Carlos Tocci's batting average remains the same as last week, and he is now batting .214 in July, a few points lower than his .217 average from June.
Tocci has just one extra-base hit in his last 10 games and has drawn just two walks while striking out 10 times in that span.
As one of the youngest prospects in the Phillies' farm system currently playing in a full-season league, Tocci has already played in more than double the number of games he played in last season.
Although his overall batting average could use some improvement, his .274 average against left-handed pitchers, although from a fewer number of at-bats, is very solid.
Tocci still has plenty of time to improve and should have a solid foundation to build on now, having played in a full-season league at his age.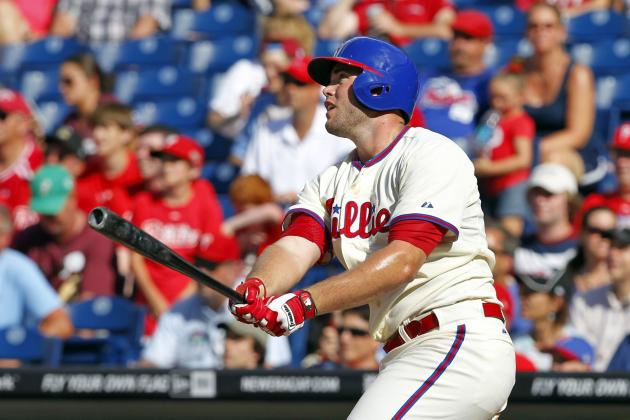 Hunter Martin/Getty Images

Stats (MLB): 9 games, .321 BA, 2 HR, 3 RBI, 9 H, .441 OBP
Last Week: 7 hits in 24 at-bats, 2 2B, 2 HR, 2 RBI
Stock: Up
Darin Ruf's first full week in the major leagues this season was a solid one, as he picked up at least one hit in all but two games and had a seven-game hit streak following his promotion.
Ruf finished the week with a three-hit performance in the first game of a doubleheader, but then had six strikeouts in his last two games.
However, a .321 average and .441 OBP, along with a game-tying home run, in his first week of big league action keep his stock up for another week.
With Ryan Howard likely out for close to two months and Ben Revere also headed to the disabled list, Ruf should be able to stick on the Phillies roster as long as he remains productive on offense.
If Howard and/or Revere are still out by September 1, there's a chance a productive Ruf could remain on the major league roster for the rest of the season, especially once rosters expand.
Rather than just trying to stay on the roster, however, Ruf should use his time now to try and remain in the Phillies lineup, whether as a platoon option at first base or potentially as a corner outfielder, well past just the next six to eight weeks.
*Ruf's major league statistics can be found on ESPN.com.
Stats: 84 games, .321 BA, 21 HR, 67 RBI, 110 H, .360 OBP
Last Week (Double-A): 1 hit in 8 at-bats, 1 2B, 1 RBI
Stock: Even
It took the Eastern League All-Star break and a game postponement to cool off Maikel Franco for a week.
Franco managed just one hit in eight at-bats this past week, which saw him play just two games due to the Eastern league All-Star Game, a game postponed due to rain, and preparation for the Sirius XM All-Star Futures Game.
In the Futures Game, Franco had two at-bats and struck out once.
Franco's selection to the Futures Game shows just how well he has progressed, including the outstanding season he has had so far.
Whether he remains at third base or changes positions, Franco must use the second half of the season to try and match his .413 average at Double-A prior to the All-Star break and possibly make his way to Philadelphia as early as next season.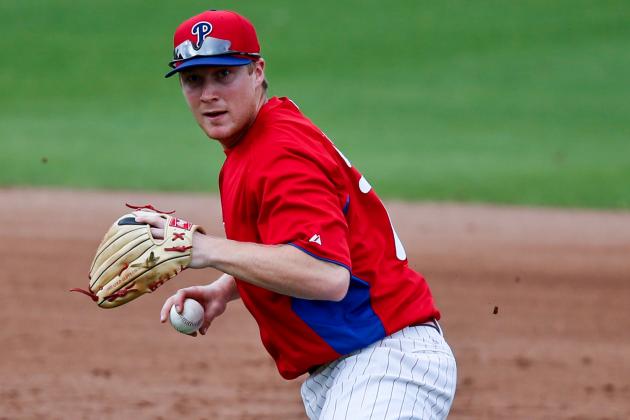 Derick Hingle-USA TODAY Sports

Stats: 93 games, .288 BA, 10 HR, 56 RBI, 103 H, .349 OBP
Last Week: 9 hits in 23 at-bats, 2 HR, 7 RBI
Stock: Up
Cody Asche continues to heat up at the plate, batting .313 in July and .324 in his last 10 games.
Asche, like a handful of the Phillies' top prospects, was selected to a minor league All-Star team based on his first-half performances. Asche will be playing in the Triple-A All-Star Game this week.
Now that Maikel Franco has been promoted to Double-A and is off to an outstanding start, it was understandable to wonder how Asche would respond with another highly ranked third baseman right behind him.
A five-hit game this past week provided some answers.
On July 10, Asche had four singles and a two-run home run while driving in four runs in an International League victory.
Asche now ranks in the top 10 in the league in RBI, hits and triples.
If Asche can keep this up, he should remain in the Phillies' plans for as early as next season while making an interesting case for a promotion this season if the team deals Michael Young at the trade deadline.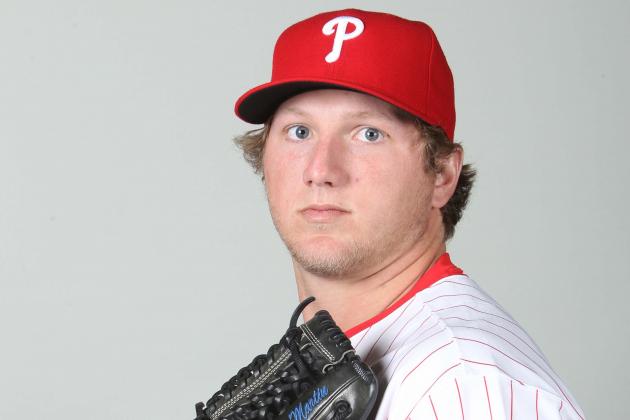 Kim Klement-USA TODAY Sports

Stats: 18 GS, 97.2 IP, 58 BB, 87 K, 4.79 ERA
Last Week: 1 GS, 1-0, 6 IP, 1 BB, 8 K, 3 ER
Stock: Up
For one of the International League's leaders in walks this season, a one-walk, eight-strikeout performance from Ethan Martin was a great sign this past week.
Martin, who is tied for the league lead in wins, picked up win No. 10 while striking out eight batters in six innings. It was the second time in his last four starts that Martin has struck out eight batters.
Despite the high walk total, Martin has been able to hold opponents to a .239 batting average while giving up 84 hits in 97.2 innings.
July has seen Martin have both a solid and forgettable outing so far, but he currently has more strikeouts than his number of innings pitched for the first time since April.
Martin is on pace to exceed his walk total from last season while striking out fewer batters, but more performances like his most recent should keep him on the Phillies' radar for next season.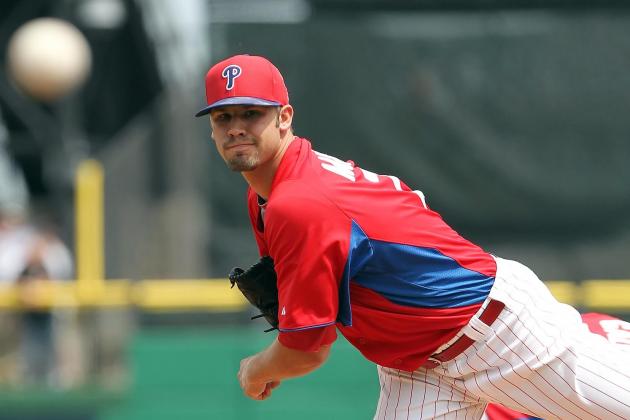 Kim Klement-USA TODAY Sports

Stats: 9 GS, 44.2 IP, 12 BB, 32 K, 5.04 ERA
Last Week: 1 GS, 3 IP, 0 BB, 3 K, 2 ER
Stock: Even
Adam Morgan made a rehab appearance this past week with the Gulf Coast League Phillies, making his first start since May 15 as he remained sidelined with a tear in his rotator cuff.
Morgan managed three strikeouts in three innings, but also gave up two earned runs in the outing.
However, the most important thing is that Morgan is able to pitch again following the injury. Depending on how he performs for the remainder of the season, Morgan could work his way into contention for a rotation spot next season.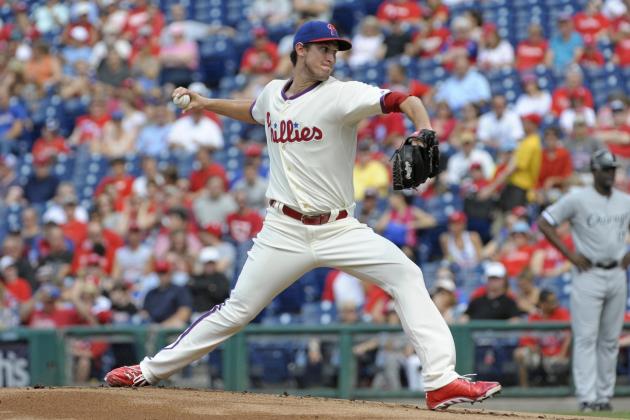 Eric Hartline-USA TODAY Sports

Stats: 16 GS, 90.1 IP, 31 BB, 61 K, 3.89 ERA
Last Week: 1 GS, 6 IP, 4 BB, 6 K, 3 ER
Stock: Down
It would have been difficult for Jonathan Pettibone to keep his stock up following two wins last week, but he still managed to keep the Phillies in line for a victory before losing in extra innings.
Pettibone managed to keep his strikeout total high and the number of hits he allowed in check, but he walked four batters and gave up three earned runs.
However, two of those walks came in the first inning, with the other two not coming until the sixth inning and one being intentional.
So far in July, Pettibone is 2-0 with a 2.65 ERA and already has more strikeouts than he had last month.
However, his four walks in his most recent outing tied his season high for walks in a game, although he still has a chance to give up his fewest number of earned runs in a full month this season.
Pettibone looks like he is improving with each start as a pitcher at the back end of the rotation, and he should remain in the Phillies' rotation at least until Roy Halladay returns.
At that point, he could move to the bullpen for the final weeks in order to limit his innings count.
If he can continue to improve on his recent outings, Pettibone should stick in the Phillies' rotation for next season.
*Pettibone's statistics can be found on ESPN.com.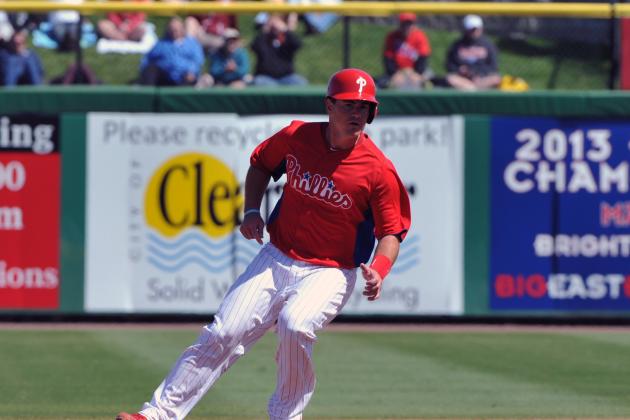 Al Messerschmidt/Getty Images

Stats: 36 games, .179 BA, 3 HR, 16 RBI, 22 H, .229 OBP
Last Week (Double-A): 3 hits in 8 at-bats, 1 2B, 1 RBI
Stock: Up
After rehabbing from a concussion he suffered on May 4, Tommy Joseph finally has his stock back up for a week.
Joseph, while playing in Double-A, picked up three hits this past week, including just his fourth double of the season.
He still has a ways to go, but regular playing time again and some better plate discipline could greatly help his stock. Joseph has struck out just once in Double-A in 11 at-bats, after striking out 13 times and drawing no walks in 42 at-bats in the Florida State League.
Now that he is back playing, Joseph has time to regain the form he showed for much of last season and his minor league career up to this point.
Stats: 67 games, .238 BA, 5 HR, 21 RBI, 62 H, 32 SB, .323 OBP
Last Week: Did not play, injured
Stock: Even
Roman Quinn is now the lone top-10 Phillies prospect out of action as he recovers from a wrist injury that has sidelined him since June 24.
Quinn had a down June prior to his injury, but he batted .304 in May and ranks among the leaders in the South Atlantic League in stolen bases.
If he can turn in strong performances down the stretch, as Maikel Franco did last season, Quinn should also remain ranked among the Phillies' top prospects.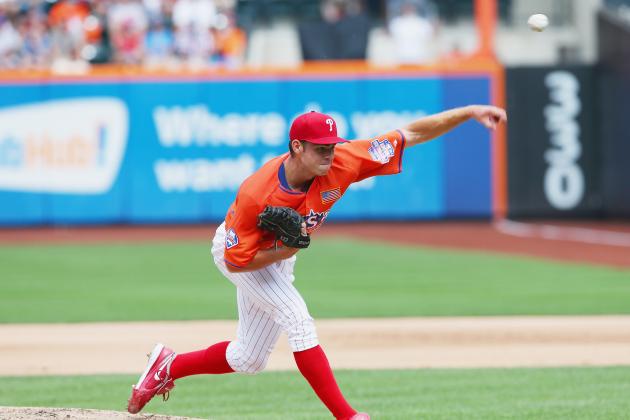 Elsa/Getty Images

Stats: 18 GS, 97.1 IP, 49 BB, 107 K, 3.33 ERA
Last Week: 1 GS, 4 IP, 3 BB, 5 K, 4 ER
Stock: Down
Jesse Biddle has already come out on top in one of the toughest matchups he has faced in his minor league career, as he struck out Double-A teammate Maikel Franco in the Sirius XM All-Star Futures Game this past weekend.
In the game, Biddle pitched 1.1 innings while walking one and striking out one and displaying the curveball that has helped him become one of the Phillies' top prospects. He did not give up any runs.
However, his Double-A start this past week did not go as well.
In four innings, Biddle gave up four earned runs and four hits as his winless streak continued. Biddle's last win came on May 21.
Despite the lack of wins, Biddle has held opponents to a .202 batting average and continues to lead the Eastern League in strikeouts.
Biddle continues to lead the Phillies' farm system in strikeouts while maintaining a solid ERA. If he can improve his consistency, including working on his command, Biddle has a chance to reach the major leagues within the next one to two seasons.