NY Yankees: Stock Up, Stock Down for Yankees' Top 10 Prospects for Week 15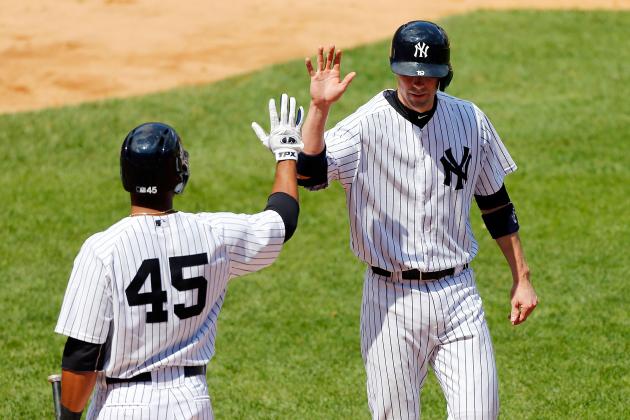 Jim McIsaac/Getty Images

The New York Yankees have stumbled into the All-Star break still trying to recover from a slew of injuries that have ravaged many players on their roster through the first half of the season.
Derek Jeter came back and was injured again—an almost fitting occurrence for what has been the storyline of the year for the Yankees.
But these injuries have opened the door for at least one new young player to get his feet wet.
Zoilo Almonte, who was once a mainstay on this list, was called up to the Bronx and has found moderate success.
So, with the first half of the season behind us, let's check out how the best prospects in the Yankees' organization fared over the past week.
Begin Slideshow

»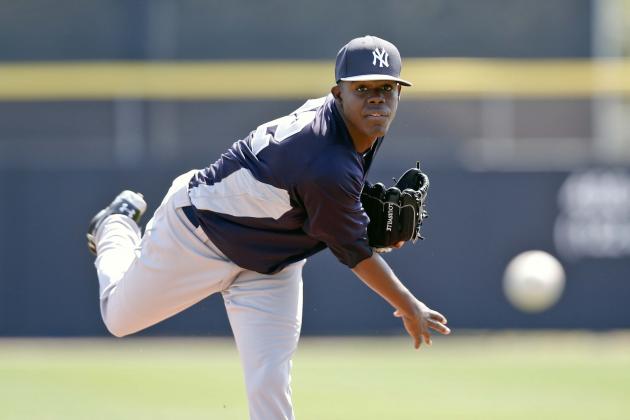 Derick Hingle-USA TODAY Sports

2013 Stats: 14 GS, 2 W, 5 L, 3.29 ERA, 9 HR, 73 K, 33 BB
Last Week's Stats: 1 GS, 1.1 IP, 2 H, 2 ER, 1 HR, 4 BB
Overview: The young Jose Ramirez had a tough start this past week in Scranton.
He lasted only one-and-one-third innings and walked four batters for a 13.50 ERA.
Ramirez is young and still finding his way on the Triple-A level, with that outing being only his sixth start at that level.
Regardless, the righty has always used control as a strength, and when he starts walking batters, he runs into trouble.
Ramirez is talented and may have a shot to make the team next season, but first, he will need to have a strong second half to the year.
Stock: Down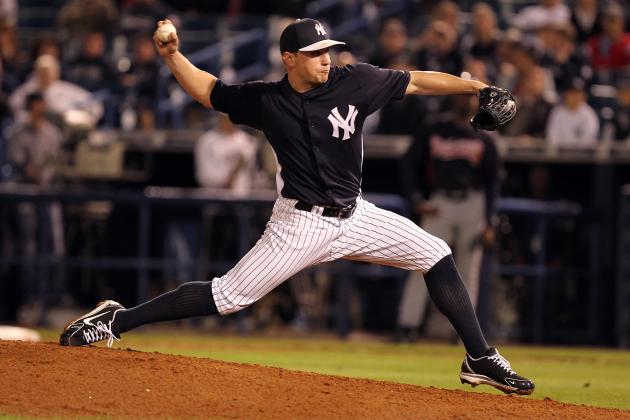 Kim Klement-USA TODAY Sports

2013 Stats: 20 G, 3.06 ERA, 32.1 IP, 31 H, 39 K, 20 BB
Last Week's Stats: 1 G, 1 IP, 1 H, 1 K
Overview: The good news is that Mark Montgomery is pitching again.
The reliever pitched last Friday for the Gulf Coast Yankees and allowed one hit in one inning of work.
Although it's not much, the fact that Montgomery is facing real batters and getting them out is a big step. Montgomery had been on the disabled list to rest his shoulder, which has been hampering him all season.
If that problem has been fixed by a little rest and relaxation on the disabled list, Montgomery will be back in Scranton in no time.
Stock: Up
2013 Stats: 15 GS, 1 W, 3.75 ERA, 60 IP, 12 BB, 55 K
Last Week's Stats: 2 GS, 4 H, 1 ER, 7 K, 0 BB
Overview: In two starts last week, Jose Campos stayed consistent.
The righty went four innings in both starts and only gave up a total of one run and four hits while walking no one.
That is the kind of week Campos needed after being mediocre throughout June.
Campos has been averaging four innings per start, and this past week, he made each start count—especially on Sunday when he struck out five.
If Campos can keep this progression, he may work his way towards Tampa by the end of the season.
Stock: Up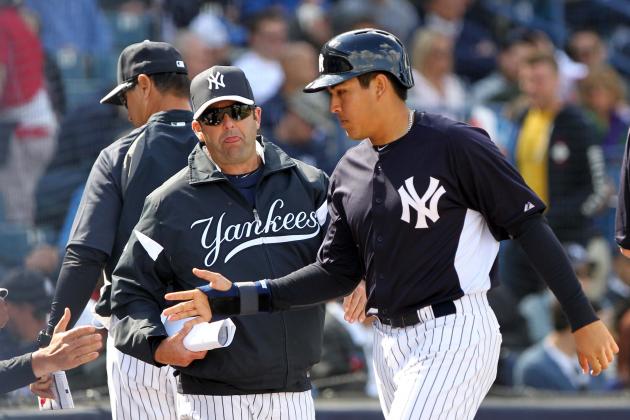 Kim Klement-USA TODAY Sports

2013 Stats: 89 G, .239 BA, 14 2B, 34 RBI, 71 K, 5 SB
Last Week's Stats: 4 G, 3 H, 0 RBI, 2 BB, 2 K
Overview: Ramon Flores was pretty quiet this past week at the plate.
The left-handed outfielder only collected three hits, with all of them coming is Trenton's game Friday at New Britain.
Flores didn't do much of anything though, as he only struck out twice and walked twice.
That isn't the kind of week that Flores needs to be having, especially with his averaging hanging below .250.
Like many of these Yankees' prospects, Flores needs to have a big second half of the season if he wants a shot in spring training next season.
Stock: Even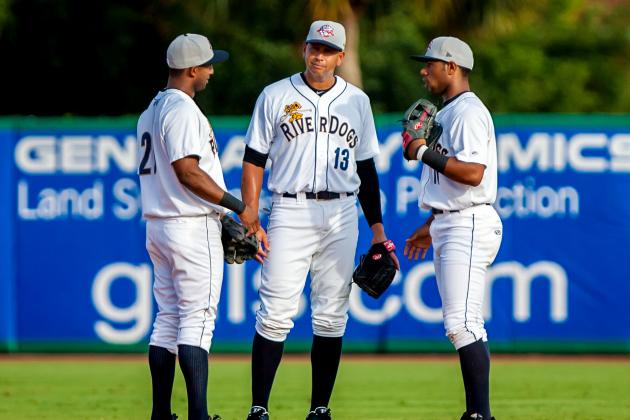 Jeff Blake-USA TODAY Sports

2013 Stats: 58 G, .229 BA, 15 2B, 15 BB, 47 K, 11 SB
Last Week's Stats: 6 G, 4 H, 1 2B, 1 3B, 3 RBI
Overview: After such an explosive week at the plate the week before this past week, it would have been hard for Angelo Gumbs to keep up that kind of production.
Gumbs had two multi-hit games this past week with a double and a triple.
The infielder seems to have benefited from his demotion to Charleston, where he is hitting .264 with two home runs.
Gumbs is athletic and talented, and if he keeps the production up, a call back to Tampa may be coming soon.
The future is bright for this young infielder.
Stock: Even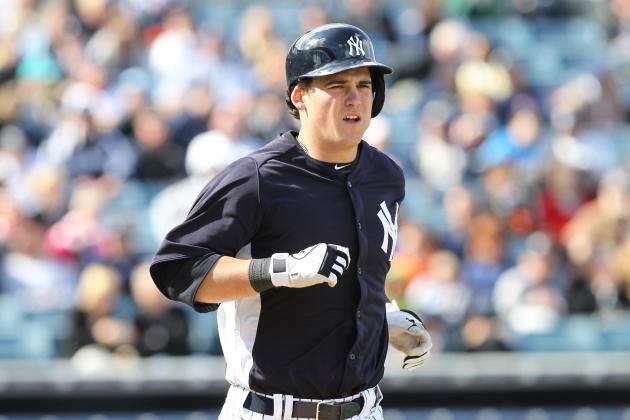 Kim Klement-USA TODAY Sports

2013 Stats: 81 G, .254 BA, 15 2B, 6 HR, 39 RBI, 76 K
Last Week's Stats: 2 G, 1 H, 2 K
Overview: Tyler Austin didn't have a good week at the plate.
Even though he played only two games this past week, Austin only had one hit.
Austin has been struggling as of late after having a decent start to the year. Over the past 10 games, he has only six hits and one RBI.
This type of production shouldn't be accepted by the young outfielder. If things don't change soon, Austin will find himself dropping his stock lower and lower.
Stock: Down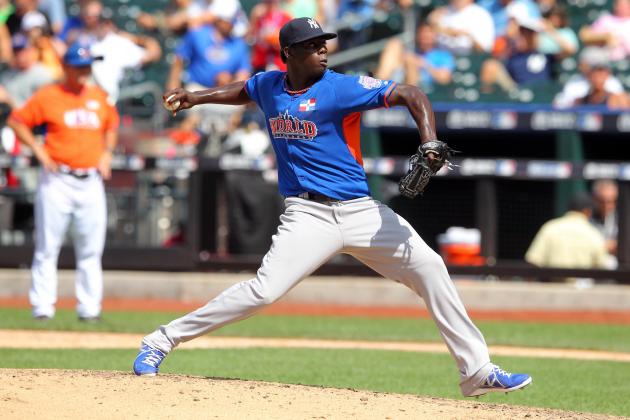 Brad Penner-USA TODAY Sports

2013 Stats: 15 GS, 6 W, 3.31 ERA, 5 HR, 26 BB, 105 K
Last Week's Stats: 1 IP, 1 H, 0 R
Overview: Although Rafael De Paula didn't pitch for Tampa last week, he did participate in the MLB Futures Game at Citi Field.
The young right-hander tossed a scoreless fifth inning, allowing only one hit.
De Paula continues to push his stock upwards and he may become a rising star so if he has a strong second half this summer, many Yankee fans will be hearing his name more.
The key for De Paula is to build on his success because he won't be able to get major league hitters out with just his fastball.
Stock: Up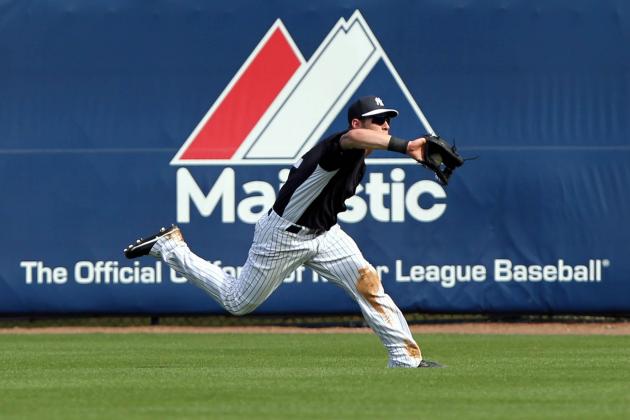 Kim Klement-USA TODAY Sports

2013 Stats: 79 G, .256 BA, 15 2B, 35 RBI, 87 K, 9 SB
Last Week's Stats: 5 G, 7 H, 1 2B, 2 RBI, 3 K
Overview: Slade Heathcott has finally stayed consistent at the plate for two full weeks.
The left-handed hitting outfielder had two multi-hit games this past week, including a three-hit game against New Britain on Saturday.
Heathcott is one of the most intriguing prospects on this list based on his pure potential.
He has struggled early on in his career, both on and off the field, but overcame many of those problems.
Heathcott has the tools to be a solid outfielder on the major league level. He just needs to put them together.
Stock: Up
Kim Klement-USA TODAY Sports

2013 Stats: 72 G, .266 BA, 3 HR, 18 RBI, 16 2B, 11 SB
Last Week's Stats: 2 G, 4 H, 3 R, 2 2B, 1 K, 1 SB
Overview: Mason Williams again only played in two games this past week, but he made the best of them.
The speedy outfielder had four hits and two extra-base hits in only eight at-bats while striking out only once.
Williams has slowly been gaining momentum since the middle of June and now he seems to be in full stride.
It looks like Williams is truly in midseason form as we head towards the second half of the summer.
Stock: Up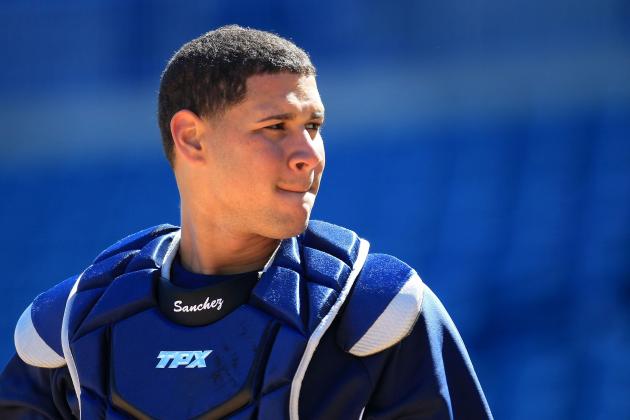 The Star-Ledger-USA TODAY Sports

2013 Stats: 78 G, .270 BA, 20 2B, 13 HR, 60 RBI, 57 K
Last Week's Stats: 6 G, 6 H, 1 2B, 4 RBI, 2 BB, 4 K
Overview: Gary Sanchez has continued his consistently quiet play at the plate recently.
This past week, Sanchez collected six hits in six games and drove in four runs.
The young catcher came out of spring training so hot at the plate that his current stats seem mediocre in comparison.
But he has remained consistent and Sanchez has battled through a few weeks where he has been cold at the plate.
As the top prospect in New York's organization, Sanchez has higher standards to achieve than the other young prospects around him.
Right now, Sanchez isn't reaching those standards, especially because he is still only in Single-A Tampa.
Stock: Even