Invicta 6 Results: Ranking the Top 15 Women in Each Division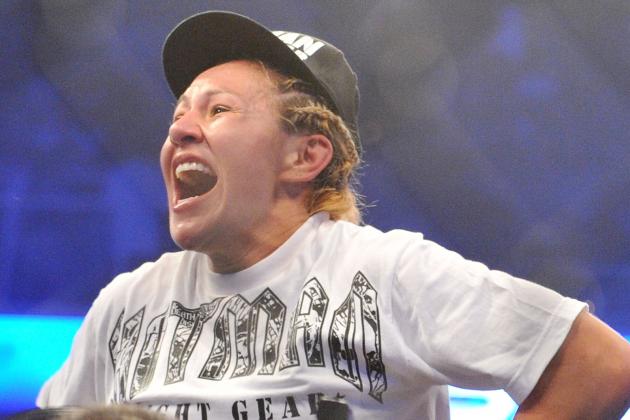 Jon Kopaloff/Getty Images

Women's MMA keeps truckin' along with the help of key promotions like the UFC and Invicta FC. This weekend marked the sixth event by Invicta, an all-female promotion that boasts some of the top talents in five distinct weight classes.
The show was headlined by a 145-pound championship bout between Cristiane "Cyborg" Justino and Marloes Coenen. It was a rematch from their Strikeforce days, which Santos won via knockout in the third round.
There was some other high-quality action that completely shifted the landscape in the five weight classes.
Here are the top-15 rankings for each division in the aftermath of Invicta 6.
Begin Slideshow

»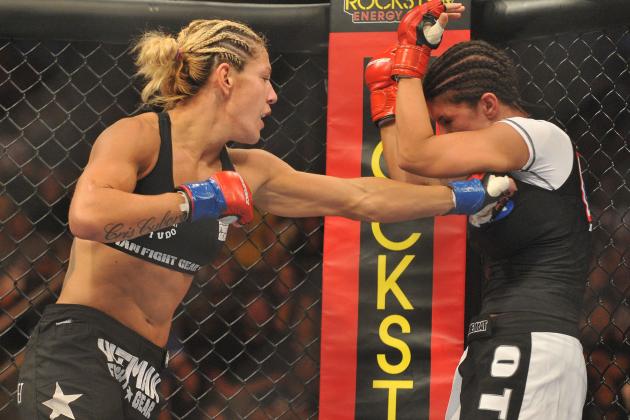 Jon Kopaloff/Getty Images

Cris "Cyborg" Justino
Marloes Coenen
Ediane Gomes
Julia Budd
Elaina Maxwell
Germaine de Randamie
Romy Ruyssen
Hiroko Yamanaka
Veronica Rothenhausler
Tamikka Brents
Ashley Sanchez
Pannie Kianzad
Fiona Muxlow
Gabrielle Holloway
Peggy Morgan
The 145-pound division really should have shaped up more than it did, but there was high drama this weekend outside of the cage. In addition to Veronica Rothenhausler not being medically cleared to fight previous to the weigh-ins, Tamikka Brents was injured backstage before her fight with Ediane Gomes, who went through several opponents before not actually fighting.
As mentioned, Cris Justino knocked out Marloes Coenen to hold the top spot in the rankings. Assuming she continues to stay clean and off the drug test radar, she is going to be the champion for a long time in Invicta. Her next challenge should come in the form of Ediane Gomes, who went through a lot this week and is still a top-three fighter.
The division is getting kind of light on talent, so hopefully the prospects will pick up the slack in the near future. My eye is on Rothenhausler, the jaw-rattling power puncher with great physical gifts and a sky that limits her potential.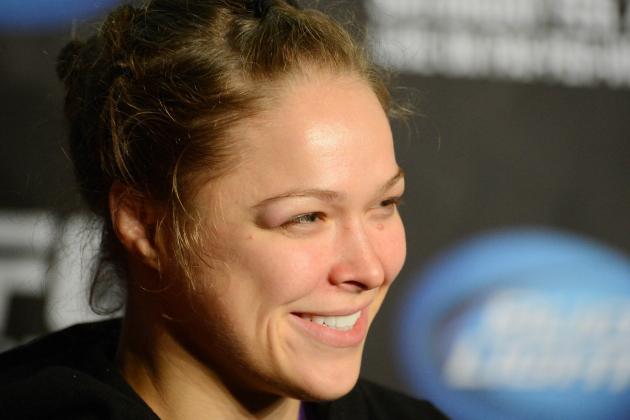 Jayne Kamin-Oncea-USA TODAY Sports

Ronda Rousey
Cat Zingano
Sara McMann
Miesha Tate
Sarah Kaufman
Alexis Davis
Liz Carmouche
Shayna Baszler
Lauren Taylor
Sarah D'Alelio
Amanda Nunes
Rin Nakai
Hitomi Akano
Jessica Andrade
Miriam Nakamoto
The only female division the UFC currently has is the bantamweight division, which is ruled by armbar machine Ronda Rousey. She is currently caught up coaching The Ultimate Fighter opposite Miesha Tate, whom she will throw down with at UFC 168 in December. Tate stepped in for Cat Zingano after the top contender went down with a knee injury.
Making a big leap into the rankings is Lauren Taylor, who upset Sarah D'Alelio on Saturday with a workmanlike performance. Taylor has emerged quickly as of late, winning Invicta bouts against D'Alelio and Kaitlin Young.
Possibly the biggest ascent was Miriam Nakamoto, whom I may be jumping the gun on. Nakamoto has been a destruction machine in her young career, including her thrashing of Duda Yankovich over the weekend. Her Muay Thai is equally beautiful and devastating all in one.
Liz Carmouche and Jessica Andrade will be fighting on the UFC on Fox card coming up, which could further scramble up the division.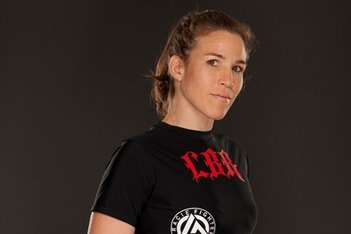 mmamania.com
Jessica Eye
Barb Honchak
Vanessa Porto
Leslie Smith
Jennifer Maia
Michelle Ould
Munah Holland
Zoila Gurgel
Tara LaRosa
Kalindra Faria
Tonya Evinger
Marianna Kheyfets
Aisling Daly
Brenda Gonzales
Joanna Jedrzejczyk
The flyweight division is in an interesting position, as the top 125er is in Bellator, not Invicta. Jessica Eye is incredibly skilled, but most of her competition lies in Invicta. That being said, names like Michelle Ould, Munah Holland and Marianna Kheyfets all compete or have competed for Bellator, so it's not like she completely has no competition.
Barb Honchak is the champion in Invicta after beating Vanessa Porto a few months back. She now will have to defend her belt against former bantamweight contender Leslie Smith, whose victory over Jennifer Maia over the weekend pushed her into the title shot.
The dark horse of the division may be Kalindra Faria, despite the fact that she only fights in Brazil. Her busy schedule this year has seen her go undefeated in 2013, including a win over the weekend against Carina Damm. There are more than a few people who would love to see Faria compete for Invicta soon.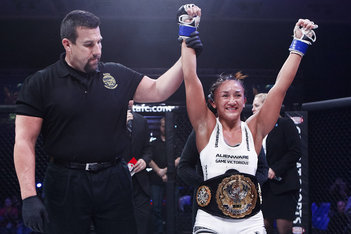 mmafighting.com
Jessica Aguilar
Megumi Fujii
Carla Esparza
Claudia Gadelha
Joanne Calderwood
Felice Herrig
Katja Kankaanpaa
Ayaka Hamasaki
Tecia Torres
Mizuki Inoue
Bec Hyatt
Rose Namajunas
Stephanie Eggink
Mei Yamaguchi
Yuka Tsuji
Like the flyweight division, the strawweight division is in a weird spot due to the fact that top-ranked fighter Jessica Aguilar competes for Bellator. She took that spot when she defeated soon-to-be-retired Megumi Fujii last year.
The champion of Invicta is Carla Esparza, who has a couple of contenders to be worried about in the meanwhile. Claudia Gadelha earned the first crack at the champ with her win over Ayaka Hamasaki over the weekend. Add to that the fact that buzzsaw Joanne Calderwood has been destroying everything in her path, and you have a stacked division of contenders.
In two big shapeups, top prospects Tecia Torres and Mizuki Inoue earned wins over the weekend against Rose Namajunas and Bec Hyatt, respectively. Consider the fact that Inoue is just 18 years of age, and you may be looking at a future champion.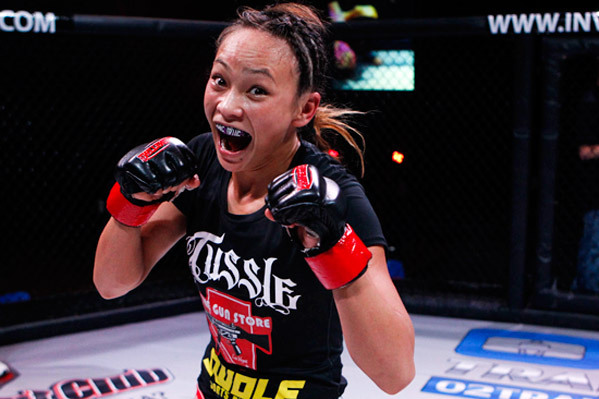 sportsillustrated.cnn.com
Michelle Waterson
Jessica Penne
Seo Hee Ham
Lisa Ellis
Simona Soukupova
Naho Sugiyama
Alex Chambers
Lacey Schuckman
Cassie Rodish
Jodie Esquibel
Stephanie Frausto
Amy Davis
Nicdali Rivera-Calanoc
Kikuyo Ishikawa
Diana Rael
The atomweight division is like the three lowest weight classes in the UFC: fun, fast and fan friendly.
Michelle Waterson is the extremely marketable champion of Invicta and will likely rematch Jessica Penne for the title in her next bout. Penne earned that right when she tapped out Nicdali Rivera-Calanoc over the weekend to get back in the win column.
Seo Hee Ham is one of the few names that needs to head over to Invicta. The South Korean skyrocketed up the rankings when she re-entered the division and defeated former No. 1 Naho Sugiyama this year. She could provide Invicta with another title challenger.