Examining Carolina Panthers' Offseason and Key Preseason Positional Battles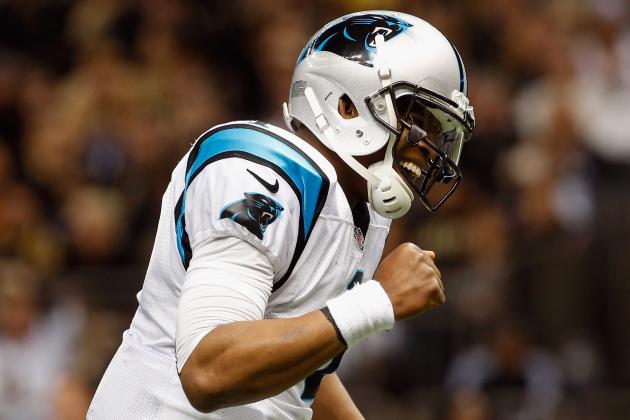 Chris Graythen/Getty Images

The NFL season never really ends, but there aren't always a lot of huge stories to talk about, either.
Invariably, one of the biggest talking points is examining the teams that will either repeat their success from the season prior or take a step backward. Given the parity in the modern NFL, almost anything is possible.
But there are also several teams on the rise, grouped together as "sleepers" or "possible playoff contenders."
By this point, Carolina Panthers fans should be used to that discussion. Considering their late-season success in 2012 and the offseason general manager Dave Gettleman put together, it's hard to not put the Panthers in that category.
Of course, it also helps to have a budding superstar under center.
Last year's early-season failures were pinned on Cam Newton as much as any player or coach in the organization. Some called it a sophomore slump and others questioned Newton's maturity and leadership abilities. Whatever the case, things weren't going well.
Carolina started the season 2-8, the first part of that stint (1-5) resulting in the exit of former general manager Marty Hurney. For a team with so much talent, the Panthers appeared headed for another abysmal season.
But Newton busted out of his early-season slump to lead the Panthers to wins in each of their last four contests, finishing the season 7-9 and in second place in the NFC South.
What the second half of last season proved is this: If Carolina can find its form in the early going this year, the sky really is the limit.
Gettleman made some big decisions this offseason to perpetuate that progress, starting with perhaps the biggest non-change in the retention of head coach Ron Rivera. Teams are often quick to shake things up at the top following a poor season, but even with a new shot-caller in house, the Panthers decided to keep Rivera in the head coaching position.
With continuity at the team's two most important positions (head coach and quarterback), the Panthers are in position to build off their 2012 second-half success with a strong 2013 campaign.
Carolina didn't lose much this offseason, and Gettleman went to work on signing a bevy of complementary players to boost his team's offense, including wide receivers Domenik Hixon and Ted Ginn Jr. Along with some additions to the defense and a solid draft class, Carolina made some big strides in preparation for the coming season.
We'll take a closer look at those free-agent additions, as well as the team's 2013 draft class and some positions to watch as the season draws near.
Begin Slideshow

»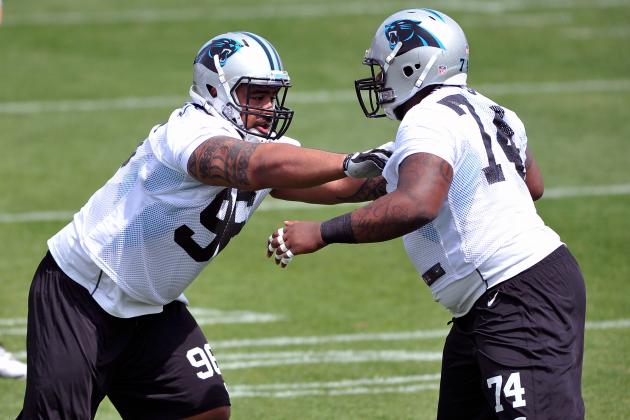 Lance King/Getty Images

Round 1 (Pick 14): DT Star Lotulelei, Utah
Round 2 (Pick 44): DT Kawann Short, Purdue
Round 4 (Pick 108): OG Edmund Kugbila, Valdosta State
Round 5 (Pick 148): LB A.J. Klein, Iowa State
Round 6 (Pick 182): Kenjon Barner, Oregon
Grade: B-
Dave Gettleman's first draft class with the Panthers was, for lack of a better term, suitable.
Carolina desperately needed to address its holes on the interior defensive line, and Gettleman did that in each of the first two rounds, finding tremendous value in both selections.
Utah's Star Lotulelei was a projected top-five pick before concerns of a heart condition surfaced during the combine. While that issue was later dispelled, his slide to No. 14 proves not every team was willing to overlook the potential red flag.
But Lotulelei has exceptional talent as both a run-stuffer and interior pass-rusher, much in the mold of Baltimore Ravens defensive lineman Haloti Ngata. At No. 14, Gettleman couldn't have asked for a better situation.
First-year GMs often walk a fine line, though, and Gettleman wasn't taking any chances in the second round. As he did with the 14th pick, the former New York Giants personnel man continued working on a major need in selecting Purdue defensive tackle Kawann Short.
The Panthers finished the 2012 season ranked 14th against the run, but it was obvious in watching their defense that the interior line would be a big concern going forward. Consider it fixed. Obviously Lotuleli and Short will have to prove they belong, but all signs point to a much more physical, talented rotation at defensive tackle this year.
Gettleman didn't have too much to work with beyond Day 2, though, and he had to make his picks count. Edmund Kugbila and A.J. Kline were both solid acquisitions with some upside, but his most intriguing pick came in the form of Kenjon Barner in the sixth round.
The Oregon speedster could have been a much earlier selection were it not for his diminutive frame (5'9", 196 pounds), but he has plenty of bulk to hold up at the NFL level. In fact, his speed and stature make Barner a sleeper to have a big impact on the offense this season.
The Panthers are known for having a crowded backfield, but despite finishing ninth in rushing offense last season, their running game was underwhelming, predicated on Newton's ability to create offense outside the pocket. Barner gives them a new element and a terrific complement to Jonathan Stewart and DeAngelo Williams.
In all, it was a solid—if unspectacular—draft class for Gettleman and the Panthers. They found value in filling some positional needs, and did so without taking too many unnecessary risks.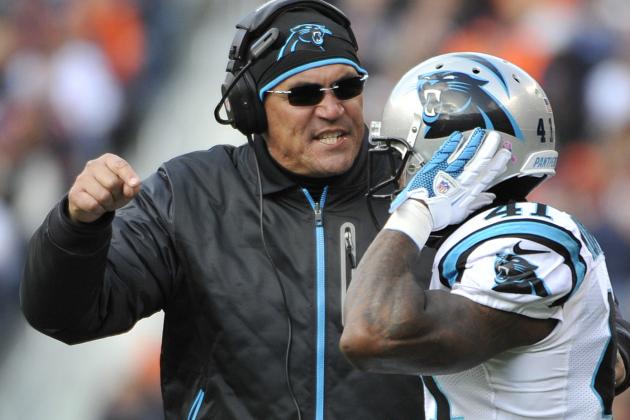 David Banks/Getty Images

Carolina finished 13th in the league last season in passing defense, but stats can sometimes be misleading.
Despite the numbers, the Panthers' secondary was clearly overmatched at times in the NFC South, and the release (and then retirement) of No. 1 cornerback Chris Gamble doesn't help matters. Entering the 2013 season, the secondary is Carolina's primary concern.
Captain Munnerlyn will return on a new one-year contract, likely to have the No. 1 cornerback spot locked down. He was solid as the team's No. 2 option last year and shouldn't have any problem filling the primary role, but opposite him, things could get a little ugly.
Second-year corner Josh Norman came up well short of expectations last season, benched at the end of the year in favor of Josh Thomas. Neither player impressed, and if one of the two is to earn a starting role this season, he'll have to make a massive improvement.
As quoted by Bryan Strickland of Panthers.com, secondary coach Steve Wilks understand his defensive backs will have to forget about last season to make those strides in 2013:
As coaches, we look for production, for guys that are going to produce and make plays. Those are the guys that will be on the field. One thing we're going to talk about Monday is that 2013 is a clean slate. We're not worried about what happened in the past, not looking in the rearview mirror. We're looking forward, and everybody has a fair shot. I like what we've created. We've created a lot of competition.
That "competition" includes the additions of veteran corners Drayton Florence and D.J. Moore, each signed to one-year contracts this offseason.
Depth won't be a concern this year, but the quality of that depth certainly will. Florence and Moore are experienced defenders with ample upside, but neither was the big signing the Panthers needed to negate their biggest concern.
Given Norman's sizable chunk of playing time last season (he saw action in all 16 games), there's a good chance the 25-year-old has another opportunity to prove himself opposite Munnerlyn, but there's no shortage of cornerbacks waiting in line to steal the job.
Thomas was solid in his four starts in place of Norman last season, arguably the most likely to usurp him for the position. Moore and Florence are both better suited for nickel and sub-package roles (as they played in the past), but if the need is there, don't be surprised if either player is asked to make the transition to the outside at some point in the season.
The bottom line is this: Until Carolina's cornerbacks prove they can make big strides this season, the position will be a major concern.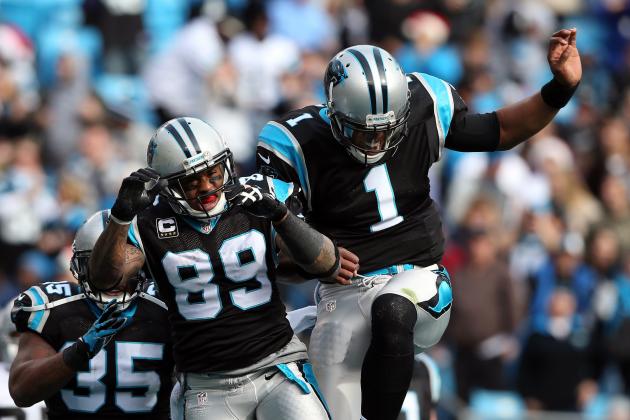 Streeter Lecka/Getty Images

If Cam Newton is to continue improving in his third NFL season, he'll need a little more help from his receiving corps.
Like the cornerback position, the Panthers have plenty of depth. The biggest difference, though, is the quality of that depth.
Dave Gettleman signed two excellent complementary pieces this offseason in former New York Giants receiver Domenik Hixon and Ted Ginn Jr., both of whom should see plenty of action in Carolina's spread sets this season.
With Steve Smith returning following two stellar seasons in the Newton era and incumbent starter Brandon LaFell (44 catches, 677 yards and four touchdowns in 2012) back in the fold, Newton won't be short on suitable targets.
Armanti Edwards may be the biggest loser in Carolina's offseason dealings, though. After appearing in all 16 games last season, he now faces a questionable future as a fringe candidate on the wide receiver depth chart, also joined in returning duties by the likes of Ginn and Joe Adams. As it stands, Edwards is versatile enough to make the final roster, but don't expect him to make a big impact in any facet this season.
Like Edwards, David Gettis will be at a serious disadvantage as the season draws near. Hixon is a virtual lock for the No. 3 role and Ginn should have the No. 4 spot locked down, meaning the 2010 standout (who dealt with injuries each of the last two seasons) probably won't see much usage in 2013.
Along with Adams and Pilares Kealoha, there's simply too much depth and too few roster spots for anyone beyond Ginn to feel confident about their prospects in 2013.
But depth certainly isn't a bad thing for Newton and the Panthers. With so many options, Carolina should have no problem giving the third-year signal-caller the ammunition he needs to succeed in the passing game.
The roster has potential, but what Panthers fans should be most excited for is something people don't typically consider.
Carolina promoted Ricky Proehl to wide receiver coach this offseason in an attempt to illicit a spark from some of the younger members of the team. As quoted by Max Henson of Panthers.com, Proehl knows he has the experience to make a major impact on his receivers after a 17-year NFL career at the position:
Over 17 years, you play for a lot of coaches and you play with a lot of players. You experience a lot of things – good and bad. I've learned so many things from great players and great coaches, and that's what I can teach these guys. I wasn't 6-foot-4, 220-pounds running a 4.3 40 (yard dash). I had to be a good route runner. I had to be smart and know where the holes were in the coverages, if it was man or zone. I learned all of the (wide receiver) positions. I worked hard at it.
That hard work paid off for Proehl, and you can count on his experience paying off for Carolina's receiving corps as well.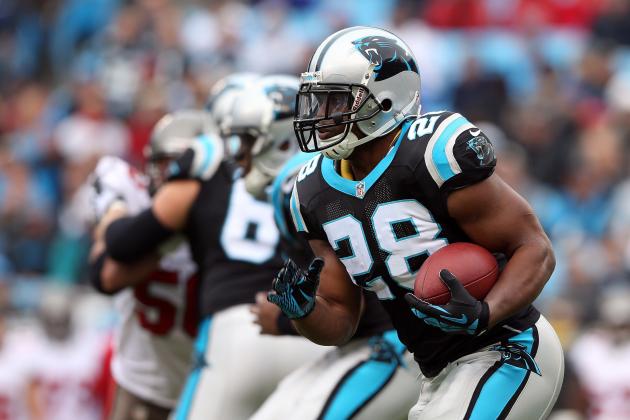 Streeter Lecka/Getty Images

Despite dolling out an incredible sum to keep both Jonathan Stewart and DeAngelo Williams in the backfield, the Panthers' running game was underwhelming at best, led by Cam Newton and his 741 yards.
As Newton suggested last month, for Carolina's offense to be successful this season, it needs a better effort from its running backs, as quoted in an Associated Press article, via Fox Sports:
For us, the running game is key. In years past, success for the Carolina Panthers has meant getting our running backs involved in the game early and letting those guys do what they do. I feel like we have an unbelievable group. We have guys that are capable of running the ball as well as catching it out of the backfield. We have to use that to continuously keep the defense honest. Everyone knows we have playmakers on the offensive side of the ball. But in order for us to be successful, we have to run the football. We will run the football.
Ron Rivera mirrored that sentiment:
We want to keep them as a big part of what we do. I think with Cam's ability to get the ball downfield is going to open things up underneath. His ability to run will make people hesitate and that is where you can see the effectiveness of the running backs.
The notion that the running game sets up the pass is nothing new; Carolina just needs to find a way to effectively implement it into its offense this season.
Provided Rivera sticks to his guns, fans should expect to see a lot more of the ground game this season, led by Stewart and Williams with Kenjon Barner in the mix as well.
If healthy, Stewart should be considered the front-runner for the starting role given his versatility, but Williams still has gas left in the tank. The thunder-and-lightning combo has the makings of a dynamic rushing threat this season, but that's been the case in years past without much in the way of positive results.
Part of those failures last season can be attributed to the read-option that limited Stewart's north-south running style, though. With offensive coordinator Rob Chudzinski now in Cleveland as the Browns' new head coach, we may see a little less of that this season and a little more of Stewart and Williams being used as they should be.
Barner gives the team an added speed element, but he shouldn't be considered a viable three-down option at any point this season. As it stands, he'll likely be in the mix as a potential third-down back with additional upside in spread sets.
Regardless of how the depth chart ultimately shakes out, Newton and Rivera made one thing perfectly clear: Fans should expect to see a lot more of the running game this season sans Newton.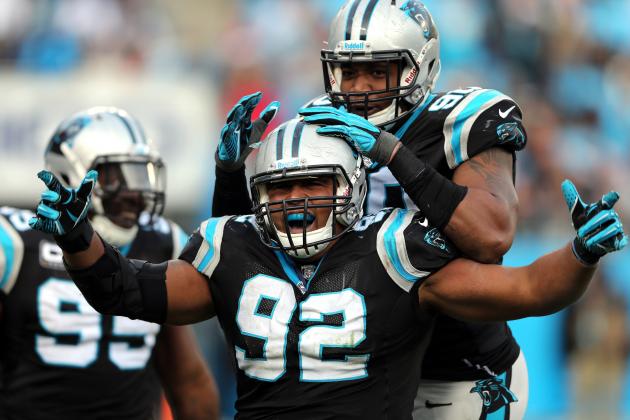 Streeter Lecka/Getty Images

The apprehension involving Carolina's secondary is both understandable and warranted. Err on the side of caution.
However, Dave Gettleman's omission of major defensive backfield changes isn't necessarily a bad thing. As quoted by Joseph Person of the Charlotte Observer, Steve Wilks knows what Gettleman did with the team's defensive line will provide a huge boost to its secondary as well:
Just understanding Gettleman's background and seeing the success they had. They won two Super Bowls, and it all started up front. He came in building a philosophy as far as wanting to establish the offensive and defensive lines. And I agree. Because I believe if you have a great pass rush, it's going to help your secondary out.
In adding Star Lotulelei and Kawann Short to an already talented defensive line, the Panthers bolstered their pass rush and gave their secondary a little more breathing room.
People don't typically consider defensive tackles key components to a pass rush, but in a one-gap 4-3 front, interior linemen can have a massive impact on a team's ability to get after opposing quarterbacks.
Lotulelei will join Dwan Edwards at defensive tackle this season as Carolina looks to boost its interior pass rush, aided by the rotational roles of Short and Sione Fua. With the additional depth, Carolina also gets a crop of versatile interior defenders who should be much more adept at stopping the run this season.
Defensive end was never a major positional need this offseason, especially after the standout 2012 campaigns of Greg Hardy and Charles Johnson.
The pair combined for 23.5 sacks last season, and given their tremendous success, there's little reason to worry about the Panthers' pass rush this year. The additions at defensive tackle will only aid in Hardy and Johnson's productivity in 2013.
In addition, the changes at defensive tackle should make Luke Kuechly, Jon Beason and Thomas Davis even more deadly at the linebacker positions. In a one-gap front, each will benefit from offensive lines paying extra attention to Carolina's revamped defensive line.
As Wilks noted, it all starts up front. Fans may have wanted Gettleman to address the secondary in the draft, but he did the next-best thing by adding a pair of talented defensive tackles in Lotulelei and Short.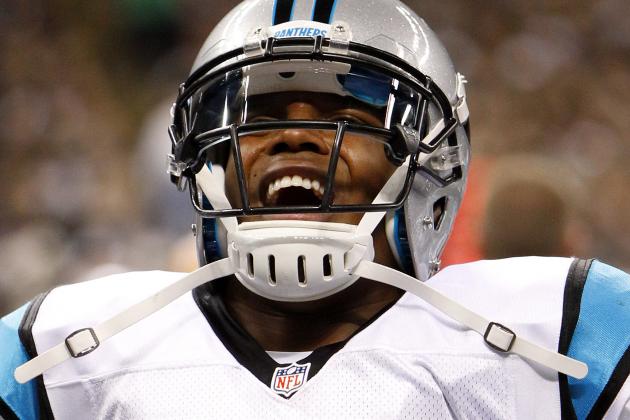 Wesley Hitt/Getty Images

*For a complete look at Carolina's 2013 schedule, check out NFL.com.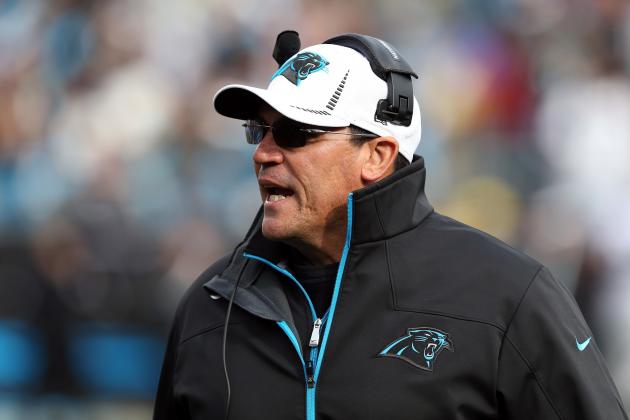 Streeter Lecka/Getty Images

I'm on the bandwagon. The Carolina Panthers are going to be a good football team this season.
Unfortunately, a tough division and a couple difficult non-divisional matchups is reason enough to err on the side of caution.
Carolina made some nice moves this offseason in preparation for the season, but its secondary is still a concern, as is a running game that should have been much more effective than it was in 2012. There are simply too many questions that still need to be addressed.
The Panthers can certainly improve upon their 7-9 mark from a season ago and challenge for a wild-card spot, but until they actually make the strides many want to see, the Atlanta Falcons and New Orleans Saints still have a slight edge in the division.
That could all change with a strong 2013 campaign—and I'm not suggesting that won't happen—but there are no guarantees.
Prediction: 9-7, Third in NFC South
Carolina has the talent to at least split its six divisional contests and end up in good position to make a playoff appearance this year. Realistically, the Panthers are probably looking at between seven and 10 wins with an outside shot at playing more than 16 games.
However, non-divisional matchups with the Seattle Seahawks, San Francisco 49ers and New England Patriots won't be easy, nor will contests with the Minnesota Vikings and New York Giants. Even playing their best football, the Panthers will struggle to escape that stretch of games above the .500 mark.
Carolina is a team on the rise, but success can't always be obtained in a short period of time. As long and Gettleman continues what he started this offseason, it won't be long before we're including the Panthers on the list of title contenders from the NFC South.