NY Yankees: Stock Up, Stock Down for Yankees' Top 10 Prospects for Week 12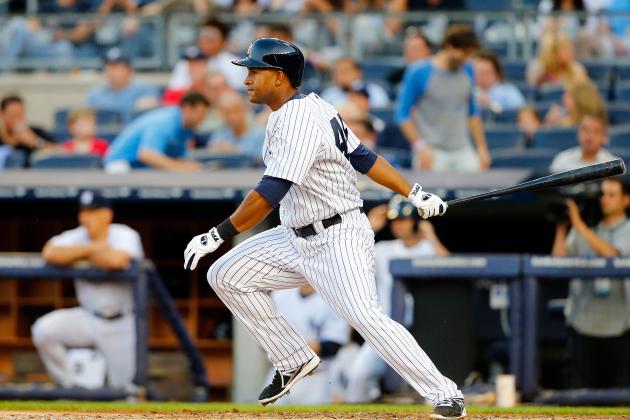 Jim McIsaac/Getty Images

This past week was full of changes for both the New York Yankees and the prospects on this list.
This week the Yankees finally called up a player ranked towards the top of their organization, and reaped the rewards.
Outfielder Zoilo Almonte made his major league debut last week and has started three straight games, going a combined 6-for-10 with a home run and four RBI.
Almonte's departure from the minors last week became part of a major stir to this top 10 list.
As we start heading into July, many of these young prospects should be in midseason form and their 2013 campaigns are starting to shape up.
So let's see how the Yankees' top prospects did this week.
Begin Slideshow

»
2013 Stats: 66 G, .202 BA, 7 2B, 4 HR, 69 K, .272 OBP
Overview: Once again, Dante Bichette had a down week.
The third baseman only picked up three hits, while striking out four times.
It's become the norm this season that Bichette has been struggling, and aside from only a few solid weeks he has had a very bad year to this point.
Bichette is struggling to stay above the Mendoza Line, and another week like this will put him there and outside of this top 10 list.
Things have to change for Bichette, and quickly.
Last Week's Stats: 4 G, 3 H, 4 K, 1 RBI, 5 BB
Stock: Down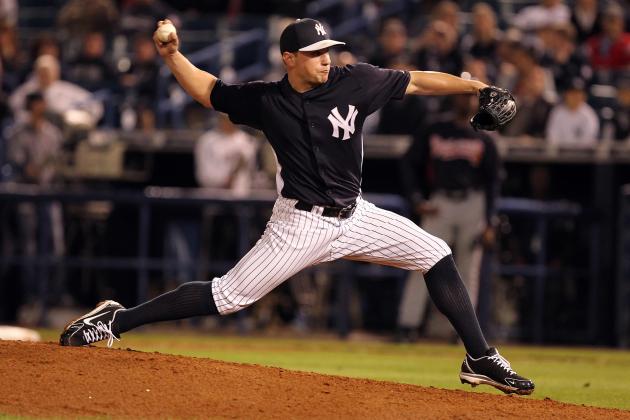 Kim Klement-USA TODAY Sports

2013 Stats: 20 G, 3.06 ERA, 32.1 IP, 31 H, 39 K, 20 BB
Overview: June has not been a good month for Mark Montgomery, and this week was no exception.
Montgomery only appeared once and gave up two hits and an earned run.
For some relievers, the numbers Montgomery is putting up wouldn't be terrible, and he isn't having a horrendous season.
But the stints of dominance that Montgomery has shown before, especially earlier in the season, put the standards for Montgomery up very high.
Montgomery hasn't been getting into very many games recently, and in the games he has been in he just hasn't been a dominant pitcher.
Last Week's Stats: 1 G, 1.2 IP, 2 H, 1 ER, 2 K
Stock: Down
2013 Stats: 12 GS, 1 W, 4.31 ERA, 48 IP, 12 BB, 46 K
Overview: Jose Campos has joined this top 10 list this week after Zoilo Almonte was called up to play in the Bronx.
Overall Campos hasn't been anything special this season, but he has built towards gaining better and better control.
This past week Campos was lights out, throwing four innings of three-hit ball and striking out five while giving up no walks.
Campos is young and he has some time to mature while he works in Single-A Charleston.
It was a solid first week on the top 10 list for Campos.
Last Week's Stats: 1 GS, 3 H, 0 R, 5 K, 0 BB
Stock: Up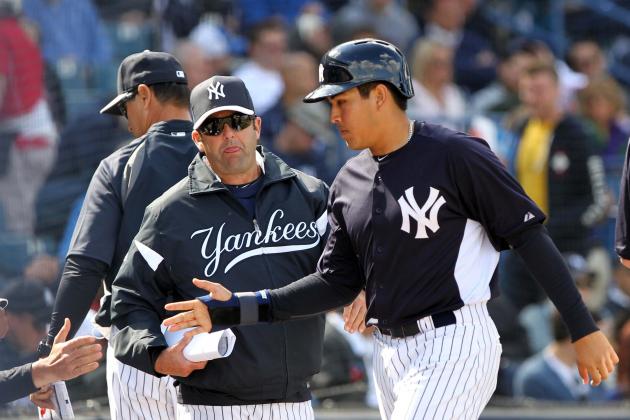 Kim Klement-USA TODAY Sports

2013 Stats: 72 G, .245 BA, 12 2B, 30 RBI, 62 K, 4 SB
Overview: It was another solid week for outfielder Ramon Flores.
The 21-year-old hit safely in all but one game last week, and added his third home run Tuesday against Akron.
Flores has had a decent year up to this point for the Thunder, but he needs to keep improving.
Sitting under .250 is not somewhere that Flores wants to be if he were to have any shot at making moves upward in the organization.
Still, this past week was solid and Flores will need to stay consistent.
Last Week's Stats: 6 G, 5 H, 3 RBI, 1 HR, 4 BB
Stock: Up
2013 Stats: 14 GS, 6 W, 2.73 ERA, 3 HR, 24 BB, 102 K
Overview: It was a big week for young righty Rafael De Paula.
The Dominican-born power pitcher was called up the Single-A Tampa, where he started one game, going five innings and striking out six while scattering three hits.
It has taken a few months for De Paula to establish a name for himself, and now his talents are starting to inch towards the spotlight.
De Paula has over 100 strikeouts in 69.1 innings this year, and he has walked on 23 batters.
This young kid has the tools to be a star, and this year he has been an absolute stud in Single-A.
If De Paula can be consistent in Tampa, he might get a late summer call-up to Double-A Trenton.
Last Week's Stats: 1 G, 0.00 ERA, 5 IP, 3 H, 1 BB, 6 K
Stock: Up
2013 Stats: 41 G, .219 BA, 11 2B, 8 BB, 35 K, 6 SB
Overview: Angelo Gumbs has been optioned down to Class-A Charleston after spending most of the year in Class-A Advanced Tampa.
Gumbs' demotion isn't a huge blow to his season, and in two games he has shown that he can excel at this level.
Still, Gumbs hasn't exactly been tearing it up with the Tampa Yankees.
Gumbs is young and has sneaky potential.
If he can start putting things back together at the plate and get back up to Tampa, Gumbs can look to get a spot in Trenton in 2014.
Last Week's Stats: 6 G, 4 H, 2 RBI, 6 K, 2 BB
Stock: Down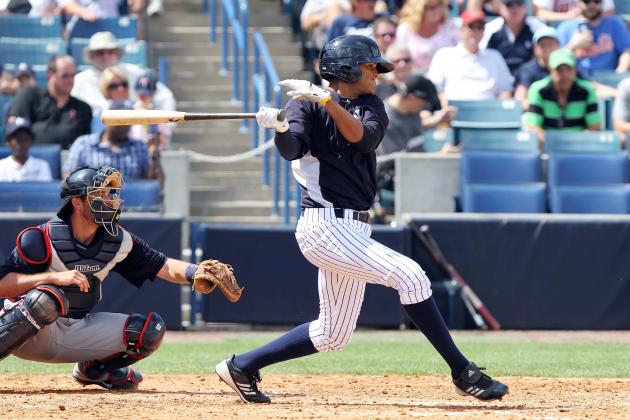 Kim Klement-USA TODAY Sports

2013 Stats: 63 G, .250 BA, 2 HR, 15 RBI, 13 2B, .331 OBP, .666 OPS
Overview: The quick bat that Mason Williams is known for returned this past week.
Williams had one of his best weeks of the season thus far, picking up seven hits and two multi-hit games.
Williams' biggest game of the week came on Friday, when he went 3-for-5 with a double against Brevard County.
The young outfielder has had a rocky season both on and off the field, but this may be a sign that he's putting things together.
Last Week's Stats: 5 G, 7 H, 5 R, 1 K
Stock: Up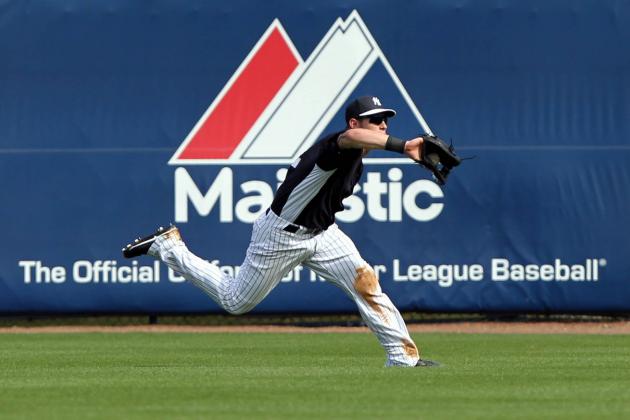 Kim Klement-USA TODAY Sports

2013 Stats: 63 G, .240 BA, 11 2B, 31 RBI, 72 K, 7 SB
Overview: After starting the week off strong, Slade Heathcott finished last week with the golden sombrero.
Heathcott finished this past weekend with five strikeouts, including three on Sunday.
Obviously, Heathcott had a horrendous end to the week, but his five hits in his first four games last week is very promising.
Heathcott was able to hit the ball around the yard and score a few runs, and show what he really can do when he is able to get on base.
This week, Heathcott needs to find some consistency, or he'll find himself tumbling down to a lower spot on this list.
Last Week's Stats: 6 G, 5 H, 2 2B, 4 R, 9 K
Stock: Even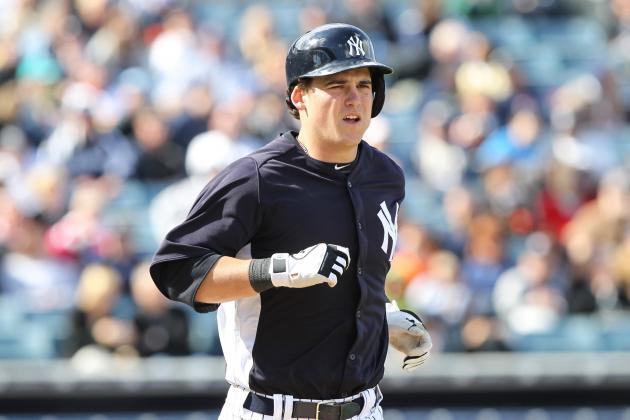 Kim Klement-USA TODAY Sports

2013 Stats: 66 G, .267 BA, 14 2B, 5 HR, 37 RBI, 65 K, .749 OPS
Overview: Tyler Austin was able to put together his second solid week in a row after this past week.
The outfielder had two multi-hit games, and picked up a double last week.
The signs all point towards Austin moving forward on the right track towards improving his numbers at the plate.
Austin is young and this is his first full season playing in Double-A Trenton.
Consistency has been a key for Austin all season, and if he can push his numbers up a little high and stay consistent, a call up to Triple-A may not be far away.
Last Week's Stats: 5 G, 5 H, 2 RBI, 5 K
Stock: Even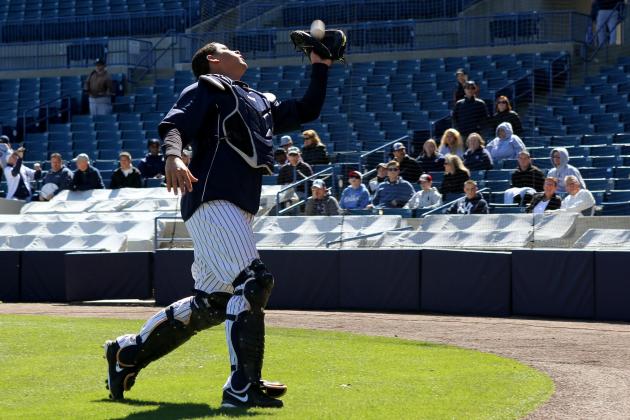 The Star-Ledger-USA TODAY Sports

2013 Stats: 62 G, .266 BA, 17 2B, 10 HR, 45 RBI, 46 K, .790 OPS
Overview: Gary Sanchez continues to ride out a slump that began two weeks ago.
The catcher struck out six times last week and only picked up three hits.
What's worse is that he only walked twice, meaning he reached base safely only five times in 25 at-bats.
Sanchez is known for his bat, and it should be what gets him up to at least the next level.
But right now he is struggling mightily and it's starting to create a pattern of mediocrity.
For a catcher that hasn't been moved up because of his defense, struggles at the plate are not a good sign.
Last Week's Stats: 6 G, 3 H, 1 2B, 6 K, 1 RBI
Stock: Down