After a tension-filled match, Sri Lanka earned a berth in the Champions Trophy semifinals with a 20-run victory over Australia. It joins England in the next round from Group A.
BBC Sport had the details of the upcoming matchups:
Sri Lanka beat Australia by 20 runs to book semi-final spot v India in Champions Trophy. Eng v SA in other semi. http://t.co/QX94hufDCZ

— BBC Sport (@BBCSport) June 17, 2013
Sri Lanka knew it would advance with a victory, regardless of the net run rate. The Lions went to bat first and could have put a lot of pressure on Australia, but they struggled mightily out of the gate. They lost two wickets within the first handful of overs.
The slow start obviously put Sri Lanka behind the eight ball right away. The Australia bowlers deserve a lot of credit, though, as they were able to avoid any prolonged scoring streaks for the Lions. Mitchell Johnson and Xavier Doherty helped lead the charge.
For most of the overs, Sri Lanka's run rate was well before four. Only a late surge allowed the Lions to post a more respectable score of 253, which equates to a run rate just over five. This was still far from what they were hoping for to start, though.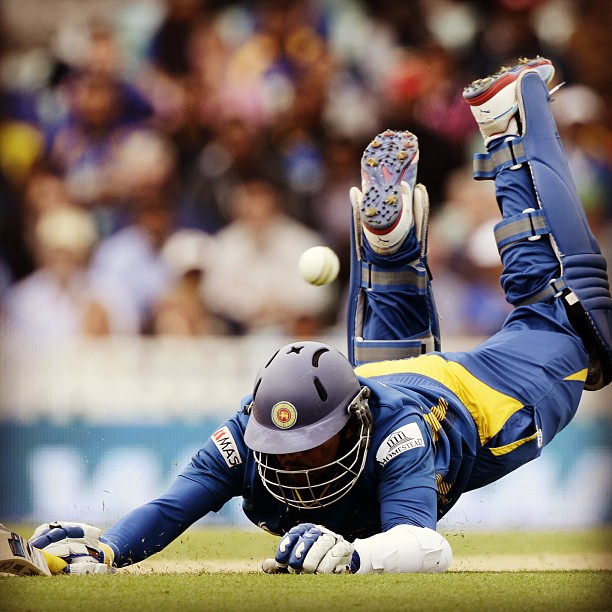 The highlight was Mahela Jayawardena reaching a milestone One Day International mark. Sri Lanka Cricket shared the news on Twitter:
Mahela Jayawardena reached the milestone of 11,000 ODI runs! Congratulations! Jayawardena is the 3rd Sri Lankan... http://t.co/mc58gn5VRh

— Sri Lanka Cricket (@OfficialSLC) June 17, 2013
Based on the Lions' score, Australia knew it needed to score 254 runs in just 29.1 overs to advance to the next round of the competition, according to ICC on Twitter. A tall task to say the least.
.@CricketAus must score their 254 runs in 29.1 overs in order to qualify for the semi-finals. #ct13 #ausvsl

— ICC (@cricketicc) June 17, 2013
The Aussies were forced to take some chances in order to make a serious run at that number. It was the right strategy because it was their only hope of making the semifinals, but with high risk always comes high reward.
Sure enough, they were scoring plenty of runs off the Sri Lanka bowlers, but they were also losing a lot of wickets in the process. By the midway point of the 50 overs, Australia had already sacrificed eight wickets in pursuit of the semifinal berth.
Once it became clear Australia wasn't going the reach the required score in time, the only remaining question was whether or not Sri Lanka could steal the victory. It needed to take two more wickets before the Aussies got to 254 runs.
The Lions secured the ninth wicket with Australia at 192 runs thanks to Rangana Herath and Shaminda Eranga.
TAKEN! Voges FINALLY goes off Herath. AUS 192/9 (30.2 ov) one more wicket boys!

— Sri Lanka Cricket (@OfficialSLC) June 17, 2013
Australia, which was down to Clint McKay and Doherty, reverted to a more normal approach, seeking the outright win. It made taking the final wicket more difficult for Sri Lanka, which was on a roll defensively up to that point.
But finally, with the Aussies just 21 runs away from the win, Tillakaratne Dilshan made a great catch to secure the victory. The roller coaster of emotions came to a positive end for Sri Lanka, winning by a score of 253-233.
Match 12. 42.3: WICKET! C McKay (30) is out, c & b Tillakaratne Dilshan, 233 all out #ct13 #ausvsl

— ICC Live Scores (@ICCLive) June 17, 2013
Sri Lanka will take on Group B winner India in the semifinals. Australia's run in the Champions Trophy comes to an end.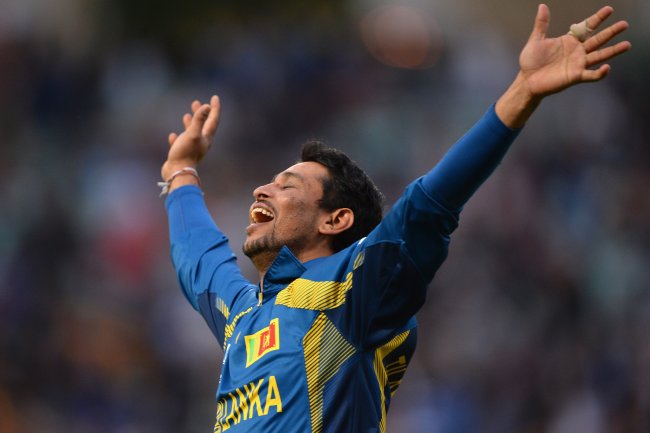 Mike Hewitt/Getty Images
Semifinal Matchups
Seed
Team
Seed
Team
A1
England
B2
South Africa
B1
India
A2

Sri

Lanka
Final Points Tables
Group A
Team
Wins
Losses
Ties/NR
Points
England

2
1
0
4

Sri

Lanka



2
1
0
4
New Zealand

1
1
1
3
Australia

0
2
1
1

Group B
| | | | | |
| --- | --- | --- | --- | --- |
| Team | Wins | Losses | Ties/NR | Points |
| India | 3 | 0 | 0 | 6 |
| South Africa | 1 | 1 | 1 | 3 |
| West Indies | 1 | 1 | 1 | 3 |
| Pakistan | 0 | 3 | 0 | 0 |