Canada vs. Ireland Rugby: Live Coverage, Updates and Analysis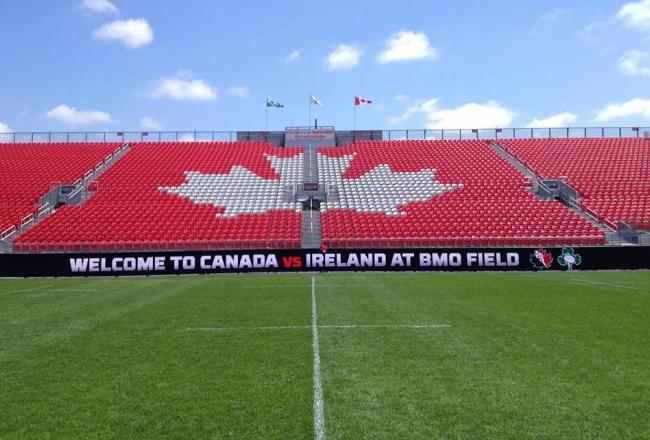 Toronto's BMO Field is home to Saturday night's encounter between Canada and Ireland.

Welcome to our live Bleacher Report coverage of summer international rugby. We are live from Toronto's BMO Field, where Canada will host Ireland on Saturday at 8 p.m. ET.
Canada currently sit 13th in the International Rugby Board's (IRB) world rankings, while Ireland occupy the eighth position.
Both nations are currently undefeated this summer. Canada have defeated USA, Fiji and Tonga, while Ireland narrowly escaped Texas last week with an uncomfortably close 15-12 victory over the Americans.
Our Bleacher Report preview has called for a narrow Canada win, but the sand continues to shift beneath the feet of everyone on the shores of Lake Ontario.
Of the five Canadian players who emerged from their last match with injury concerns, only London Irish forward Jebb Sinclair has recovered sufficiently to take the field tonight against Ireland. Three Tongan players were suspended in the aftermath of that violent encounter last Saturday.
Meanwhile, Ireland have been dealing with an illness that made its way through their camp this week. Although no changes have been announced to their lineup, Ireland have been monitoring their players daily—a worrisome necessity with an already severely depleted squad.
Canada
Starting Roster

1. Hubert Buydens, 2. Ray Barkwill, 3. Jason Marshall, 4. Jebb Sinclair, 5. Tyler Hotson, 6. Tyler Ardron, 7. John Moonlight, 8. Aaron Carpenter (captain), 9. Phil Mack, 10. Nathan Hirayama, 11. Taylor Paris, 12. Harry Jones, 13. Ciaran Hearn, 14. James Pritchard, 15. Connor Braid
Bench
16. Ryan Hamilton, 17. Andrew Tiedemann, 18. Doug Wooldridge, 19. John Phelan, 20. Nanyak Dala, 21. Sean White, 22. Liam Underwood, 23. Patrick Parfrey
Ireland:
Starting Roster

1. Tom Court, 2. Richardt Strauss, 3. Mike Ross, 4. Dan Tuohy, 5. Devin Toner, 6. Kevin McLaughlin, 7. Tommy O'Donnell, 8. Peter O'Mahony (captain), 9. Isaac Boss, 10. Ian Madigan, 11. Andrew Trimble, 12. James Downey, 13. Darren Cave, 14. Fergus McFadden, 15. Felix Jones
Bench:
16. Sean Cronin, 17. David Kilcoyne, 18. Declan Fitzpatrick, 19. Mike McCarthy, 20. Chris Henry, 21. Paul Marshall, 22. Paddy Jackson, 23. Robbie Henshaw
Jeff Hull is a Featured Columnist for Bleacher Report. Unless otherwise stated, all quoted material was obtained firsthand.
Tweet using #CANvIRE
To follow the author on Twitter, click on the link below.
Thanks everybody and goodnight.
Make sure to follow me on Twitter: @RugbyScribe
Check back for all kinds of great rugby news, right here at www.BleacherReport.com/Rugby
Ireland Head Coach Les Kiss: "Its been a short tour, but I thought the breakdown really allowed both team to play, and certainly it allowed us to play some attacking rugby. We are thrilled with the result and it really goes to show the depth of Irish rugby at the moment."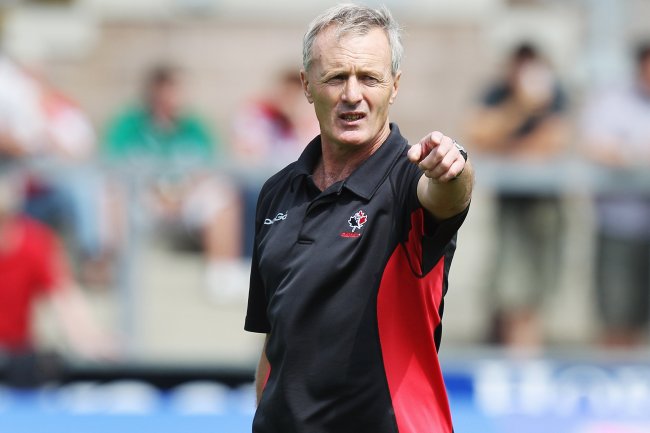 Mark Thompson/Getty Images
Canada Coach Kieran Crowley: "They were obviously too strong for us in the second-half tonight, as we never looked like scoring a try after the first one we got. We have some injuries now we will have to watch out for, but we have a game next week with a chance to win another competition (The Pacific Nations Cup), so we will look at the video and see what changes we need to make."
Match Analysis:
Ireland were twice the team they were against the Americans.
Les Kiss obviously did a hard week's work and knew exactly where to attack a Canadian team that still looks less than professional in certain areas of their game.
Canada's performance under the Irish kicks in the first-half was poor, and their tackling began to fall apart at the 60 minute mark.
For Canada, they can be proud of their attacking flair; however, this will make two matches in a row that they have fallen off in the second-half.
Ireland looked every bit a fully professional squad, which shows that the depth of the Tier 1 nations is still a big factor.
Ireland finish their North American tour on a high, after a scare last weekend in Texas.
Canada must now travel to Japan and play their final Pacific Nations Cup match in only a few days time.
We will have coaches comments for you within the hour.
Canada hold up and final Irish dive at the line from a scrum.
The referee resets the scrum 5-meters out from the Canada line.
Ireland have won a penalty and they call for another scrum.
Difficult way to end the match for Canada but they will want to keep the Irish out if they can.
A final dash for the line creeps into the corner and Ireland have their final try at the 80 minute mark.
Final score: Ireland 40 - Canada 14.
The game has well and truly lost its shape, and its sad that a great 50 minutes of rugby has to end this way.
The 20,300 people who crammed into Toronto's BMO Field probably deserved better than to see their team struggle through the end of the match in this fashion.
With four minutes left, it appears that Canada will do well to keep the Irish from another score. Its hard to see where they will get a try of their own from at this point.
Ireland continue to press, again running at Canada's 10-12 channel.
Just moments left in the match at this point.
Canada execute their first successful line-out in a while, and look to attack, but Ireland are holding them at bay. More Canadian handling errors are using up valuable space and time.
Still Canada attack, but they are moving sideways more often then not. And now Ireland are in again under the posts.
That should just about put the final nail in the coffin here in Toronto. Canada have not lost their ambition but their have lost their precision.
Ireland are pouncing on their mistakes and that try by Tommy O'Donnel was no excpetion.
Now 33 - 14 for Ireland. Surely, there is no way back for Canada.
Can they salvage some pride with a score of their own? Apparently not.
Ireland win another penalty and go for the corner.
They catch. They drive.
Another cheeky chip-kick is taken, but then is run out by Canada from the mark.
The game is opening up here, and not to Canada's advantage.
8 Minutes left and the benches have cleared to allow in all replacements.
A tough night for Canada.
Ciaren Hearn steps up and attempts a 50 meter penalty for Canada but misses left. Canada take the re-start and attack, but time is running short.
Only 15 minutes left now and Canada will still need 12 points and at least two score.
Ireland truly do seem to be the fresher team at this stage, which was always going to be a danger.
Well... We asked if Canada would be able to maintain their intensity and fitness and it looks like we have our answer.
Ireland blast by a seemingly tired Canada backline, and some woeful tackling on the outside.
Once again they are in with the try by Devon Toner. Madigan converts and it is now looking like a long way back for the Canadians.
26 - 14 at the 60 minute mark.
Canada are looking more composed in defence here in the second-half, and more comfortable with their kicking. Nathan Hirayama has dropped back to fullback for Canada in defence.
The Canadian back three make another searing break, but the touch judge has called in a penalty. Ireland are saved by more Canadian indiscipline.
Ireland will have the line-out at the Canadian 10 meter line. 55 minutes gone and we see the first substitutions.
Ireland target Canada's 10 - 12 channel and make a clean break. They are in under the posts, as the Canadian defence opened up like a red sea (pardon the pun).
Now 19 - 14 for Ireland off of a try by Darren Cave and a Madigan conversion.
To be sure, Canada's New Zealand Coach has his charges playing All Black style rugby. Canada fly down the far side of the pitch and pin the Irish on their own try-line.
Ontario native Tyler Ardron goes over. Pritchard misses the conversion, but it is still 14 - 12 for Canada at the 50 minute mark.
An almost ridiculously long penalty is missed by Madigan and Ireland take the re-start.
Both teams are making errors, and this time it is Canada that will enjoy a scrum at the Irish 10-meter line, due to an Ireland knock-on.
The second half begins with more aerial attack from Ireland, but this time Canada handle it cleanly. Nathan Hirayama and Phil Mack are - perhaps - trying to play too much rugby, and Ireland are away off an intercept.
Another intercept - this time for Canada - and the crowd roars, but the referee has called things back for a penalty.
Half-Time Analysis:
Our Bleacher Report Preview called for a narrow Canadian win. Its still a possibility, but Canada will need to retain more possession and stiffen their defence.
Les Kiss' Ireland team barely resemble the team that faced the Americans a week ago, as they are running and deploying a sophisticated and targeted kicking game.
If Canada can avoid getting caught deep in their own end, they have the attacking threat necessary to score tries.
Much will be decided by the fitness of the two teams. Will Canada - after a long summer season - have what it takes to turn their game up a notch?
Only time will tell.
Ireland walk to their scrum with a purpose and the Canadians get a shove on. Ireland use the ball and look to force Canada into another penalty with slow drives.
INTERCEPT!
Canada break from deep and now they would be wise to end the half.
After a brief flurry Canada wisely kick the ball to touch.
A big moment for Canada and a big moment for the game.
Halftime Score: Canada 9 - Ireland 12
Both teams are playing superb attacking rugby here, but - at this point anyway - it appears to Canada's defence that is leaking the most. Ireland are scoring the tries and now they will have a penalty deep in Canada's end.
Madigan goes for the corner and Ireland will have an huge 5-meter line-out with 4 minutes left in the first-half.
The catch and drive is well handled by Canada, but yet another penalty is awarded to the Irish off an infringement at a subsequent breakdown.
Ireland will go for the corner... again.
Again Canada give away a penalty and now Canada are warned.
Again Ireland go for the catch and drive.
Time almost gone in the first-half. Canada need an escape.
Canada hold up the next Irish drive and now Ireland have a 5-meter scrum.
Huge moment in the game.
An absolutely thrilling Canadian counter-attack sees Taylor Paris driven out of bounds at the Ireland 5 meter line. The referee has called play back for a scrum at the Ireland 22 and the Irish look to clear their lines.
It really appears that the Irish are targeting Canada's skills under the high ball, and with good reason. Canada has fumbled numerous kicks tonight and the Irish are capitalizing.
Ireland drive deep into the Canada half and deploy their aerial attack once again. Fergus McFadden is the recipient of Madigan's kick this time, and he scores in the corner.
Madigan misses the kick, and so the score remains Ireland 12 and Canada 9.
Ireland try a more direct approach and attempt to batter Canada backwards with a rolling, but Canada turn them over and break from deep. Once again the Irish attempt to slow down Canada's quick ball and once again James Pritchard will step to the line. This will be a yellow-card for Ireland if it continues.
James Pritchard will overtake IRB Hall of Famer Gareth Rees - as Canada's all time leading points leader - if he makes this kick.... and he does.
Canada now lead Ireland 9 - 7 with 25 minutes gone in the first-half.
Canada are matching Ireland in attacking spirit, with Glasgow Warriors youngster Taylor Paris coming into the line often and at pace. Canada are rewarded with yet another James Pritchard penalty. Now 7 - 6 for Ireland with 18 minutes gone in the first-half.
Both teams are making big challenges on the re-start kicks.
Ian Maddigan makes a cheeky chip-kick over a charging Canadian backline and it is recaptured by the on-rushing Irish. The ball finds Andrew Trimble lurking on the wing, and Ireland have answered back. No 7 - 0 after Maddigan makes a difficult corner kick.
Canada have enjoyed some very goo possession early and rewarded with an Ireland penalty at the breakdown. James Pritchard - of the Bedford Blues - steps up and gives his country a 3 - 0 lead. 7 minutes into the first-half.
The strong Irish contingent in the stadium was in fine voice for a rousing rendition of Ireland's Call. Oh Canada has seldom had so many home supporters singing it at a rugby match.
Ireland's fly-half Ian Maddigan - who had all of his country's point against the USA, will get us started at BMO Field.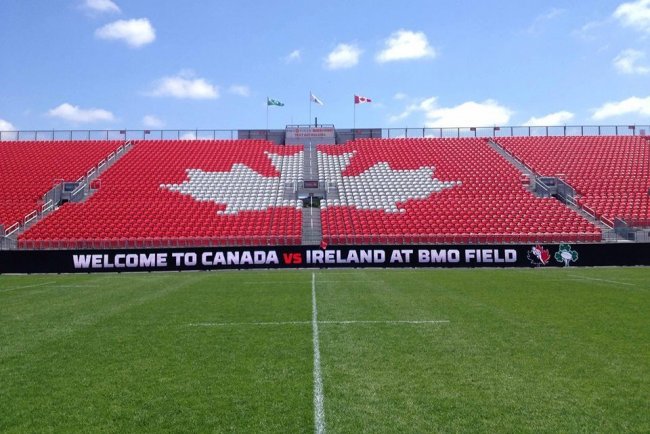 Toronto's BMO Field is looking very full here. Could this be the first ever sell-out of such a stadium for a Canadian rugby home match? A possibility. What kind of rugby are they likely to see?
One hopes, with the fine weather, that we are in for a treat.
With Wales having fallen to Japan and Samoa beating Scotland, Are we in for three Tier 2 upsets over Tier 1 nations in a single weekend?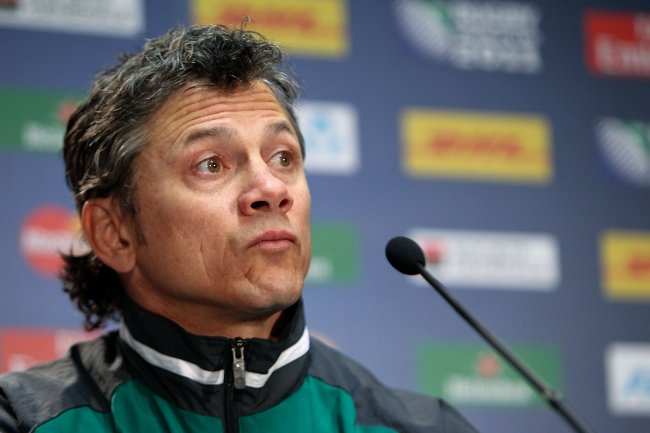 Hagen Hopkins/Getty Images
Ireland Head Coach Les Kiss: "Canada have evolved since the 2011 World Cup and the credit for that goes to Kieran Crowley. Whenever you get continuity in coaching you can expect results. To me there is an evolution that you can actually see, in the way that they bring the likes of Taylor Paris into the line - in damaging ways.
We knew that we would have to expect a bruising physical encounter against the United States, and we expect nothing less here in Canada."
This article is
What is the duplicate article?
Why is this article offensive?
Where is this article plagiarized from?
Why is this article poorly edited?