Stock Up, Stock Down for Los Angeles Angels Top 10 Prospects for Week of June 10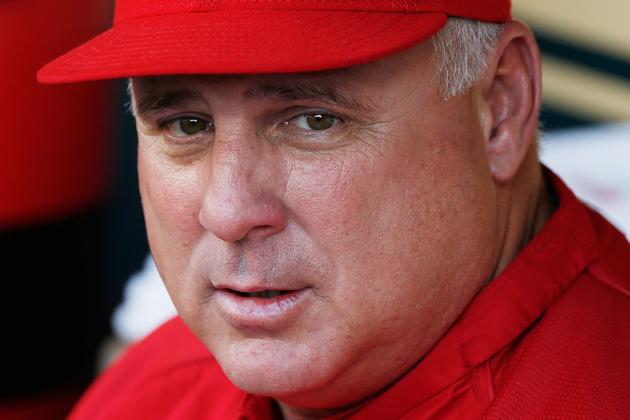 Scott Halleran/Getty Images
Smile Mike Scioscia, the future is looking better!
While things may not be so hot for the Los Angeles Angels at the big league level, there has been a positive uprising down in the farm system.
For some time now, the Angels' minor league system has sat like a lazy turtle in the lower end of the MLB ranking pool. In fact, it has been ranked 30 out of 30 teams.
The low ranking has worried some, and with the Angels' current standing intensifying that fear...what does the future hold for the team?
Well, that's still a difficult question.
But the once bleak minor league system for the Angels has produced 13 All-Stars this season in the Single-A and Double-A ranks alone (Triple-A has yet to announce their All-Stars). And the team also did a fine job restocking an array of much-needed arms via the 2013 MLB draft.
So, things are looking better for the Halos (at least).
Sure, the future for the new draft picks is too unknown at this point—some not even signed yet—for the crystal ball predictions. I wouldn't expect any of you to believe some rant explaining otherwise. However, no time is better than the present to take a look at the Angels' current top 10 prospects in the minors and see who is up—closer to the dream—and who is down—closer to reality.
Note: All stats were provided courtesy of MiLB.com unless otherwise noted.
Begin Slideshow

»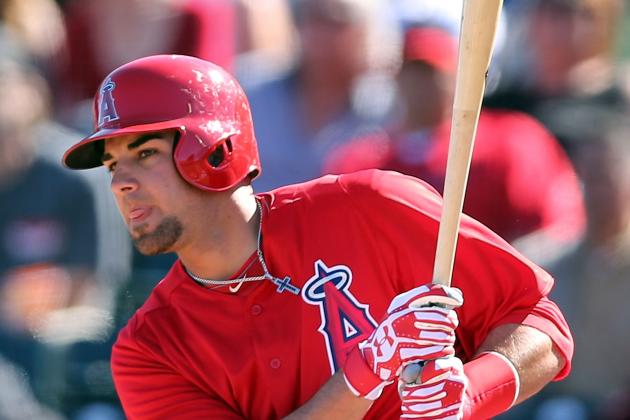 Christian Petersen/Getty Images

2013 Stats
.211/.273/.301, 3 HR, 18 RBI, 23 R
Overview
Caleb Cowart went 2-for-6 in the extra-innings loss to the Northwest Arkansas Naturals on Sunday night, raising his average to .211.
However, Cowart still remains unimpressive.
Since our last review of Cowart at the end of May, his numbers have drastically declined. Which is hard to believe; they were terrible to begin with.
Whether it's the Double-A pitching or the pressure of being the Angels' No. 1 prospect, there is clearly reason for concern with his timetable for reaching the MLB squad. He is hitting under .200 at home and the meager three home runs raises questions about his bat speed.
Stock Watch: Down
Christian Petersen/Getty Images

2013 Stats
Minors: 19 games, 26.2 IP, 4.05 ERA, 31 K, 26 BB
Majors: 2.1 IP, 11.57 ERA, 2 K, 3 BB
Overview
Nick Maronde has allowed only one run in his past 6.2 innings of work. His last outing against Tulsa on June 14, was an inning-plus of work allowing zero runs, while managing a decent GO/AO (groundouts to fly outs) ratio.
Though his walk rate (control) is still too high for a solid mid-relief guy in the MLB, he is starting to show signs of improvement post-demotion from the big leagues.
If he can keep consistently improving, with the Angels' bullpen in its current disabled status, Maronde might be back up sooner than you think—certainly sooner than I thought.
Stock Watch: Up
2013 Stats
.294/.332/.439, 5 HR, 37 RBI, 26 R
Overview
C.J. Cron has dropped under .300 since we last checked in on him at the end of May. From June 7, to last night's game, Cron is only hitting around .220. with a slugging percentage not much better (.270).
In the extra-innings loss to Northwest Arkansas on Sunday night, however, Cron picked up his 20th double of the season. Add that in with his 2-for-4 performance a few nights prior and perhaps he is on the rise again.
The current slide has not hindered the overall performance, though. Cron was selected as a starter to represent the Northern Division in the All-Star game.
Stock Watch: Up (for now)
2013 Stats
.273/.336/.466, 10 HR, 29 RBI, 31 R
Overview
In case you missed the last stock up/stock down scribbling that I did, Taylor Lindsey is a rising prospect in Double-A Arkansas.
Period.
More of an offensive-minded second baseman, Lindsey was hitting .261 with seven home runs at the end of May. Since that time, he has been one the more consistent hitters in the Arkansas Travelers' lineup (.286 the last 10 games).
He has a great glove in the infield, and there has been a decent display of power that wasn't always a tool bestowed on him. Like Cron, his All-Star vote was not a huge surprise and came well-deserved.
If he matures, cutting down the strikeouts while learning to hit left-handed pitching, he will be a surefire replacement for Howie Kendrick.
Stock Watch: Up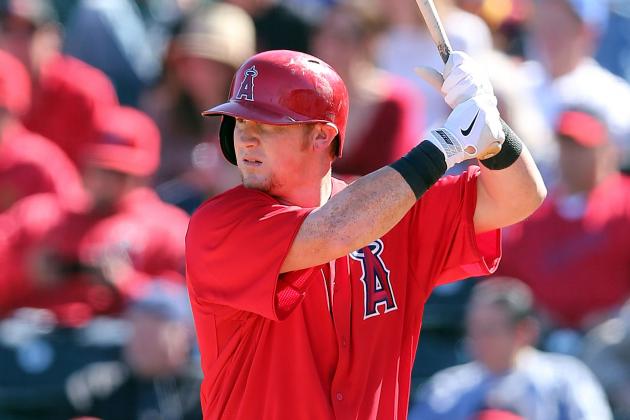 Christian Petersen/Getty Images

2013 Stats
.336/.419/.570, 6 HR, 26 RBI, 21 R
Overview
Kole Calhoun has dropped from the .386 he was hitting at the end of May—but I don't think anyone expected him to be at that mark for the entire season.
He went without a hit in the Salt Lake Bees' win on Sunday night, however, he has displayed a consistent bat. Since June 6 he has been hitting .297 with three home runs and 11 RBI.
If he keeps up those kinds of numbers it shouldn't be a surprise to see Calhoun get a call-up. Especially if the Halos are out of the AL West race, and they want to see what they have in the lower ranks.
Stock Watch: Up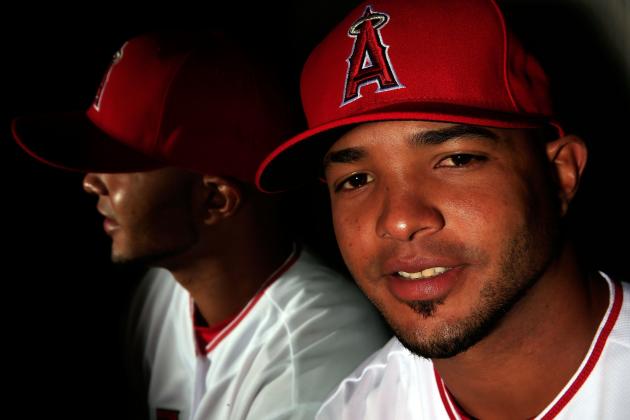 Jamie Squire/Getty Images

2013 Stats
Minors: .297/.343/.422, 3 HR, 21 RBI, 17 R
Majors: .232/.264/.275, 2 RBI, 3 2B, 10 R
Overview
Luis Jimenez is finally showing some of the life that put him on the radar at the beginning of season. He has raised his slugging percentage from a meager .333, all the way to a respectable (and perhaps still-rising) .422.
In his last 10 games, Jimenez is hitting .425 with 17 hits and nine runs scored. Sure there has been some inconsistency—a few zero-hit days—but it's a complete turnaround from his performance in May.
It's uncertain if he will get a call-up back to the Angels, but with Alberto Callaspo struggling here and there, that might not be a far-fetched idea.
If anything, Jimenez could be trade bait for pitching at the end of July.
Stock Watch: Up
2013 Stats
.249/.302/.472, 10 HR, 28 RBI, 37 R
Overview
Randal Grichuk hit the game-deciding home run against Tulsa on Saturday night; it was one of his two hits on a night where the team only totaled five. His performance was certainly a step in the right direction, and it got me to re-think what I have previously wrote about him.
However, a zero-hit performance in six at-bats quickly erased any doubt I had.
Grichuk is a solid player, no question. But his 10 home runs are not impressive enough to overshadow the other less-than-stellar stats. Sure, his All-Star selection is a perfect point to use against my opinion. I get that.
But there are too many other talents roaming the outfield for Grichuk to stand a real shot. Like Jimenez in Salt Lake, he could be a nice trade chip. Maybe.
Stock Watch: Down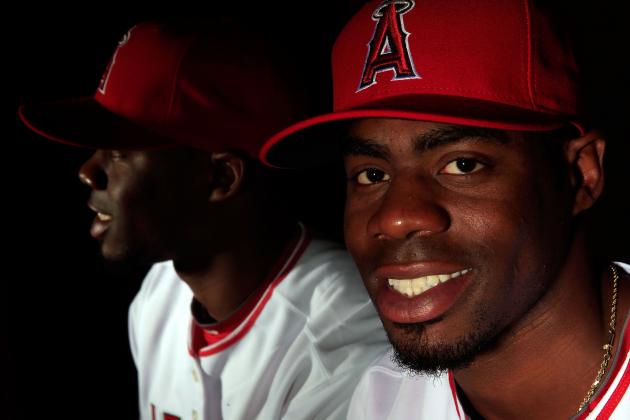 Jamie Squire/Getty Images

2013 Stats
.209/.287/.336, 6 HR, 16 RBI, 27 R
Overview
Travis Witherspoon went 1-for-2 during Sunday night's game, extending an impressive 10-game stretch.
Since June 8, Witherspoon is hitting .303, raising his average from a terrible .183 to a progressing .209.
He still has an impressive glove in the outfield, and the six home runs shows he can carry a little power to go with his above-average speed.
However, .209 is still .209; it didn't work for Mario Mendoza...and it won't work for Travis Witherspoon.
Stock Watch: Down
2013 Stats
14 GS, 79 IP, 3.87 ERA, 67 K, 38 BB
Overview
Another few starts in the books for Mark Sappington, and I still really like what this kid is doing.
The 6'5" right-hander has gone through a small spiral, allowing 15 runs in his last four starts. However, his mental toughness has kept him progressing. In his last win, Sappington went five strong innings, while only surrendering two runs.
He still needs to work on his command and continue to learn how to pitch effectively against left-handed hitters, where he carries an ERA over a run higher than he does against right-handed hitters. But his upside is still very impressive. And the All-Star selection—representing the Inland Empire 66ers—was definitely not a surprise.
Stock Watch: Up
2013 Stats
8.1 IP, 8.64 ERA, 6 K, 10 BB
Overview
Daniel Tillman is currently on the seven-day disabled list and he hasn't pitched since April 28. It's really not worth the time to dissect him any further than what his 8.64 ERA already tells us—he needs work.
Tillman has a plus-rated fastball, topping out in the 98-99 mph range. If he can learn to control his pitches, there is a possibility he could be the Angels' future closer.
That's a big could, though.
He hasn't really shown anything yet. Hopefully he can come back, post-injury, and get on some sort of progression towards harnessing his talent.
Stock Watch: Down
If you want to hear more (of everything) from Rick Suter follow him on Twitter @rick_suter