WWE Payback: Burning Questions and Final Projections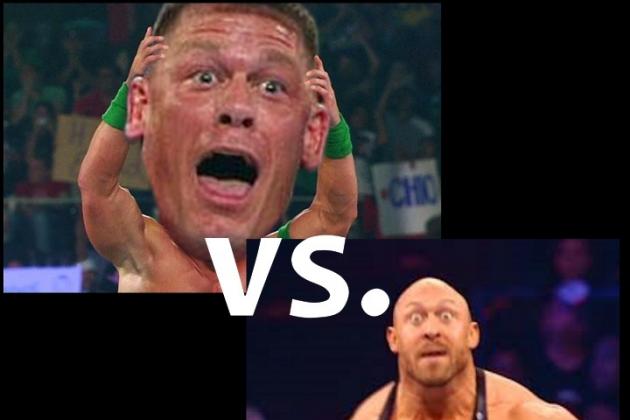 photos via photos via tumblr.com and ign.com
WWE didn't feel like advertising most of the pay-per-view matches until this past week, so many fans may take a rain check on Payback starring The Ryback.
This month's show is highlighted by a rematch from last month, and the return of CM Punk in his hometown of Chicago. Not a lot of that mattered though, as Payback's promotion took a backseat to the McMahon family drama on Raw
Still, the show looks pretty good on paper, so if you have the money it may be worth checking out.
So take out your checkbooks and your crystal balls as we take one final look at the burning questions, and take our best guesses to the night's victors.
Last month was nearly perfect as I went 8-0-1 (I didn't count the non-finish to Ryback vs. John Cena either way!) to bring my lifetime Bleacher Report pay-per-view match predicting record to 34-9-1.
Now, it's time to put that all on the line as we dive head first into the inaugural Payback pay-per-view.
Begin Slideshow

»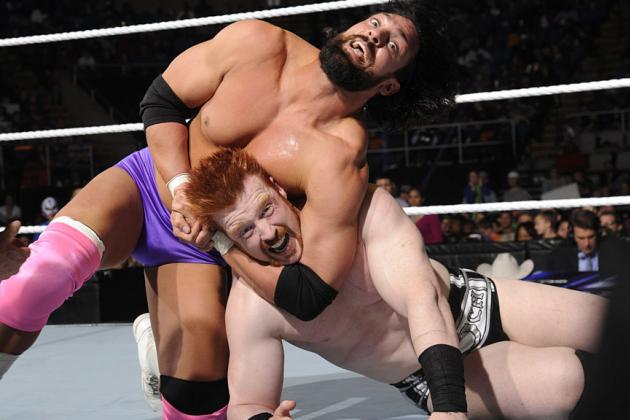 photo via wwe.com
Burning Question: Will brains outsmart brawn? Or will the bully (Sheamus) triumph over the nerd in the end?
Match Outlook: WWE tried, but it's way too little, way too late to make Sandow seem like a legitimate threat to Sheamus.
Sure, Sandow pushed Sheamus' head up against a table a couple of times, but The Celtic Warrior has already defeated him six unanswered times in various singles and tag matches this year.
Final Projection: Sheamus (90 percent confidence).
It's actually surprising to see WWE's arguable No. 2 babyface take the pre-show slot. It probably won't happen again for some time, so for those who aren't satisfied with watching Sheamus wrestle twice every week, enjoy a third round on WWE for free!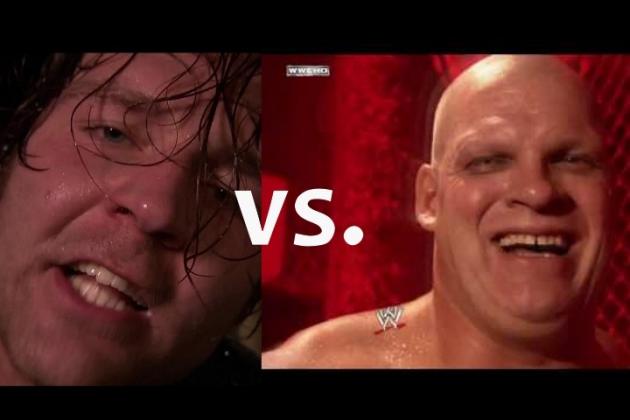 photos via wwe.com and youtube.com
Burning Question: Does Kane understand that if he wins the US Title that he'll lose every subsequent non-title match?
Match Outlook: The match between these two on Raw was a bit of a dud, so it's hard to get excited about paying for the rematch.
Maybe they'll surprise us though and turn it up a notch. Either way, expect about an 8 to 10 minute match that probably won't end cleanly.
Final Projection: Ambrose (99 percent confidence).
There's no reason to take the title off of Ambrose this early, and Kane winning the US Title wouldn't do anybody any good.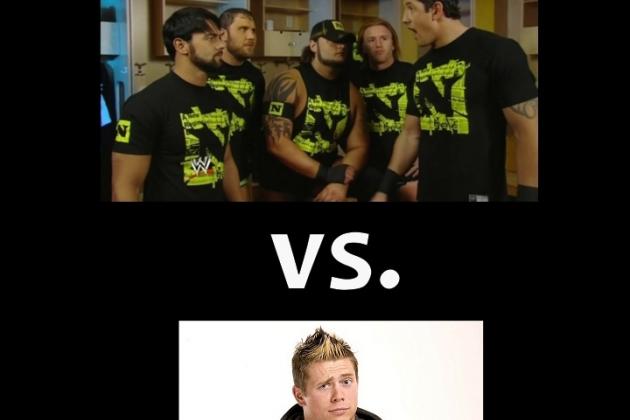 photos via tumblr.com and fanpop.com
Burning Question: Does this signal the end of Axel's main event push?
Match Outlook: Fandango's loss may be Curtis Axel's gain. Although with how badly the Intercontinental Title has been damaged, maybe Axel winning the gold would actually be a step backward.
The match could be good, but also should have been much more exciting. Miz's face run has been underwhelming, Barrett is one step above a jobber and Axel has yet to catch on. Expect good athleticism, but a fair share of crowd apathy.
Due to the Chicago crowd, Barrett will probably get the biggest babyface reaction among the three.
Final Projection: Axel (80 percent confidence).
It would be too soon to have Axel lose a match, especially against two midcarders. Maybe if Barrett drops the gold, WWE could push him as a big star again!
Yeah, that's very wishful thinking.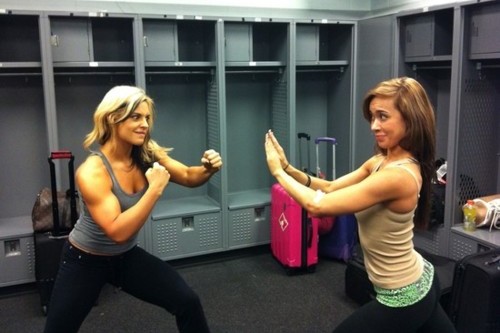 photo via ign.com
Burning Question: Will the much loved butt tap-out return? If not...why?
Match Outlook: It's refreshing to see a Divas storyline with actual heat between the competitors. These two have had a pretty lengthy storyline, and it's surprising that WWE has given a Diva's match this much TV time.
While the match may be a bit clunky, it could be a fun one to watch. Kaitlyn looks like she's about to reach her breaking point, so maybe she'll snap just to hold onto the gold.
Keep your eye on Big E. Langston, he'll probably play into the finish somehow.
Final Projection: AJ (55 percent confidence).
I could see this one easily going either way. Kaitlyn heeled it up against Natalya on last week's SmackDown, so maybe she'll turn if she loses. WWE may want to add more gold to Ziggler's act.
On the other hand, WWE needs a top female babyface, so Kaitlyn may retain cleanly to get her revenge. It's too close to call!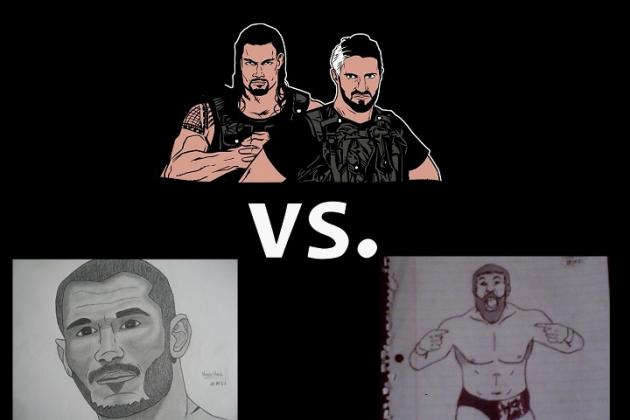 photos via teesmedesigns.bigcartel.com, stars-portraits.com, and beartic9871.deviantart.com
Burning Question: Will someone turn heel?
Match Outlook: Every match that Bryan has had against The Shield has been entertaining, so this should deliver. His hot tags are the best thing going in wrestling right now.
Still, it's time for them to move on. Team Hell No finally defeated The Shield, so hopefully everyone can go their own ways now. Bryan has taken on at least one member of the group 12 times since Apr. 22, so a main event run for him could be just the ticket.
Final Projection: The Shield (85 percent confidence).
Somebody will probably turn in this one. It just depends on whether it is Randy Orton (smart choice) or Daniel Bryan (terrible choice).
Will WWE make the right call? Or will we see all of those giant crowd pops for Bryan be all for naught?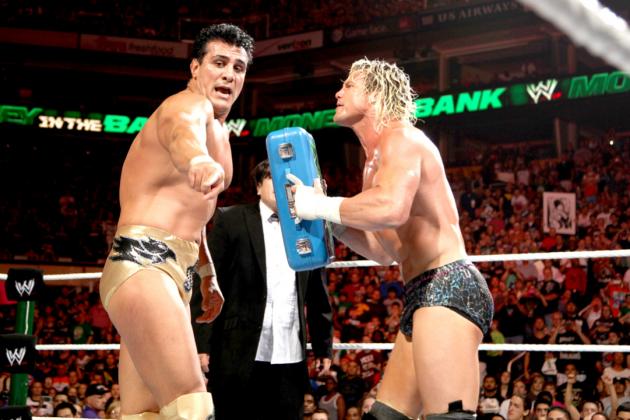 photo via pop-break.com
Burning Question: How much pandering to the crowd will Alberto Del Rio and Ricardo Rodriguez do to try and get the heel friendly crowd on their side?
Match Outlook: It will be nice to see Ziggler back in a singles match, but Del Rio just isn't a very exciting babyface. Though the crowd reaction alone will make this fun to watch.
If given enough time, this could be a great match. Hopefully Ziggler is 100 percent, and can still bump like nobody's business.
Final Projection: Ziggler (90 percent confidence).
The only way Del Rio wins is by DQ, as there's no way Ziggler should drop the Heavyweight Title yet... unless WWE wants to punish him for getting a concussion.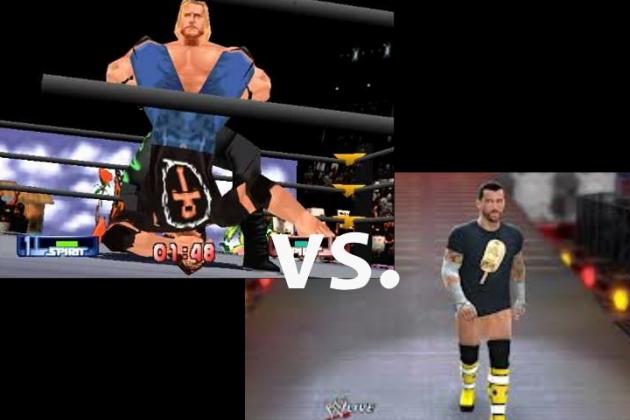 photos via youtube.com and thesmackdownhotel.com
Burning Question: Why has this match been so poorly promoted?
Match Outlook: The second biggest full-time wrestler in the company is making his first appearance in over two months, and WWE doesn't seem to care.
No matter what, this should be a great match. The Chicago crowd will explode for Punk's return, and the two put on solid matches in their last feud.
It will also be fascinating to see if Jericho turns heel, and aligns with Heyman. There's a lot of big storyline implications at play here.
Final Projection: Jericho (55%).
Not feeling very confident in this choice, but we may see a double turn. Imagine a WWE roster with John Cena, Daniel Bryan and CM Punk as three legitimate top-level babyfaces. Good things could happen.
For most, this is the most exciting match on the card, and hopefully lives up to the lofty expectations.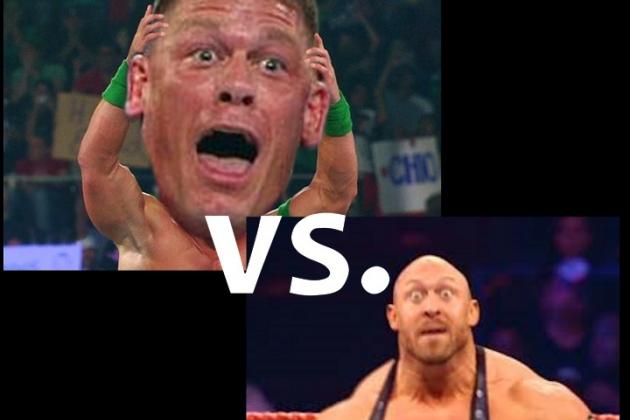 photos via tumblr.com and ign.com
Burning Question: Does Ryback really rule?
Match Outlook: Cena and Ryback are pretty good opponents for each other. As much as fans hate on Cena, he rarely puts on a clunker in a pay-per-view main event.
Expect to see a hard-hitting match filled with lots of power moves and big spots.
And, if you've watched more than two weeks worth of wrestling in your life, then you know that this is going to three falls.
Final Projection: Cena (95 percent confidence).
I would love to see Ryback win, and then have megaface Daniel Bryan tap him out at the next pay-per-view (so much daydreaming here!), but I just don't see Cena dropping the title anytime soon.
Ryback wins the first fall, and is absolutely dominant for most of the second one, until Cena "Hulks Up" and ties the score.
In the end, we get some sort of big, spectacle finish and Ryback takes a nice, comfortable ride in the ambulance.
These are my best guesses. What are yours? Sound off below, and tell me who's gonna win!