3 Reasons Michael Bisping Is the Fight All Middleweights Want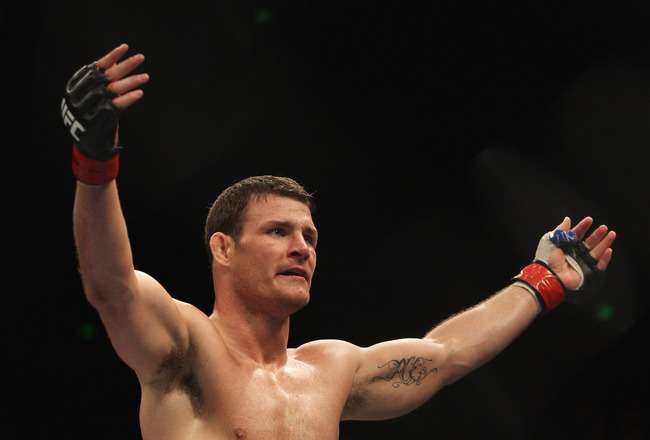 Mark Kolbe/Getty Images
It seems like everyone wants an opportunity to punch Michael Bisping in the face.
"The Count" has been a permanent fixture in the UFC after he knocked out Josh Haynes to win the third season of The Ultimate Fighter way back in 2006.
This can be equally attributed to both his gifts inside the cage and polarizing demeanor.
When Bisping officially made the drop down to middleweight in 2008, he positioned himself as one of the biggest personalities in the division.
Since then, "The Count" has fought the cream of the crop at 185, and in the process, he has become one of the most recognizable faces in the UFC.
While Bisping recovers from eye surgery, a bevy of marquee fighters have started lining up to get the next shot at him. Cung Le, Costa Philippou, Luke Rockhold and Rich Franklin are just a few that have been begging for the opportunity to take on the loud-mouthed Brit.
Obviously, there is no shortage of talent willing to square off with Bisping, and these are the biggest reasons why.
His Cocky Swagger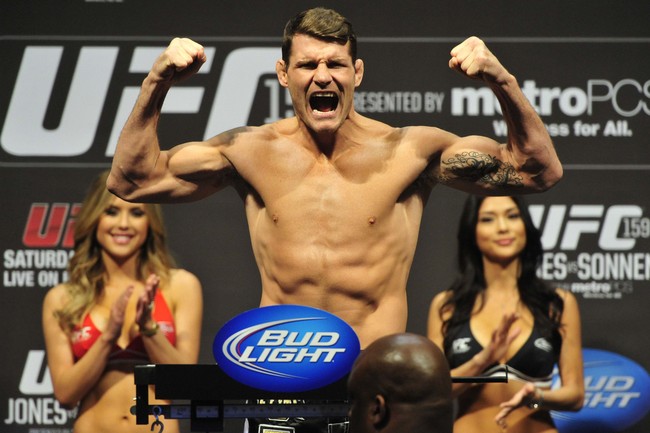 Joe Camporeale-USA TODAY Sports
His British accent alone may come across to some as pompous. As a fighter, Bisping exudes confidence that borderlines on arrogance.
Before fighting Bisping at UFC on Fox 2 in 2012, Chael Sonnen spoke to USA Today and had this to say about his opponent:
[Bisping's] definitely cocky and arrogant, which is two qualities that I like in a person...but I think it turns a lot of people off.
Even Bisping himself acknowledges and seems to believe that his cocky persona is an important, if not integral part of his longevity in the sport. In an interview with the UK website Mirror, Bisping said:
These days it's not just enough being a talented fighter, you've got to be a bit of a showman as well. So maybe that's why people think I'm a bit cocky, or that I've a bit of a mouth on me.
It is hard to argue with that assessment, given the comments Bisping made during a media conference call prior to his UFC 159 bout with Alan Belcher. The Brit flatly stated:
I ain't going to lose to you, mate. It's in the bag. All I got to do is... show up, slap your little face, take my check and go home.
"The Count" often backs up his bravado as he did against Belcher defeating him via technical decision (unanimous). Nevertheless, it is just that kind of smack talk that makes guys want to take him down a peg or two.
His Mouth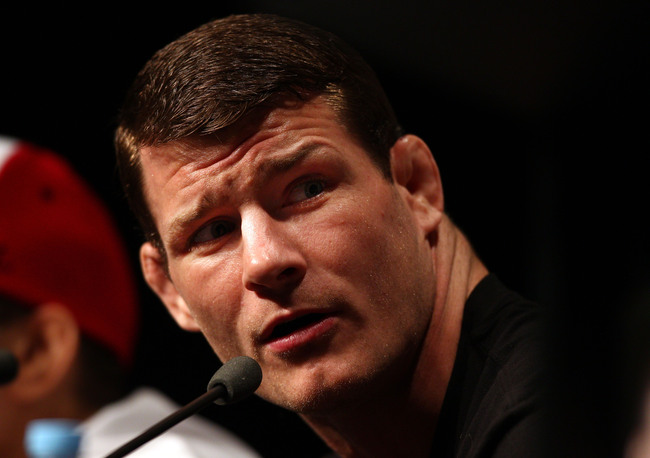 Ryan Pierse/Getty Images
Bisping is a trash-talker, practicing in the art of mental warfare.
And while he does not resort to over-the-top WWE-style shenanigans a la Sonnen, Bisping does possess an uncanny knack for getting under any fighter's skin.
His constant needling is like that of an older brother toward his younger siblings. He knows how to push just the right buttons and make even the calmest person want to snap.
He was even able to get the easy-going SoCal boy, Dan Henderson, riled up when the two coached opposite one another on the ninth season of The Ultimate Fighter. Bisping stated in an interview with John Morgan of MMA Junkie that:
I was trying to wind [Henderson] up a little bit and things like that, but nothing serious. I was trying to bust his balls and have a laugh a little bit, get through my day.
However, "Hendo" didn't take too kindly to the joking. In their showdown at UFC 100, Henderson blasted Bisping with an overhand right and then followed up with a flying forearm to face "just to shut him up a little bit."
Watch the vicious knockout here.
The devastating setback did not deter Bisping. He has been able to exploit an emotional edge leading into most of his fights. He has successfully wormed his way into the heads of Belcher, Jorge Rivera and Jason "Mayhem" Miller. In all of those instances, Bisping has walked away with the victory.
For the better part of a decade, "The Count" has made a name for himself using his words to bait opponents and promote entertaining fights.
His Name Recognition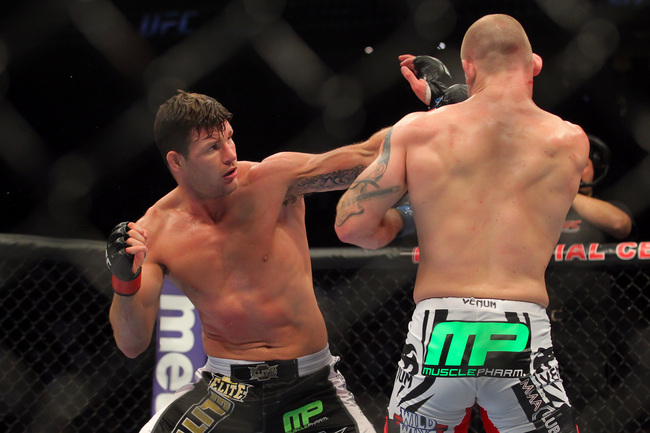 Brad Penner-USA TODAY Sports
With the obvious exception of Anderson Silva, Bisping is arguably the most well-known fighter currently competing at 185. He has legions of fans on both sides of the pond.
Bisping was the first British fighter to ever headline a UFC main event. He may also go down as one of most accomplished middleweights never to fight for a belt. He has come up short in all three of his title eliminator bouts, losing to Henderson, Sonnen and most recently Vitor Belfort.
"The Count" is still currently listed as the No. 4 middleweight, according to the UFC's official fighter rankings, but at the age of 34, he is quickly entering the twilight of his career.
Lately, Bisping is no longer viewed as a top contender, but rather a divisional gatekeeper. However, this doesn't change the fact that Bisping still carries a great level of name recognition within the MMA community as a whole.
He is targeted by both the up-and-comers looking to make a splash in the division as well as grizzled veterans looking for another shot at Octagon glory.
Bisping doesn't shy away from the bull's-eye on his back, telling Steph Daniels of Bloody Elbow that:
Maybe it's name recognition, or maybe they think I'm an easier fight, but it's all good to me. I'm never going to be short of opponents, because plenty of people want to fight me. To all those people that call me out, I thank you.
Regardless of the reason, Bisping continues to relish the opportunity to fight the best the UFC has to offer.
Keep Reading