NCAA Baseball Super Regionals: Day 2 Results, Highlights and Analysis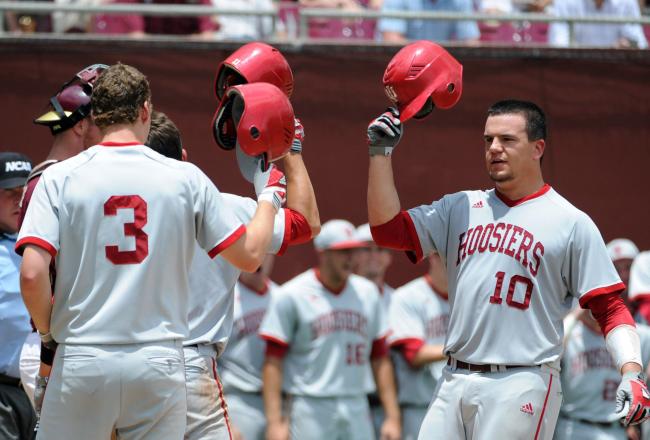 Melina Vastola-USA TODAY Sports
Saturday's college baseball schedule was jam-packed with eight Super Regionals. Pitching was the theme of the mini-session on Day 1, but the bats came alive on Day 2.
Can someone say walk-off wins?
With several newly drafted prospects in action and trips to the College World Series on the line, it was sure to be another exciting day of baseball. Six teams pushed their opponents to the brink of elimination, while LSU and UCLA punched their tickets to Omaha.
Here are the scores, highlights (per ESPN on YouTube) and recaps for the games.
| | | | |
| --- | --- | --- | --- |
| Teams | R | H | E |
| Indiana | 10 | 11 | 3 |
| Florida State | 9 | 12 | 3 |
Indiana leads the series 1-0
Kyle Schwarber Powers Indiana to 1-0 Series Lead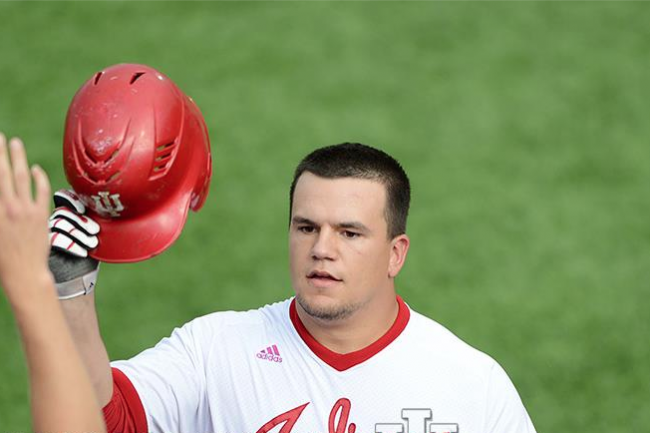 The Hoosiers' sophomore catcher flexed his muscle early and often against the Seminoles on Saturday. He hit a two-run homer in the fourth inning that helped give the Hoosiers a brief 4-0 lead.
Schwarber was the major force that allowed Indiana to touch up Seminoles' starter Luke Weaver for an uncharacteristic five earned runs.
Coley Harvey of the Orlando Sentinel tweets about Weaver's rare poor start:
This is the first time #FSU starter Luke Weaver has allowed three earned runs in a game since May 11 in a loss at NCState

— Coley Harvey (@os_coleyharvey) June 8, 2013
The Seminoles scored four in their half of the fourth to draw even. They actually had a 6-5 lead heading into the top of the seventh inning.
Schwarber again keyed a big inning for the Hoosiers. His two-run single was the big blow in another four-run inning that gave Indiana the lead for good.
Despite shaky pitching (eight walks) and defense (three errors), the Hoosiers held on for the win behind the Schwarber-led offensive explosion.
| | | | |
| --- | --- | --- | --- |
| Teams | R | H | E |
| South Carolina | 5 | 15 | 3 |
| North Carolina | 6 | 11 | 2 |
North Carolina leads the series 1-0
Skye Bolt's Clutch Hit Gives Tar Heels Thrilling Win over Gamecocks in Battle of Carolinas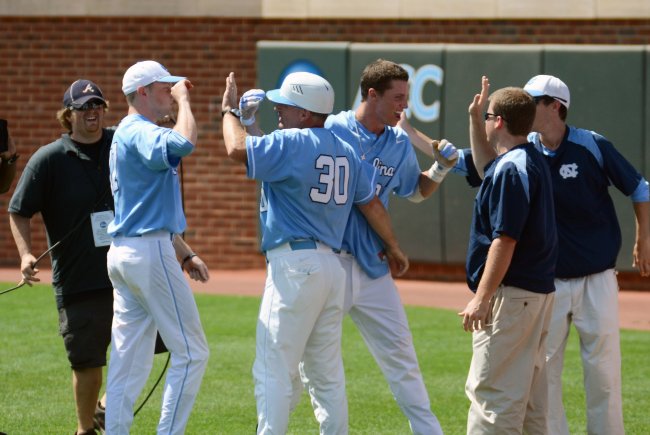 Rob Kinnan-USA TODAY Sports
It looked as if the Gamecocks were going to run away with Game 1 of their series against the Tar Heels, but the middle of the order was dynamic all game for North Carolina.
The Gamecocks took a 4-2 lead, but couldn't hold off North Carolina.
The trio of Colin Moran (drafted sixth overall by the Miami Marlins), Bolt and Cody Stubbs was a combined 6-for-13 with two RBI and four runs scored. None of the hits were bigger than Bolt's game-winner that plated Parks Jordan in the bottom of the ninth.
ESPNU tweets the memorable image of Jordan sliding in with the winning run:
ParksJordan slides in w/ the GW run for the @DiamondHeels, as UNC wins 6-5 in game 1 of BattleForTheCarolinas. pic.twitter.com/NxjW6wy7ZL

— ESPNU (@ESPNU) June 8, 2013
Although the Heels' bats were huge, the work from the bullpen should also be recognized.
After starter Kent Emanuel allowed seven hits and four earned runs in just 2.1 innings, the pen gave up only eight hits and a run the rest of the way. Without their work, the Heels would not have won this game.
| | | | |
| --- | --- | --- | --- |
| Teams | R | H | E |
| Mississippi State | 11 | 20 | 2 |
| Virginia | 6 | 11 | 4 |
Mississippi State leads the series 1-0
Adam Frazier's Perfect 6-for-6 day Keys Bulldogs' Thrashing of Cavaliers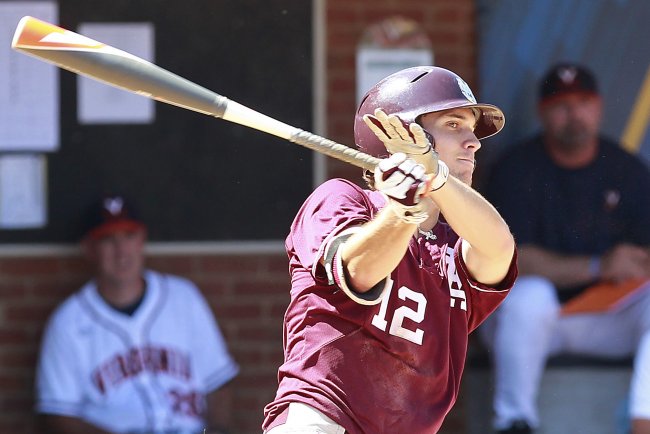 Geoff Burke-USA TODAY Sports
The Virginia Cavaliers are still trying to figure out a way to get junior shortstop Adam Frazier out. The Mississippi State Bulldogs' leadoff man was perfect at the plate. He drove in three runs and scored two to lead a 20-hit barrage that sank the Cavaliers.
He was just a home run shy of the cycle in a spectacular performance that has Virginia facing elimination in Game 2. Matthew Stevens of the Commercial Dispatch talks about where Frazier's day ranks in Bulldogs history:
Adam Frazier's 6 hits in a game ties him for single-game MSU record w/ 4 others. Last set by Burke Masters in 1990 Starkville Regional.

— Matthew Stevens (@matthewcstevens) June 8, 2013
Frazier was drafted by the Pittsburgh Pirates in the sixth round of the MLB draft on Friday, and the Bucs have to be excited about what Frazier did on Saturday.
| | | | |
| --- | --- | --- | --- |
| Teams | R | H | E |
| Louisville | 5 | 6 | 1 |
| Vanderbilt | 3 | 7 | 0 |
Louisville leads the series 1-0
Clutch Hitting and Solid Pitching From Bullpen Lead Louisville Past Vanderbilt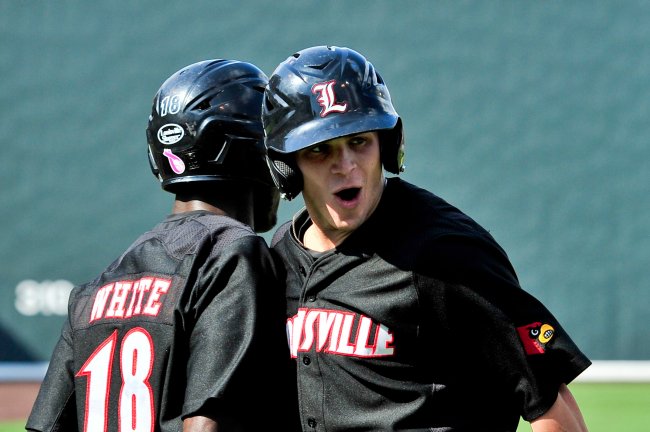 Jim Brown-USA TODAY Sports
Senior Matt Helms delivered a key two-out, two-run single that broke a 2-2 tie in the seventh. The knock capped off a three-run inning that turned the game over to the Cardinals' bullpen.
Tim Sullivan of the Courier Journal tweets about the long time between at bats for Helms:
Matt Helms had gone 16 days without plate appearance prior to the two-run pinch single that gave #Louisville a 4-2 lead over #Vanderbilt.

— Tim Sullivan (@TimSullivan714) June 8, 2013
Starter Chad Green could only go five innings before giving way to the pen, but the unit responded well.
Dace Kime, Cody Ege and Nick Burdi combined to go four innings without an earned run to stifle a comeback attempt from the Commodores. Burdi induced a game-ending ground out after Vandy had loaded the bases in the ninth.
This postgame interview with Helms and other Cardinals comes via VU Commodores' channel on YouTube:
| | | | |
| --- | --- | --- | --- |
| Teams | R | H | E |
| Rice | 3 | 12 | 1 |
| N.C. State | 4 | 6 | 0 |
N.C. State leads the series 1-0
Jake Fincher's Walk-off RBI Single Lifts Wolfpack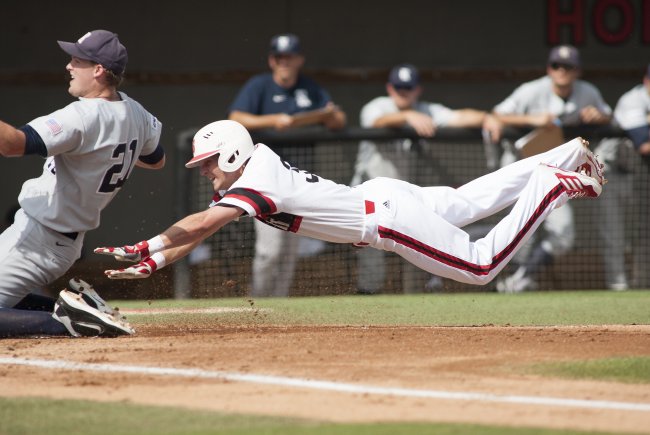 Jeremy Brevard-USA TODAY Sports
N.C. State is so glad sophomore Jake Fincher is part of their Wolfpack. He came through with a two-out RBI single in the bottom of the ninth inning to give his team the win. N.C. State's official Twitter account goes all caps to show its excitement:
#FINCHER DOES IT! Line drive single to left, #Pack9 wins game one 4-3 in walk-off fashion #CWS

— NC State Baseball (@NCStateBaseball) June 8, 2013
Rice's Christian Stringer had given his team the 3-2 lead in the top half of the ninth with an RBI double. The Wolfpack manufactured the tying run on a nicely executed bunt by Logan Ratledge.
That set the stage for Fincher's heroics.
The victory gave N.C. State a 1-0 series lead over the Rice Owls. The Wolfpack ace Carlos Rodon wasn't quite as sharp as he usually is, but he kept his team in the game.
He allowed 11 hits and three runs over 8.1 innings and struck out nine. He didn't factor in the decision, but by staying competitive without his best stuff, Rodon continues to prove why he may be the best prospect for the 2014 MLB draft.
| | | | |
| --- | --- | --- | --- |
| Teams | R | H | E |
| LSU | 11 | 6 | 1 |
| Oklahoma | 1 | 5 | 4 |
LSU wins the series 2-0
LSU Eliminates Oklahoma Behind Jacoby Jones and More Strong Pitching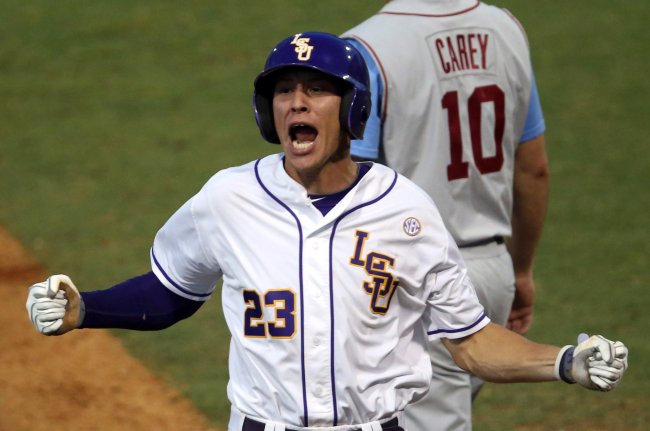 Crystal LoGiudice-USA TODAY Spor
Aaron Nola tossed a two-hit shutout on Friday to give the LSU Tigers an early series lead on Friday. The pitching on Saturday wasn't quite as lights out as it was with Nola on the hill, but it was still very good.
The game was interrupted by a rain delay, but four pitchers combined to limit the Oklahoma Sooners to one run on just five hits.
Jones was huge in Game 1, and he was again a major factor in eliminating the Sooners. He was 4-for-4 with two RBI, including a solo home run in the eighth inning. The six-run ninth inning was just icing on the cake. ESPNU tweets the Bayou dogpile:
Bayou Dogpile: @LSUbaseball returns to Omaha for first time since 2009 & first time in new downtown stadium. pic.twitter.com/DjStROlyOQ

— ESPNU (@ESPNU) June 9, 2013
The rest of the country best beware, the Tigers look strong.
| | | | |
| --- | --- | --- | --- |
| Teams | R | H | E |
| Kansas State | 6 | 13 | 1 |
| Oregon State | 2 | 7 | 2 |
Kansas State leads series 1-0
Kansas State Outlasts Oregon State in 10 Innings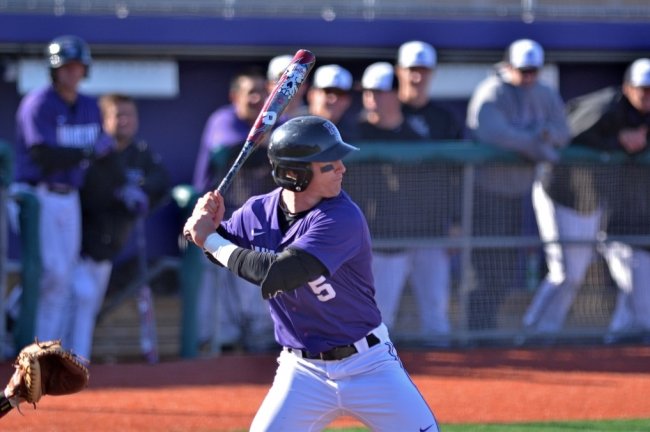 For a while it appeared Michael Conforto's two-run shot was going to be the only scoring in the game. The Beavers held a 2-0 lead heading into the sixth inning, but the Wildcats came alive in that frame.
Beavers pitcher Matt Boyd hit Jon Davis with a pitch with the bases loaded to force home a run.
Tanner Witt tied the score in the ninth inning with an RBI single. In the 10th inning, the Wildcats exploded with four more runs to put the game away. Witt was again in the mix with a clutch, two-out RBI single.
Sophomore reliever Jace Fry may need a hug as he surrendered three of the four runs in the extra frame.
As K-State Gameday tweets, Witt's key hit came on an 0-2 count...ouch:
Tanner Witt AGAIN! An 0-2, two-out, two-run single as #KStateBSB takes a 6-2 lead over Oregon State in the 10th!

— K-State Gameday (@kstate_gameday) June 9, 2013
| | | | |
| --- | --- | --- | --- |
| Teams | R | H | E |
| Cal State-Fullerton | 0 | 11 | 2 |
| UCLA | 3 | 6 | 1 |
UCLA wins series 2-0
UCLA Eliminates Cal State Fullerton Amidst Numerous Missed Titan Opportunities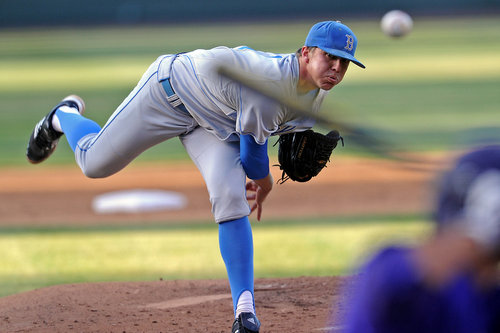 UCLA starter Nick Vander Tuig may need to change his name to the So Cal Houdini. He and the rest of the Bruins' pitching staff maneuvered their way out of jams all night.
ESPNU puts numbers to Vander Tuig's night:
Nick VanderTuig goes 6.1 scoreless innings, tossing 117 pitches w/ 4Ks, 8H. NVT gets pulled for JamesKaprielian in 7th. UCLA up 3-0. #CWS

— ESPNU (@ESPNU) June 9, 2013
Perhaps giving the UCLA pitching staff the credit is the nice way to put it. It could be said that the Cal State-Fullerton Titans simply choked in clutch situations. In case you're wondering how a team can be shut out with 11 hits, here's how:
Which team will fare the best in the College World Series?
The Titans were 0-for-7 with runners in scoring position. The Titans wasted a great performance on the mound from Thomas Eshelman. All three of the Bruins' runs were unearned as they were a product of shoddy defense in the first inning.
Aside from the Titans' inability to get the clutch hit and poor defense, Bruins junior Pat Gallagher had two hits and two RBI to carry the offense. Cal State-Fullerton was the fourth-ranked team in the nation with a 48-8 record coming in.
They had a great season, but this one will sting for while.
Follow me for Sports Did You Knows, News and Spirited Opinions
This article is
What is the duplicate article?
Why is this article offensive?
Where is this article plagiarized from?
Why is this article poorly edited?