With two minutes to go in the United States' World Cup qualifying match against Jamaica, it seemed Jurgen Klinsmann's club was on its way to a relatively mundane victory.
It turned out to be anything but. While the United States did go on to win the match, 2-1, before a raucous crowd in Jamaica, the match's final moments were as crazy as anything you'll see in world competition this year.
The USMNT had dominated the action throughout, with both sides seeming satisfied with the red, white and blue coming away with a 1-0 victory. The action was calm. The attacks subdued.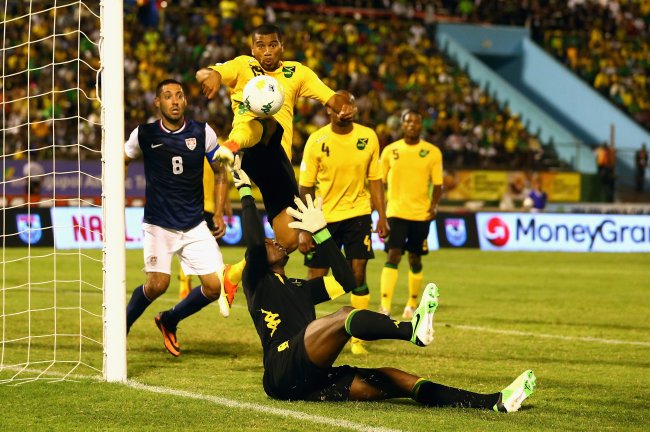 Streeter Lecka/Getty Images
And then the floodgates opened, allowing for all the action we'll be talking about for the coming days. First, Jamaica shocked the entire stadium with a tantalizing score by Jermaine Beckford. Taking a seemingly innocuous free kick, Beckford rose up and struck the ball past United States goalie Tim Howard to tie the score at 1-1 in the 89th minute.
The call was notable because Beckford, sprinting deep toward the goal, looked to be offsides. Sports Illustrated's Andy Glockner was still incredulous even after the match ended about the poor officiating:
I still can't believe JAM's goal counted. Beckford was clearly offside. He was the only guy that was. How do you miss that?

— Andy Glockner (@AndyGlockner) June 8, 2013
While there will be plenty who deride the officials for possibly altering the CONCACAF standings in an adverse way, most will forget about the poor officiating after Friday night. Why? Because the United States roared right back down on the attack, setting up a scoring opportunity that would crown Brad Evans as the hero to many thousands of miles away.
Deep into Jamaica's attack zone, Evans received the ball and launched a shot past goalie Donovan Ricketts for the match-winning score as he was falling away. As noted by ESPN's Paul Carr, it was the first international goal of the midfielder's career:
First career international goal for Brad Evans. What a time for it!

— Paul Carr (@PCarrESPN) June 8, 2013
ESPN's Bob Ley noted just how shocking it was for folks to see Evans' rise in such a short period:
Brad Evans, not even in the periphery of the picture a week ago, is now a national hero.

— Bob Ley (@BobLeyESPN) June 8, 2013
The hoopla at the end of the game obscured quite a strong performance from the United States through the first 88 minutes. They controlled the attack from the outset, controlling possession and forcing bad, oftentimes strange shot attempts from the Jamaica attack.
With the home team struggling, the United States was able to get on the board early with a goal that became equally salient to Evans'. Forward Jozy Altidore got the United States on the board in the 30th minute, continuing the good form he showed against Germany.
ESPN's Twitter feed noted that playing against the Germans on Sunday must have cured the innumerable ills Altidore had gone through on the international level prior:
Seems like playing Germany really was the magic elixir for Jozy Altidore.

— ESPN (@espn) June 8, 2013
In fact, the entire United States team seemed energized—perhaps more-so than at any other point in Klinsmann's era. The U.S. coach finally found a starting 11 that worked for him, bringing the same players onto the pitch he did in the team's shocking triumph over Germany.
Unlike the other win, though, this one counted for the United States. They now hold the lead in the CONCACAF standings with seven points and have a 94 percent chance of qualifying for the World Cup, per ESPN's Paul Carr.
It may have stopped a few hearts, but the United States still found a way to triumph.
Player Grades
United States
Jamaica
Player
Grade
Player
Grade
Tim Howard

A
Donovan

Ricketts



B
Omar Gonzalez

B
Daniel Gordon

D
Matt

Besler



C

O'Brian

Woodbine

C+
Brad Evans

A

Alvas

Powell

B-

DaMarcus

Beasley

B
Adrian

Mariappa



B
Michael Bradley

B+
Marvin Elliott

C-
Clint Dempsey

A
Jermaine Johnson

C-
Jermaine Jones

C
Rodolph Austin

C+
Graham

Zusi



B
Jermaine Hue

C+
Fabian Johnson

A-

Garath

McCleary

C

Jozy Altidore

A
Ryan Johnson

B
Substitutes
Substitutes
Geoff Cameron
C+
Jermaine

Beckford



A
Edgar Eduardo Castillo

B
Theo Robinson

C
Eddie Johnson

C
Omar Daley

C
















Jozy Altidore, United States: A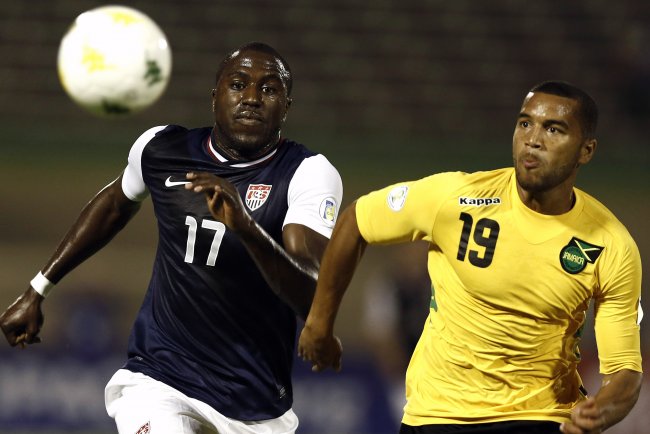 Winslow Townson-USA TODAY Sports
It has to be a relief for everyone involved with United States soccer to see Altidore playing this well in consecutive games. The 23-year-old striker, viewed in his upbringing as a generational talent, had completely fallen off the cliff internationally.
While he enjoyed club success AZ Alkmaar, scoring 23 goals in league action this year, the back of the net turned into the size of a grape when putting on the colors of his home country. Altidore had not scored at the international level since November of 2011 before his goal against Germany.
Now Altidore has one that counts. He won't be remembered as the hero; that distinction goes to Evans. Nor will anyone say he was the United States' best player on Friday; that was Clint Dempsey.
That being said, Altidore's last two games might spark something that will last far longer than any one-week stretch.
Jermaine Beckford, Jamaica: A
Even at the international level, substitutes rarely make game-changing impacts. They're meant as springers of life to wherever they line up on the field, normally replacing a player whose energy level has been sagging.
By sheer proxy of their energy level, they provide a boost. If you get anything else, it's essentially found money. Beckford, even if he was offsides for his goal, provided far more than replacement-level production after entering in the 70th minute.
He was very active on the attack, pushing teammates when everyone seemed resigned to a 1-0 game. You can't take that away from him, despite the fact that his goal never should have counted.
Brad Evans, United States: A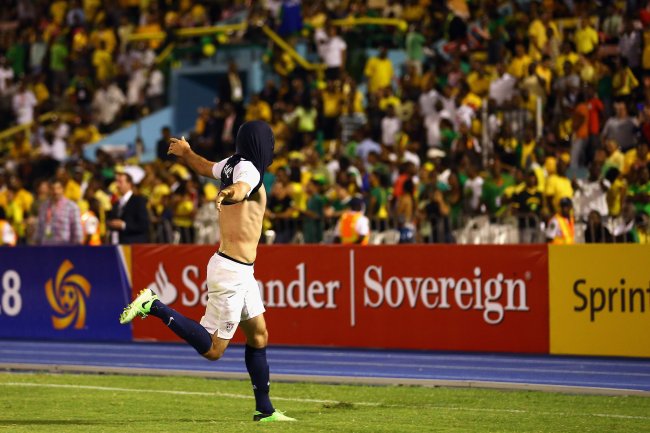 Streeter Lecka/Getty Images
Ultimately, Beckford's goal mattered not. And that's because Brad Evans found a way to do what the United States has done so often—win ugly. Evans' goal, despite having the Kobe Bryant-esque fallaway involved, wasn't the prettiest thing in the world.
It was just placed perfectly, at the perfect time. As Bob Ley of ESPN noted, credit should at least partially go to Klinsmann, whose motivational tactics with Altidore and plucking of Evans from near-obscurity helped lead to this moment:
Evans shouldn't expect to be so anonymous next time he steps on the pitch. Or into a supermarket.
Donovan Ricketts, Jamaica: B
There's always an easy place to stake blame when goals go flying by a goalkeeper in the waning seconds of a match. Ricketts was the last line of defense for Evans' shot, and it's ultimately his name that goes by the tally sheet for goals allowed.
That just wouldn't be fair. Ricketts allowed the United States to come back down and win the game because his defense cratered when he needed them most. The opposition had one last opportunity to mount a solid attack. Mere competency could have led to a clear out and a draw.
Unfortunately for Jamaica, the defense left Ricketts out to dry. He's not faultless for how the match played out, but putting the brunt of the scorn on the Jamaica keeper would not be fair.
Follow Tyler Conway on Twitter: