Offseason Power Rankings for Every Player on the Green Bay Packers' Roster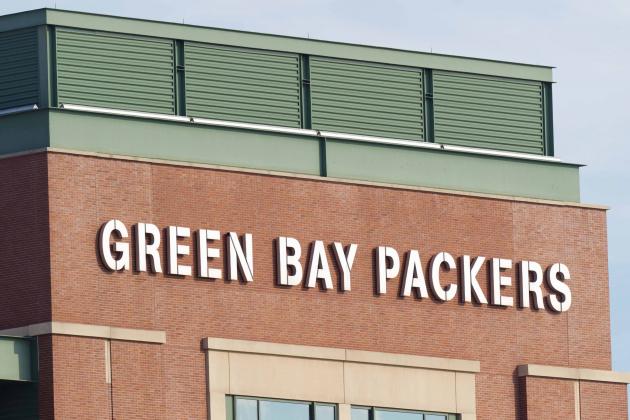 Jeff Hanisch-USA TODAY Sports

The Green Bay Packers currently have 89 players on their roster. That needs to be shaved down to 53 at the end of training camp and the start of the 2013 regular season in the NFL.
I'm going to try and rank the top players on the Packers from one to 53. Now, I'm not saying that all the players I'm ranking will be on the final roster later this summer at the end of camp, but I think the majority will be.
I'm not ranking any players who are out with injuries and have not been medically cleared to get on the football field for awhile. This would include offensive lineman J.C. Tretter, defensive lineman Jerel Worthy and safety Sean Richardson.
This ranking is weighted on the basis of the player's value to the team, and also the position that they play.
Begin Slideshow

»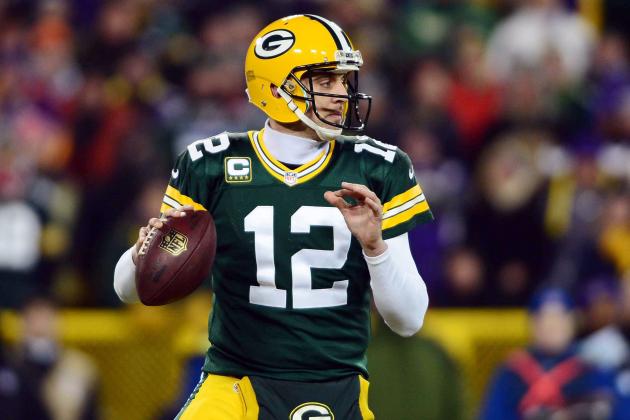 USA TODAY Sports

In the five years that Aaron Rodgers has been the starting quarterback of the Packers, he has been a NFL MVP, a Super Bowl MVP, has been named to three Pro Bowls and has become the highest-rated quarterback in the history of the NFL in the regular season.
Not only is Rodgers the best player on the Packers, but many believe he is the best player in the NFL as well.
The Packers certainly believe that, as he was given a contract extension last month which made him the highest paid player in the NFL.
Mike DiNovo-USA TODAY Sports

Clay Matthews was also given a contract extension last month, which made him the highest paid linebacker in the NFL.
In the short time that Matthews has been in the NFL, he has 42.5 sacks, four interceptions (two returned for touchdowns), seven forced fumbles and three fumble recoveries (one for a touchdown).
Matthews has also been named to the Pro Bowl in each of his four seasons with the Packers.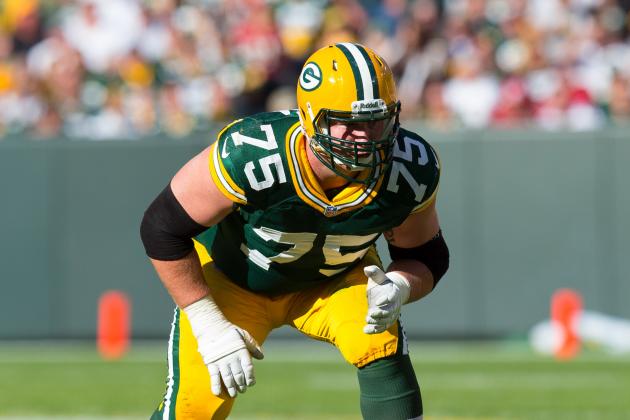 Jeff Hanisch-USA TODAY Sports

The Packers showed how valuable Bryan Bulaga was to them a few weeks back when the team announced that they were moving him from right tackle to left tackle. That in itself says a lot. Why? Aaron Rodgers is a right-handed quarterback and the left side is his blind side.
Rodgers was sacked 51 times last season and the starting left tackle the past two years (Marshall Newhouse), gave up 24.5 sacks just by himself.
Bulaga has been a starter in the NFL since he was a rookie in 2010, with 33 starts in three years. He also started at left tackle for Iowa in college where he was an All-American.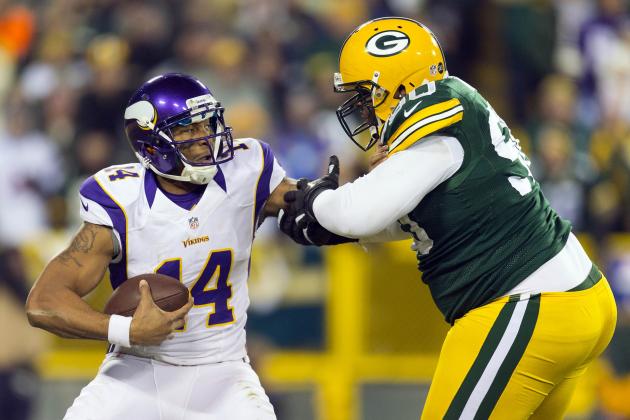 USA TODAY Sports

B.J. Raji has played in 60 games in four years with the Packers, and has been a full-time starter for three of those years.
Raji is best at stopping the run, but occasionally will get a sack as well, as he has 10.5 sacks in his career.
Raji was named to the Pro Bowl in 2011, and there is a good possibility that he will be getting a contract extension soon. Incidentally, Raji has the same agent (David Dunn) as Aaron Rodgers and Clay Matthews.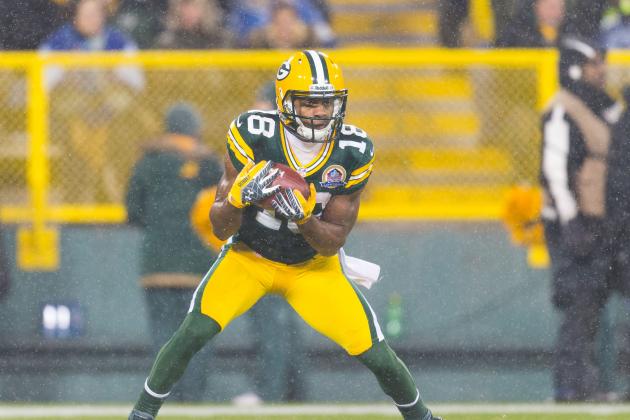 Jeff Hanisch-USA TODAY Sports

Randall Cobb had a break-out year in 2012, when he had 80 receptions for 954 yards and eight touchdowns. He also returned a punt for a touchdown and rushed for 132 yards.
Cobb has three kick/punt returns for touchdowns in his short two-year NFL career, but will most likely be just an offensive weapon for the Packers in 2013. The Packers want to keep him as healthy as possible and don't want to risk him getting injured on special teams, like he was in 2012.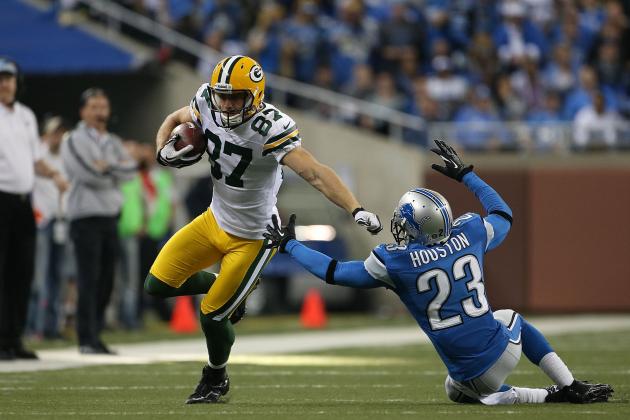 Leon Halip/Getty Images

Jordy Nelson wasn't as good as he was statistically in 2012 as he was in 2011, but injuries were the big reason why. Nelson still had 49 catches and seven touchdowns. In 2011, he had 68 catches for 1,263 yards and 12 touchdowns.
Nelson has 217 receptions in his five-year career in Green Bay and has 28 touchdowns. In the postseason, Nelson has 33 career receptions for 433 yards and three touchdowns.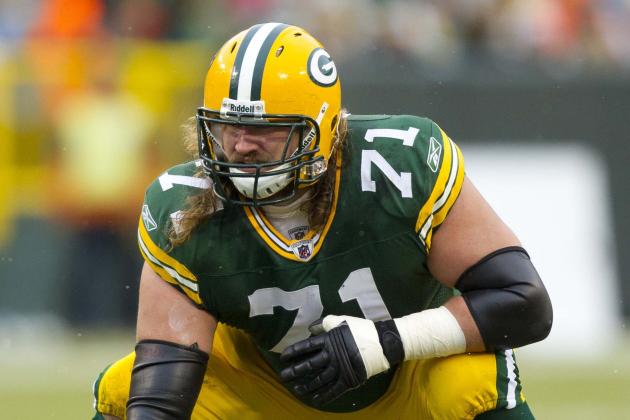 Jeff Hanisch-USA TODAY Sports

To many, guard Josh Sitton is considered to be the best offensive lineman on the Packers. The rest of the NFL noticed that too, as Sitton was rightfully named to the Pro Bowl in 2012.
In 2010, Sitton was named NFL Alumni Offensive Lineman of the Year. Like Bryan Bulaga, Sitton is moving to the left side of the offensive line in 2013 to play left guard.
Sitton has started 62 games the past four years with the Packers.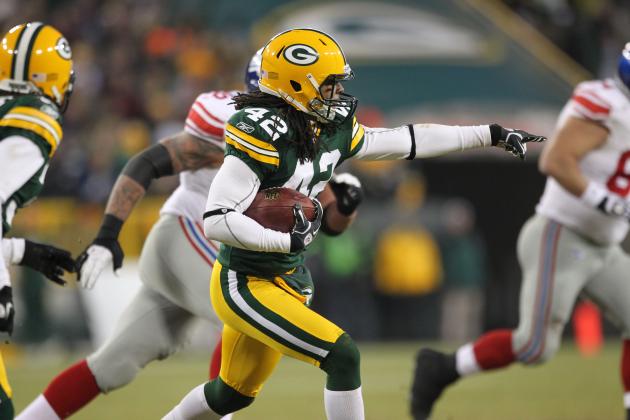 Matthew Emmons-USA TODAY Sports

In 2013, safety Morgan Burnett will truly be the leader of the secondary of the Packers, after the team released veteran Charles Woodson.
Burnett played like a leader in 2012, as he led the team in tackles with 123. Additionally, he had two sacks, two interceptions, two forced fumbles and one fumble recovery.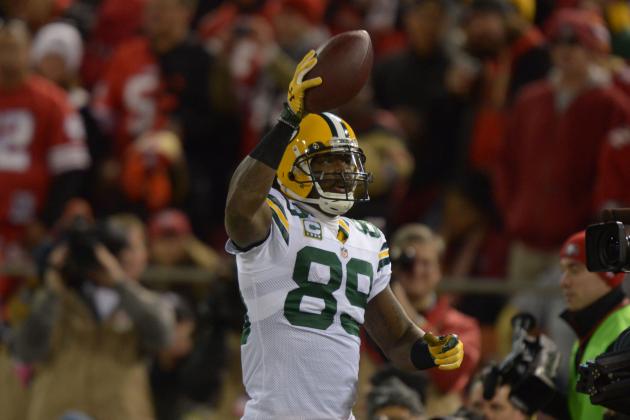 Kirby Lee-USA TODAY Sports

James Jones becomes the third wide receiver of the team to be ranked in the top ten. Jones led the NFL with 14 touchdowns last year, to go with his 64 catches for 684 yards.
After having some issues with drops earlier in his career, Jones has become as sure-handed as any receiver on the team.
Jones has 251 career receptions for the Packers with 34 touchdowns. In the postseason, Jones has 26 receptions for 390 yards and four touchdowns.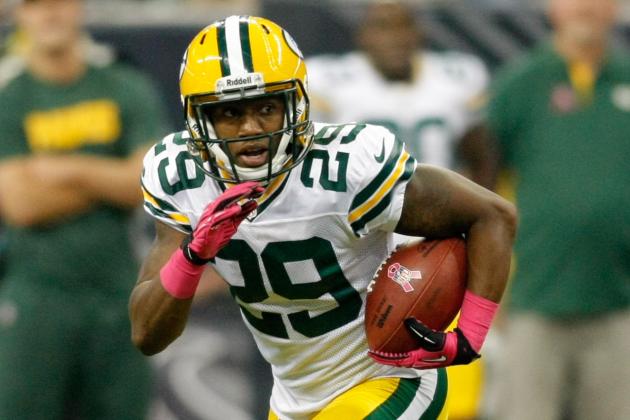 Brett Davis-USA TODAY Sports

Casey Hayward had a fabulous rookie year in 2012. The former Vanderbilt Commodore had six interceptions for the Packers to lead the team, plus had 27 passes defended, which also led the team.
After another broken collarbone sidelined Charles Woodson last season, it was Hayward who took over and excelled in the corner-slot position in the nickel defense. Like Woodson, Hayward also plays the run well and is a natural ball hawk.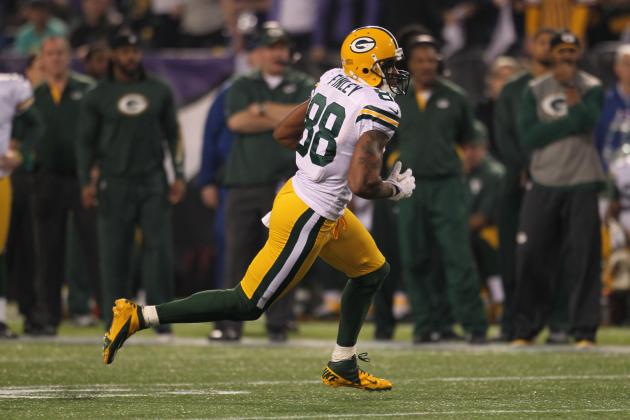 Brace Hemmelgarn-USA TODAY Sport

For awhile in 2012, it looked like tight end Jermichael Finley was not good for the Packers. Inconsistency and lack of production dogged the talented Finley early in the season, but then he became much more focused and dependable as the season wore on.
Finley ended up with a career-high 61 catches, but only had two touchdowns, which was down from the eight he had in 2011.
2013 will be a big year for Finley, as the team wants to find out once and for all whether he has a long-time future in Green Bay.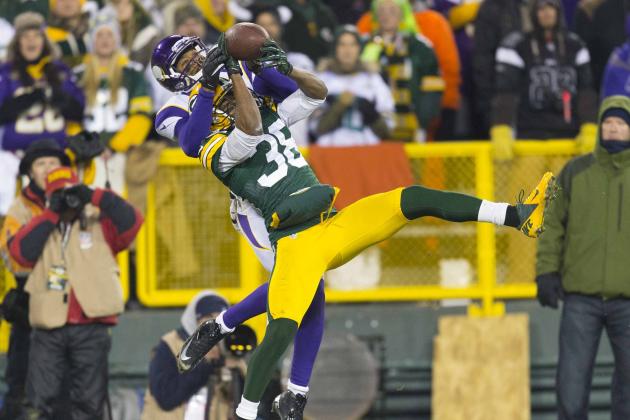 USA TODAY Sports

Tramon Williams has not been the same player the past two seasons that he was in 2010, but an injured shoulder (with nerve damage) was the main reason why. Williams says he is 100% healthy now.
Williams went to the Pro Bowl in 2010, when he had six interceptions, including three more picks in the postseason. The past two years, Williams has had six interceptions combined.
Williams will now have the role of being mentor to the young cornerbacks of the team since the release of Charles Woodson.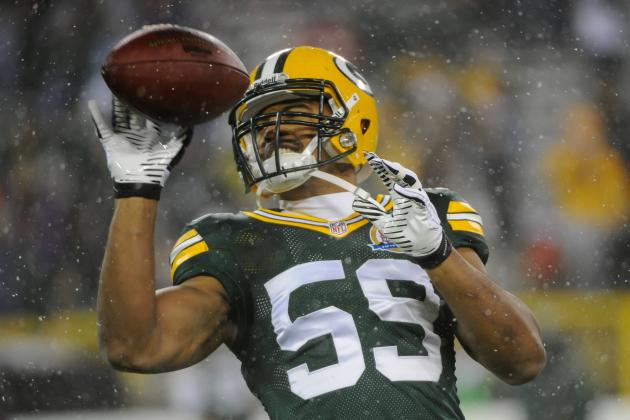 Benny Sieu-USA TODAY Sports

For awhile in 2012, Brad Jones wasn't sure what his role would be with the Packers. The team moved him from outside linebacker to inside linebacker, and he was three-deep on the depth chart at the position behind Desmond Bishop and D.J. Smith.
Season-ending injuries to Bishop and Smith gave Jones a chance, and he definitely made the most of it. He had 77 tackles in 10 starts to go along with two sacks. The team was impressed enough to re-sign him to a new deal as he was an unrestricted free agent after the 2012 season.
The competition will be very tough at inside linebacker this year as Bishop is expected back. However, Jones will see the field more often than not, especially in passing situations.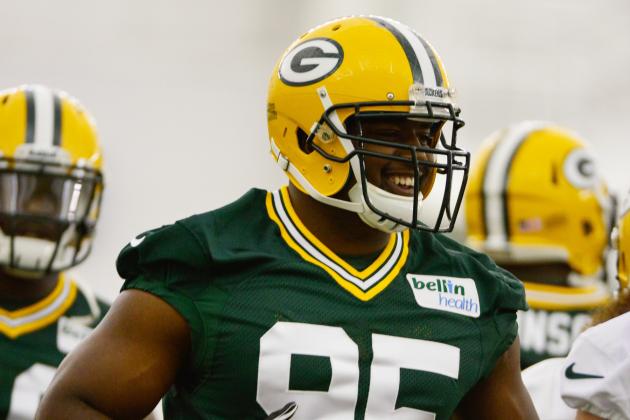 Benny Sieu-USA TODAY Sports

Datone Jones was the Packers first-round draft choice in 2013 for a reason. He is a playmaking defensive end who can rush the passer, and he stops the run very effectively (especially the read-option).
The Packers can't wait to unleash Jones, along with Clay Matthews, Nick Perry and Mike Neal to put some real pass pressure on opposing quarterbacks.
That and stop read-option quarterbacks like Colin Kaepernick and Robert Griffin III, who the Packers will see in the first two games of the 2013 season.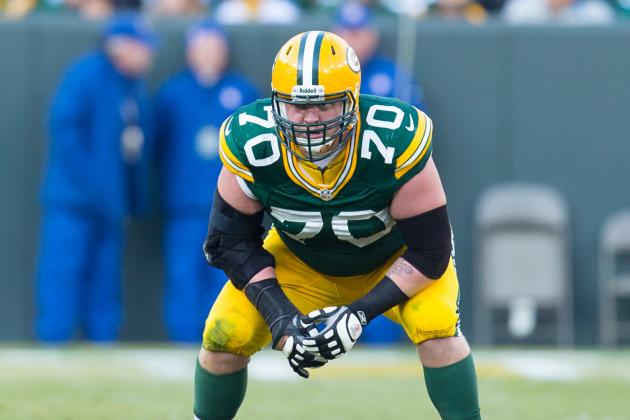 Jeff Hanisch-USA TODAY Sports

T.J. Lang has been a very versatile offensive lineman for the Packers. Lang will be moving to right guard in 2013, and that will be the fourth position Lang will have played on the line for the Packers.
Lang has been a full-time starter for the Packers the past two seasons.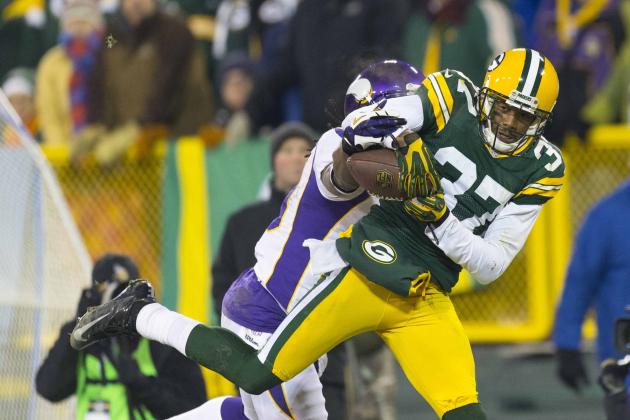 USA TODAY Sports

Sam Shields bounced back and had a very nice season in 2012, after having a rather mediocre year in 2011.
Shields looked a lot last year like the undrafted rookie who made the team in 2010, as he had three interceptions and 13 passes defended in 2013. He also had a sack and tackled much better overall.
Shields also had an interception return for a touchdown in the playoffs against the 49ers.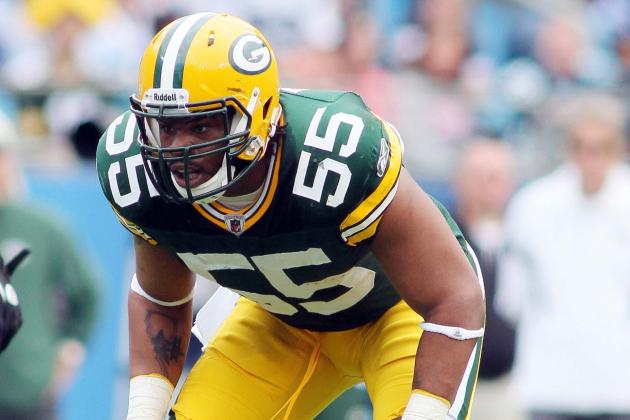 Jeremy Brevard-USA TODAY Sports

Desmond Bishop missed all of last season due to a torn hamstring suffered in the first preseason game. The Packers definitely missed their most physical player.
If he is healthy in 2013, Bishop can add a lot to the defense. In 2011, he had 142 tackles, with five sacks and two forced fumbles. In 2010, Bishop had 121 tackles, three sacks, one pick for a touchdown and two forced fumbles.
The Packers need that type of production at inside linebacker this year again.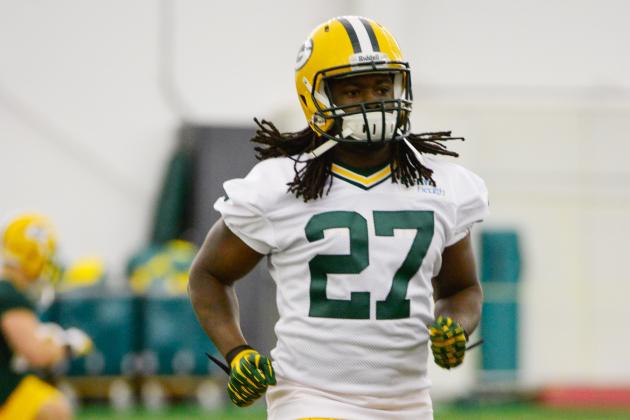 Benny Sieu-USA TODAY Sports

Rookie running back Eddie Lacy will be given every opportunity to become the the main weapon at running back for the Packers.
If he comes close to matching his production in college at Alabama, the Packers will be quite pleased. In 2012, Lacy rushed for 1,322 yards and had 17 touchdowns. He also caught 22 passes and had two more touchdowns.
Lacy also dominated in big games, as he had 181 yards rushing in the SEC Championship Game against Georgia. Then Lacy rushed for 140 yards on 20 carries and a touchdown, plus caught two passes for 17 yards and had another score, as the Crimson Tide whipped Notre Dame 42-14 in the BCS National Championship Game.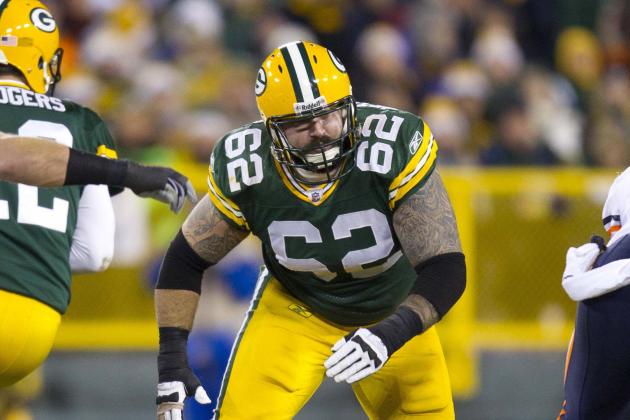 Jeff Hanisch-USA TODAY Sports

Evan Dietrich-Smith had been a bench player for the Packers for most of his career in Green Bay, as he had filled in at guard on a few occasions. Late in the 2012 season, the Packers decided to pull the plug on veteran center Jeff Saturday, and the Packers called on Dietrich-Smith to play that key position.
Dietrich-Smith played very solidly at center over the last two games of the regular season and into the playoffs, as the ground game of the Packers was much improved, as was the overall effectiveness of the offense.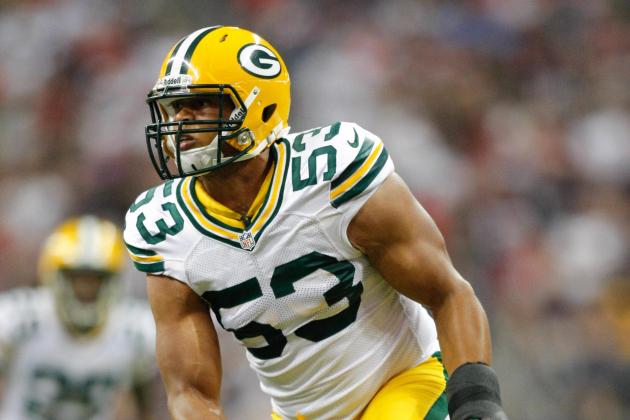 Brett Davis-USA TODAY Sports

Nick Perry was just starting to look comfortable at the left outside linebacker position for the Packers when he suffered a season-ending wrist injury in Week 6 of the 2012 season.
Perry had been splitting time with Erik Walden at the position and had two sacks before the injury. He finally seemed more at ease at outside linebacker, after playing defensive end at USC.
Perry needs to continue that transition in 2013 and become the playmaker he was in college, which earned him the right to be selected in the first round by the Packers in 2012.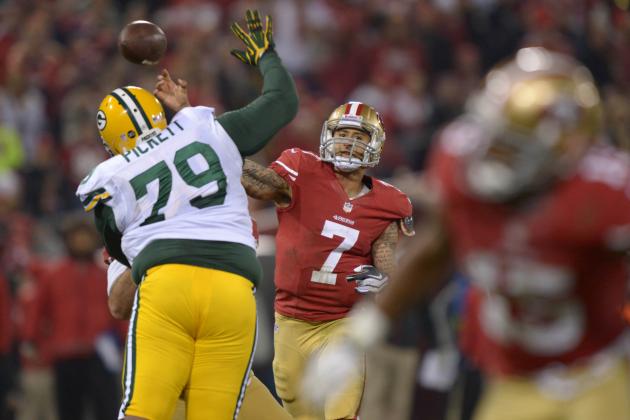 Kirby Lee-USA TODAY Sports

Ryan Pickett had one of his best seasons ever in Green Bay in 2012, as he had his best tackle numbers (51) since 2006, when he first signed with the Packers as an unrestricted free agent. Pickett's number one attribute is stopping the run.
Pickett also played in all 16 games for the first time since 2008.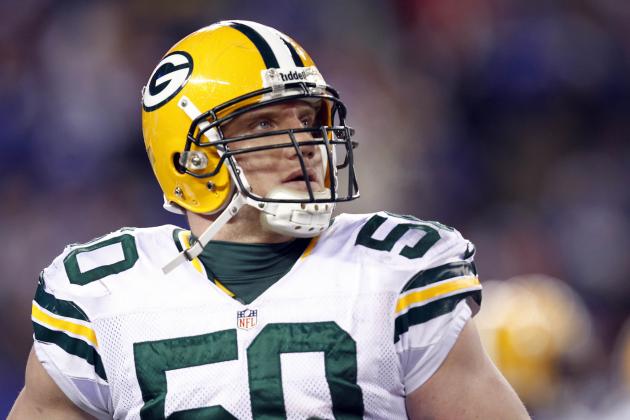 Mark L. Baer-USA TODAY Sports

A.J. Hawk played much better in 2012, than he did in 2011. He actually played quite similar to the way he played in 2010, which got him a new contract with the team in 2011. Still, the Packers and Hawk renegotiated his contract this year to save salary cap space.
Hawk had 120 tackles in 2012 to go along with three sacks. He didn't force a turnover or have an interception though. Hawk does have eight career interceptions, however.
As much as he is maligned by some, Hawk has been fairly steady for the Packers, averaging 102 tackles a season over his seven years in Green Bay.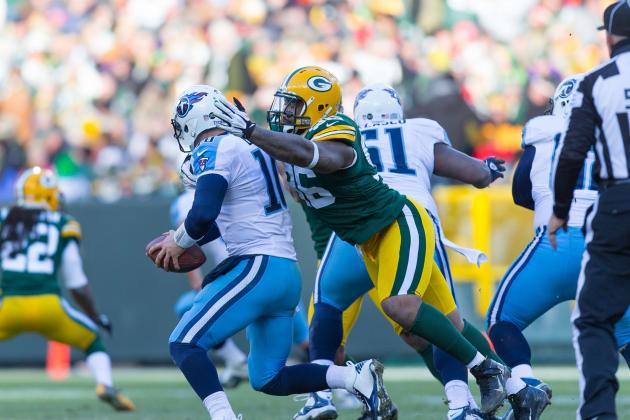 Jeff Hanisch-USA TODAY Sports

In 2012, Mike Neal finally looked like the defensive end the Packers hoped for when they drafted him in the second round in 2010.
Neal played in more games last season (11), than he did in his two previous years (nine) thanks to shoulder and knee injuries.
Neal had 4.5 sacks last season, along with a number of quarterback pressures, as the Packers improved to fourth in the NFL in sacks (47), compared to 27th in 2011 (29).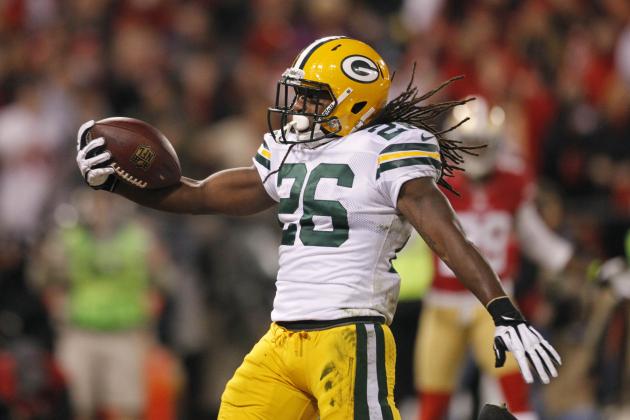 Cary Edmondson-USA TODAY Sports

DuJuan Harris became the main running back for the Packers late last season and into the playoffs. Not bad for a guy who was signed off the street during the season.
Harris had a 4.6 yards per carry average in the regular season gaining 157 yards and scoring two touchdowns. He also had 100 yards rushing in the playoffs, scored two more touchdowns and caught seven passes.
Harris showed enough in 2012 to be considered a situation back with the Packers, even with the additions of Eddie Lacy and Johnathan Franklin.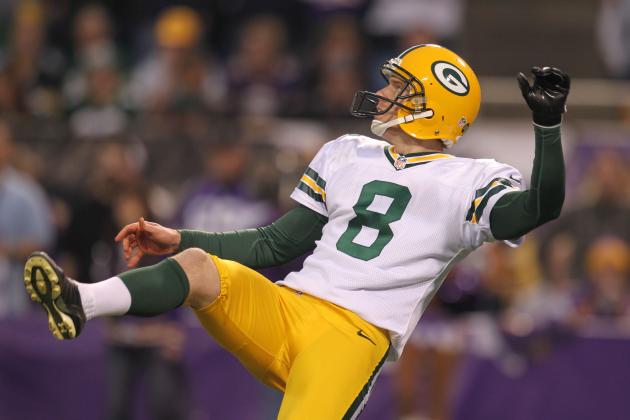 Brace Hemmelgarn-USA TODAY Sport

Tim Masthay is developing into one of the finest punters in the NFL. Over three years in Green Bay, Masthay has averaged 44.2 yards a punt (38.4 net), which is very good considering the conditions he has to punt under late in the season in frigid Green Bay.
Masthay also has quite a knack for punting the ball inside the opponents 20-yard line, as he has 78 career punts into that area.
USA TODAY Sports

John Kuhn might be considered a folk hero in Green Bay, but he also might become a relic soon. The fullback position is going away for the most part in the NFL, especially when you have tight ends who can fulfill the same duties.
Overall though, Kuhn has played effectively. He has 19 touchdowns over the past five years in rushing/receiving, and is a decent blocking back. He's also a key special teams contributor.
Kuhn had an exceptional playoff game against the Vikings last year, as he had two touchdowns, one rushing and one receiving. Kuhn also went to the Pro Bowl in 2011.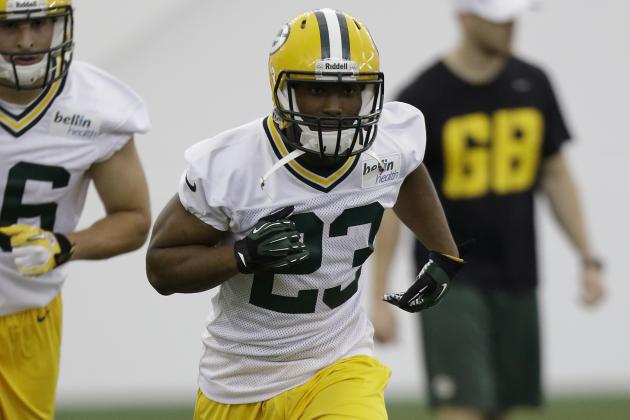 Mike McGinnis/Getty Images

Rookie Johnathan Franklin looks to be a big part of the running back rotation in 2013. Like Eddie Lacy, who was drafted two rounds earlier than the former UCLA Bruin, Franklin had an exceptional career in college.
Franklin had 4,403 yards rushing and had 31 touchdowns, plus caught 58 passes and had three more scores as a receiver in four years at UCLA.
Franklin is also a very able and willing blocking-back.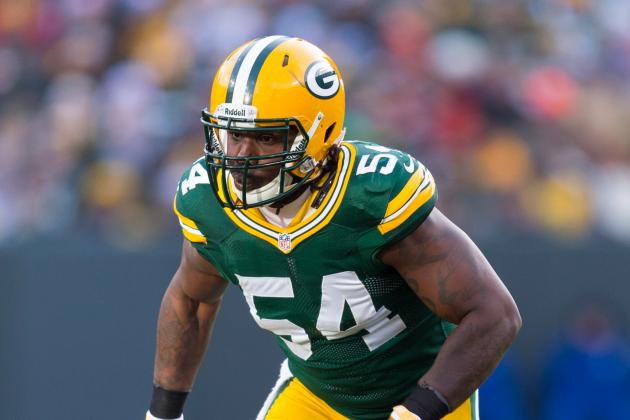 Jeff Hanisch-USA TODAY Sports

Dezman Moses was the surprise of training camp last year, as the undrafted rookie not only made the team in 2012, but also received some significant playing time.
Moses appeared in all 16 games, with six starts at outside linebacker, plus had 27 tackles and four sacks.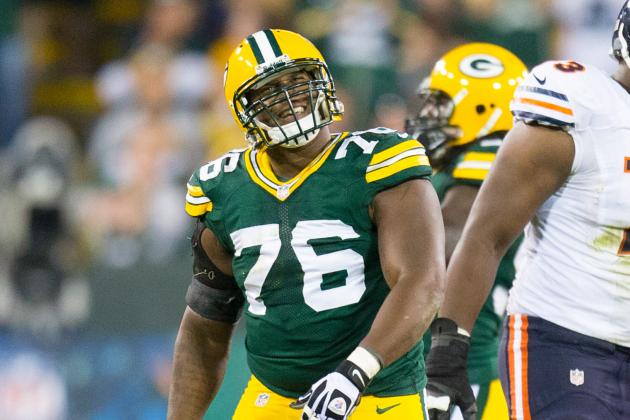 Jeff Hanisch-USA TODAY Sports

Mike Daniels had a solid rookie year for the Packers, as he was a key part in the defensive line rotation. The former Iowa Hawkeye played in 14 games and had two sacks.
Daniels also returned a fumble for a touchdown.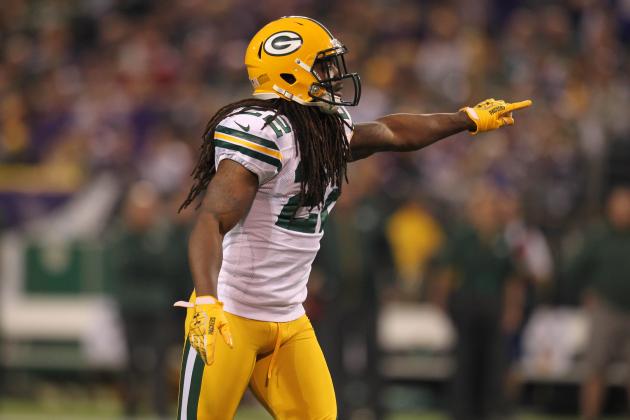 Brace Hemmelgarn-USA TODAY Sport

Jerron McMillian received some key playing time after Charles Woodson was injured after breaking his collarbone for the second time in three years.
McMillian didn't start, but he played in all 16 games and had 27 tackles, one interception, defended six passes and had one fumble recovery.
The second-year safety will be given every opportunity to start opposite Morgan Burnett this year, along with M.D. Jennings.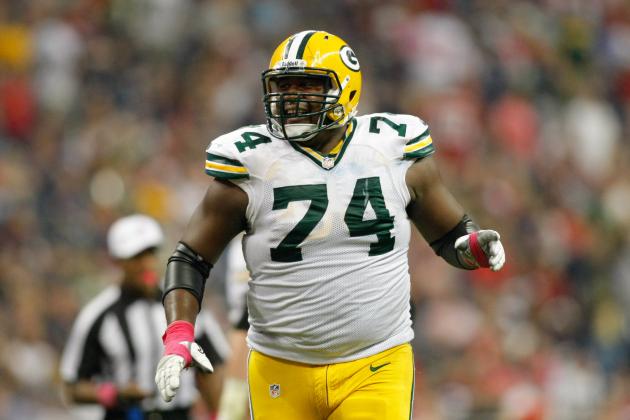 Brett Davis-USA TODAY Sports

Marshall Newhouse is coming off his second consecutive inconsistent season at left tackle. Newhouse has given up 24.5 sacks over the past two years and is not an effective run-blocker either.
The result? The Packers moved over Bryan Bulaga from the right side to play left tackle. The Packers are giving Newhouse the first shot at the right tackle job, but the competition will be fierce.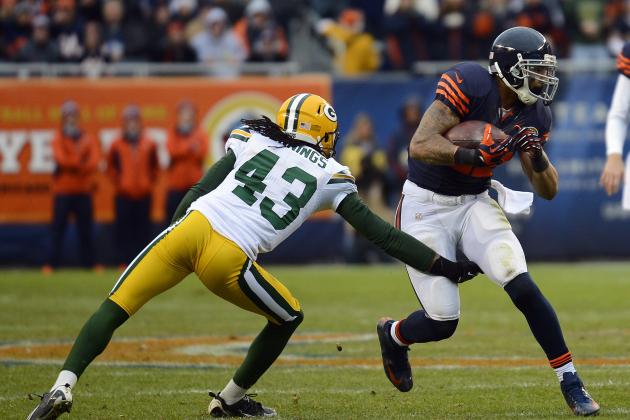 Mike DiNovo-USA TODAY Sports

M.D. Jennings played in all 16 games last season and had 10 starts at safety after Charles Woodson went down with a collarbone injury.
Jennings had 52 tackles and one interception for a touchdown. He will compete with Jerron McMillian for the starting safety job opposite Morgan Burnett.
Jennings is most famous for being the player involved in the "Fail Mary" pass from last season, when it looked like he had an interception in the end zone in the final seconds of the game, only to have a replacement official rule it a game-winning touchdown catch by Golden Tate of the Seahawks.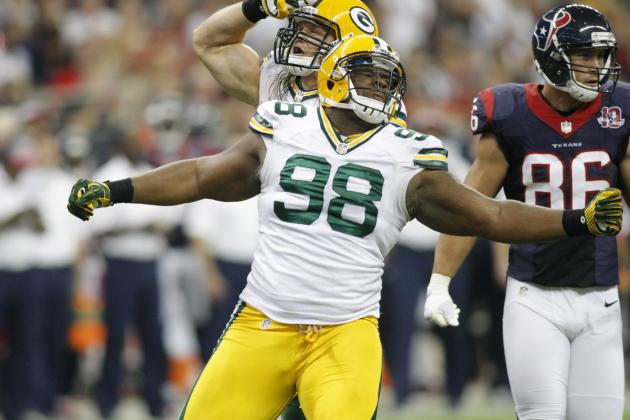 Brett Davis-USA TODAY Sports

C.J. Wilson started seven games for the Packers at defensive end in 2012. The main reason was his ability to stop the run.
Wilson had 24 total tackles last year, plus had 2.5 sacks.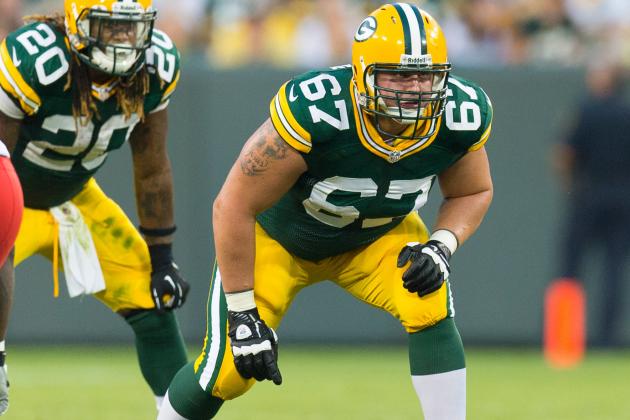 Jeff Hanisch-USA TODAY Sports

Don Barclay was another surprise in training camp, as he first made the team as an undrafted rookie, and then went on to start four games at right tackle in the regular season and both games in the postseason.
The running attack became much better with Barclay in the line up, as he is a tenacious run-blocker.
Barclay does have issues with pass-rushers coming off the edge, which is why he might be better off at guard in the long run.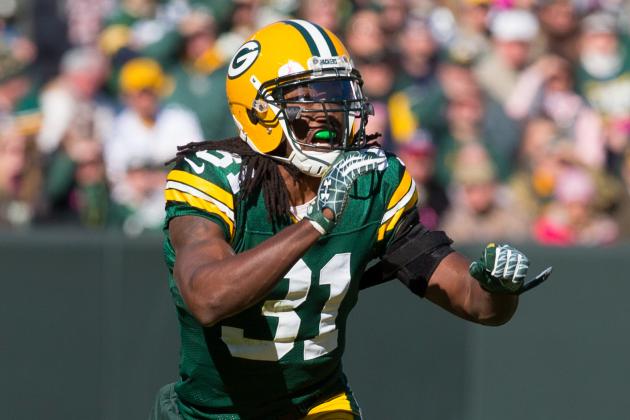 Jeff Hanisch-USA TODAY Sports

Davon House looked like he had won the starting right cornerback job opposite Tramon Williams in training camp last year, but then suffered a shoulder injury in the first preseason game.
House was able to play in nine games last season with a shoulder harness on, and had 26 tackles, one sack and five passes defended.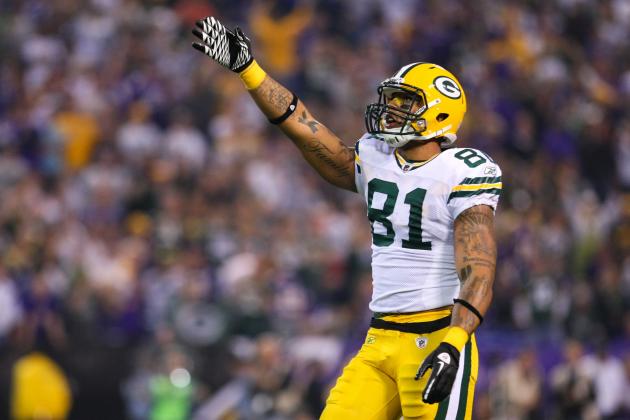 Brace Hemmelgarn-USA TODAY Sports

Andrew Quarless missed all of the 2012 season, due to an ACL tear suffered late in the 2011 season. The former Penn State Nittany Lion looks healthy now though.
Quarless was the starter at tight end for the Packers in Super Bowl XLV. He is probably the best combination of blocking and receiving threat the Packers have at tight end.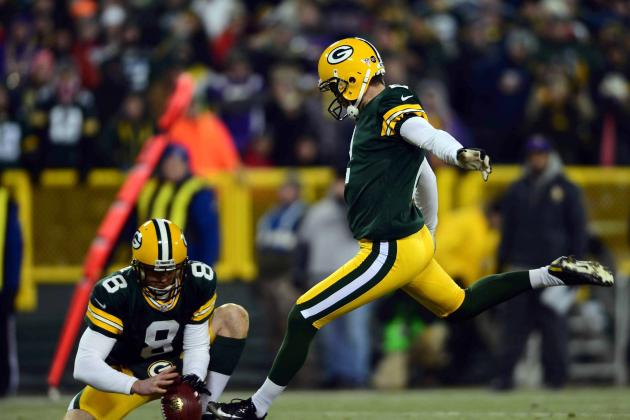 USA TODAY Sports

Mason Crosby had a very tough year in 2012. He was dead last in in the NFL in field goal percentage, as he only made 63.6 percent of his kicks (21-33).
The good news was the Crosby kicked much better later in the season and into the playoffs. Crosby is a solid kicker on kickoffs, as he had 35 touchbacks and converted his one and only onside kick.
Overall in six years with the Packers, Crosby has made 76.8 percent of his field goals (152-198), and has led the NFL in scoring once.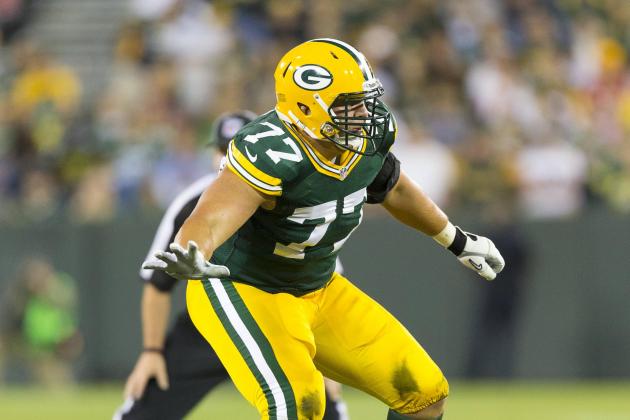 Jeff Hanisch-USA TODAY Sports

Andrew Datko spent the 2012 season on the Green Bay practice squad, mostly due to shoulder issues which have plagued him since college.
Datko looks like a new man in 2013, and if he stays healthy, has a real chance to become the starter at right tackle for the Packers.
Before he injured his shoulder at Florida State, most scouts had him pegged as a possible first-day choice in the draft, and a definite second-day pick.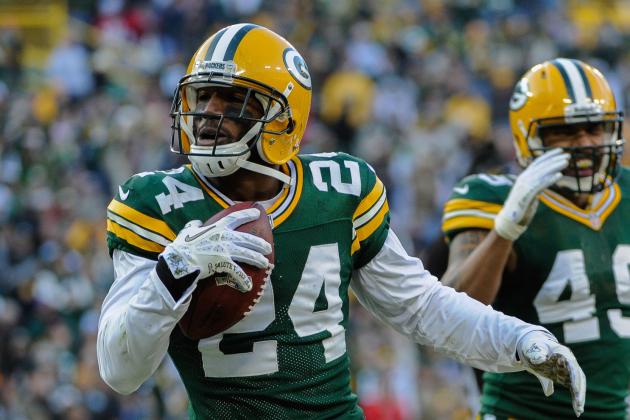 Benny Sieu-USA TODAY Sports

Jarrett Bush is probably the best player the Packers have on special teams overall. He is invaluable there.
Fans get a bit squeamish when Bush plays in the secondary, but he did have a key interception in Super Bowl XLV.
However, there is no doubt that he biggest attribute is his ability to excel on special teams.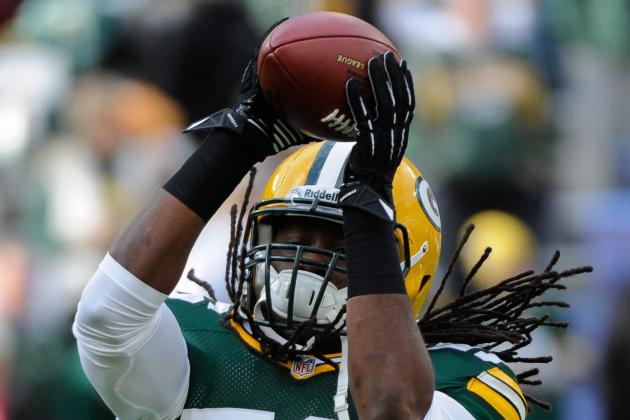 Benny Sieu-USA TODAY Sports

Terrell Manning had a rough rookie year that started with him getting a stomach virus in training camp that lingered. That situation basically set him back all season, as he only played in five games.
If Manning is healthy in 2013, and it appears that he is, expect to see some big plays from the second-year linebacker out of North Carolina State.
Manning was a playmaker with the Wolfpack in college, as he had 193 tackles, 27.5 tackles for a loss, 10 sacks and five interceptions in his career.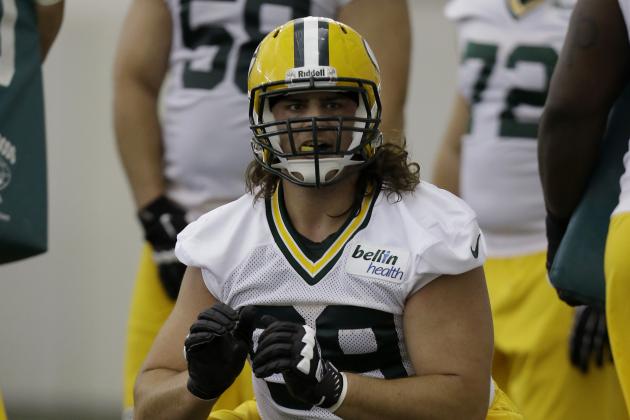 Mike McGinnis/Getty Images

Rookie David Bakhtiari is another player who will be in the mix for the starting right tackle job this season.
At Colorado, Bakhtiari started two years at left tackle and one year at right tackle. When he played right tackle in 2010, he had 59 knockdown blocks and graded out at 89.8 percent.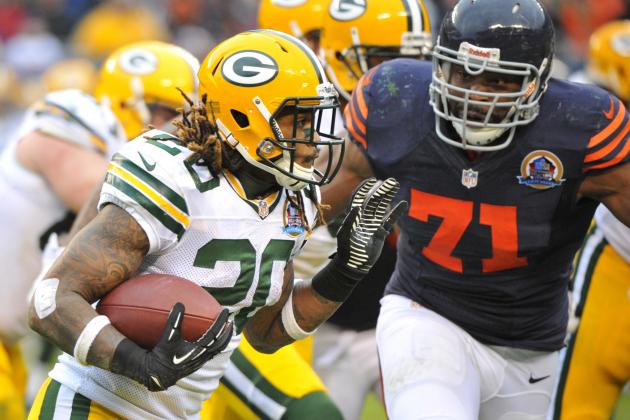 USA TODAY Sports

Alex Green sort of became the forgotten man in Green Bay at running back last year, after he was shut down after having some scarring issues that dated back to his ACL injury in 2011.
Before then, Green started four games and led the Packers with 464 yards rushing.
This year, it looks like Green and James Starks will be battling for the fourth and final running back job. That is, if the Packers keep four backs.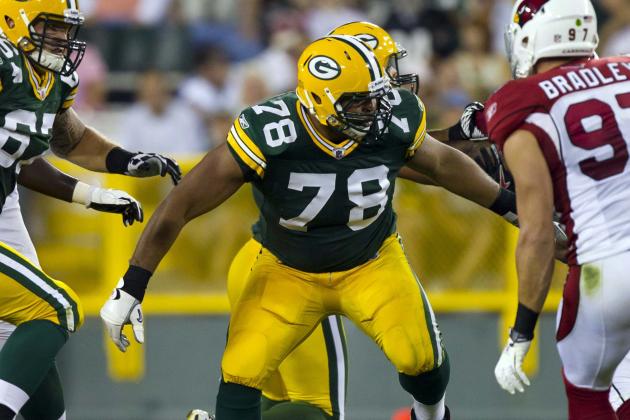 Jeff Hanisch-USA TODAY Sports

Derek Sherrod missed all of the 2012 season due to a horrific broken leg injury (two bones) suffered late in the 2011 season.
According to head coach Mike McCarthy, Sherrod is doing much better after another medical procedure done after the 2012 season.
McCarthy says that he expects the former first-round pick in 2011 to be a factor in 2013. If that is true, and Sherrod is healthy, he is another player who could win the starting job at right tackle.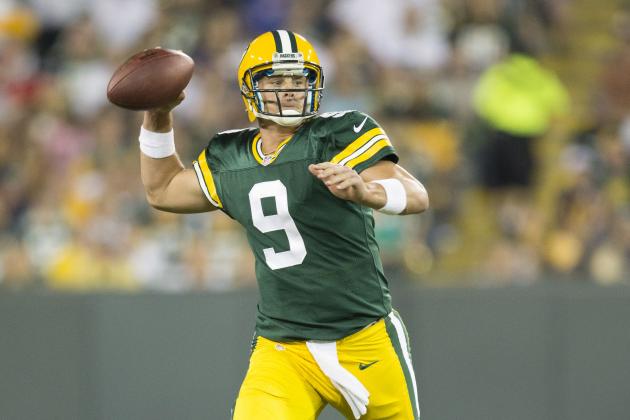 Jeff Hanisch-USA TODAY Sports

B.J. Coleman had a very good minicamp with the rookies a couple weeks back. Mike McCarthy said he saw a lot of improvement this year, as opposed to last year.
If Coleman continues to shine, not only in practice, but in preseason games, I expect him to wrestle the backup quarterback job from Graham Harrell this season.
Coleman has a much better arm and also has more mobility than Harrell. He just needs to prove he knows the offense as well, or better than Harrell.
Jeff Hanisch-USA TODAY Sports

Brett Goode is as good of a long snapper as there is in the NFL. I can't recall one bad snap on field goal attempts or on punts in his five years with the Packers.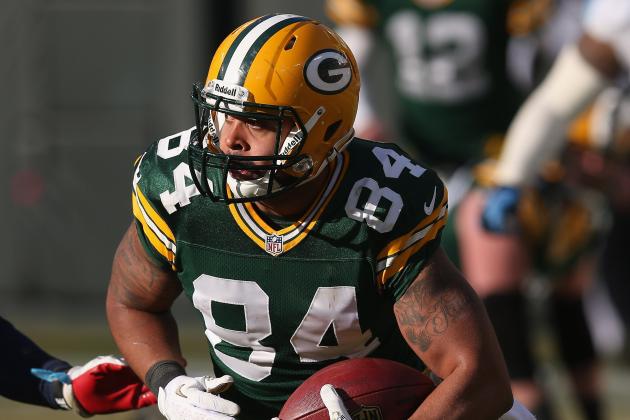 Jonathan Daniel/Getty Images

D.J. Williams had a very nice preseason for the Packers in 2012, but never showed that same ability in the regular season. Williams had just seven catches for 57 yards in 2012.
With the competition being so fierce now at tight end, with seven players vying for roster spots, Williams has to prove he belongs in 2013, and not just in practice games either.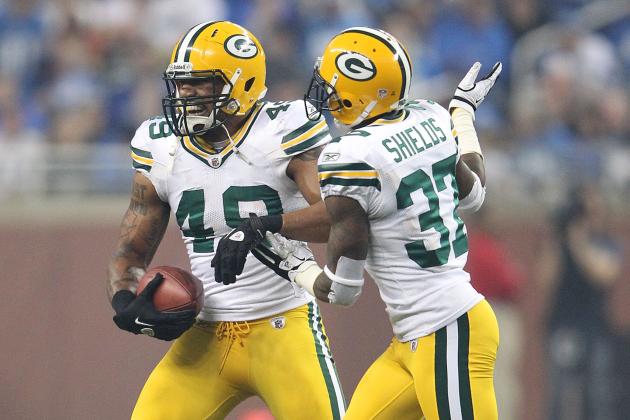 Leon Halip/Getty Images

Robert Francois is another key member of the special teams units. He played in all 16 games and had 13 special teams tackles last year.
Francois has also proven that he can play the inside linebacker position when he is needed, as he started three games in his career there, with two interceptions, three passes defended and one forced fumble.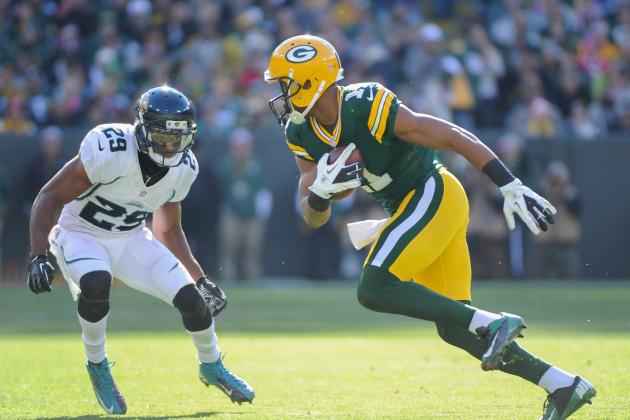 Benny Sieu-USA TODAY Sports

Wide receiver Jarrett Boykin surprisingly made the team last year as an undrafted rookie. He also played in 10 games, and had five catches for 27 yards.
With Donald Driver retired, and Greg Jennings gone via free agency, the fourth wide receiver job looks to have Boykin's name on it.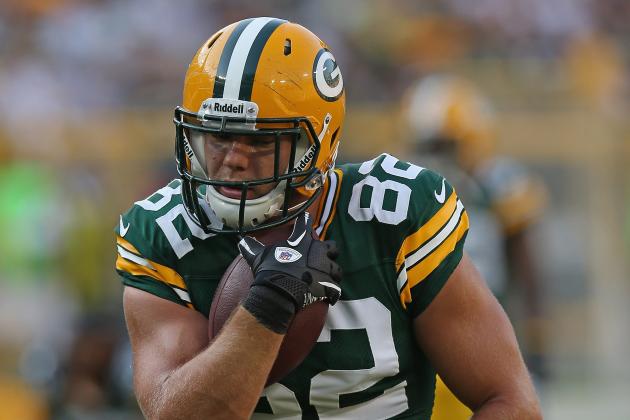 Jonathan Daniel/Getty Images

Tight end Ryan Taylor is another player who will be fighting to keep his job this year. The biggest thing going for Taylor is his ability to play well on special teams. He also has played fullback in the past in college.
In 2012, Taylor had just one catch for 11 yards.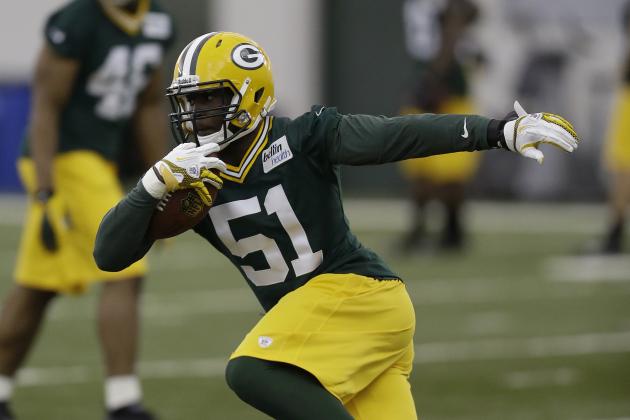 Mike McGinnis/Getty Images

Nate Palmer is similar to Nick Perry from last year, as he will be attempting to convert from the defensive end position in college to the outside linebacker position in the NFL.
Palmer had 117 tackles, 25.5 tackles for a loss and 17 sacks the last two years at Illinois State.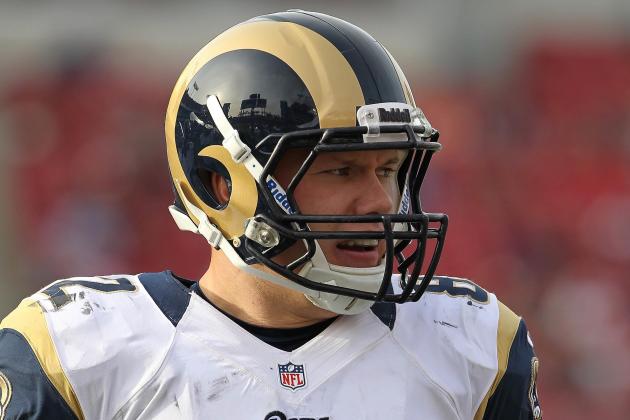 Kim Klement-USA TODAY Sports

Tight end Matthew Mulligan was signed by the Packers as a free agent earlier this year. Mulligan has played four years in the NFL so far, three years with the New York Jets, and last year with the St. Louis Rams.
Mulligan is considered the quintessential run-blocking tight end. With the Packers selecting both Eddie Lacy and Johnathan Franklin in the 2013 NFL draft, there is a reasonable chance that Mulligan might garner a roster spot with the Packers.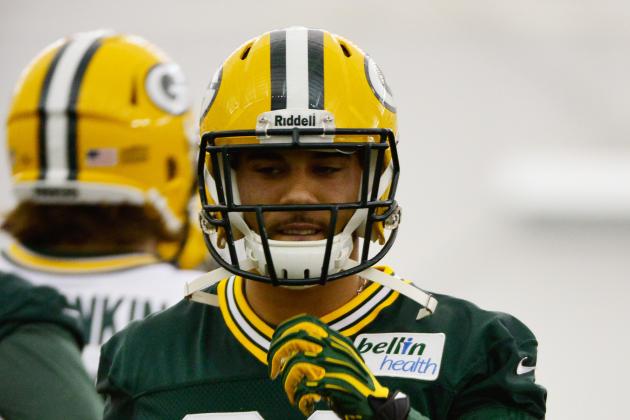 Benny Sieu-USA TODAY Sports

Rookie defensive back Micah Hyde could have a number of roles in Green Bay. For one, he can play both cornerback and safety.
But the biggest role he will fill in 2013 will be on special teams, where he was a dynamo in college at Iowa.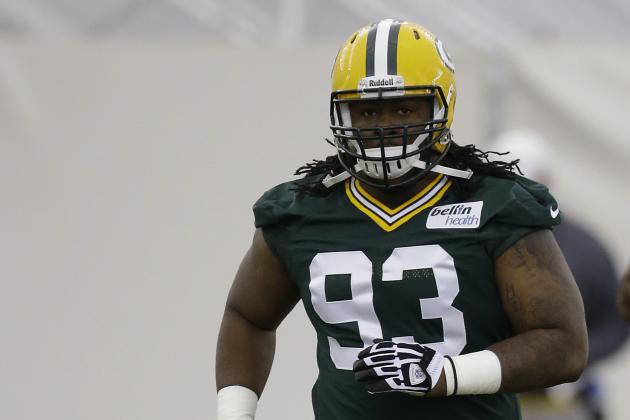 Mike McGinnis/Getty Images

Rookie Josh Boyd will have plenty of competition on the defensive line of the Packers. He might be fighting for the same job with players like C.J. Wilson and Johnny Jolly.
Boyd had a very solid career at Mississippi Sate in college, but was really exceptional in 2011, when he was on a line that featured Fletcher Cox. That year he led the defensive line with 51 tackles, plus had 4.5 sacks.
Boyd has great ability, especially when surrounded by other talented players.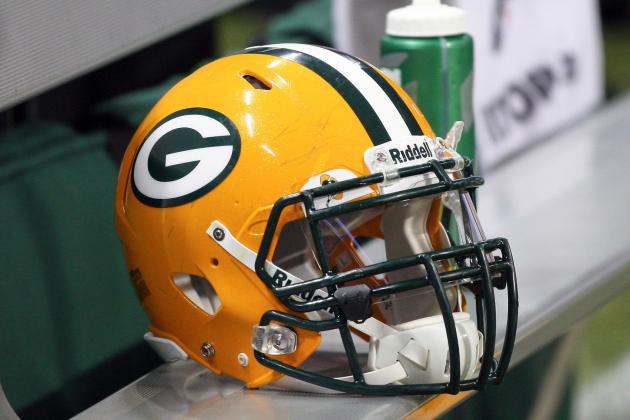 Scott Kane-USA TODAY Sports

Quarterback Graham Harrell
Defensive Lineman Johnny Jolly
Wide Receiver Jeremy Ross
Wide Receiver Charles Johnson
Wide Receiver Kevin Dorsey
Linebacker Jamari Lattimore
Linebacker Sam Barrington
Linebacker Andy Mulumba
Tight End Brandon Bostick
Tight End Jake Stoneburner
Running Back James Starks
Running Back Angelo Pease
Offensive Lineman Lane Taylor
Offensive Lineman Greg Van Roten