ACC Tournament Baseball Schedule 2013: Complete Viewing Guide to Friday's Action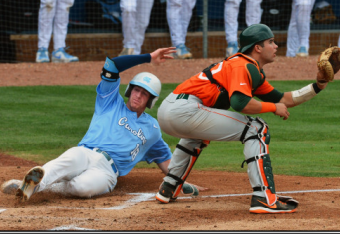 Photo via Chuck Liddy, theACC.com: http://www.theacc.com/view.gal?id=142148
Mark Dolejs-USA TODAY Sports
The 2013 ACC Baseball Tournament is in full swing, and all eight teams have two full days of action left before the two tournament pools have a winner and we all have a title game to watch.
Friday will mark the third day of the ACC tournament in Durham, and we'll get the chance to see three more matchups that could have long-standing impacts on the College World Series this summer.
North Carolina opened up their ACC tournament appearance with a win, and the No. 1 seed will be back in action on Friday. Defending champion Georgia Tech will also be in action, but this time the stakes are much higher with respect to getting out of pool play.
Miami, Clemson, North Carolina State and Virginia Tech are the other four teams in action when play opens up on Friday morning.
Here's a look at all three tournament games, and a viewing guide for what to expect during Friday's slate in North Carolina.
*For a complete look at the 2013 ACC Tournament Baseball Schedule, click here (via THEACC.com).
North Carolina State vs. Miami
When: Friday, May 24, at 11:00 a.m. ET
Where: Durham Bulls Athletic Park; Durham, N.C.
Watch: RSN/ESPN3
The Wolpack are coming off an impressive win over Clemson in the opening game of the ACC tournament on Wednesday. North Carolina State roughed up starter Daniel Gossett—the reigning ACC Pitcher of the Week—to the tune of six runs in 6.1 innings.
Wolfpack reliever Josh Easley was also impressive, pitching four shutout innings for the win.
The Wolfpack were the No. 4 seed in the tournament and will now be left to face Miami and in-state rival North Carolina to close out pool play. That effort starts with the Hurricanes on Monday morning, who were mercy-ruled by the Tar Heels during Thursday's action.
Miami sneaked into the tournament as the No. 8 seed, and it showed on Thursday. The Hurricanes had two errors and managed just four hits off UNC ace Kent Emanuel, who had a no-hitter going through 4.2 innings before coasting through the rest of the outing.
For Miami to have any chance of pulling off the upset against North Carolina State, the bats have to get going. The pitching staff also has to pick it up for the Hurricanes; they surrendered 10 runs to the Tar Heels in eight innings on Thursday.
North Carolina is the ACC's best team, but that kind of effort won't shock the Wolfpack, as they managed to score runs off a hot Miami pitcher in Gossett and set themselves up for a showdown with North Carolina for the pool title.
Virginia Tech vs. Georgia Tech
When: Friday, May 24, at 3:00 p.m. ET
Where: Durham Bulls Athletic Park; Durham, N.C.
Watch: RSN/ESPN3
The reigning champion Yellow Jackets took a hit on Thursday, when Virginia shut them down en route to an 8-2 loss and a must-win situation against the Hokies on Friday.
Although the Jackets will be hard-pressed to find a way to win their pool and make it to the championship round, all it would take now is a Florida State win over Virginia to vault Georgia Tech out of the pool. That is, should the Jackets go on to beat Virginia Tech.
Despite the setback, Georgia Tech is in a position to be a dangerous team the rest of the way.
The Yellow Jackets actually outhit the Cavaliers on Thursday, 10-9, but wound up losing by six and couldn't do anything with the 10 hits that were surrendered by Virginia starter Scott Silverstein. Wednesday's late-game heroics against Florida State were nowhere to be found, and the Jackets head into Friday no longer in control of their own destiny.
However, a win and a Florida State win on Friday would appear to do the trick.
Virginia Tech, on the other hand, also needs a win and help to survive the gauntlet. After a nine-run win over Virginia on Wednesday, the Hokies stand to make it out of pool play unscathed and reach the championship game later on in the tournament. Mark Zaguris' walk-off home run on Thursday night made sure of that.
It's been an up-and-down season for the Hokies, but big wins over in-state rival Virginia, Florida State and another against the highly touted Jackets would go a long way to salvaging this season and starting an improbable run.
Look out for Virginia Tech's Chad Pinder. He hit two home runs against Virginia and is as dangerous a hitter as there is left in the ACC tournament field after hitting over .315 in each of his first three seasons with the Hokies.
North Carolina vs. Clemson
When: Friday, May 24, at 7:00 p.m. ET
Where: Durham Bulls Athletic Park; Durham, N.C.
Watch: RSN/ESPN3
North Carolina looked downright dominate on Thursday, largely because ace Kent Emanuel was on the mound and the Tar Heels were nice and rested after not playing in the tournament's opening day on Wednesday.
The result was a 10-0 pounding of Miami and a statement as to why they are the top seed in the ACC tourney.
Getting back on the field against Clemson, we'll see how vulnerable North Carolina is going to be when the rest of the pitching staff is on the mound. The Tigers managed to win a game in an earlier series between the two teams this season, but didn't look all that great against North Carolina State and will need to play an impressive game to have a chance to beat North Carolina.
Who is more likely to win the tournament?
Top to bottom, North Carolina's lineup is just downright imposing.
Paced by big hitters Clint Morel and Cody Stubbs, the Tar Heels make starters pay for leaving pitches up in the zone early in the game, and have shown the ability to adjust to the offspeed pitch after seeing it once through the lineup.
Clemson, the No. 5 seed in the tournament, needs a win to have any hope of advancing into the championship round.
Follow Bleacher Report FC Ethan Grant on Twitter:
This article is
What is the duplicate article?
Why is this article offensive?
Where is this article plagiarized from?
Why is this article poorly edited?