Stock Up, Stock Down for Philadelphia Phillies' Top 10 Prospects, Week 7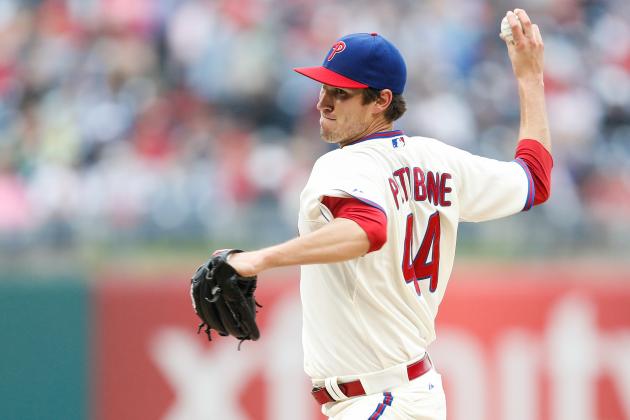 Brian Garfinkel/Getty Images

The Philadelphia Phillies top pitching prospects saw their immediate futures take an interesting turn this past week when the team signed Carlos Zambrano to a minor league contract.
With Roy Halladay and John Lannan on the disabled list, pitchers such as Adam Morgan, Tyler Cloyd and Ethan Martin seemed like the top options for filling a rotation spot.
However, after Cloyd's upcoming start, it could be Zambrano who gets the next chance to fill a rotation spot. This would keep Morgan and Martin in Triple-A to work on recent struggles, as they try and achieve positive results with more consistency.
But what about the chances for the Phillies other top-10 prospects, according to Baseball America, of reaching the major leagues soon?
Let's take a look at which players' stock is up and which of them are down following Week 7.
*All statistics courtesy of MiLB.com unless otherwise noted.
Begin Slideshow

»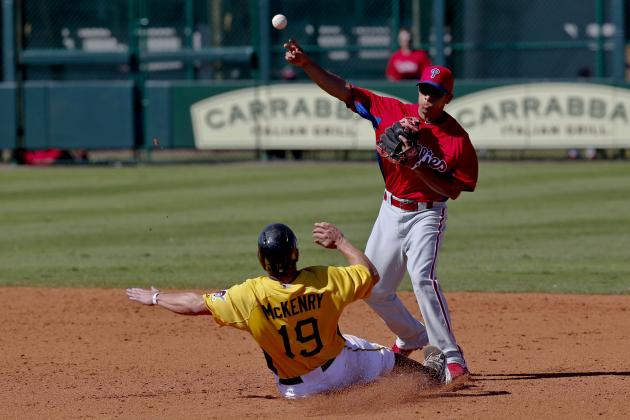 Derick Hingle-USA TODAY Sports

The following players are not currently considered top-10 prospects for the Phillies, but had notable performances this past week nonetheless:
Triple-A (Lehigh Valley): Cesar Hernandez, 2B
Cesar Hernandez currently has the highest batting average on the Phillies Triple-A squad. The second baseman picked up five hits this past week, including a double and a triple, and also drew four walks. Hernandez has the tenth-highest average in the International League, and is tied for the third-highest number of hits.
Double-A (Reading): Jim Murphy, 1B
Jim Murphy, at 27 years old, is by no means considered a top prospect—or any type of prospect for that matter. However, he did collect eight hits in 21 at-bats this past week, including two home runs. While the top prospects at Double-A are still looking for success, Murphy had a fine week, as he also drove in six runs.
High-A (Clearwater): Nick Hernandez, SP
Nick Hernandez, a 2009 draft pick, pitched eight innings while walking one and giving up one earned run. He took a no-decision, but now has 50 strikeouts on the season compared to 16 walks.
Low-A (Lakewood): Mitch Walding, 3B
Mitch Walding picked up seven hits this past week, but closed out the week with back-to-back multi-hit games. Three of these hits went for doubles, and he also drove in three runs. Walding also only struck out three times during the week.
Stats: 38 games, .223 BA, 9 RBI, 31 H, .275 OBP
Stock: Up
Carlos Tocci was able to raise his May batting average to .262 this past week, and he now has more hits this month than he had in all of April.
Tocci picked up one hit in every game this past week, giving him a current six-game hit streak. Of his six hits, four were doubles.
The 18-year-old also struck out five times in these six games, but his six hits and three walks helped to improve his overall batting average and on-base percentage.
Tocci has now tied his career high for games played in a season and may be heating up offensively in the South Atlantic League as the month continues.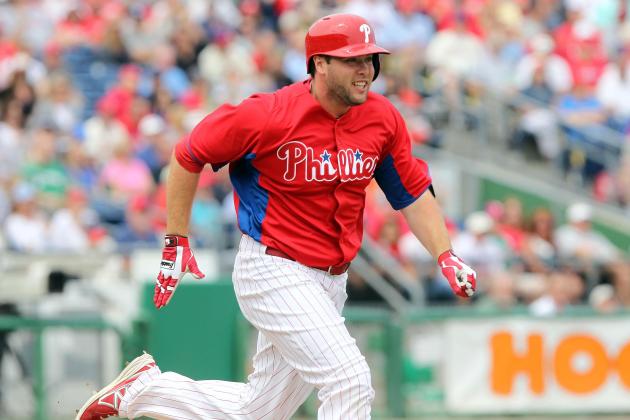 Kim Klement-USA TODAY Sports

Stats: 40 games, .267 BA, 5 HR, 22 RBI, 40 H, .349 OBP
Stock: Down
After having an outstanding Week 6, in which he had 11 hits and six RBI in 22 at-bats, Darin Ruf's Week 7 performance wasn't quite up to par.
Ruf had just three hits in 24 at-bats, and finished the week going 0-15 at the plate. In total, Ruf struck out 12 times.
Despite having similar batting averages in both April and May, Ruf is currently batting just .226 against left-handed pitchers.
However, the Phillies could still have an interesting call to make on Ruf within the next few games. Ryan Howard is scheduled to have an MRI on his knee on Monday, as John Finger and John Gonzalez wrote on CSNPhilly.com.
If Howard winds up spending time on the disabled list, Ruf could earn a promotion from Triple-A, not as an outfielder—the position he's been attempting to improve at since late last season—but rather as a first baseman.
Stats: 41 games, .292 BA, 8 HR, 32 RBI, 50 H, .346 OBP
Stock: Up
Maikel Franco saw his average inch back towards the .300 mark this past week while having a multi-home run game on May 16.
Franco hit a two-run home run and solo homer to help seal a victory in the Florida State League. In total, he had seven hits in 28 at-bats this past week.
The third baseman's offense has remained consistent so far this season, as he batted .292 in April and is currently batting .292 in May.
Franco is also currently tied for third in the Florida State League in home runs, and he ranks fourth in hits.
It's still early, but if Franco can keep his average near the .300 mark into June, he could have a strong case for a promotion to Double-A.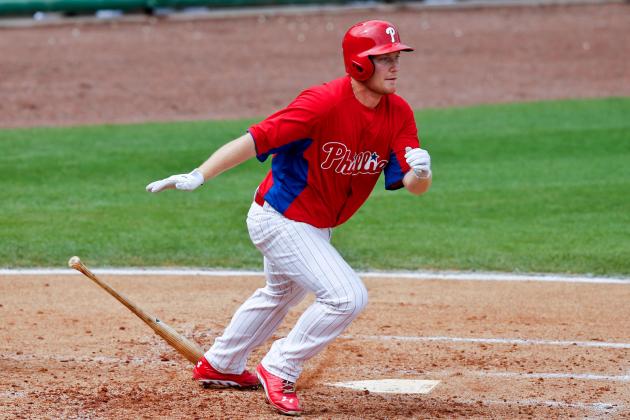 Derick Hingle-USA TODAY Sports

Stats: 40 games, .271 BA, 4 HR, 24 RBI, 42 H, .326 OBP
Stock: Even
Cody Asche had a solid week at Triple-A, but his average is slightly down from where it stood at the beginning of the week.
In 30 at-bats, Asche had eight hits, including his fourth home run of the season. However, he also had five strikeouts and drew just one walk.
Asche's average this month is currently .278, although he is batting .188 in 32 at-bats against left-handed pitchers.
He is also tied for ninth in total strikeouts in the International League.
All in all, Asche's Week 7 performance was enough to keep his stock from dipping, but it wouldn't hurt if he was able to raise his average closer to .280 or .290 range, as he attempts to take over third base next season for the Phillies.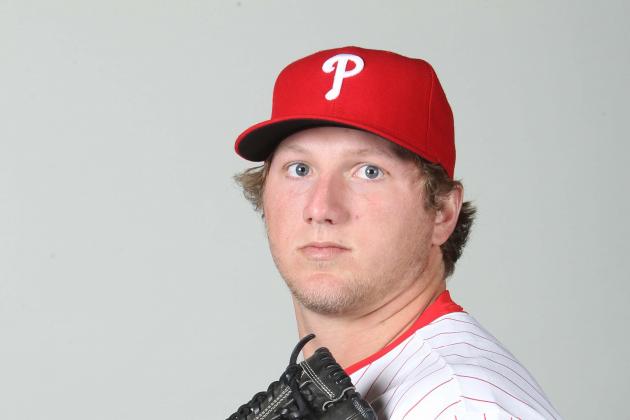 Kim Klement-USA TODAY Sports

Stats: 8 GS, 41.1 IP, 25 BB, 40 K, 5.23 ERA
Stock: Up
After struggling with his control in four of his first five starts, Ethan Martin has rebounded nicely in recent outings.
This past week, Martin struck out six batters in seven innings while walking just two. He did, however, allow eight hits during these seven innings.
Martin has now won three-straight starts, and has a 2.36 ERA in 20 innings during the stretch. He has also struck out 17 batters in this span.
Control issues earlier in the season likely led to fellow Triple-A pitchers such as Jonathan Pettibone, Tyler Cloyd and Adam Morgan receiving the most consideration for promotions.
However, more consistent outings could put Martin back in the major league picture, either later this season or next year.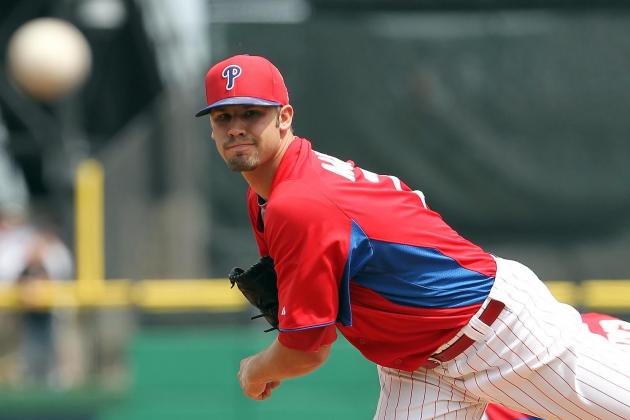 Kim Klement-USA TODAY Sports

Stats: 8 GS, 41.2 IP, 12 BB, 29 K, 4.97 ERA
Stock: Down
Adam Morgan's string of poor outings continued this past week, although his most recent outing had an interesting note.
Morgan gave up 10 runs in 3.1 innings in his start this past week, but only three of these were earned runs. However, he also struck out just one batter, meaning that he has three total strikeouts in his last two starts.
The left-hander's earned run total this season is already nearly half his total from all of last season, even though he has made nearly one-third the number of starts he made last season.
Opponents are also batting .283 against him.
Morgan should be given time to work on his game in Triple-A, but following Carlos Zambrano's signing, it appears as if a promotion to the major leagues this season just became more difficult.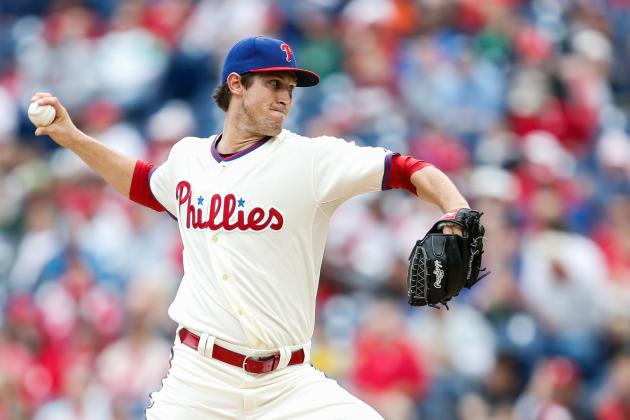 Brian Garfinkel/Getty Images

Stats (MLB): 6 GS, 36 IP, 11 BB, 21 K, 3.00 ERA
Stock: Up
Jonathan Pettibone just keeps getting the job done from the fifth spot in the rotation.
In two starts this past week, Pettibone struck out seven total batters while walking five. However, he also gave up no more than two earned runs in either of his starts, both of which the Phillies won.
During his first start of the week, Pettibone gave up two earned runs in the second inning, before walking and hitting two batters in the third. However, he managed to get out of the third inning without giving up a run.
In Sunday's game (May 19), Pettibone pitched seven innings for the first time in his major league career, and gave up just one earned run.
It's uncertain if he can keep this up, or if all of these hits and double plays will eventually turn into more runs, but for now, Pettibone has done a solid job while filling in for John Lannan.
*Pettibone's major league statistics can be found on ESPN.com.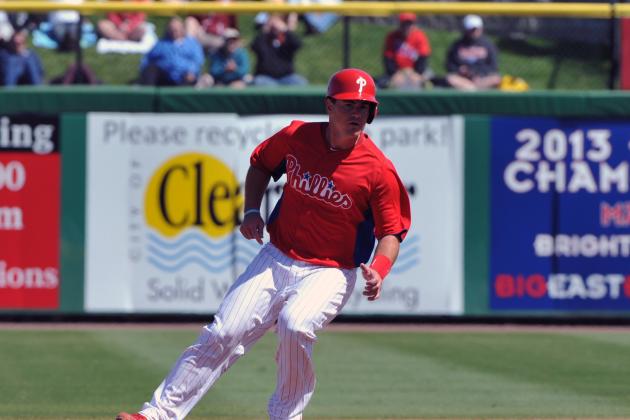 Al Messerschmidt/Getty Images

Stats: 21 games, .209 BA, 3 HR, 14 RBI, 14 H, .264 OBP
Stock: Even
Tommy Joseph did not play again this week after suffering a concussion on May 4.
Furthermore, the catcher has yet to resume baseball activities, as Marc Narducci noted on Philly.com.
Joseph's Triple-A performance this season, on both sides of the ball, will need to be improved upon once he returns.
Stats: 37 games, .236 BA, 3 HR, 12 RBI, 35 H, 19 SB, .311 OBP
Stock: Even
Roman Quinn maintained his stock with another strong week, including a three-hit performance on May 14.
After finishing April with a .202 average, Quinn has rebounded to bat .288 so far in May. He also has a .391 OBP this month.
Quinn picked up seven hits, including his first triple of the season, in 25 at-bats this past week. He also drew three walks.
With 19 stolen bases, he also currently ranks fourth in the South Atlantic League.
The switch-hitting shortstop has improved his average in recent days, but he could improve his on-base percentage with a few more walks. He has drawn just 12 free passes in 148 at-bats this season.
The Phillies should still, however, be happy with Quinn's May performance so far, especially for a player who just turned 20.
Stats: 8 GS, 42.2 IP, 20 BB, 51 K, 2.95 ERA
Stock: Even
Jesse Biddle took the loss in his only start this past week, but still turned in another solid outing.
In six innings, Biddle struck out six batters while walking just two and allowing three earned runs.
Since lasting just two-thirds of an inning two starts ago, Biddle has 11 strikeouts to four walks, and has held opponents to a .192 average.
On the season, Biddle's 51 strikeouts tie him for fourth in the Eastern League, while his ERA ranks eighth. His walk total, however, also ranks in the top-10 in the league.
What may be more important to the Phillies is that their top pitching prospect currently leads the team's minor league system in strikeouts.