Rating the Chelsea Players in 2-1 EPL Finale Win over Everton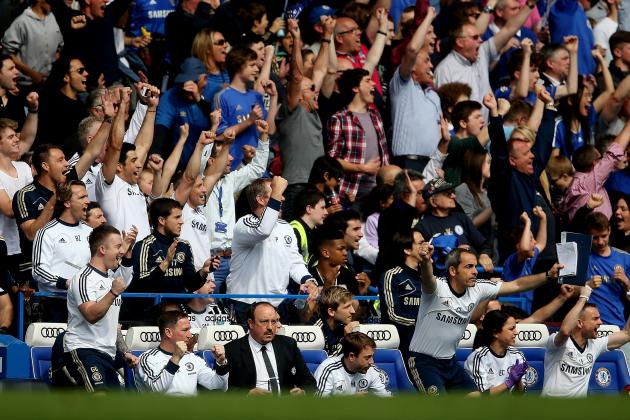 Scott Heavey/Getty Images

Chelsea went into the last match of their grueling 69-game season knowing that a win would secure a third-place finish, allowing them to avoid the Champions League qualifying rounds. Everton were never going to make that easy, though, as they wanted to see outgoing manager David Moyes off with a win away at a "Big Four" club.
The atmosphere at Stamford Bridge was at its very best, with Bobby Tambling presenting Frank Lampard with a golden boot before kickoff in recognition of the midfielder's epic goal-scoring record.
Chelsea took the lead after seven minutes when Tim Howard fumbled Demba Ba's shot and Juan Mata reacted quickest to scoop the ball past the 'keeper. It looked set to be a comfortable end to what has been a difficult season for the Blues, when Everton took advantage of a lack of concentration at the back and got the equaliser through Stephen Naismith. The visitors continued to test Petr Cech, until the 76th minute when a well-taken Fernando Torres strike put Chelsea back in front.
Rafa Benitez then made some bizarre substitutions as Chelsea ended the game with three right-backs on the pitch. Unlike some of the questionable choices he has made this season, it was ultimately a good decision as Chelsea hung on for the win and Paulo Ferreira was able to get on the pitch in his last match for the club.
Player ratings are for the starting 11. All players start on 5/10 and points are awarded or deducted based on attitude, work rate and contribution to the game. Goals scored by defenders are weighted higher than those scored by strikers, and a yellow card gets an automatic 0.5 deduction. Stats are taken from whoscored.com.
Begin Slideshow

»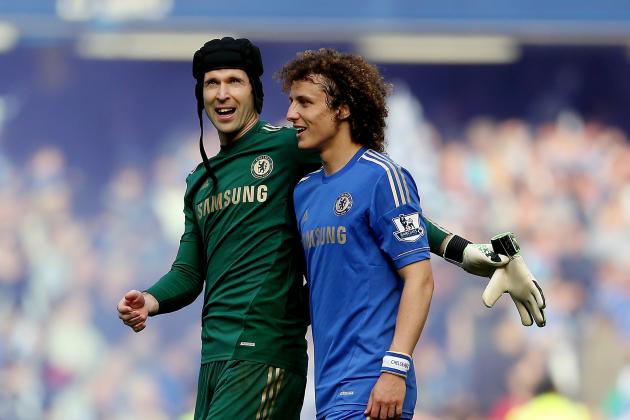 Scott Heavey/Getty Images

Two wild clearances into the stands were the only blots on Cech's game. He made eight saves throughout the match, and his distribution was successful on 8-of-10 attempts. His overall passing accuracy was 70 percent, and he looked assured in the area.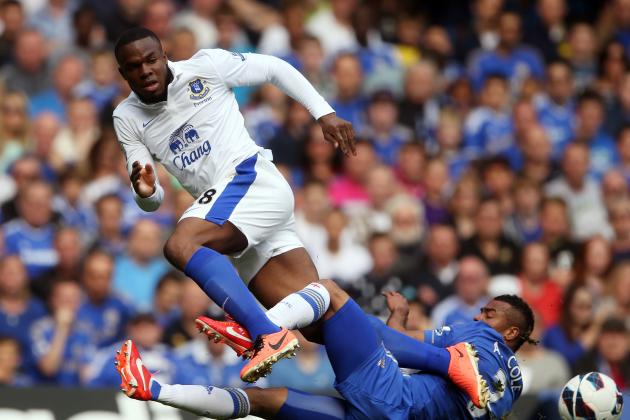 Scott Heavey/Getty Images

Ashley Cole made one tackle, two interceptions and one vital clearance in a game where the midfielders were dealing with most of Everton's attacking threat. His passing accuracy was a superb 93 percent, and his interception in the box was crucial to Chelsea's victory.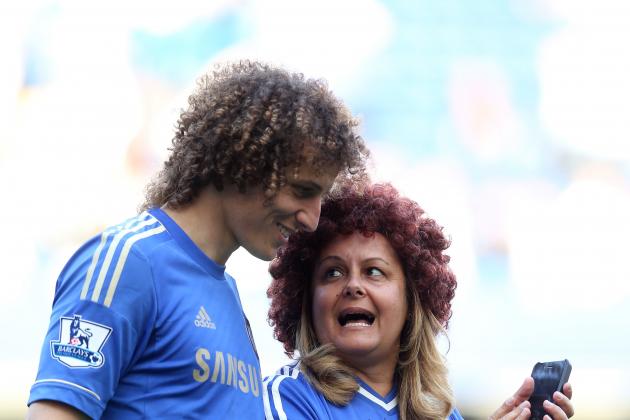 Scott Heavey/Getty Images
David Luiz and his mum, who has come dressed as her son.
David Luiz capped a successful season with a solid defensive performance, making two clearances and one interception. An impressive 90 percent accuracy rating from his 40 attempted passes saw him play three excellent long balls. He was booked after committing three fouls and made the mistake that led to Everton's goal, but he redeemed himself by bringing his mum on for the lap of honour at the end of the game.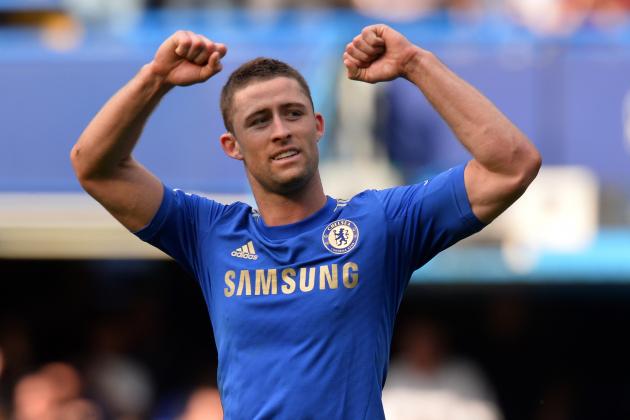 Mike Hewitt/Getty Images

Cahill made three tackles, interceptions and clearances alongside a shot on target, with a passing accuracy of 78 percent. Having spent much of the latter end of the season sidelined through injury, he put in a solid performance, as he did on the same date in 2012.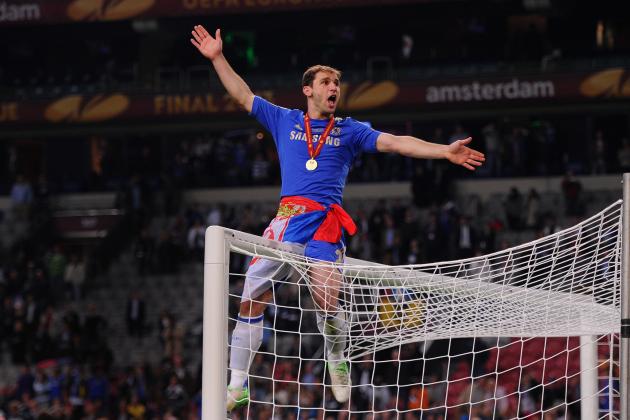 Michael Regan/Getty Images

Chelsea's European hero made five tackles and had a passing accuracy of 84 percent in an excellent performance. He then brought his son out on the lap of honour, who proceeded to score past Petr Cech's son.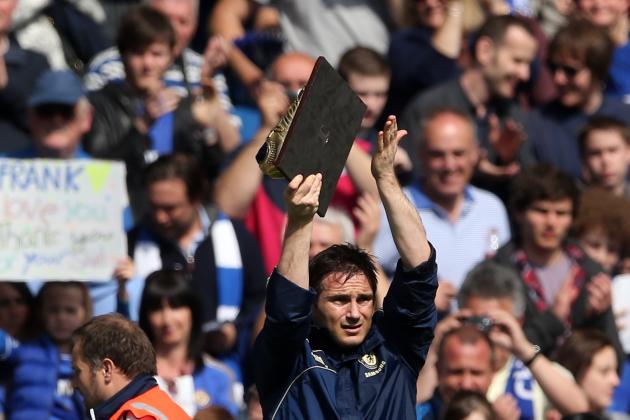 Scott Heavey/Getty Images

This game was all about Super Frank Lampard, as Bobby Tambling handed over the mantle of Chelsea's all-time goal-scoring record. Captain for the day in the absence of John Terry, Lampard made three key passes with an overall accuracy of 81 percent.
He saw a fizzing shot dip just the wrong side of the crossbar and was unlucky not to get an assist to add to his tally of 120 in his Chelsea career.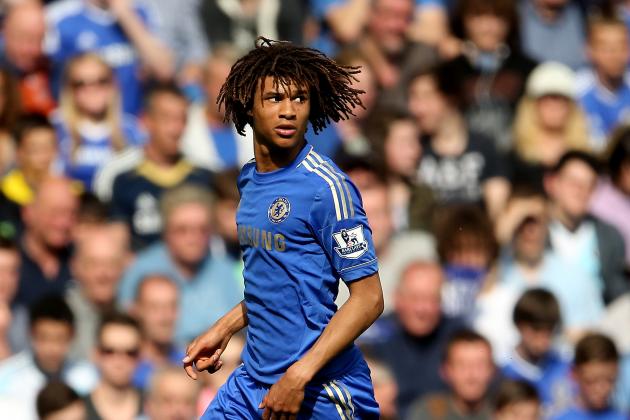 Scott Heavey/Getty Images

Nathan Ake had played 207 minutes of football for Chelsea before the season finale. His full debut against Middlesbrough had impressed everybody, and the 18-year old did not disappoint this time around.
Ake made three tackles, two interceptions and blocked two shots. His passing accuracy was 84 percent, and all four of his attempted long balls found their man.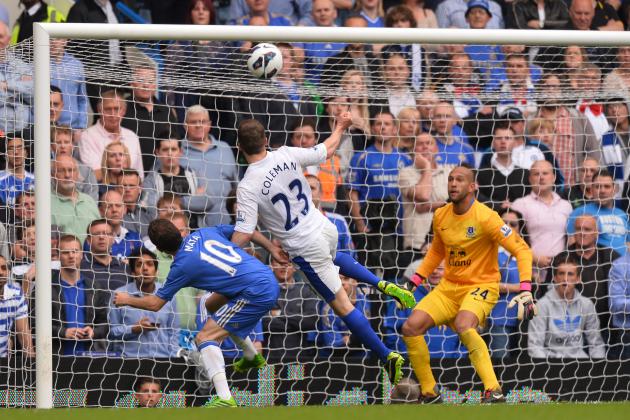 Mike Hewitt/Getty Images

Juan Mata celebrated retaining his Chelsea Player of the Year award by scoring his 20th goal of the season. This was the 63rd match that Mata had appeared in this season, but he was still able to react to the fact that Howard had spilled the ball by taking the tiniest of touches before chipping it delicately over the 'keeper.
All six of his attempted long balls found their intended target, as did 81 percent of his overall passes.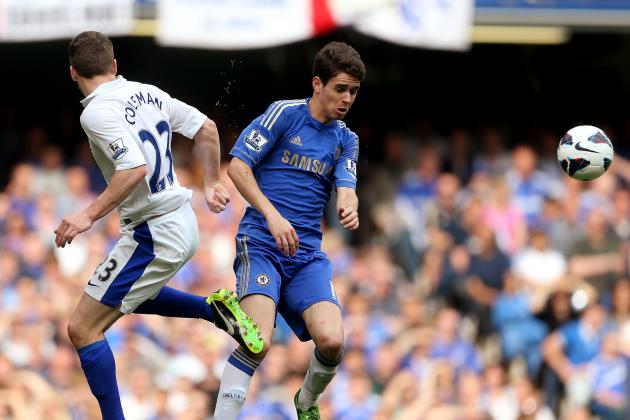 Scott Heavey/Getty Images

Oscar made five tackles and one interception in a performance that summed up his season. Although his overall passing accuracy was only 79 percent, he linked up well with Juan Mata, but his main contribution was as a midfield sweeper. He is an extraordinary young talent, an all-round midfielder whose quick feet and eye for the goal of the season have been an excellent addition to the team.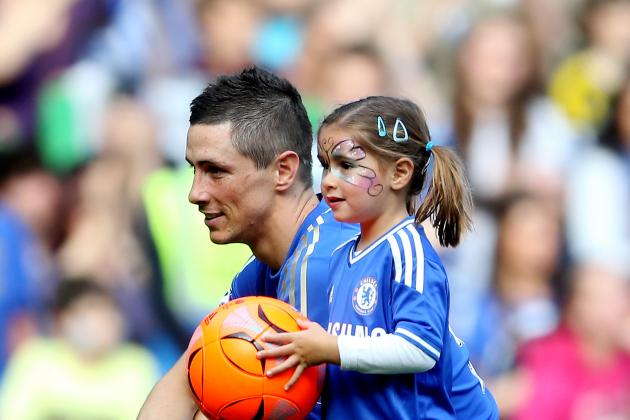 Scott Heavey/Getty Images

Fernando Torres has been transformed towards the end of this season. He scored the opener in the Europa League final and got the winner against Everton, and he has been moving with a confidence and purpose that many had thought was lost.
Although his passing accuracy was only 79 percent, his attitude was much improved, and he dribbled past two players to add to a well-taken goal.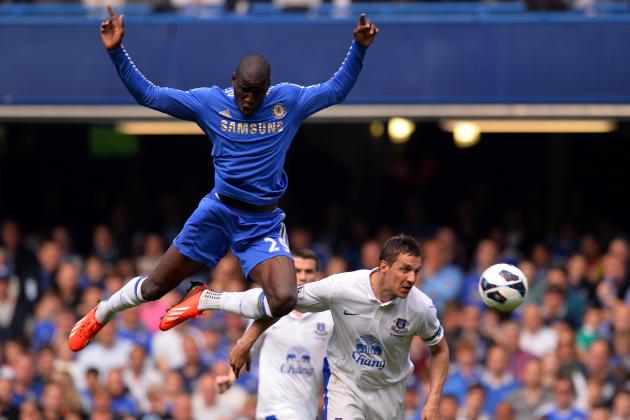 Mike Hewitt/Getty Images

Demba Ba had seven shots at goal, only one of which was on target. There were several opportunities when he could have done better by keeping it simple, and his lack of recent game time showed.
Despite this, he made 100 percent of his 11 passes accurately from 22 touches of the ball. If he can play regularly in rotation next season, then Chelsea could see an excellent return from their January signing