Ranking All 32 Teams in the NFL Draft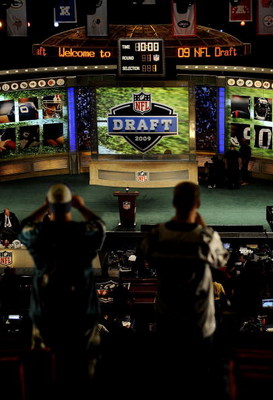 This is a ranking of how I thought each team did in the draft based on the value of the picks. There will be a best value pick and a biggest reach pick for each team as well.
Although some teams might have had great first and second rounds, that doesn't necessarily mean they had a good overall draft.
I tried to look at the whole picture. Let me know what you think.
1. Philadelphia Eagles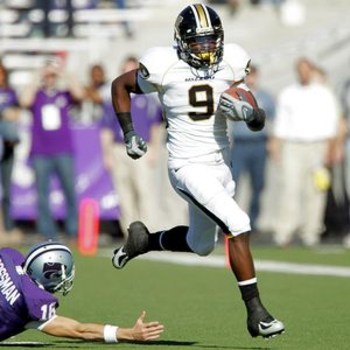 The Eagles had an outstanding draft, getting great value while filling team needs. Jeremy Maclin and LeSean McCoy could help the team immediately and may be stars for years to come.
Philly fans should be ecstatic about the upcoming year with the mixture of youth and veterans. The Eagles also made a great trade getting Ellis Hobbs from the Pats.
Best Value: TE Cornelius Ingram, pick 153
A guy who may start at TE right away.
Biggest Reach: OG Paul Fanaika, pick 213
Not really a reach, but I wouldn't be surprised if he doesn't make the team.
2. San Francisco 49ers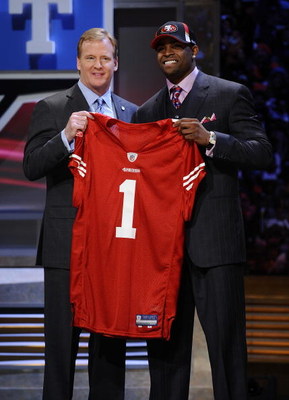 Michael Crabtree was such a great pick for them and could give this team a franchise WR, something they've needed for so long. Nate Davis could be a steal as well; it wouldn't surprise me if he is starting by midseason.
Best Value: DT Ricky Jean-Francois, pick 244
Not a typical DT, but a guy who is extremely athletic.
Biggest Reach: RB Glen Coffee, pick 74
Probably could have gotten him a little later; could serve as a decent backup.
3. Arizona Cardinals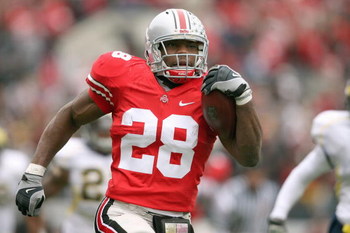 The Cardinals showed that they don't intend on being a one-year wonder. Like Philly, the Cards did a great job of filling team holes with great value.
Beanie Wells could be what the Cardinals need to put this team over the top offensively.
Best Value: S Rashad Johnson, pick 95
Dropped because of off-field issues, but his talent is undeniable.
Biggest Reach: CB Gregory Toler, pick 131
Not a huge reach here but may have to move to safety.
4. Seattle Seahawks
Aaron Curry may have been the best player in the draft and will go a long toward replacing Julian Peterson. Although it may not have been their biggest need to fill, Seattle couldn't pass on such a talent.
Max Unger also gives them a guy who could be a starting OL right away.
Best Value: S Courtney Greene, pick 245
Seattle fills a need with a tough, hard-nosed player.
Biggest Reach: QB Mike Teel, pick 247
Within two picks they get their best value and biggest reach, both from the same team. Teel was a bit of a risk and doesn't look to be a future QB.
5. Buffalo Bills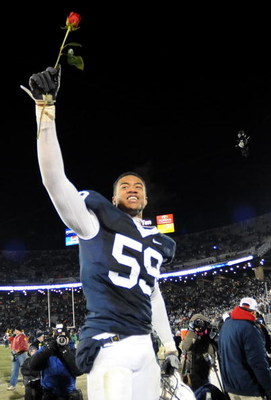 Buffalo probably had the best draft that didn't have any flashy players. Aaron Maybin was absolutely the right pick for them and gives them a great pass rusher on the outside.
They may have had the best second day in the draft as well, getting quality players to build around.
Best Value: TE Shawn Nelson, pick 121
Everyone thought the Bills would take a TE right away, but they waited and got Nelson in round four. When all is said and done, he might have the best career among this year's tight ends.
Biggest Reach: C Eric Wood, pick 28
Didn't really seem like a first rounder coming in, but the Bills wanted to fill a need early on.
6. Green Bay Packers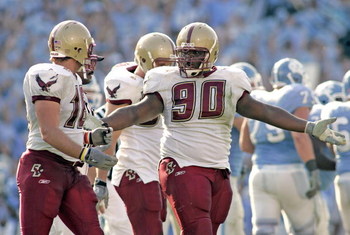 I believe the Packers had the best first round of anyone by getting vital needs in DT and OLB for their new 3-4 defense.
B.J. Raji is probably the best defensive lineman in the draft, and Clay Matthews was a steal at 26.
Best Value: OT Jamon Meredith, pick 162
He adds great depth at OT and could be a starter in the future.
Biggest Reach: FB Quinn Johnson, pick 145
They needed a fullback but probably could have waited a couple of rounds.
7. Cleveland Browns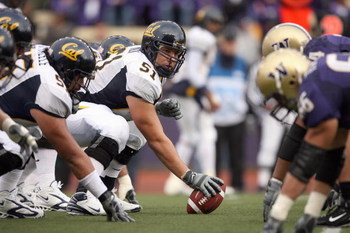 The Browns kept on trading down but got great use of their picks. They did a great job in landing two wide receivers that could help them immediately.
Alex Mack isn't a big name for a first pick but fills what might have been their biggest need.
Best Value: CB Coye Francies, pick 191
A great cover cornerback that lacks tackling skills but makes up for it with speed.
Biggest Reach: WR Brian Robiskie, pick 36
I say this with hesitation since I think he is a very good player, but I believe they went a little early on this guy and actually think Mohamed Massaquoi is the better WR.
8. New York Jets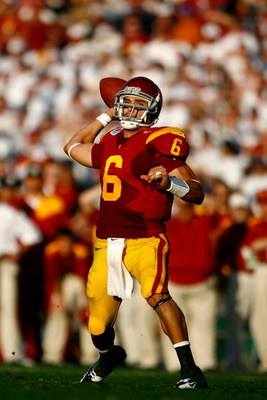 A lot of people are saying they had the best draft—and they had a great one, there is no doubt—but I couldn't put them at the top with only three picks. This was one of the few times I saw Jets fans cheer the picks.
Best Value: QB Mark Sanchez, pick 5
The trade up was perfect as they get their franchise QB. In my opinion I think he will be better than Matthew Stafford.
Biggest Reach: OG Matthew Slauson, pick 193
Only three picks to choose from, and Slauson just happens to be the biggest question is all.
9. Detroit Lions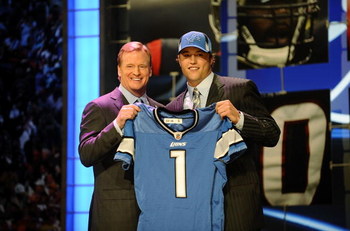 The Lions were one of the hardest teams to rank. I think they got some great players, but I also feel they could have gotten equal players while filling more pressing needs.
Stafford may be a great QB, but I question the pick. Brandon Pettigrew was a bit of a head scratcher, but I feel the Lions got better as the draft went along.
Best Value: OLB Zach Follett, pick 235
I was shocked he fell this far; the Lions got a steal with this hard-working player.
Biggest Reach: OLB DeAndre Levy, pick 76
Very small, which makes you think that he could possibly drop back and cover, but he lacks those skills as well. Seems to be more of a special teams player.
10. Carolina Panthers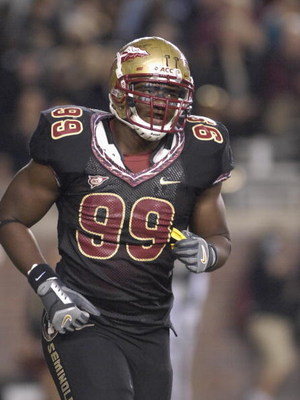 I think Everette Brown was the best first pick value for any team. The question is whether he will be worth a first round pick for next year. I think the win now philosophy will work out in the end for Carolina.
Best Value: OG Duke Robinson, pick 163
A massive guard who can learn from another big guy, Jeff Otah.
Biggest Reach: DT Corey Irvin, pick 93
A guy who has room for improvement, but it may take a few years, if ever.
11. Baltimore Ravens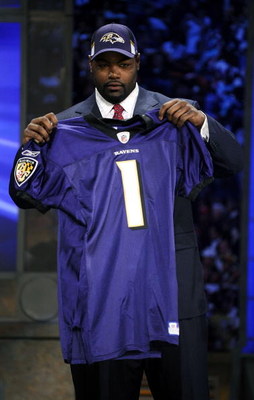 Baltimore always seems to have a valuable draft, and this year was no different. They may have found Jonathan Odgen's replacement in Michael Oher and also may have found their next great LB in Paul Kruger.
Best Value: RB Cedric Peerman, pick 185
A great all-around RB who could be a steal—think Curtis Martin.
Biggest Reach: CB Lardarius Webb, pick 88
Although they could use a cornerback, it seems like there were better options than Webb.
12. Jacksonville Jaguars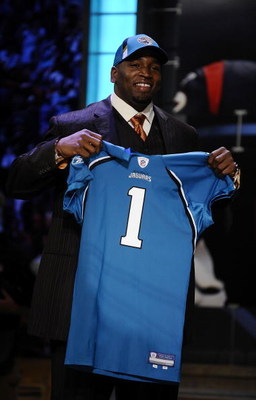 The Jaguars made sure they got OL depth with their first two picks, which was smart, but they also made some questionable picks after that.
Overall I think that Eugene Monroe and Eben Britton will prove this to be a successful draft for the Jags.
Best Value: RB Rashad Jennings, pick 250
With Fred Taylor gone, Jennings will give them a nice power back to complement Maurice Jones-Drew.
Biggest Reach: DT Terrance Knighton, pick 72
A bit of a surprise with so many good DTs out there. Probably could have waited at least two rounds.
13. Minnesota Vikings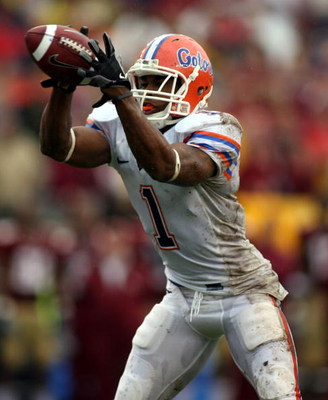 Some people may question the Percy Harvin pick, but I think it gives them a big playmaker, which they really need. Phil Loadholt was one of the best picks in the second round as well and gives Adrian Peterson a chance to get even better.
Best Value: ILB Jasper Brinkley, pick 150
A change of pace linebacker who will help Minnesota in keeping the defense fresh.
Biggest Reach: S Jamarca Sanford, pick 231
Hard to say that their last pick was a reach, but Sanford probably wouldn't have been picked by anyone else.
14. New York Giants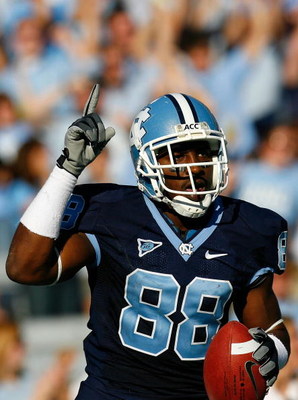 Hakeem Nicks was a great pick for them to replace Plaxico Burress; he may be the most pro-ready of all the wideouts. Their next two picks in Clint Sintim and William Beatty were great value as well.
The rest of the draft was pretty average for them.
Best Value: OT William Beatty, pick 60
Beatty was a possible first rounder who fell late into the second round. He has the skills to start right away.
Biggest Reach: WR Ramses Barden, pick 85
Barden has great size but not the skill you would want from a big WR.
15. Tampa Bay Buccaneers
I feel the Bucs reached a little with Josh Freeman, especially after signing Byron Leftwich. Tampa seemed to get better with their picks as the draft progressed. Overall an average draft.
Best Value: WR Sammie Stroughter, pick 233
A very good player who dropped because of his speed; he may not blaze past people, but he can do everything else you would want from a WR.
Biggest Reach: DT Roy Miller, pick 81
Although I think Miller is a good player, he doesn't offer much beyond stopping a rush up the middle. He won't really offer any support in pass plays.
16. New Orleans Saints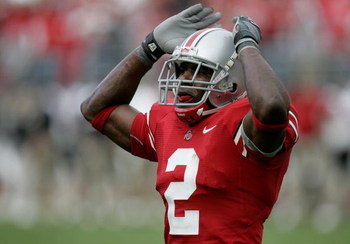 The Saints only had four picks, and I applaud them for picking defense on three of the four. Malcolm Jenkins was a perfect fit and may finally be the shutdown corner they've been looking for.
Best Value: S Chip Vaughn, pick 116
They had to wait a while for their second pick, but Vaughn gives them tremendous value and strength in the secondary.
Biggest Reach: ILB Stanley Arnoux, pick 118
Although I think it was great to get a linebacker, I think Jasper Brinkley may have been a better fit.
17. Houston Texans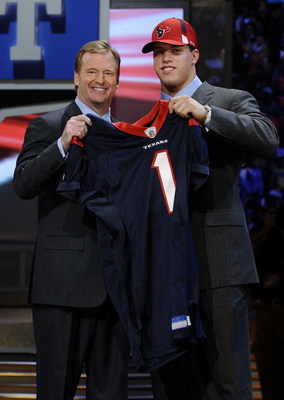 Although Houston may have needed a cornerback most, Brian Cushing is still a great pick. Paired up with DeMeco Ryans, they will have a great core for years to come.
Connor Barwin was also valuable, as he may be the most versatile player in the draft. He can play DE, LB, or even TE.
Best Value: TE James Casey, pick 152
Isn't much of a blocker but a great receiving TE who could replace Owen Daniels if he leaves in free agency.
Biggest Reach: S Glover Quin, pick 112
Was an average safety with low-level competition; if he is in position he has good ball skills, but that is a big IF.
18. New England Patriots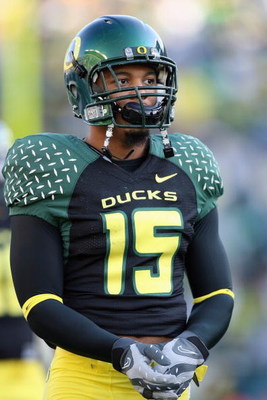 The Patriots always seem to do odd things in the draft and usually end up coming out on the winning end, so this ranking is probably too low, but based on what they did, I thought it was a so-so draft for them. Patrick Chung could be a very good player and reminds some of Steve Atwater.
Best Value: OLB Tyrone McKenzie, pick 97
The Pats' OLBs are getting older, so McKenzie could go a long way toward replacing them.
Biggest Reach: OG Richard Ohrnberger, pick 123
At first glance it seems he does very little besides provide depth for New England.
19. Indianapolis Colts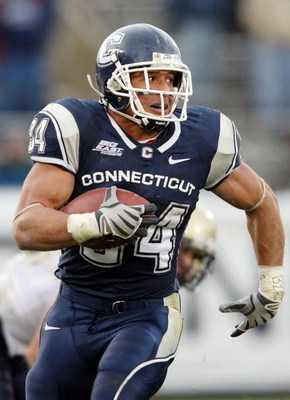 Some were surprised to see the Colts take a running back with the first pick, but word out of Indy says they just aren't sure Joseph Addai can handle a full load. Donald Brown is one of the most balanced backs in the draft and may be a star for years to come. Fili Moala and Terrance Taylor should help make this run defense better as well. Besides those three, I feel the Colts reached too much.
Best Value: DT Terrance Taylor: pick 136
Will go a long way in helping defend the run and is no slouch against the pass either.
Biggest Reach: CB Jerraud Powers, pick 127
The Colts didn't desperately need a corner, and Powers probably wasn't even the best available.
20. St. Louis Rams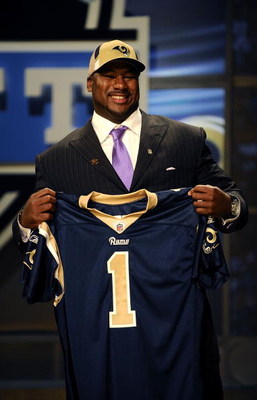 The Rams first two picks were excellent—they got great talent and filled needs with Jason Smith and James Laurinaitis.
If it wasn't for those two picks, I may have had them last, as the rest of the draft was mostly guys that may not have been drafted by other teams.
Best Value: ILB James Laurinaitis, pick 35
His skills may not be as sound as other linebackers, but he makes up for it with his intense play.
Biggest Reach: CB Bradley Fletcher, pick 66
This pick puzzles me with so many good corners available. He was never outstanding with Iowa, and it wouldn't surprise me if he doesn't make the team.
21. Chicago Bears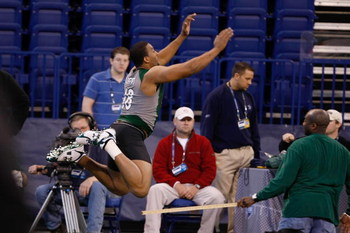 The Bears traded down once again; this seems to be a trend with them. They gave away their first pick for Jay Cutler, and that is probably going to be the best thing to come out of the draft for them.
That being said, Jarron Gilbert could be a nice talent for them and their defense.
Best Value: CB D.J. Moore, pick 119
I'm very surprised he fell so low; Bears could have found the sleeper corner of the draft.
Biggest Reach: DE Henry Melton: pick 105
Might be a pass rush specialist, but that's about it; too high for a one-dimensional player.
22. Washington Redskins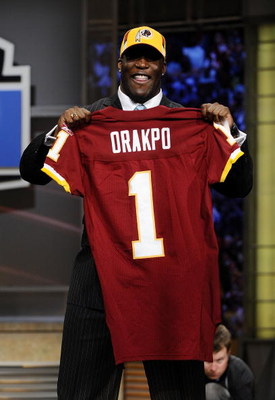 The Redskins are another team that seems to do wacky stuff on draft day. Many thought that they would jump up to trade Mark Sanchez, but instead they stood pat and got a very good player in Brian Orakpo. Beyond that, the draft may have been a bust.
Best Value: DE Brian Orakpo, pick 13
May be their best defensive lineman right away and could be a rookie of the year candidate.
Biggest Reach: OLB Cody Glenn, pick 158
A converted running back that has way too much to learn to be picked this high.
23. Tennessee Titans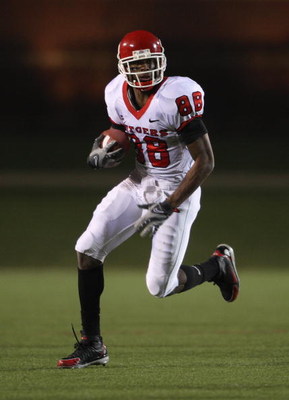 The Titans had many picks, and I believe they used a lot of them on sleepers. They may not have been this low if it wasn't for so many reaches at the end of the draft. At second look, I may have ranked this team a tad low. Kenny Britt may finally give them a playmaker at WR.
Best Value: TE Jared Cook, pick 89
Cook, along with Britt, gives them great receiving options, something they lacked last year.
Biggest Reach: CB Ryan Mouton, pick 94
I think Mouton is talented, but his size could be troublesome in coverage.
24. Atlanta Falcons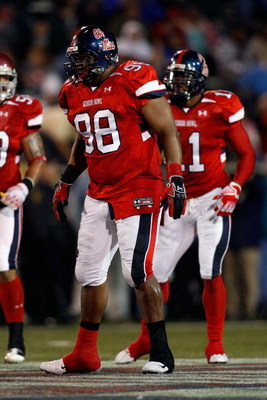 Atlanta's draft seems unspectacular, but at least they filled some team needs. I'm just not sure they did it with the best available players. Peria Jerry seems a perfect fit though.
Best Value: DE Lawrence Sidbury, pick 125
Comes from a small school, but his talent may be as good as those DEs picked ahead of him.
Biggest Reach: CB Chris Owens, pick 90
Again a very small corner that may be outplayed in coverage.
25. Miami Dolphins
I thought the Dolphins had a very productive first day, but the second day was a bit of a surprise in whom they decided to pick.
Vontae Davis is a great fill at corner, and Pat White is very versatile and could make that wildcat formation even more effective.
Best Value: CB Sean Smith, pick 61
Even though they already picked a corner, Smith may have been the best available player, and if Davis and him can develop together, they may be set for the future.
Biggest Reach: WR Patrick Turner, pick 87
They really needed a WR, but Turner is a surprise. He is very big, but he reminds me of another USC bust in Mike Williams.
26. Kansas City Chiefs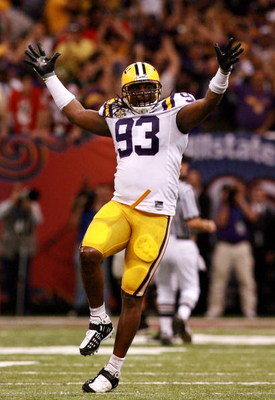 I wasn't really thrilled with any of Kansas City's picks. Tyson Jackson could be very good, but I think the Chiefs could have traded down if they wanted him so badly and at least gotten an extra draft pick.
Best Value: CB Donald Washington, pick 102
Ohio State always produces effective corners, and Washington should be no different as long as he keeps his attitude in check.
Biggest Reach: OT Colin Brown, pick 139
Brown is huge and eats up a lot of space, but that doesn't mean he's a good football player; think Aaron Gibson.
27. San Diego Chargers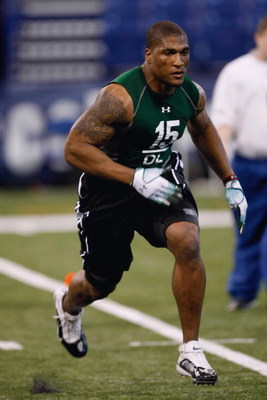 It's not like the Chargers had a lot of needs to fill, but I think they could have gotten some better value out of their picks.
I love Larry English and think he could be a star, but I still think that they picked him too high. Again, a valuable player, but why not try to trade down to get him?
Best Value: S Kevin Ellison, pick 189
Could end up being a OLB, but no matter where he plays, he will bring his A-Game.
Biggest Reach: DT Vaughn Martin, pick 113
Raise your hand if you thought a player from Western Ontario would be picked.
28. Pittsburgh Steelers
Another team that didn't need a lot. Maybe because they didn't need much they decided to reach for sleepers with all their picks.
Evander Hood could be a good player, but I don't see him playing much the first couple of years.
Best Value: C A.Q. Shipley, pick 226
He could eventually be a solid starter.
Biggest Reach: CB Joe Burnett, pick 168
Great athlete, but it's doubtful that he'll be much more than a special teams player.
29. Cincinnati Bengals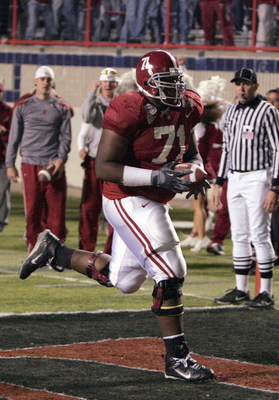 The Bengals started off the draft with so much promise but seemed to fall apart after the first four picks.
This is another team that I may have ranked a little too low, but let's just say I don't trust their judgment in character players.
Best Value: ILB Rey Maualuga, pick 38
One of the biggest surprises of the draft was how far he fell. His aggressiveness makes up for any unpolished skills.
Biggest Reach: P Kevin Huber, pick 142
I know they needed a punter, but anything earlier than a sixth round pick seems a reach.
30. Denver Broncos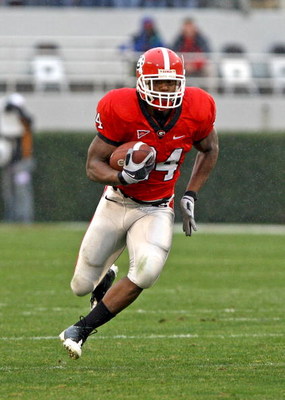 Denver was another team that had lots of picks and didn't know what to do with them. I feel they started well with Knowshon Moreno, Robert Ayers, and Alphonso Smith but completely lost it after that.
Best Value: CB Alphonso Smith, pick 37
He's a bit small but may have the most skill of any corner in the draft.
Biggest Reach: S Darcel McBath, pick 48
Too small for a safety and not fast enough to make up for his lack of size.
31. Dallas Cowboys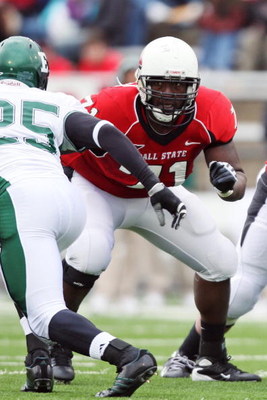 I guess with 12 picks you may hit on some players, but what were they thinking with their first pick? The Cowboys made some of the most questionable picks throughout the draft and may have left the fans very unhappy.
Best Value: CB Mike Mickens, pick 227
The only pick I can say I liked for Dallas, and it's mostly because they got him so late. Still, he may surprise some and start sooner rather than later.
Biggest Reach: OLB Jason Williams, pick 69
What can I say? I think he was the worst first pick for any team.
32. Oakland Raiders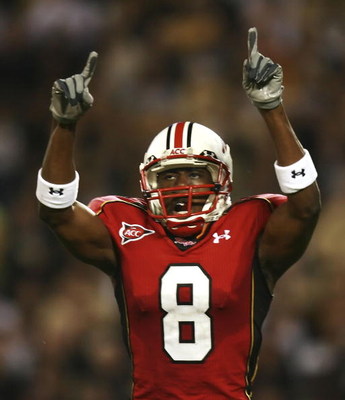 Leave it to Al Davis to produce the biggest jaw dropper of the first round. I actually like Darrius Heyward-Bey quite a bit, but just because he's the fastest player in the draft doesn't mean he's the seventh best player.
I just don't understand how they could pass up Crabtree or even Maclin.
If you think I ranked them last just because of this, think again—the rest of the draft was pretty disastrous as well.
Best Value: WR Louis Murphy, pick 124
He could finally give JaMarcus Russell a decent target; got overshadowed playing with Percy Harvin.
Biggest Reach: S Michael Mitchell, pick 47
This could be the biggest reach of the draft. The Raiders could have picked him at least 100 picks later. He looks the part of a safety but never did anything special in school, and that was against weak competition.
Keep Reading