The San Diego Chargers' defense was dealt a major blow on Tuesday. Per CBS Sports, second-year linebacker Melvin Ingram tore his ACL and the injury will almost certainly end his season.
As a result, the Bolts may now have to look at free agents to fill the void.
How many wins will San Diego earn in 2013-14?
The injury occurred on just the second day of organized team activities. With Shaun Phillips and Antwan Barnes gone via free agency, the 2013 season was set to be Ingram's year to shine as the primary outside pass-rusher.
The team has Larry English, who has never really made an impact since he entered the league as a first-round pick in 2009, and it also drafted Tourek Williams in the sixth round last month out of Florida International. Neither player seems like a dependable option for such an important role at this point, though.
Here are a few free agents the Chargers could pursue if they want a more proven replacement for Ingram before the 2013 season begins.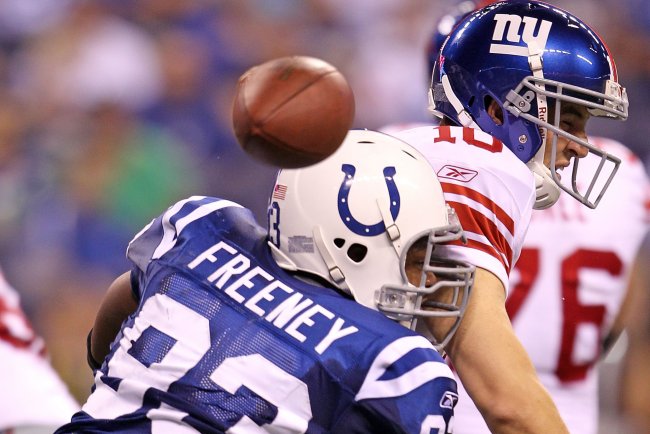 Andy Lyons/Getty Images
There simply aren't a lot of 3-4 pass-rushing linebackers/defensive ends currently available on the free-agent market; those specialists got snatched up pretty quickly. Thus, the Chargers were smart to have already contacted Freeney, per Darin Gantt of Pro Football Talk.
He isn't a pure fit for the role, but he did play in the system in 2012 for the Indianapolis Colts. He's still available, and though he's 33 years old now, he can still rush the passer.
Also, Chargers GM Tom Telesco has some connection to Freeney as well, as the two were together in Indianapolis, where Telesco had a similar role.
Freeney would be better in a 4-3 defense, which the Chargers could still run if the personnel available determines that this is the best scheme for the team to employ.
Though the Chargers will still most likely use a 3-4 scheme, the team did draft Manti Te'o last month, which was peculiar because he seems more like a 4-3 inside linebacker. The pick almost seemed like a hint that the Bolts could be at least pondering a switch to the 4-3. The injury to Ingram could be the final event that pushes them in that direction.
If so, Freeney would make even more sense to add.
John Abraham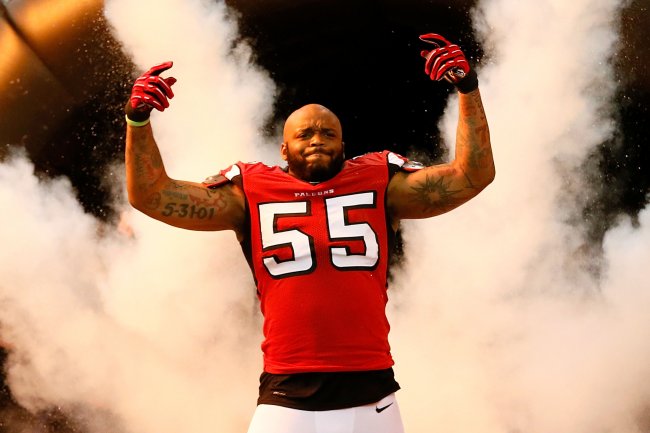 Kevin C. Cox/Getty Images
Another proven pass-rusher who is unsigned is Abraham. He led the Atlanta Falcons with 10 sacks in 2012, but at 35 years old, he is without a team at this point.
His recent work is even more impressive than Freeney's, and he's been more durable. Abraham has missed only two games in the last six seasons.
The 14-year-veteran would be a logical choice if the team considers playing a 4-3 defense.
Israel Idonije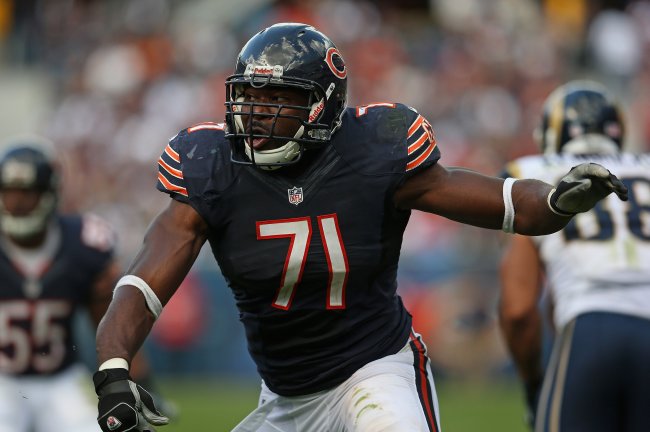 Jonathan Daniel/Getty Images
Idonije is a long shot, but he is still someone to consider. Idonije is one of the more underrated defensive players in the NFL. He is strictly a defensive lineman who can even move inside to play tackle, but he has a great motor and proven production.
The 32-year-old has 20.5 sacks over the last three seasons with the Chicago Bears, but he is still unsigned.
When you consider his production and the fact that he's the youngest of the three options discussed here, he may not be a bad choice.
Follow me for Sports Did You Knows, News and Spirited Opinions