USC Football Recruiting: Profiling the 2014 Defensive Line Offers (Part 1)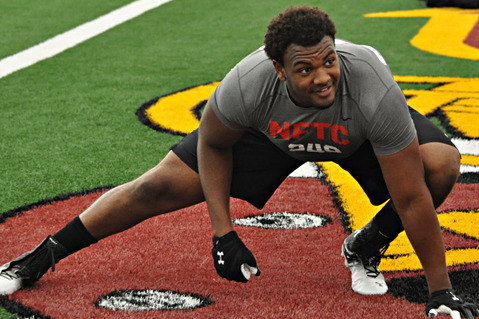 Andrew Brown (photo from 247sports.com)
After last year's mass defection of defensive line prospects when it came time to sign their letters of intent for USC, the coaching staff has made that unit a primary focus for this year's effort in recruiting.
To that end, recruiting coordinator Ed Orgeron and his department have extended scholarship offers to 13 prospects according to Scout.com, including 10 defensive ends that fit into defensive coordinator Clancy Pendergast's 5-2 scheme as hybrid linebackers.
This slide show will look at some of these high-profile recruits as USC attempts to re-stock a unit in desperate need of replenishing.
It is also worth noting that Orgeron also coaches this unit and his hand in the offers extended should serve as an illustration of exactly who he would like to coach in the years ahead.
Begin Slideshow

»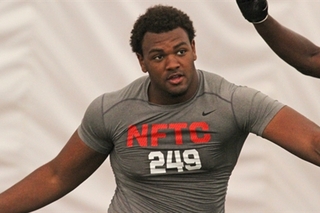 photo from 247sports.com
If the Trojans were to make a "wish list" of defensive tackles they would love to see in Cardinal and Gold, Oscar Brown High School (Chesapeake, Va.) lineman Andrew Brown would likely top that list.
Brown is a 247sports.com 5-star prospect who combines excellent size (6'4", 282 pounds) with a nasty disposition that creates nightmares in the opposing team's backfield.
Unfortunately for USC, though, Brown is unlikely to don those colors for USC as he calls his interest in the Trojans "low."
Another monster tackle on USC's radar is Josh Frazier who hails from Springdale, Ark.
Frazier is an unmovable force on the interior at 6'3", 310 pounds, and despite his ample size, he also possesses the ability to get penetration against the pass.
And while USC is not necessarily a favorite for Frazier, he does list them as "medium" in terms of his interest along with other programs such as Alabama, Notre Dame and Texas A&M.
At 6'6", 300 pounds, Malik McDowell is not your prototypical defensive end, and if this guy keeps growing, he will likely wind up on the interior. But for now, he is creating havoc at a position of need for the Trojans.
Quick enough to get around blockers but strong enough to bull them over, the Detroit, Mich., native is a game changer on the defense.
In terms of his recruiting, McDowell holds over 20 offers, including those from some of the best programs in the nation and calls them all "medium" in terms of his interest.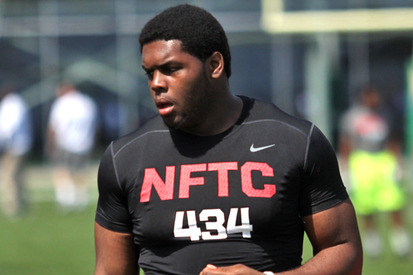 photo from 247sports.com
Brooklyn, NY is not known as a hotbed of high school football talent, yet that is where you will find Thomas Holley, a mammoth (6'4", 285 pounds) prospect who can play anywhere on the line.
Though he is still raw, Holley has the tools to become dominant once he fine tunes his game and with proper coaching at the next level, he should be a force.
At this point, Holley holds well over a dozen offers from some of the finest programs in the nation and says they are all even interest-wise.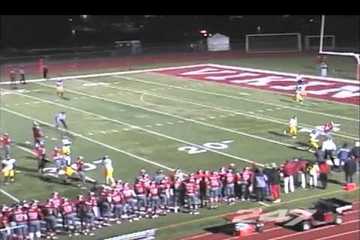 photo from 247sports.com
In Clancy Pendergast's 5-2 scheme, what is commonly known as a "defensive end" really is an outside linebacker whose knuckles never hit the ground.
And at 6'4", 235 pounds, this is likely where you will find Dewayne Hendrix of O'Fallon, Ill., should he come to USC.
Hendrix is a very athletic prospect whose lateral movement may be the best part of his game.
Holding over a dozen offers from some of the best programs in the country, Hendrix calls them all even at this point in his recruiting.
Much like the aforementioned Dewayne Hendrix, Jalyn Holmes would fit very well as an outside linebacker in USC's new 5-2 defense.
And like Hendrix, the Norfolk, Va., product is an ultra-quick and athletic prospect that is just now growing into his 6'5" frame.
Holmes will inevitably pack on more weight than the 225 pounds he now carries and the question is whether he will lose that edge speed when he does.
For the time being, USC has made Holmes' initial cut of prospective suitors, but with more than two dozen offers on the board, it remains to be seen just how serious his interest is in the Trojans.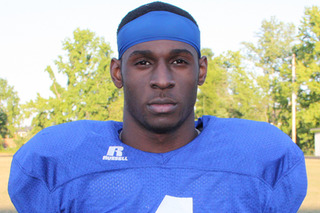 photo from 247sports.com
Hailing from Auburn, Ala., Rashaan Evans is a combo defensive player who is listed as an outside linebacker but also plays defensive end as well.
Though undersized at 6'3", 214 pounds, Evans makes up for it with supreme athleticism and great (4.47 40) speed.
Another player whose frame will allow him to put on weight at the next level, the primary concern for USC would be to draw him away from Alabama or hometown Auburn, both of which have offered scholarships.
Jeff Gross/Getty Images

As mentioned numerous times before, the defensive line is critical in implementing USC's new 5-2 defense.
As such, look for the recruiting department to continue their focus on this unit as they craft the 2014 prep class.
While this unit has received the greatest number of scholarship offers to prospects, this does not mean that more are not forthcoming.
When they do, check back here for profiles on new targets and look for part two of this slideshow where we will finish up looking at the remainder of offers for this unit.