Southern 500 at Darlington 2013: Live Results, Race Updates and Reaction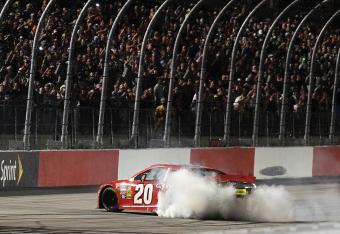 Todd Warshaw/Getty Images
The Southern 500 at Darlington saw a lot of caution free racing for most of the race. Kurt Busch started off strong from the pole, but would eventually fall to his younger brother Kyle.
For most of the night Kyle Busch would dominate the race, seemingly lapping cars as the race continued to go green.
Eventually though, drivers would get antsy, and several cautions would test Busch, as he battled back drivers who tried to take his lead.
Kasey Kahne seemed to have something for Busch, but when Kahne and Busch battled, Kahne would end up going into the wall.
With 20 laps to go, Kyle seemed ready to get the sweep at Darlington.
Matt Kenseth though, had other plans.
Kenseth would eventually catch up and pass his teammate, as the two battled back and forth for a bit. Eventually Kyle would fall, and Kenseth would go on to win the race.
All without his crew chief Jason Ratcliff.
Kenseth was the one to tame the Lady in Black this year, but he wasn't the only impressive Gibbs driver at Darlington.
Denny Hamlin was also extremely impressive, as he managed to cross the finish line in second place, after finally returning from his back injury.
Kenseth was the big winner at Darlington, but all three Joe Gibbs drivers had an impressive run at the Southern 500.
Winner: Matt Kenseth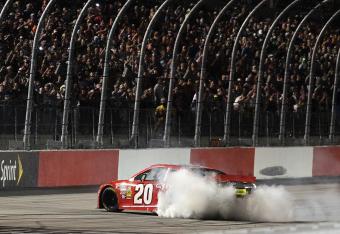 Well folks, that's all the Lady in Black wrote! Kyle Busch dominated this race, but in the end Matt Kenseth would be the one to win at Darlington.
Thanks for sticking with us here on the Bleacher Report for the Southern 500.
All three Gibbs drivers ran well tonight. can they keep the momentum going moving forward in the season?
An extremely impressive run for Denny Hamlin. If he keeps running this well, expect Hamlin to make it into The Chase.
Matt Kenseth goes on to win the Southern 500 at Darlington!
One to go, and Matt Kenseth seems to have this race won.
Everyone seems to be passing Kyle Busch. After running so well, the 18 car just seemed to fall apart.
Top 10
1. Kenseth
2. Kyle Busch
3. Hamlin
4. Gordon
5. Johnson
6. Harvick
7. Edwards
8. Montoya
9. Dale Jr.
10. Newman
10 Laps to go
Someone remind these two that they're teammates. They seem ready to take each other out.
I stand corrected. Kenseth seems to have something for Kyle, and looks like he's getting ready to pass him.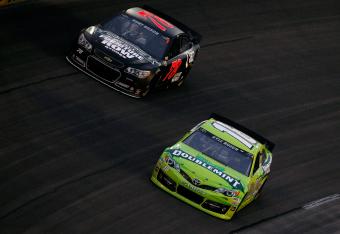 As long as Kyle doesn't run into lap traffic, the only thing that will stop Kyle Busch is more late race cautions.
No matter how many restarts they have tonight, it looks like no one can safely pass Kyle Busch.
Kahne and Busch raced hard; can't blame Busch for Kahne heading into the wall, especially when there's no green paint on Kahne's bumper.
Kahne and Busch battled hard, but Kahne ended up losing.
Looks like Kenseth didn't have anything for Kyle. Maybe Kasey Kahne will be the one to finally get passed Busch.
Keselowski took a lot of damage in that last caution. He's struggled all night, and it doesn't look like he's coming back from this.
That slap of the wall could ruin what was going to be a much-needed decentday ... Mears hard crash. Caution. #nascar

— Bob Pockrass (@bobpockrass) May 12, 2013
Now this race is getting interesting. Will Kyle be able to get out in front again when this caution is over?
Kyle takes off (again), but he's got Matt Kenseth right behind him.
Did this just turn into a fuel mileage race?
Hooray a caution! Thank you Regan Smith.
Top 10
1. Kyle Busch
2. Johnson
3. Kahne
4. Kenseth
5. Harvick
6. Gordon
7. Hamlin
8. Dale Jr.
9. Stewart
10. Edwards
Lap 294/367
Jimmie Johnson is not someone Kyle wanted to see in his rear-view mirror.
If we don't get more cautions, Kyle is going to drive away with this race.
Only 12 cars on the lead lap. Kyle is knocking 'em down.
#NASCAR @kevinharvick quietly having a strong run. He is P5 with 105 laps to to.

— David Newton(@DNewtonespn) May 12, 2013
Driver to watch out for: Kevin Harvick
This article is
What is the duplicate article?
Why is this article offensive?
Where is this article plagiarized from?
Why is this article poorly edited?