After two lackluster games to begin the Western Conference semifinals, the San Antonio Spurs bounced back in Game 3 to earn a commanding 102-92 win against the Golden State Warriors on the road.
More important than going up 2-1, the Spurs proved that their system isn't malfunctioning just yet.
Tony Parker led the charge against the Warriors, scoring 32 points on 13-of-23 shooting from the field. Tim Duncan complemented him with 23 points and 10 rebounds, while Kawhi Leonard came up with 15 points and nine boards.
San Antonio never trailed after taking a 22-21 lead at the 2:12 mark of the first quarter. This was a pleasant change of pace for the Spurs, as they were trailing for much of their double-overtime win in Game 1 before dropping Game 2.
The Spurs put forth an effort that was reminiscent of their previous four title runs under Gregg Popovich. And as brilliant as their offense was—they shot 50.6 percent from the field—it was all about their defense.
Slowing Down the Shooters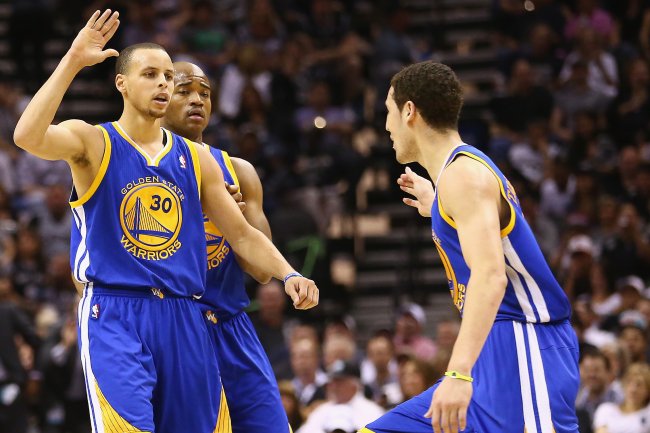 Ronald Martinez/Getty Images
Entering Game 3, Stephen Curry and Klay Thompson had been carrying the Warriors. Thompson was coming off a game in which he dropped 34 points and 14 rebounds, while Curry has arguably been the best player of the postseason.
During Game 3, the two combined to shoot 12-of-37 from the field.
Prior to this game, Curry had been averaging 26.5 points and 8.9 assists in the playoffs. He managed to post 16 points and eight assists in Game 3, but he did so while shooting 5-of-17 from the field and 3-of-9 from beyond the arc.
You can thank Danny Green for that, and it certainly doesn't help that Curry tweaked his left ankle again at the end of Game 3.
Stephen Curry is now 2-for-19 when guarded by Danny Green in this series.

— ESPN Stats & Info (@ESPNStatsInfo) May 11, 2013
More Than Momentum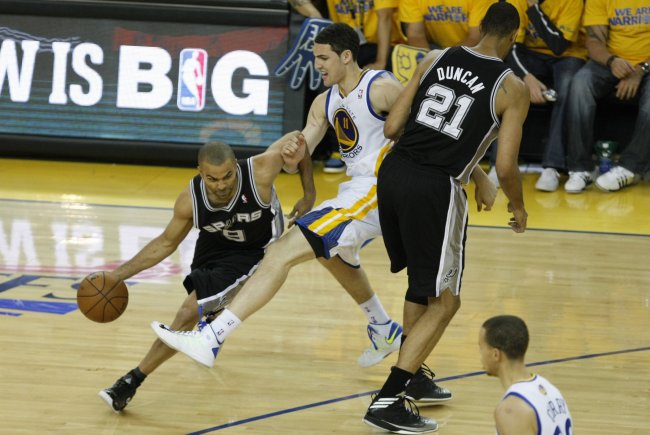 Kelley L Cox-USA TODAY Sports
Since halftime of Game 2, a 100-91 Golden State win, the Spurs have outscored the Warriors 150-130.
The Spurs tallied 48 points to the Warriors' 38 during the second half of Game 2, and that carried over into the third game. And despite not grabbing the headlines, the Spurs finished with 11 more regular-season wins, averaged more three-point field goals per game than the Warriors during the regular season and boast four Hall of Famers (not including Tracy McGrady).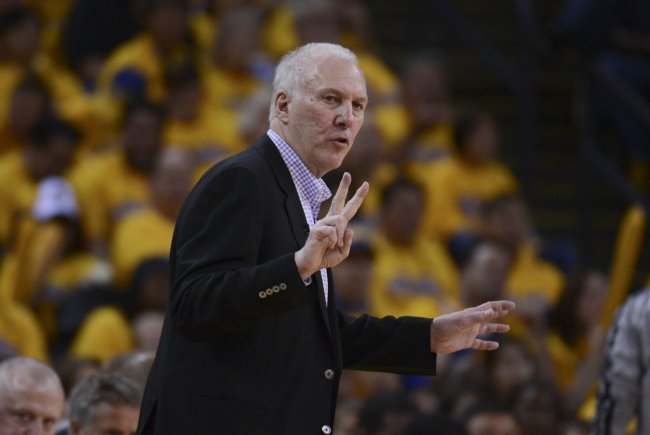 Kyle Terada-USA TODAY Sports
The Spurs came out aggressively, taking it to the Warriors and forcing them to match shots, and it's time we acknowledge that the Warriors are the underdogs here, not San Antonio.