Nobody knows how long Roy Halladay will be out of the lineup, and the already pitcher-needy Philadelphia Phillies must now think about making a trade for another starting pitcher.
MLB.com's Todd Zolecki broke the sobering news on Monday that Halladay was placed on the 15-day disabled list:
RHP Roy Halladay placed on 15-day disabled list with right shoulder inflammation.

— Todd Zolecki (@ToddZolecki) May 6, 2013
Matt Gelb of the Philadelphia Inquirer reported on Monday that the Phillies will be "looking outside" the organization to find a "long-term answer," along with bringing up a player from the minors:
Amaro said Phillies will go internal for call-up to fill Friday's starting spot. Also looking outside org for long-term answer.

— Matt Gelb (@magelb) May 6, 2013
Zolecki also added the news that the Phillies would be bringing up Joe Savery from Lehigh Valley (AAA) to fill Halladay's roster spot:
To take Halladay's place on roster, LHP Joe Savery recalled from Lehigh Valley (AAA). He will be available for tonight's game in SF.

— Todd Zolecki (@ToddZolecki) May 6, 2013
Savery has been a pro since 2007, but he has only three career MLB starts—winning just one game and posting an ERA of 4.71. As a minor-league starter, he's compiled a career record of 37-32 and has an ERA of 4.01.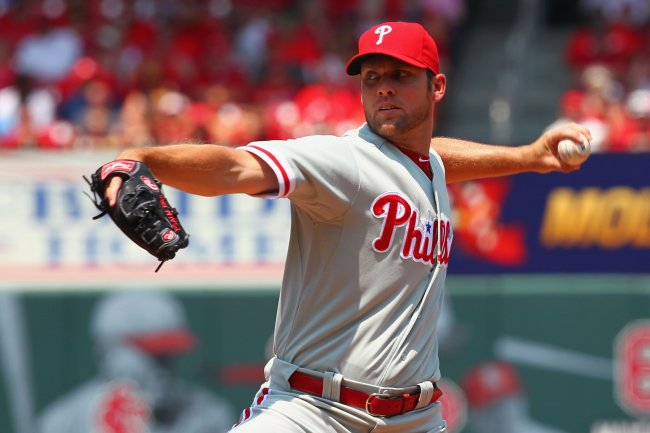 The career minor league pitcher has never displayed the ability to compete at the major-league level, and he's not going to cut the mustard for the Phillies in 2013, should Halladay's injury be a long-lasting affair.
Teammate Cliff Lee didn't sound optimistic about Halladay's timetable for a return in a recent interview, via Jim Salisbury of CSNPhilly.com:
I hope it's not major and it's something minor and he's back in a couple weeks and jumps back on board...Even if he's gone forever, there's nothing we can do. We've got to go out there and continue to pitch and try to give the team a chance to win every time you take the mound. All of us.
Should Philly trade for a starting pitcher or let the chips fall where they may, should Halladay's injury be serious?
With a record of 15-18 and most of the season still in front of this team, general manager Ruben Amaro, Jr. must consider trading for a starting pitcher who can come in and help his ailing club get back on track.
Steve Adams of mlbtraderumors.com offered a few suggestions as to whom the Phillies could be looking at (purely speculatory, of course). He mentioned Houston Astros pitchers Bud Norris and Lucas Harrell, along with minor leaguers Chris Young (Washington Nationals) and Chien-Ming Wang (New York Yankees).
The bottom line here is that the Phillies must make serious inquiries about acquiring another legitimate starting pitcher. If not, then the the entire season could be in jeopardy.
ESPN's Buster Olney hypothesized recently that Chase Utley could potentially be put up for auction, should the team's fortunes not improve:
If PHI doesn't turn it around, Chase Utley could be one of the most interesting players on the trade market. KC, BAL great possible fits.

— Buster Olney (@Buster_ESPN) May 6, 2013
That would be a most unfortunate development.
Rather than ponder how this team could fall apart at the seams, Amaro, Jr. must do whatever he can to improve his team's chances of winning. Sure, the Atlanta Braves and Nationals are loaded, but the season is still young.
If there's a way to turn the ship around, it must be done. Landing a quality starter is one way to ensure it happens, and it's a move the Phillies must seriously consider.
Follow me on Twitter @JesseReed78