Maple Leafs vs. Bruins: Instant Analysis, Updates and Score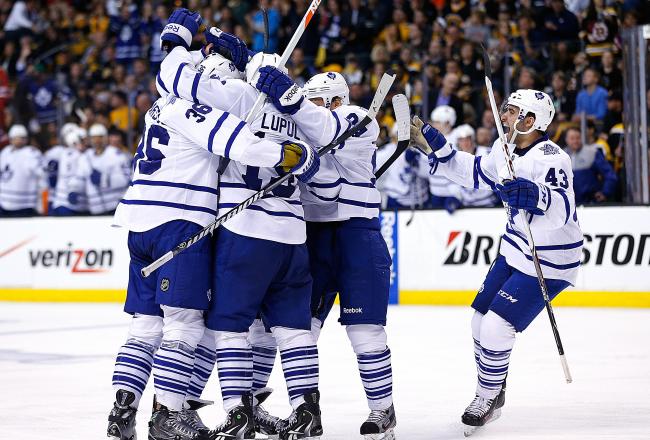 Jim Rogash/Getty Images
The goals didn't come in the first period of Game 2 between the Toronto Maple Leafs and the Boston Bruins, but once they started, they didn't stop the rest of the way through.
The Leafs got a 5-on-5 goal from Phil Kessel and outstanding play from their four new players in the lineup as they went on to defeat the Bruins by a final score of 4-2.
Nathan Horton got the scoring started during 4-4 action at the beginning of the second period. Joffrey Lupul then scored a power-play goal for the Toronto Maple Leafs just minutes later with Zdeno Chara in the box for tripping.
Lupul struck again on a nasty backhander, putting Toronto ahead to end the second period.
The Bruins came out fast and hard for much of the third period and the Leafs looked a bit out-classed through points, but they came through when it mattered most. Kessel scored, as did James van Riemsdyk on a slick play in front of Tuukka Rask.
There was a lot of rough stuff toward the end of this game, and Boston coach Claude Julien could have put himself in danger by putting enforcer Shawn Thornton out on the ice with only a few seconds remaining. He'd find his fight with just over a second to go.
The Maple Leafs now head home with a tied series against the Bruins, perhaps having found the key to victory in Game 2. They were able to trip the Bruins up with various line combinations and slotting forwards in all over the place, and Julien continued to chase his matchups.
It'll be interesting to see how the Bruins respond with the last change while in Toronto.
Toronto Maple Leafs defeat the Boston Bruins 4-2 and tie the series at 1-1.
While the Leafs won, they still have a few kinks to work out. They weren't very good early with their odd-man rushes and James Reimer was evolving into a rebound machine in the closing minutes of the game.
Boston won't come out flat in Game 3, and Reimer will have to be better for Toronto to continue to put pressure on the Bruins.
The Boston Bruins got away from their game tonight and it cost them. They allowed the Toronto Maple Leafs to use their foot speed through the second and some of the third period, giving them the victory and evening the series.
Boston has some soul searching to do as they head to Toronto. They were ground into the ice by the constant shifting and line changes by Leaf's coach Randy Carlyle, and Claude Julien threw off the tempo of his own team by continuing to fight for his match-ups.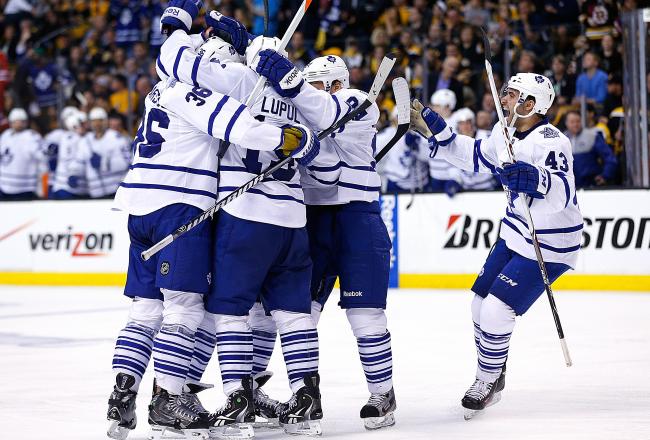 Toronto Maple Leafs defeat the Boston Bruins 4-2. The series is now tied 1-1.
Thornton is obviously out there to start a fight with only a few seconds left in the game. That's suspend-able, not that Julien cares about losing him for a game.
Empty net for the Bruins, and the Leafs have a defender without a stick. Clock is ticking.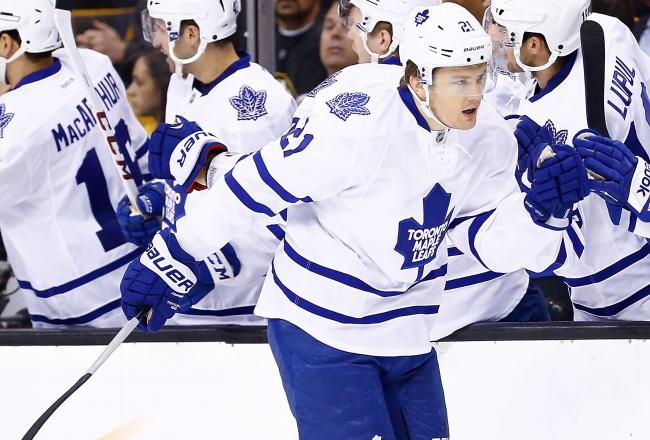 Grabovski and JVR just made one of the slickest 2-on-3 plays I've ever seen. JVR with the goal. Just dancing in front, blacked out and buried it.
Boston is quiet. Two goal Toronto lead.
3rd Period 2:20 Toronto Maple Leafs - 4 Boston Bruins - 2
Yeah. The Leafs are really just trying to hold on here. Boston is pushing Toronto around in every area of the game right now. Chara has been outstanding since making a few mistakes early in the third.
3rd Period 3:28 Toronto Maple Leafs - 3 Boston Bruins - 2
Really have only heard Doug Hamilton's name once or twice tonight.. sleeper for Boston's hero right there. Kid can flat out play.
3rd Period 3:56 Toronto Maple Leafs - 3 Boston Bruins - 2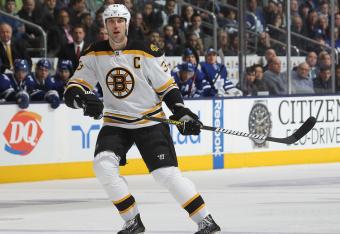 Chara really has made a great adjustment on his slappers from the line. He's not winding up huge for them. Just snapping them on net through traffic.
Hard to fight off the feeling that the Leafs are hanging on for their lives right now. Someone needs to step up for them and have a great shift. Now.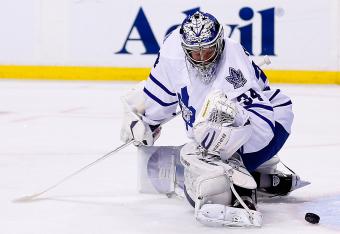 Wow. What a frantic pace this game has taken on here in the last few minutes. This commercial break should give everyone a chance to catch their breaths before a lightning round finish.
So... who ya' got?
Whoever manages to impost their game here in the final few minutes will win this game. The Bruins have been able to simplify the game here in the third period, and the Leafs haven't been able to open things up like they'd like.
I don't think Chara has left the ice in over 4 minutes.
And Reimer is coughing up huge rebounds right now. Huge.
3rd Period 5:34 Toronto Maple Leafs - 3 Boston Bruins - 2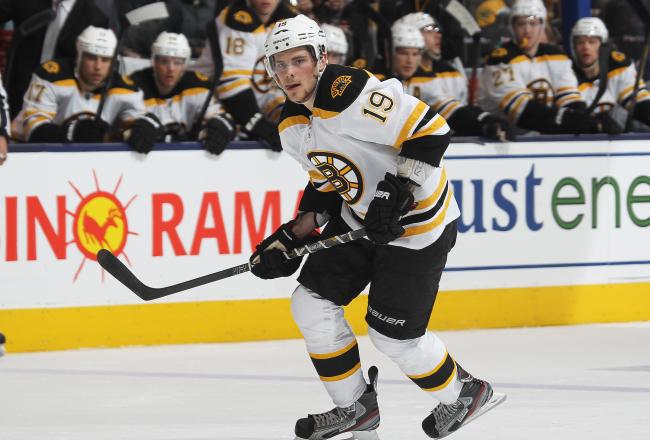 Not going to say I called that... but it looked like Seguin just scored on a rebound chance.
Regardless, Bruins get a huge goal. One goal game.
3rd Period 9:25 Toronto Maple Leafs - 3 Boston Bruins - 2
The Bruins are going to be forced to open up this game a bit as they hunt for the equalizer with about 10 minutes left. That could backfire as the Leafs have considerably more foot speed.
One guy to keep an eye on is Seguin, who has six or seven shots and has been flying all night. If Boston gets one here in the next few minutes, I'd assume it'd be off his stick.
Chara could be gunning for a goal from the back end as well. He has to know he's been sub-par tonight.
3rd Period 10:29 Toronto Maple Leafs - 3 Boston Bruins - 1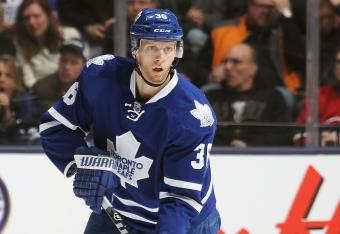 Carl Gunnarsson on his belly, broke up a 2-on-1 on a shorthanded chance by the Bruins.
Boston kills the penalty. We're back to even strength.
Kadri was in on a partial-breakaway, but Rask shut him down.
That would have been a huge goal. Bigger stop by the netminder.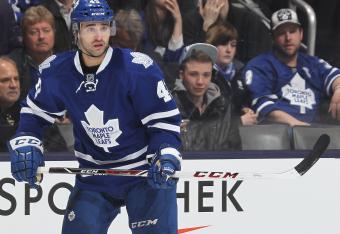 Kadri with a pretty obvious dive there, but Chara is heading to the box for the second time tonight. The first power play resulted in a goal. A 4-1 cushion here has to be a big reason for Toronto to put together a great power play.
If they draw it up right, they have a chance to put a serious dagger into the heart of the Bruins.
3rd Period 13:39 Toronto Maple Leafs - 3 Boston Bruins - 1
Maple Leafs on the power play.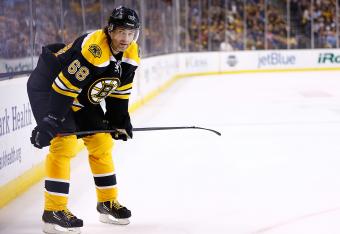 Jagr has been stripped of the puck several times in this game by the quicker Toronto players. He is looking for penalties here and there, but the Leafs have just played him well.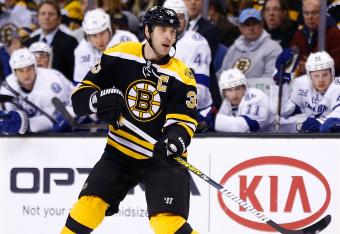 The Bruins frankly don't look like the Bruins right now. They are giving Toronto all sorts of space to generate speed, and the Leafs have Boston on the ropes a bit early in the third period.
Chara looks out of place in particular, as he's noticeably given up the center of the ice twice while defending breakout passes.
3rd Period 15:35 Toronto Maple Leafs - 3 Boston Bruins - 1
Could that open up the Kessel floodgates? That's a huge monkey off the back of one of the more dangerous goal scorers in the league.
3rd Period 16:56 Toronto Maple Leafs - 3 Boston Bruins - 1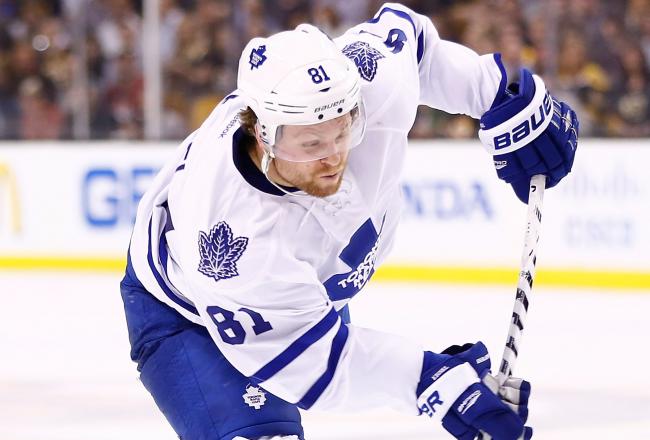 SCOOOOOORE!
Phil Kessel on the breakaway. That's 3-1 Toronto. What a perfect outlet pass.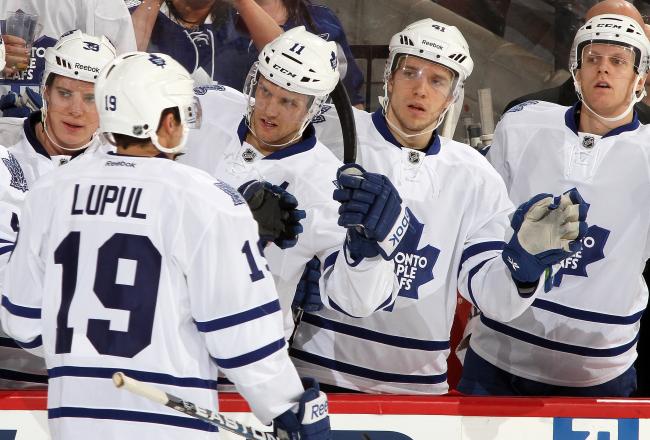 Thoughts heading into the third period:
The second period was much more entertaining than the first. The hits were still there, but there were many more offensive chances going both ways.
Lupul is obviously the first start of the game so far, netting two goals in the second on two tough chances. Perhaps he should switch gloves with Kessel or something. Maybe the finish will rub off.
This is five straight periods where he's been rendered mostly silent, and the Bruins don't seem too concerned with maintaining the Chara match-up at this point.
Reimer has looked much better in this game, but Rask has been every bit as good. One of these two are going to have to crack at some juncture, but they've been stellar so far in Game 2.
The pace of the second period was much, much better than the first. Great, entertaining period of playoff hockey.
Toronto is one period away from knotting this series up with the Bruins.
End of the 2nd Period Toronto Maple Leafs - 2 Boston Bruins - 1
One-on-one, Kessel on Chara and he's forced to shoot the puck about four feet wide. Pretty much how this series has gone for Kessel so far.
Just snake bitten.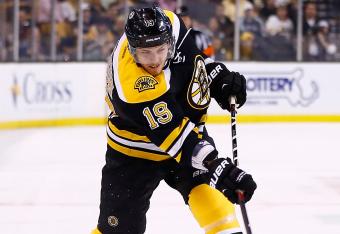 Boy has Seguin been good for the Bruins.
He found that puck in traffic and got a great shot off from the slot. Big save by Reimer.
This article is
What is the duplicate article?
Why is this article offensive?
Where is this article plagiarized from?
Why is this article poorly edited?