BYU Football: 5 Recruits the Cougars Must Pursue
Dalton Schultz (via 247sports.com)
Although the BYU football season hasn't yet started, it is never too early to look at next year's batch of recruits. Bronco Mendenhall and his staff have already received commitments from five players and are recruiting several more.
But there are always a few athletes that could truly blossom as Cougars and are great fits for BYU, the ones that the coaching staff goes after harder than others. They could be trying to fill a void in a position left by a senior or draft-eligible underclassmen, or they could just like the way that they play.
So, here are five of those special players that Mendenhall should try to recruit to Provo.
Begin Slideshow

»
Tyler Cook is a 6'3", 212-pound outside linebacker for Vista Murrieta High School in California. He mixes his size with speed—Cook ran a 4.5 40-yard dash—as an outside linebacker in a 3-4 set.
His playing style is shockingly similar to Kyle Van Noy's. Compare Van Noy's high school highlights to Cook's, and they are both athletic players that shined on both the line and as a linebacker in high school.
Both have a niche for getting in the backfield and disrupting offenses, and I think Tyler Cook could be one to fill the gaps that will be left vacant by Spencer Hadley and Van Noy.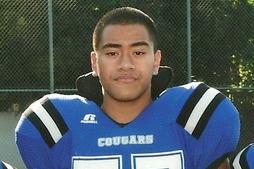 247sports.com
Nifae Lealao, a 4-star defensive lineman from Sacramento, Calif., is a big guy that knows how to mess up an offense. Standing at 6'6" and weighing 280 pounds, Lealao is no small player. He could get playing time right off the bat at BYU with Eathyn Manumaleuna in his last year of eligibility.
The ESPN 150 prospect has offers from eight Pac-12 schools, along with Boise State, Wisconsin and BYU. He will be one tough player for the Cougars to land, but adding him to the roster would be a huge addition.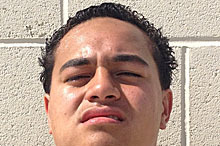 BYU.Scout.com
Sione Takitaki of Heritage High School in Romoland, Calif., is another outside linebacker that could help fill the void left by the outgoing seniors in BYU's defense. He's an under-touted recruit, but has a huge upside and has the hard-nosed style of play needed to be a successful linebacker.
Takitaki has not received many offers, but Arizona and Wisconsin are two schools that are in the competition for the 6'2" player. BYU could be a favorite in Takitaki's options, and it could have a pretty good chance at landing him.
Alijah Holder has already impresses Cougar coach Nick Howell with his impressive field vision and closing speed, and he could make a good safety in BYU's defensive scheme.
Holder is a hard-hitting player that could see the field after Daniel Sorensen graduates, and he has the skills needed to defend players one-on-one or cover a zone.
Arizona, San Diego State and Washington State, among others, have already offered Holder, but it would be huge for the Cougars to get an athletic safety like Holder.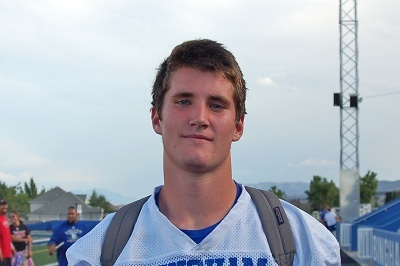 Recruiting.Scout.com
BYU has struggled in recent years at the tight end position, and a local player from South Jordan (Bingham High) could help put the Cougs back on the right track. Dalton Schultz, standing at 6'5", is a soft-handed player with a ton of talent and even more national attention.
Schultz has received offers from teams all over, including members of the Pac-12, Big Ten and the SEC, and could see the field at plenty of schools in the country. It would be incredible if BYU could land him; and having a dual-threat that can block the run or be a threat in the passing game would definitely boost the offense.