Philadelphia Phillies: 7 Prospects Who Are Tearing It Up in the Minor Leagues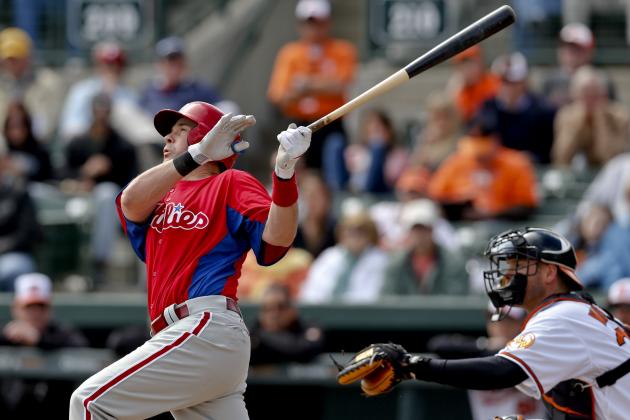 Derick Hingle-USA TODAY Sports
Cesar Hernandez, who played in major league spring training, has been tearing the cover off of the ball this season.
After trading so many top talents to acquire Roy Halladay, Cliff Lee and Hunter Pence, among others, the Philadelphia Phillies may finally be starting to get back to having a serviceable farm system.
Most notably, the Phillies are stacked at the low levels of their organization with pitching talent. Most of the guys have been considered as three/four starters at best, but some arms, Jesse Biddle and Adam Morgan particularly, have distinction as No. 2's with Biddle even having the potential to be a top ace.
Then, of course, there are a handful of offensive players with skill and talent, including the young Kelly Dugan and Maikel Franco as well as Cesar Hernandez, who very well could be the heir apparent to Chase Utley if the Phillies choose not to re-sign their All-Star after this season.
The farm is not barren, and as the first month of the season has shown, there are some talented prospects making names for themselves.
And with that being said, here are seven prospects, some ranked, some not, who have really been tearing it up at their respective minor league levels. This list is not about those with the most potential but rather just looks at 2013 and the guys who have really performed well in this calendar year.
Begin Slideshow

»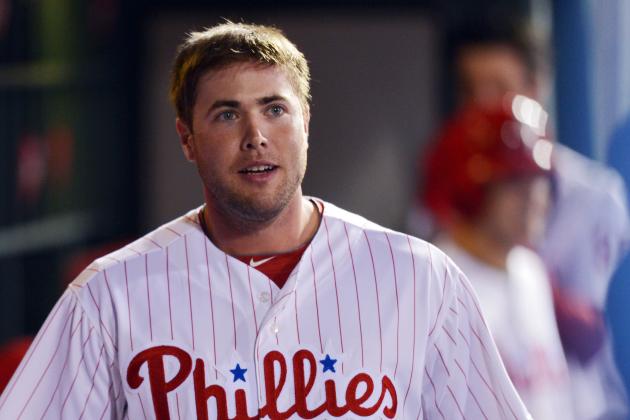 Drew Hallowell/Getty Images
Darin Ruf narrowly missed earning a spot with the Phillies. Since then, he has recently started to heat up at Triple-A Lehigh Valley.
Slash Line: .250/.307/.452
Notable Stats: 9 2B, 4 HR, 15 RBI, 28 SO, 8 BB
While Darin Ruf did not exactly start the season by tearing it up at Triple-A Lehigh Valley, he has recently picked up the pace. Ruf is now starting to display the same talent the Philadelphia Phillies first saw in him last season when he received a September call-up and an invitation to compete for an outfield spot in spring training.
And that right now is the big thing with Ruf.
A natural first baseman, Ruf is forever blocked by Ryan Howard, who is under contract through 2016 with a team option for 2017. For that reason, Ruf was converted to play left field, hoping that his bat would earn him a spot on the team.
The organization right now has a little more patience with Ruf because of the positional transition. That said, as of late, Ruf has begun to heat up again, much the same way he did last season. In fact, just like Howard, Ruf is a notoriously slow starter.
Now that he is playing better however, it might just be a matter of time before Ruf gets a chance, perhaps as a DH, to return to the Phillies.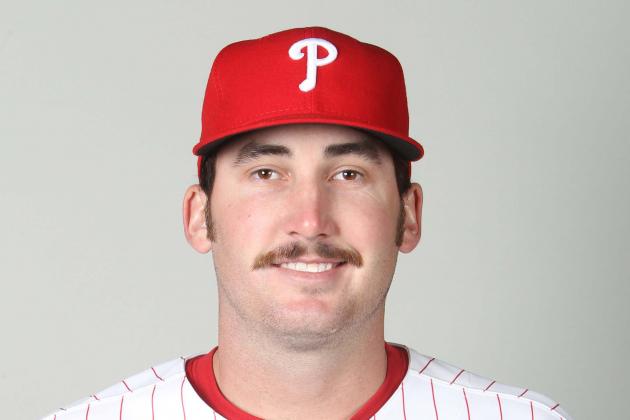 Kim Klement-USA TODAY Sports
From a starter to a bullpen arm, Kyle Simon is having success in his new role.
Pitching Line: 12.1 IP/ 3.65 ERA /.292 AVG
Notable Stats: 9 G, 5 SV, 7 BB, 8 SO
Kyle Simon began his season pitching in relief at Double-A Reading. Like many of the Phillies' young relievers, Simon has been pretty solid, while not spectacular, in his role which, this season, has included closing games for Reading.
Simon's best asset has come in his ability to close games by pitching multiple innings. In all but one of his saves, Simon has pitched at least 1.2 innings. Simon has also kept his ERA low in successful saves, only allowing two total runs in all five outings.
Of course, there are areas for improvement such as the high walk total, but right now overall, Simon is playing well.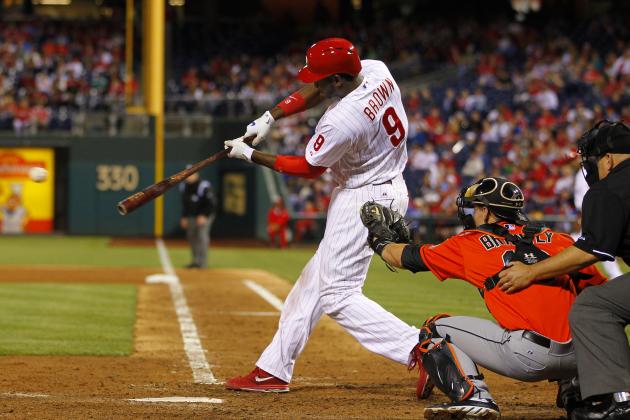 Rich Schultz/Getty Images
Just like fellow RF Domonic Brown (pictured above), Kelly Dugan is finding success with the Threshers.
Slash Line: .314/.368/.429
Notable Stats: 6 R, 5 RBI, 3 BB, 11 SO
Kelly Dugan has shown solid potential in just a few games with the Clearwater Threshers in 2013.
Having been with the Phillies since he was drafted in 2009, Dugan has steadily been advancing through the minors and is currently building on his best season in 2012 when he was named an MILB.com Organization All-Star.
Like many young players, Dugan has had some issues with striking out too much, something that, in part, has carried over to this season. His ability to get on base, however, and score/drive in runs has him on this list.
Pitching Line: 34.2 IP/3.89 ERA/.233 AVG
Notable Stats: 6 GS, 11 BB, 26 SO, 1-2 W/L
Adam Morgan has risen through the minor league system with such fervor that it was to no surprise when he received an invitation to spring training. After pitching well, including striking out David Ortiz of the Boston Red Sox twice, Morgan was bumped to Triple-A LHV even though he had just six career starts at Double-A.
Morgan, ranked by MLB.com as the Phillies' seventh-best prospect, has had success in his first season at Triple-A, having some questioning if he will soon join teammate Jonathan Pettibone with the major league club.
With Morgan, one has to be careful. He began the season giving up just three runs and 11 hits in 19 innings. Since then, however, Morgan has surrendered four runs in each of his last three starts. Perhaps this is a symptom of batters adjusting to him, much the way it happens to MLB rookies.
Whatever the reason, Morgan has had success and will hopefully bounce back.
Slash Line: .310/.355/.556
Notable Stats: 30 G, 21 R, 29 RBI, 13 2B, 6 HR
Sometimes prospect rank doesn't tell the whole story.
Maikel Franco, still months short of his 21st birthday, has been playing phenomenally for the Phillies this year at Clearwater despite being just their 11th-best prospect according to MLB.com.
The numbers that really stick at you for Franco are his production and power numbers. His OPS is fantastic at .911, and his numbers are solid with 19 extra-base hits. Also, 29 RBI and 21 runs in just 30 games has Franco constantly involved in the run production.
Continued play like this should have Franco playing up at Reading in no time.
Pitching Line: 31.2 IP/2.56 ERA/.121 AVG
Notable Stats: 6 GS, 13 H, 1 HR, 16 BB, 40 SO
By far, Jesse Biddle has been the Phillies' best minor league pitcher, and for the most part, this has come unsurprisingly. MLB.com, among others, including the Philadelphia Inquirer, had Biddle ranked as the Phillies' top prospect.
And as a top prospect should, Biddle has delivered, experiencing no discomfort in his first year at Double-A.
Of course, while many of Biddle's numbers stand out, such as just 13 total hits allowed in over 31 innings, the most notable number has to be his strikeout rate. After striking out 16 in one outing, Biddle struck out 10 in another. This totaled 26 strikeouts in just 13 innings. He also gave up just two hits in those 13 innings.
Now the rest of Biddle's outings have not been as impressive, but, overall, he has been solid. He might still be a few years away from a full-time major league gig, but Biddle could very well be sitting as Cole Hamels' No. 2 as soon as 2014.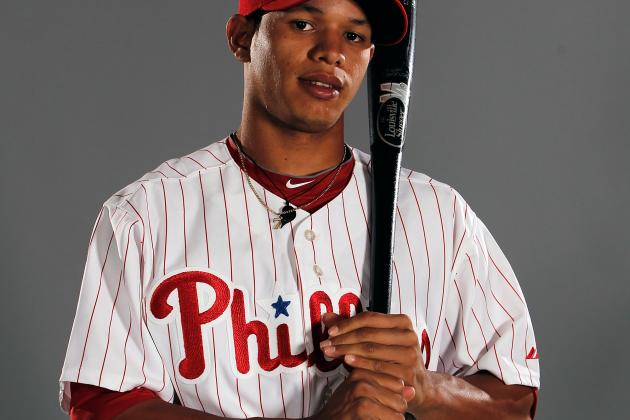 Jonathan Ferrey/Getty Images
Cesar Hernandez, possible heir apparent to Chase Utley, has been tearing the cover off of the ball at Lehigh Valley.
Slash Line: .358/.412/.514
Notable Stats: 28 G, 11 RBI, 17 R, 39 H, 8 SB
Cesar Hernandez, once an undrafted free agent, has truly been one of the best offensive bats at any level of the Phillies' minor leagues in 2013, and he is doing it at Triple-A LHV.
As an intriguing second baseman, Hernandez has been electric at Triple-A and could very well be next in line for a major league promotion if Chase Utley needed an injury replacement.
For now however, Hernandez is helping Lehigh Valley. He may not be a power guy, having only nine of his 39 as extra-base hits, but he is quite fast. He has scored 17 runs and has not been thrown out in eight stolen base attempts.
Maybe the power will never come, but Hernandez should be able to start hitting doubles and triples. If and when he does, his value to the Phillies only goes up.