The lead in Auburn's quarterback battle was on the line in front of 83,401 fans at Jordan-Hare Stadium on Saturday afternoon, and sophomore Jonathan Wallace should be pleased with the outcome.
Wallace completed 18 of his 26 passes for 191 yards, two touchdowns and one interception on the afternoon, which should give him the lead in the race with junior Kiehl Frazier when the Tigers finish up spring practice next week. Frazier was 10-of-16 for 125 yards and one touchdown.
With quarterbacks not being live while running the football, it was a perfect stage to show how each has progressed as a passer.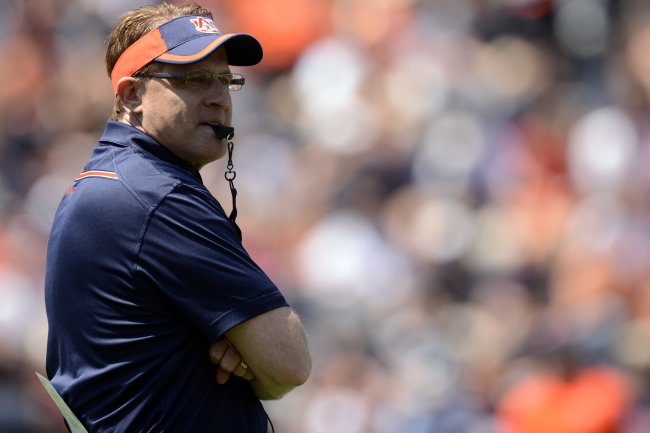 John David Mercer-USA TODAY Spor
Wallace looked better on Saturday, but the battle is ongoing according to head coach Gus Malzahn.
"I saw some good things, but I'm big-picturing it," he said after the game. "But it will be good for us to watch film and see who executed best."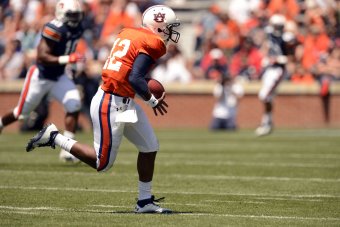 John David Mercer-USA TODAY Spor
When he watches that film, he should see that Wallace has the edge.
Both players had rather solid stats on the afternoon, but Wallace made smarter decisions, took what the defense gave him and didn't force the ball into tight coverage, with the exception of his lone interception. He made a couple of crisp passes on big gains on back-to-back plays to Sammie Coates and Dimitri Reese early in the second quarter, which set the tone for the rest of his afternoon.
Both quarterbacks came out tight in front of the big crowd, but Wallace seemed to be in more control of the offense once things settled down.
That should be a welcomed sign for the Tigers, who were plagued by inefficiency at quarterback a year ago.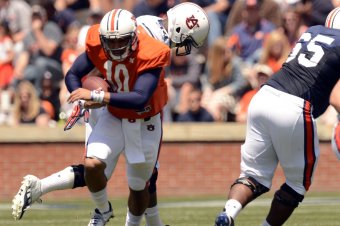 John David Mercer-USA TODAY Spor
That's not to say that Frazier is out of the race.
He certainly looked improved, but he didn't look totally comfortable running the offense. Even on several completions, he was late getting the ball to his receivers on breaks and didn't go through his progressions like he needs to.
Comfort is key.
Running backs Tre Mason and Cameron Artis-Payne looked the part of SEC running backs, and while Malzahn gets labeled as a spread guru, this offense is still a downhill, power rushing attack out of the spread. Finding a quarterback who can take care of the football, play the field position games and remain efficient when the tempo gets cranked up is critical.
Who will be Auburn's starting QB in 2013?
Wallace is that guy for now.
This battle is far from over, though.
Junior college transfer Nick Marshall, 247Sports.com 4-star prospect Jeremy Johnson and dual-threat quarterback/wide receiver Jason Smith will join the fray later this summer. Each of them will likely be given the opportunity to make an impact either as the starter or as a situational quarterback.
When asked if the quarterback was either of the two contenders currently on the roster, Malzahn was non-committal.
"We're going to play the best players at every position," he said. "That goes for quarterback, center, wherever. Most positions won't be solidified until three weeks or so into fall camp."
Whoever ultimately ends up with the job, he better separate himself in a hurry once fall camp starts. The eventual winner needs to get first-team snaps, and a four- of five-man battle for the job is the worst possible scenario for Malzahn.
Based on the spring game, Wallace should be the leader in the clubhouse for the Tigers.
*Barrett Sallee is the Lead SEC College Football Writer for Bleacher Report. All quotes were attained first-hand unless otherwise noted.