Robert Woods: 5 Things You Need to Know About the USC WR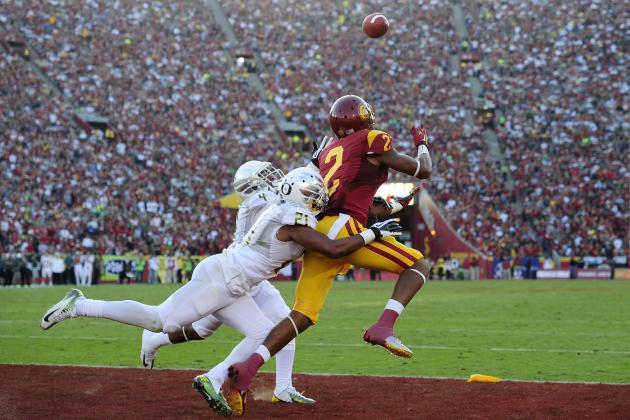 Robert Laberge/Getty Images

On January 1, Robert Woods officially made the decision to forgo his senior season at USC and enter the 2013 NFL draft (h/t ESPN). In just three years, the All-American receiver emerged as one of the most prolific athletes to ever grace Southern California.
And if you revisit his high school days, Woods may not have always been the biggest or the fastest, but he consistently impacted games. The fact that the USC product will likely go overlooked on Day 1 exemplifies the imperfections of the draft process.
He is not the highly coveted "height/weight/speed" prototype general managers deem first-round worthy. And Woods does not possess the freakish cut-ability or straight-line speed of a Tavon Austin.
But when he puts the pads on—combine results aside—Woods is a gamer.
Right now, Woods is one of those players that can step in and be a contributor, filling in for a team that needs a complementary No. 2 WR. While he may get late first-round consideration, he should be one of the most highly coveted players on Day 2.
As we head into this month's draft, here are five things you need to know about the West Coast-bred stud receiver.
Begin Slideshow

»
Full Name: Robert Woods
Birthday: April 10, 1992 (21)
Hometown: Gardena, California
High School: Junipero Serra
University: Southern California
Major: Policy, Planning and Development
Year: Junior
Though he received offers from all over the nation, Woods decided to stay in his home state of California and attend USC. As one of the top prospects, Woods was an impact player from minute one, starring for three years at Southern Cal.
He would forgo his senior year to declare for the NFL draft.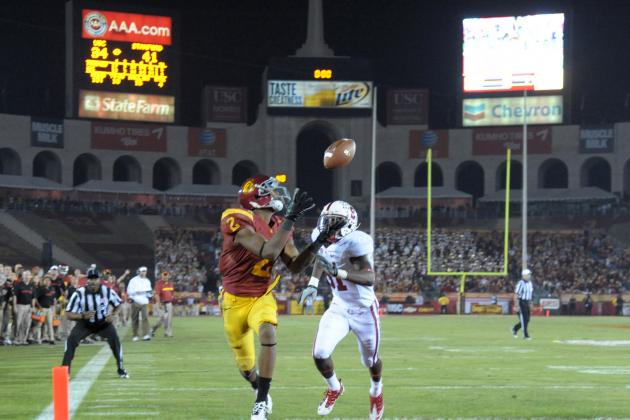 Kirby Lee-USA TODAY Sports

2010: 13 games, 65 catches, 792 yards, 6 touchdowns, 60.9 YPG
2011: 12 games, 111 receptions, 1,292 yards, 15 touchdowns, 107.6 YPG
2012: 12 games, 74 receptions, 849 yards, 11 touchdowns, 70.7 YPG
Starting immediately, Woods was an impact player for USC as a true freshman, but had the best year of his NCAA career in 2011. As a sophomore, Woods dominated the college ranks, flourishing as Matt Barkley's go-to receiver. Although the following year, Woods saw his production decrease significantly with the presence of fellow WR Marqise Lee.
In a year where most expected him to establish himself as the undisputed No. 1 receiver in college football, Woods caught 37 fewer balls and had 443 fewer yards.
With a chip on his shoulder, Woods alluded to the downsizing of his role in the Trojans' offense as his reasoning for declaring early (h/t ESPN). "If the coaches wanted to keep me another year, they probably would've gotten me the ball," Woods said.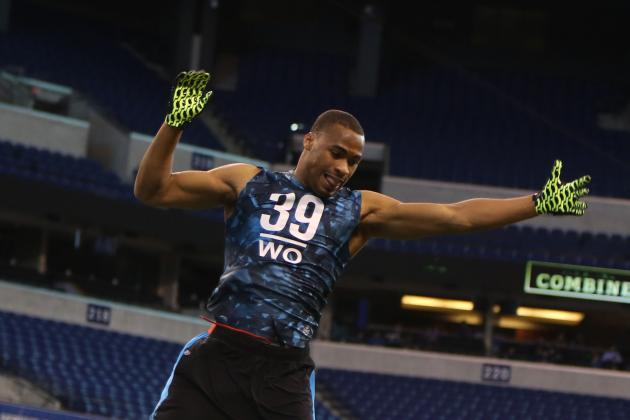 USA TODAY Sports

Measurables
Height: 6'0"
Weight: 201 lbs.
Arm Length: 31"
Hand Size: 9.25"
Combine Results
Grade: 83.1
40-Yard Dash: 4.51 seconds
Bench Press: 14 reps
Vertical Jump: 33.5 inches
Broad Jump: 117.0 inches
3-Cone Drill: 7.15 seconds
20-Yard Shuttle: 4.47 seconds, 4.36 (Pro Day)
Like his game, Woods is not going to wow you with combine results. He is a polished player that does everything fairly well, but does not have the spectacular first-round talent in height or speed categories. With Woods, it's the way he plays the game that makes him valuable at the pro level.
Right now, Woods appears to be an NFL-ready No. 2 that could complement a star receiver like Larry Fitzgerald in Arizona or Andre Johnson in Houston.
He's only 6'0", 200 [pounds], and he runs 4.51, that's what he ran at the combine. So, he's not a height/weight/speed specimen. That's not who he is…I think he is going to be a second-round pick and I think he is going to play in this league for 7-10 years if he stays healthy. He might not be a No. 1 option, but he'll be as good a No. 2 as there is in this league, I believe.
Woods' stock started to rise after the season. He ran an official 4.51 40-yard dash at the scouting combine, and improved on his average agility drills at USC's pro day, where he was the unquestioned star. It was there that Woods started to look like the player we saw in 2011 -- he exploded off his breaks, showed straight-line speed, and appeared to put the entire package together just in time for the draft.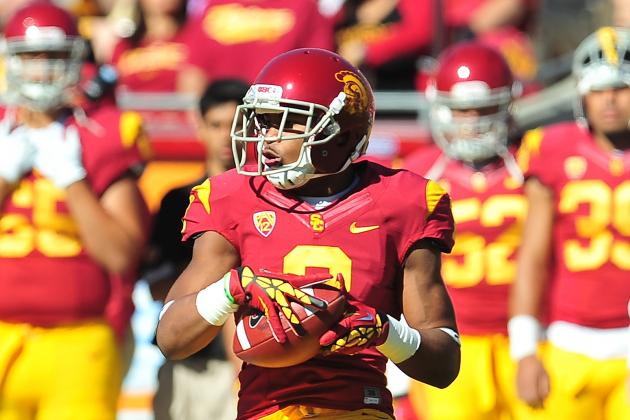 Gary A. Vasquez-USA TODAY Sports

According to Rivals, Woods was a 5-star recruit, ranking No. 1 at his position and sixth overall in the nation. He was recruited to USC by former San Francisco 49ers linebacker, Ken Norton Jr.
Aside from USC, Woods received offers California, Oklahoma, Oregon, Stanford, Tennessee and UCLA (h/t Scout.com). However, the only university he visited was Southern Cal, which he eventually committed to.
During his three years in the college ranks, Woods finished top-five in the NCAA in receptions (2010-2012). A lot of that stemmed from his ability to translate his natural speed into field-quickness, which in turn allowed him to separate from defenses.
Coming out of high school, Woods was a gifted sprinter, having been named an All-USA HS track and field selection by USA Today. So, outside his football career, he has a strong foundation as an all-around athlete.
At USC, Woods translated that athleticism, becoming one of the most decorated receivers in the school's history.
He had nine 100-yard receiving games in his career, including two 200-yard performances, putting him alongside Keyshawn Johnson and Dwayne Jarrett as the only Trojans to accomplish such a feat. Woods also had five career outings with double-digit receptions.
To keep tacking it on, Woods finished second all-time in receiving touchdowns (32) in PAC-12 history (since 1956). He also managed to break the PAC-12 record for single-season receptions with 111 (2011).
In his sophomore year in 2011, Woods was honored as a Biletnikoff Award finalist—an award recognizing the best receiver in all of college football.
But Woods contributes off the field as well. In the spring of 2012, Woods and 15 of his USC teammates spent five days in Haiti building homes and assisting those in need (h/t USC Trojans).
The more I watch Robert Woods, the more I think we need to get over the USC WR thing. He's not that guy. Definite Reggie Wayne hit off him.

— SC_DougFarrar (@SC_DougFarrar) April 12, 2013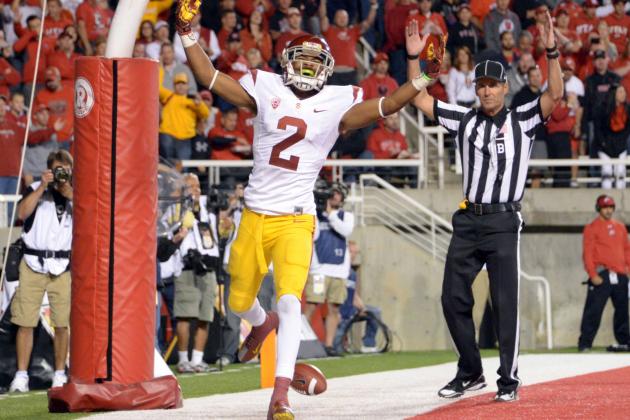 Kirby Lee-USA TODAY Sports

Following the scouting process, NFL analyst Bucky Brooks would liken Robert Woods to three-time All-Pro and Super Bowl champion receiver Reggie Wayne of the Indianapolis Colts.
At 6'1", 190 pounds with 4.51 speed, Woods matches the six-time Pro Bowler's physical dimensions and explosiveness…With Woods displaying a similar game at the collegiate level, I believe he can rival Wayne's impact as a pro in a few seasons.
This is high praise from one of the more diligent scouting minds in the business.
At the USC Pro Day, Minnesota Vikings receivers coach George Stewart visited with Woods and also relayed his admiration (h/t Sam Farmer of the L.A. Times):
We're a character organization from ownership on down. I had a chance to visit with [Woods'] mom and dad, and they're character people. Those are the type of people who will turn an organization, character people. That's a premium for us…We're very interested in guys who can make plays. But character first and foremost is what we're interested in, and [Woods] has that.
After losing Percy Harvin to the Seattle Seahawks via trade (h/t ESPN), the Vikings could be on the lookout for a plug-in receiver with natural ability like Woods. This is an organization that is looking to build around its backfield in 2013, and Woods could be the next component.
However, if the Vikes are dead-set on acquiring him, they might have to compete with several other teams.
While 49ers coach Jim Harbaugh usually takes the highroad when it comes to naming names, he did not shy away from commenting on Woods at the NFL combine. In a chat with Scott Kegley of TV49, Harbaugh knocked the receiver for turning down his offer to attend Stanford:
I'm still mad at him, I'm still mad at him. I'm like an elephant, I never forget. And I might have mentioned that to Robert. He's really done a wonderful job, and he came out of the school Serra in Southern California and they had five phenomenal players that we wanted to get to Stanford, and not a one of them came to Stanford.

And it's neat to see him, following him; he's doing so well. And sometimes paths cross again, sometimes life is that way. It was great to see him last night and watch him compete this weekend.
Harbaugh may just be blowing smoke here, but this is evidence that Woods is on the radar of several of ball clubs.
Although, Mike Florio of Pro Football Talk suggests that NFC West teams should be looking to acquire Woods. During his explosive 2010 debut at USC, the receiver finished with 12 catches for 224 yards and three touchdowns on then-Cardinal defenseman Richard Sherman.
This occurred when Woods was a true freshman and Sherman a senior.
Pro Comparison, via NFL.com: James Jones (WR – Green Bay Packers)
Stats provided by NFL.com and NFL Draft Scout.