Stock Up, Stock Down for Chicago Cubs' Top 10 Prospects for Week 2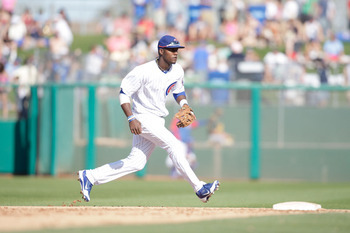 Photo Credit: Vine Line Blogs
As the MLB team continues to struggle, more and more Chicago Cubs fans will turn at least a portion of their attention to the club's minor league affiliates and what they hope is a more promising future.
The team has some solid high-end talent, and while most players are still at least a few years away, how they perform now in the low minors will go a long way in determining how quickly they can help in Chicago.
Obviously the season is just two weeks old, so we're still in the very early stages of the 2013 campaign, but here is an updated look at the stock of the team's top 10 prospects.
Top 10 prospects according to Baseball America.
*Cubs No. 9 prospect RP Kyuji Fujikawa was not included since he is currently 32 and playing at the major league level. The No. 11 prospect according to the Prospect Handbook is Juan Carlos Paniagua, so he was included in his place.
Begin Slideshow

»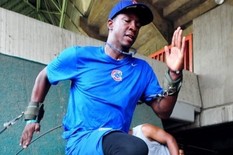 Photo Credit: Mini Deportes
2013 Stats
Season opens June 17.
Summary
Juan Carlos Paniagua will be one to watch once the Short-Season Class-A schedule kicks off, and he has a chance to be a major part of the Cubs' rebuilding plans.
With a mid-90s fastball that can reach triple digits and a potential plus changeup, he'll get a look as a starter, but his future may be in the bullpen where his fastball can be leaned on a bit more heavily.
Stock
Hold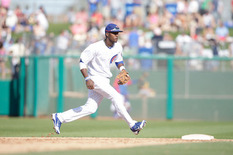 Photo Credit: Vine Line Blog
2013 Stats
.262/.311/.429, 2 HR, 6 RBI, 6 R, 2 SB
Summary
Arismendy Alcantara has recorded a hit in all but two of the team's first 10 games, and he has shown some decent pop early with a double and two home runs.
Plate discipline remains an area that needs to improve, as he's struck out 10 times and walked just three, but he has looked far from overmatched in his first taste of Double-A action.
Stock
Up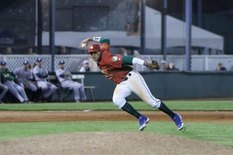 Photo Credit: Vine Line Blog
2013 Stats
.278/.333/.409, 0 HR, 1 RBI, 6 R
Summary
After a 5-for-17 week in which he drove in just one run did little to boost his stock, the 19-year-old needs to pick up his production in what is his second go-around at the Low-A level.
He hit .281/.345/.396 with six home runs and 47 RBI in 278 at-bats last season, and he has again shown solid plate discipline in the early going with eight walks to just four strikeouts. The tools are there for him to advance a level, he just needs to produce.
Stock
Down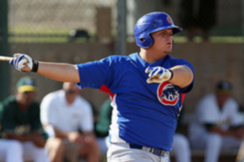 Photo Credit: Bleacher Nation
2013 Stats
.282/.318/.385, 1 HR, 5 RBI, 3 R
Summary
Dan Vogelbach wrapped up a 5-for-19 week on Sunday, though he did hit his first home run of the season on in the first game of a Saturday doubleheader.
After hitting .322/.410/.641 with 17 home runs and 62 RBI in 61 games last season and reaching Low-A, expectations are high that he'll mash his way up a level quickly. He's not off to a torrid start, but so far so good as he continues to get comfortable early in the season.
Stock
Even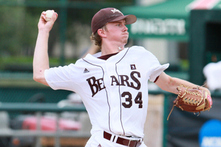 Photo Credit: Vine Line Blogs
2013 Stats
2 GS, 7.1 IP, 12 H, 7 ER, 3 BB, 8 K
Summary
After allowing six earned runs in 2.1 innings of work in his season, Pierce Johnson looked much better in his second outing. He went five innings, allowing six hits and two runs while striking out four.
His last start was his eighth career pro appearance, so it's still very early on in his career. He should only get better with experience, and while he doesn't have the highest ceiling, his floor is relatively high, and he should wind up being a solid No. 3 starter type.
Stock
Up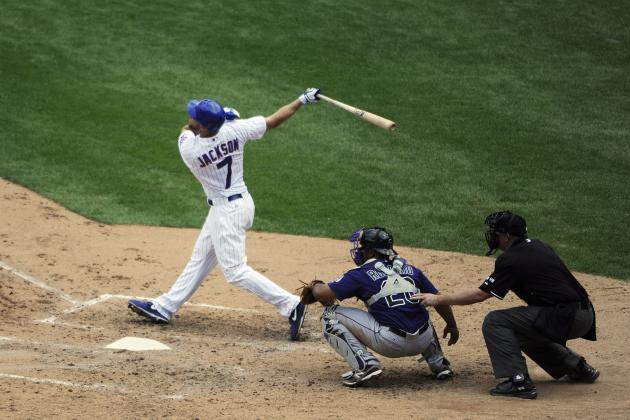 David Banks/Getty Images

2013 Stats
.237/.326/.368, 0 HR, 3 RBI, 3 R, 2 SB, 13 K
Summary
The strikeouts continue to pile up for Brett Jackson, as he fanned seven times in 21 at-bats this past week, bringing his total to 13 in 38 at-bats here in the season's first two weeks.
The 20/20 talent is still there, but until he improves his plate discipline and shows he can make consistent contact, he's a career minor leaguer.
Stock
Down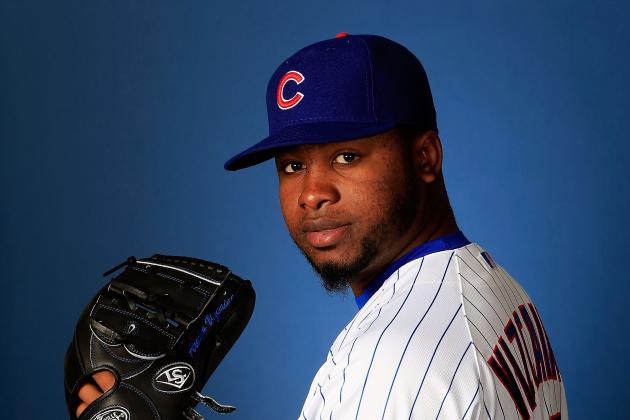 Jamie Squire/Getty Images

2013 Stats
Has not played.
Summary
As Arodys Vizcaino continues to work his way back from Tommy John surgery last season, the talk surrounding him remains whether his future lies at the front end of the rotation or the back end of the bullpen.
Given his injury history, and the terrific two-pitch repertoire he has with a mid-90s fastball and a biting curveball, closer seems like the better fit. Either way, he'll likely get a look as a starter once he returns.
Stock
Hold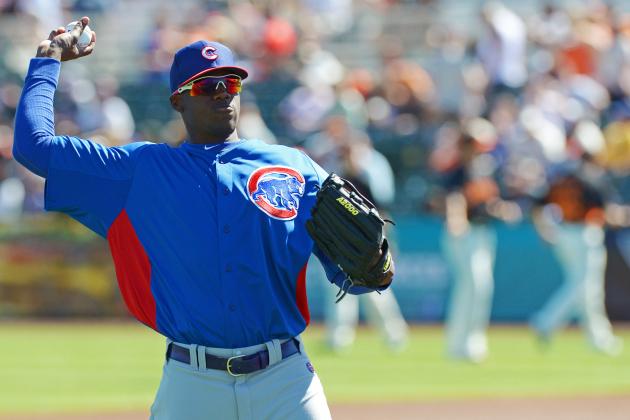 Jake Roth-USA TODAY Sports

2013 Stats
.435/.519/.739, 2 HR, 4 RBI, 6 R
Summary
No prospect in all of baseball got more press this past week than Jorge Soler, and that was not a good thing for the young outfielder.
The Cuban-born slugger was suspended five games last week following an incident in which he approached the other team's dugout with a bat (h/t the Associated Press via Fox Sports).
No one was hurt, as he was restrained before anything happened, but regardless, it was not what you want to see out of any of your players. He was raking prior to the suspension, so hopefully he can pick right up where he left off.
Stock
Down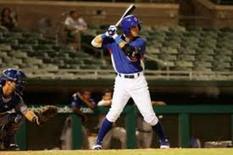 Photo Credit: Vine Line Blogs
2013 Stats
Season opens June 17.
Summary
Cubs fans will have to wait a while before they can see last year's top pick in action this season, as the Short-A schedule doesn't open until the middle of June.
Even if the season started now, he's currently working his way back from a broken hamate bone (h/t CBSSports) and would likely be on the shelf anyway. Once the season opens, he has the tools to rise quickly, and it will be interesting to see where he finishes the season.
Stock
Hold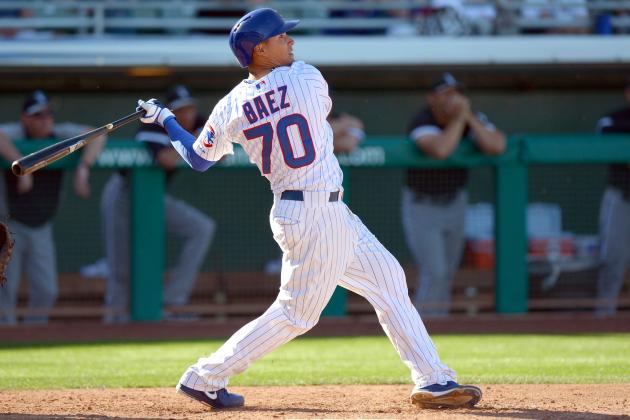 Jake Roth-USA TODAY Sports

2013 Stats
.190/.239/.429, 1 HR, 4 RBI, 5 R, 1 SB
Summary
The Cubs' top prospect and the No. 16 prospect in all of baseball according to Baseball America, Javier Baez is off to a slow start this season and went just 5-for-26 with one RBI this past week.
After tearing up Class-A last season, he struggled to a .188 average over 80 High-A at-bats, so he clearly still has some work to do to advance beyond this level. Patience will be important here, as the 20-year-old has the tools to be a superstar.
Stock
Down