Zlatan Ibrahimovic's 10 Best Moments at Barcelona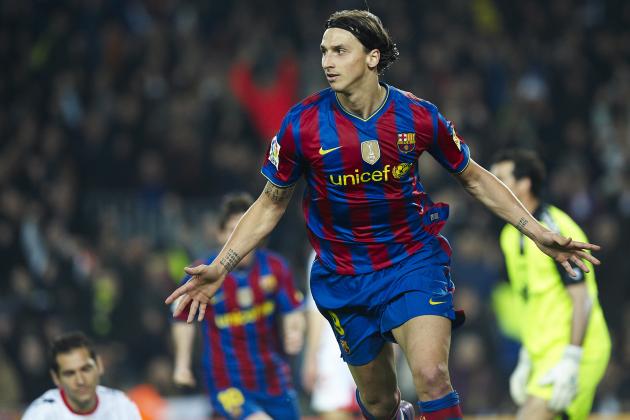 Manuel Queimadelos Alonso/Getty Images
Ibrahimovic's "disappointing" season in Barcelona would be considered successful anywhere else
Zlatan Ibrahimovic's time at Barcelona is widely regarded as a failure, even though he managed to win five trophies in 13 months in Catalonia.
The Swede is considered to have not fit in with the likes of Lionel Messi, Xavi and Andres Iniesta because his normally prolific strike rate only registered 21 goals in 36 appearances in all competitions.
Only 21, that is still better than a goal every two games. His league tally of 16 also bettered his following season's total with AC Milan, when he netted 14 times despite playing six more matches.
Ibrahimovic's biggest failing was the breakdown of his relationship with then-coach Pep Guardiola, who he claimed "hadn't spoken with him since March," come the end of his solitary season with the Catalans.
Those 13 months were still highly eventful. Here are 10 of Ibra's highlights from his time at the Camp Nou.
Begin Slideshow

»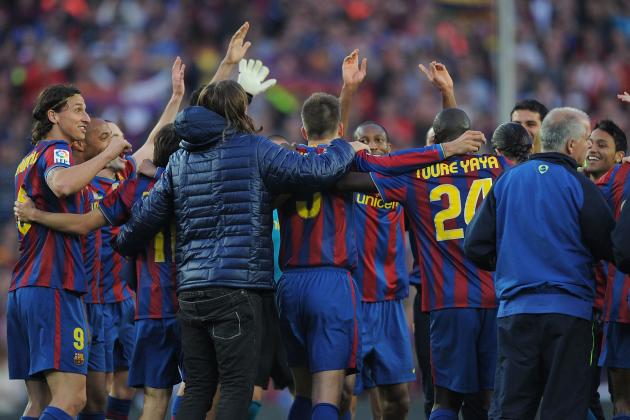 Denis Doyle/Getty Images
Ibrahimovic takes part in the title celebrations.
First and foremost, Ibrahimovic won the La Liga title in his time with Barcelona.
The victory, by a narrow three points over bitter rivals Real Madrid (99 points to 96), continued the Swede's impressive habit of winning league titles in Spain.
That title added to the Eredivisie and Serie A titles he won with Ajax, Juventus (officially stripped through Calciopoli) and Inter Milan.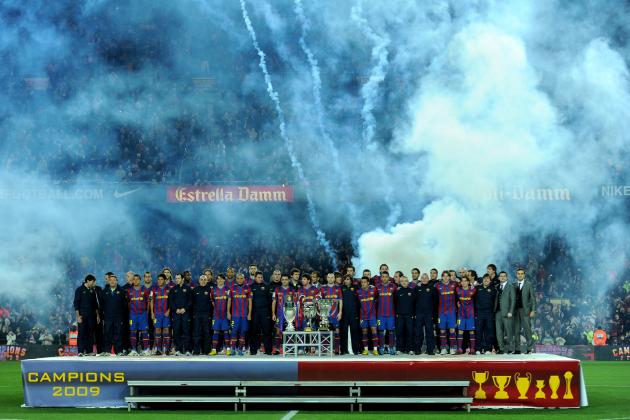 Jasper Juinen/Getty Images
Guardiola's side celebrate the famous sextuple.
Ibrahimovic was a member of the Barcelona team that famously won six trophies in six competitions in one year that was overseen by Pep Guardiola.
The Catalans won the 2009 FIFA Club World Cup and although the Swede did not score in the tournament, he was still part of one of the club's greatest achievements to date.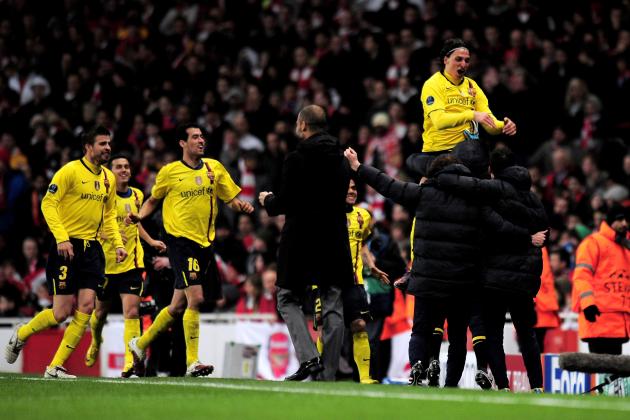 Shaun Botterill/Getty Images
Ibrahimovic celebrates against Arsenal without Guardiola.
One of Ibrahimovic's greatest criticisms had been his inability to score against English opposition in the Champions League (apparently, the benchmark for all great players), until he found the net against Arsenal.
In their quarterfinal first leg at the Emirates Stadium, Ibrahimovic put Barcelona into a two-goal lead against the Gunners before a 4-1 win in Spain sealed a 6-3 aggregate victory.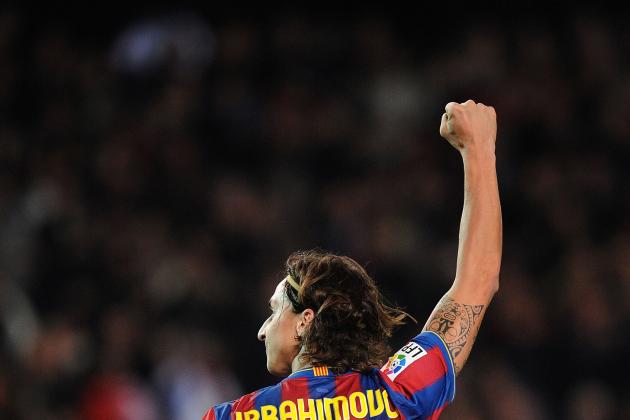 Denis Doyle/Getty Images
Ibrahimovic still found time to score against one of Barca's most bitter rivals.
In only week 12 of the season, Ibrahimovic struck a vital blow to Real Madrid's title hopes with the winning goal in a 1-0 victory over Manuel Pellegrini's side.
The goal not only secured victory over one of Barca's bitter rivals, but also considering that the final margin of victory in the league was three points, it went a long way toward helping to decide the title.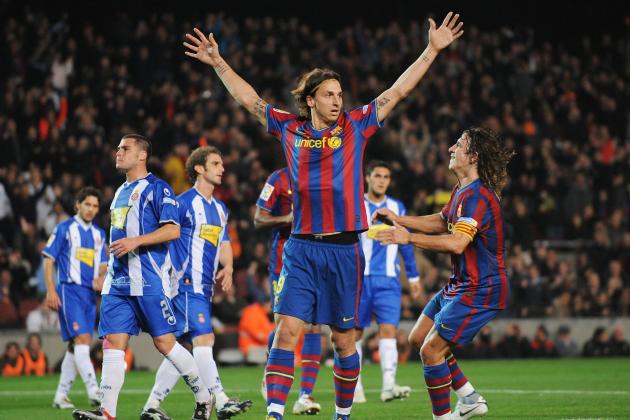 Denis Doyle/Getty Images
Ibrahimovic celebrates another important goal, this time against Espanyol.
Ibrahimovic endeared himself to the Barcelona fans further with the only goal in another 1-0 victory over another one of the Catalans' bitter rivals: Espanyol.
It may well have come from the spot, but the Swede's nerves of steel still ensured another massive three points.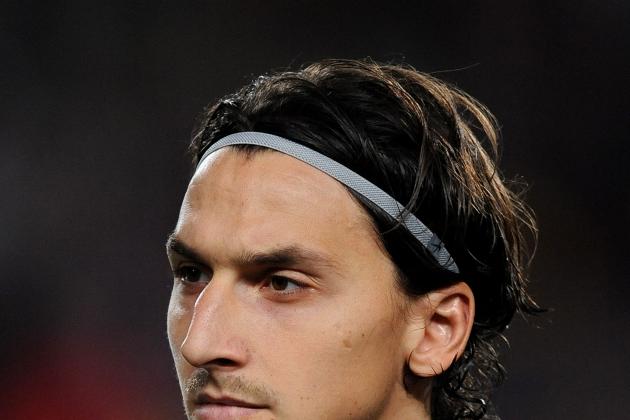 Jasper Juinen/Getty Images
Ibrahimovic made it onto the UEFA Team of the Year whilst at Barcelona.
While in Barcelona, Ibrahimovic was voted onto the 2009 UEFA Team of the Year. Although it was thanks in part to his actions at the start of the year at Inter Milan, his strong start to life at Barca also contributed.
Ibra was joined by five of his Catalan teammates as well as Guardiola.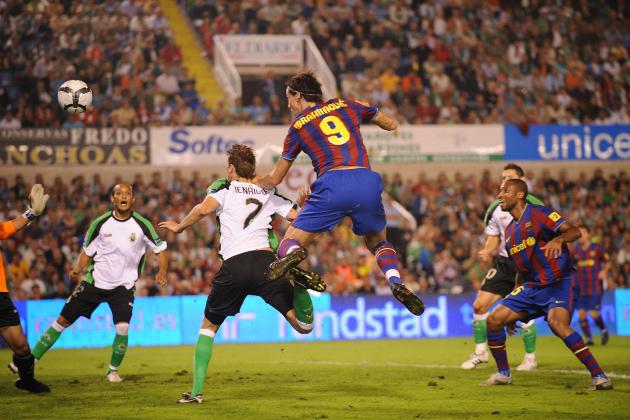 Denis Doyle/Getty Images
Ibrahimovic becomes the first Barcelona player to score in the club's first four league matches in a season.
Although Ibrahimovic's time in Barcelona is generally considered a disappointment, he still managed to set a then-team record as the only club player ever to score in Los Cules' first five league matches.
Goals against Sporting Gijon, Getafe, Atletico Madrid, Racing Santander and Malaga secured the honour.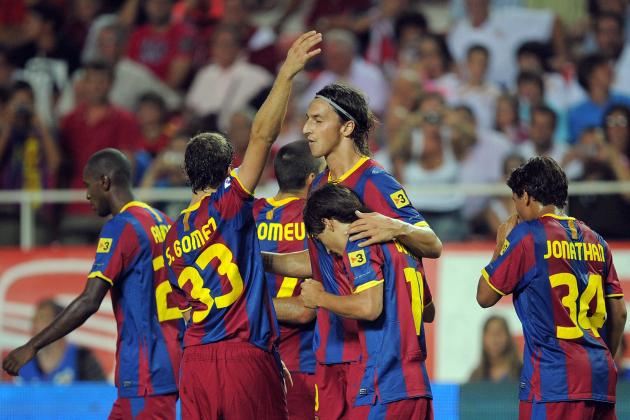 Denis Doyle/Getty Images
Ibrahimovic celebrates his final goal in Barcelona colours.
Ibrahimovic's first game for the club was in the Spanish Supercopa, and it was only fitting that his last major appearance was also in the same cup.
In 2009, Ibrahimovic assisted Lionel Messi on his debut in the second leg of a 5-1 aggregate victory over Athletic Bilbao.
A year later, he scored Barca's solitary goal in a 3-1 away defeat to Sevilla, his last goal in the club's colours. The Catalans won 5-3 on aggregate after a 4-0 home win.
Ibrahimovic's final match was just over a week later against future club AC Milan in the Joan Gamper trophy.
It was after that match that the Swede made the admission that he had not spoken with Guardiola since March.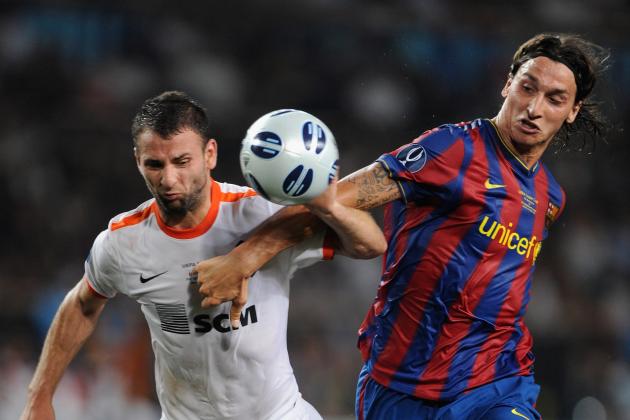 Laurence Griffiths/Getty Images
Ibrahimovic in UEFA Super Cup Action.
Though the Supercopa was Ibrahimovic's first achievement as a Barca player, the second followed shortly thereafter, when Guardiola's side beat Shakhtar Donetsk 1-0 in Monaco to claim the 2009 UEFA Super Cup.
Ibrahimovic had little to do with the club's exploits in Europe the season before, but he played 81 minutes at the Stade Louis II before his replacement, Pedro, eventually broke the deadlock in extra time.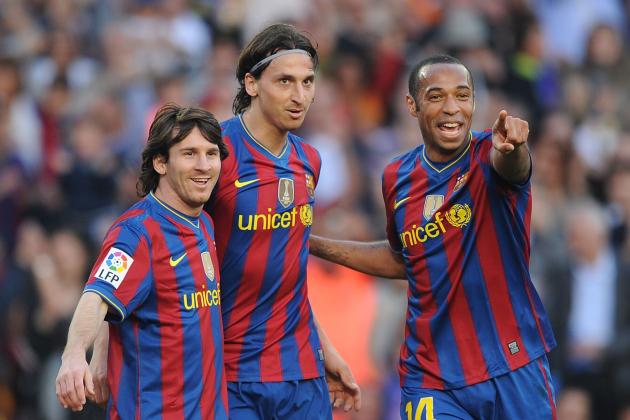 Denis Doyle/Getty Images
Messi, Ibrahimovic and Henry—a formidable attacking trio.
One of Ibrahimovic's best achievements at the club, though little known, is that he actually contributed nine assists in his solitary season in Barcelona.
It is hardly enough to set the world alight, but for someone so often maligned for not being a team player whilst at the club, it is a surprising claim in light of these figures.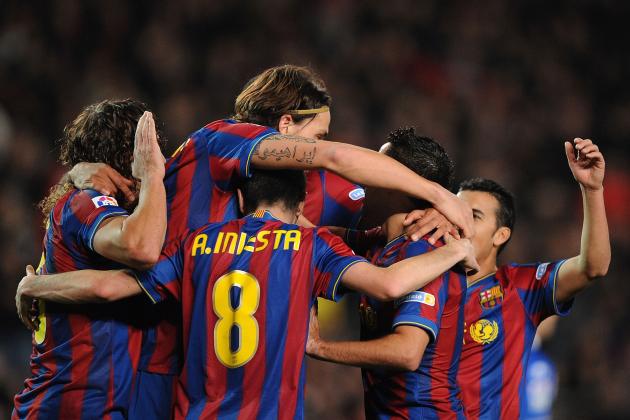 Denis Doyle/Getty Images
Ibrahimovic was an increasingly rare case of the outsider arriving at Camp Nou and succeeding immediately
Given that all of this happened in one season, it is surprising to think that Ibrahimovic's time at the Camp Nou is considered a failure, even taking into account his hefty transfer fee.
The Swede's first season tally of 21, amazingly, puts him ahead of the likes of Thierry Henry, Ronaldinho, Patrick Kluivert, Hristo Stoichkov and even Messi himself in terms of debut season creativity.
In fact, that total is only eclipsed by Samuel Eto'o, Ronaldo and Romario in the club's history.
Some failure.