Picking an All-Time UEFA Champions League Best 11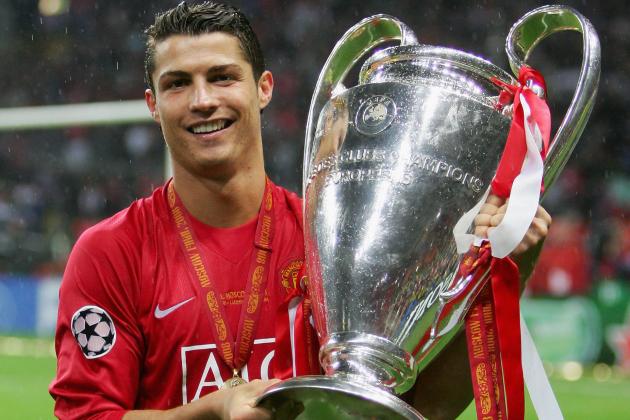 Alex Livesey/Getty Images

Picking a UEFA Champions League all-time 11 is no easy matter.
Thinking of all the greats who have passed us by since 1992 and then putting the very best in a team is the stuff of dreams for fans and nightmares for opponents!
Looking back at the competition, we have witnessed some of the greatest players of all time. Think of the likes of Zinedine Zidane, Luis Figo, David Beckham, Ryan Giggs, Lionel Messi and Cristiano Ronaldo. And some of those mentioned did not even make the reserve list.
Read on for the all-time UEFA Champions League best XI.
Who are your favourite players, and what would your favourite team be?
Leave your comments, suggestions and best Champions League moments in the section below!
Begin Slideshow

»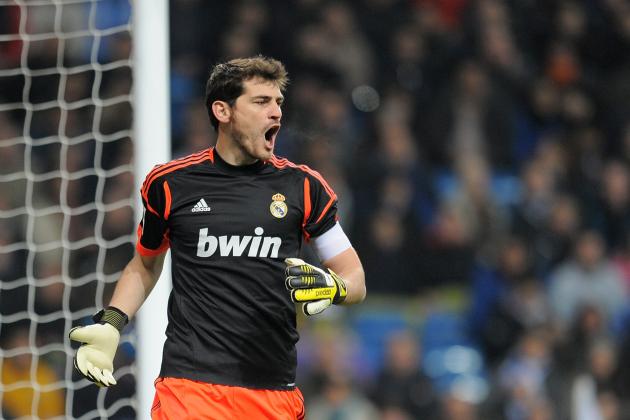 Denis Doyle/Getty Images

Dropped by Jose Mourinho at Real Madrid, Iker Casillas has been the standout 'keeper in Europe over the last decade.
The Spanish international is easily one of the most underestimated players in Europe.
He has been central to his country's dominance on the international stage and has been undroppable for Real since he made his debut in 1999. Casillas has also been instrumental for Real in the Champions League and won the trophy in 2000 and 2002.
Now at 31 years of age and some 650 games later, Casillas has begun to find life rather difficult under Mourinho. He has been left out of recent squads as the Portuguese ratchets up his political battles at the Bernabeu.
That should not take away from the fact that Casillas is only rivalled for Champions League greatness by Bayern Munich's Oliver Kahn and Juventus' Gianluigi Buffon.
UEFA Champions League Games: 129
Honours
Champions League: 2000, 2002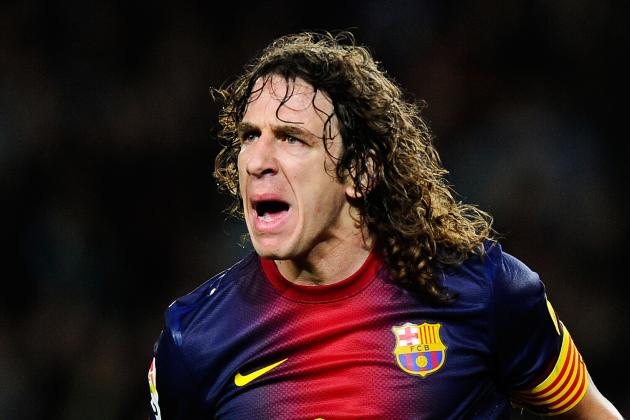 David Ramos/Getty Images

Barcelona's Carles Puyol has enjoyed a phenomenal career at modern-day football's most storied club.
The hard-bitten, driven captain of La Blaugrana may let the likes of Lionel Messi, Xavi and Andres Iniesta take all the plaudits, but he is the very foundation upon which all their success is built.
Considering he plays for arguably the most technically accomplished team ever assembled, Puyol is regarded as something of a caveman when compared to his teammates. This, however, belies perhaps the most balanced player Spain has ever produced, in terms of powers.
Puyol is comfortable with the ball at his feet and is arguably one of the most technical central defenders in Europe. He is also one of the most battle-hardened and is as tough as they come. In this regard he combines two great strengths to become a considerable player.
There have been many great defenders over the years with the likes of Real Madrid's Fernando Hierro and Manchester United's Jaap Stam coming to mind. However, neither player stayed at the very top or dominated the game for so long.
UEFA Champions League Games: 119
Goals: 2
Honours
UEFA Champions League: 2006, 2009, 2011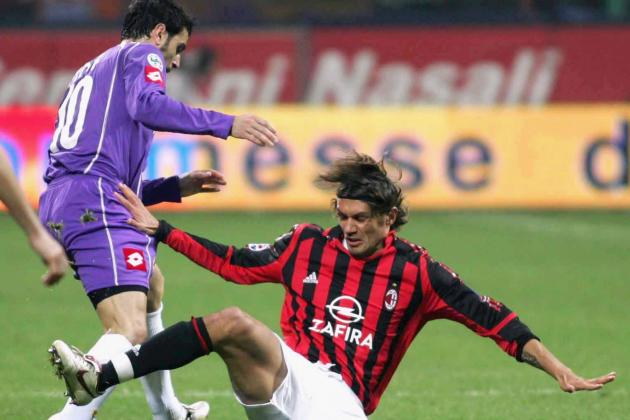 New Press/Getty Images

There has never been a better left-back in the history of football than AC Milan's Paolo Maldini.
The one-club man is a true legend of the game and played his entire career at the San Siro. He played for an amazing 19 years at the very top of the game with some of the best teams ever built.
Maldini was comfortable at left-back and at centre-back. He was incredibly quick, was strong in the air and the tackle and, as you would expect by anyone apprenticed by the great Franco Baresi, had an incredible positional sense.
The Italian is also the only player in this Champions League 11 to have won the old European Cup.
When it comes to challenging Maldini for a place in anyone's team, there really are no other candidates. However, the likes of Real Madrid's Roberto Carlos deserve special mention, as he was also a wonderful player.
UEFA Champions League Games: 109
Goals: 3
Honours
UEFA Champions League: 1994, 2003, 2007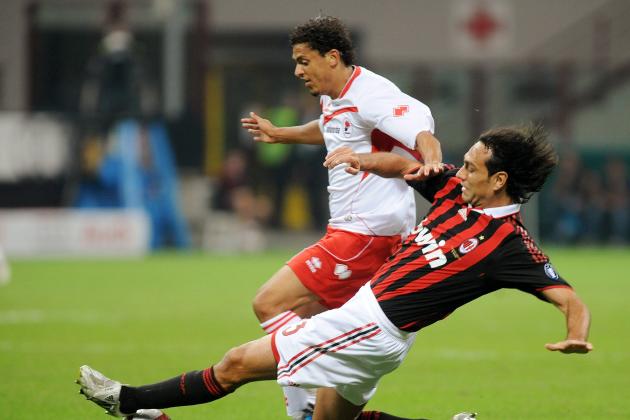 Massimo Cebrelli/Getty Images

It is just as well that the criteria for making this team is that players must have played in the Champions League rather than the European Cup. Otherwise AC Milan may have dominated the entire defence!
The second AC Milan legend to feature is Montreal Impact's Alessandro Nesta.
During his 10-year reign with the Rossoneri, Nesta was one of the best defensive protagonists in the game. At the height of his powers he was practically impossible to play against, as he was a classic Italian-style man-marker. He was also gifted with incredible timing and would easily beat strikers much stronger and bigger than him time and time again.
The main rivals for Nesta's berth in the Champions League 11 are Chelsea's John Terry, Manchester United's Nemanja Vidic and Barcelona's Gerard Pique. While all three are accomplished defenders, Nesta, as a player, is actually the personification of all their best attributes.
UEFA Champions League Games: 99
Goals: 0
Honours
UEFA Champions League: 2003, 2007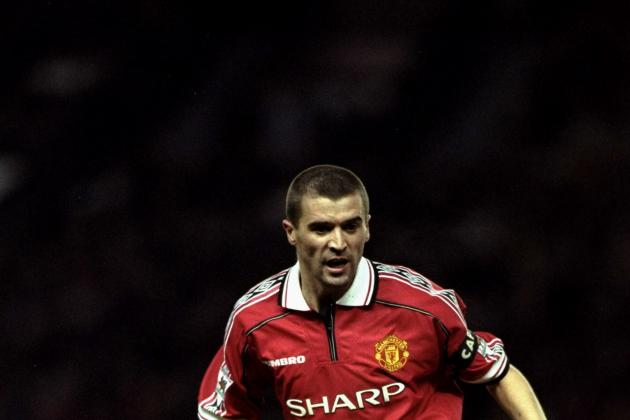 Mark Thompson/Getty Images

Roy Keane not only dominated the English Premier League for over a decade; he also dominated European football.
Keane is one of the most underrated players of the Premier League and Champions League era and is now written off by many as having just been a "hard man."
However, Keane, as a player, was not only competitive; he was also a superb passer of a ball, possessed huge reservoirs of stamina and was positionally excellent. In the modern game he would be virtually priceless.
The great shame of Keane's career was that he never played in a Champions League final despite winning the competition in 1999. He picked up a second yellow card against Juventus in the semifinal in 1999 when he inspired one of the great UCL comebacks.
Over the history of the modern game there have not been many central midfielders better than Keane. The Irishman dominated midfield with a vise-like grip and never gave up cheaply. Bayern Munich's Bastian Schweinsteiger is perhaps the closest modern equivalent to Keane, while Ajax and Juventus' Edgar Davids also deserve a mention.
UEFA Champions League Games: 71
Goals: 12
Honours
UEFA Champions League: 1999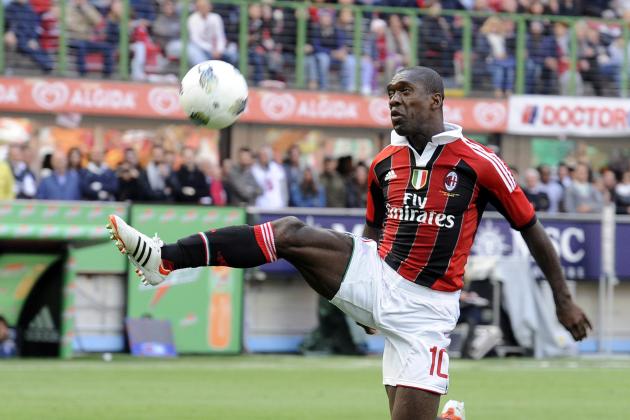 Claudio Villa/Getty Images

Clarence Seedorf will rightly go down in Champions League history as one of the competition's greatest-ever players.
Now playing in Brazil with Botafogo, Seedorf began his career all the way back in the last century with Ajax. Playing as an attacking central and right-sided midfielder for Louis van Gaal, Seedorf first won the Champions League in 1995 as a mere 19-year-old.
He then moved to Real Madrid in 1996 and became central to the Los Blancos side that won "the cup with big ears" in 1998.
One year later, and he was on the move again. This time he joined Inter Milan, but he did not taste real success until he swapped the famous blue and black stripes of Inter for the famous red and black stripes of Milan.
In 2003, Seedorf became the first player in history to win the UCL three times with three different clubs when AC Milan beat Juventus after penalties. He then got to lift the trophy again in 2007 when AC Milan got their revenge on Liverpool after losing out to the Reds in 2005.
Seedorf has shown great flexibility during his 21-year career. He went from attacking midfielder to box-to-box midfielder to veteran defensive midfielder as he aged. At his best, he was an attacking midfielder par excellence.
The Champions League has seen many similar players, with Valencia's Gaizka Mendieta and Liverpool's Steven Gerrard springing to mind.
UEFA Champions League Games: 125
Goals: 11
Honours
UEFA Champions League: 1995, 1998, 2003, 2007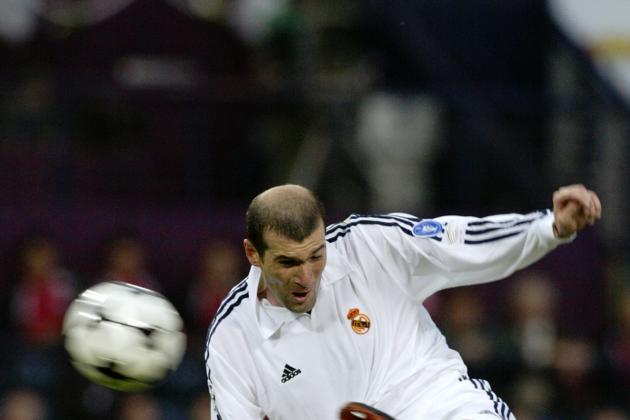 Phil Cole/Getty Images

Has there been a more creative player in the world over the last 30 years?
Zinedine Zidane has earned his place in the pantheon of the greats of the European game. He will be spoken about in the same hushed tones we reserve for the likes of Johan Cruyff, Franz Beckenbauer and Lionel Messi.
At the beginning of his career, Zidane was vastly underestimated by his opponents because he was such a big man. However, his control was sublime, his first touch was like Velcro and his vision was almost telepathic. He was also a deceptively brilliant dribbler of the ball and possessed a phenomenal range of passing. In short, he has set the bar for what an offensively minded midfielder should do in the modern game.
Like Maldini before him, there are few players who can compare with Zidane. He was most comfortable through the centre but could easily slot into the left of an attacking-style midfield. The closest player to Zidane in the modern age was Real Madrid and Barcelona's Luis Figo. The Portuguese was a superb player but just lacked the quality that Zidane possessed.
One of the great shames of Zidane's career was that he was part of the failed Galacticos project at Real Madrid. The Galacticos may have sold plenty of jerseys and merchandise, but they only won one major European trophy during the entire era.
UEFA Champions League Games: 80
Goals: 14
Honours
UEFA Champions League: 2002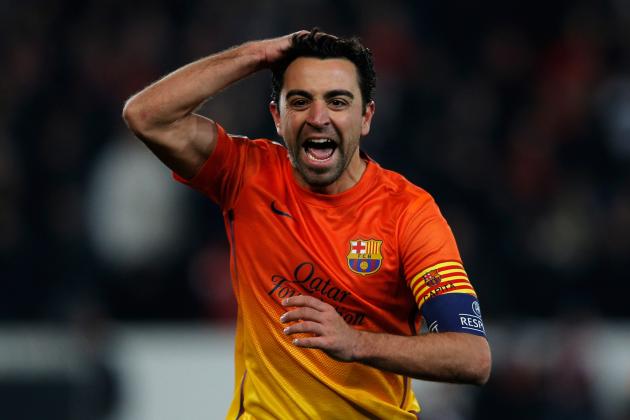 Dean Mouhtaropoulos/Getty Images

Xavi Hernandez of Barcelona fame is most definitely the most important midfielder in the world today. The minute Spaniard is one of the best midfield generals of all time in the way he dictates the ebb and flow of matches. In this respect he goes almost unmatched across the last 40 years.
Xavi is an incredibly brave player. He is never afraid to take the ball from teammates, regardless of position on the pitch, and then always finds a man in the same colour shirt. Because his passing game is so peerless, the other parts of his game are often underestimated. He is a tireless worker, covers every single inch of the pitch and does his equal share of destruction through clever positioning and covering.
As far as peers go, there are very few midfielders better than the little maestro. Andrea Pirlo of Juventus comes to mind as a modern equivalent, having won the Champions League with AC Milan in 2003 and 2007. But perhaps the closest player to Xavi is his Barcelona teammate, Andres Iniesta.
UEFA Champions League Games: 134
Goals: 11
Honours
UEFA Champions League: 2006, 2009, 2011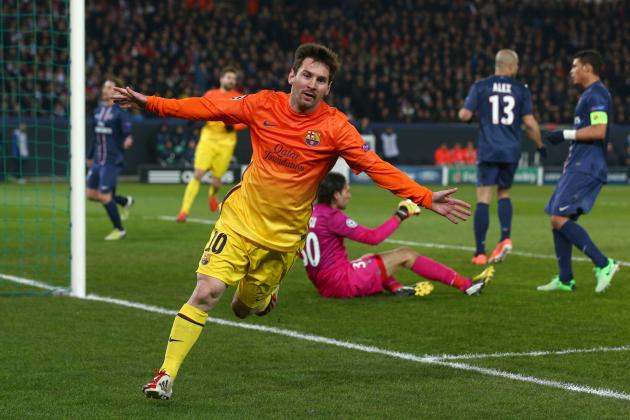 Clive Rose/Getty Images

There could not be a Champions League best 11 without Lionel Messi. The little Argentinian is easily the best footballer the world has seen since Diego Maradona in the 1980s. He is also the greatest goalscorer the competition has ever seen.
Only last season did the little wizard break the all-time record for most goals in a single season. His two-goal salvo against AC Milan in Barca's 4-0 win brought his tally to 14 and set a new UCL record while equalling Jose Altafini's 50-year record for AC Milan. This year he has added another eight to his tally to bring him to 59 goals in just 77 UCL appearances.
Messi was also the competition's top scorer in 2008, 2009, 2010 and 2011.
UEFA Champions League Games: 77
Goals: 59
Honours
UEFA Champions League: 2006, 2009, 2011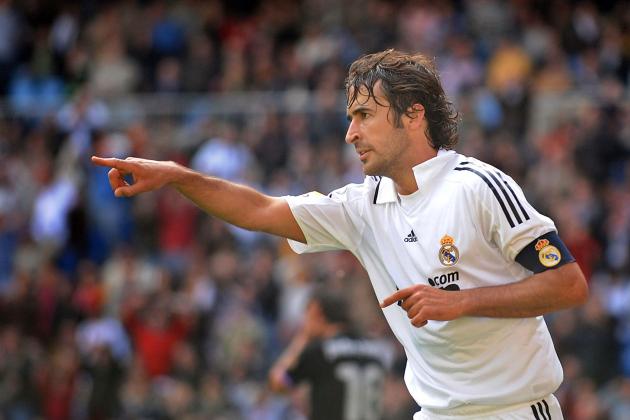 Denis Doyle/Getty Images

Raul Gonzalez Blanco is, quite simply, a Champions League legend. The ex-Real Madrid star holds the record for the most appearances in the competition with 144 and is the all-time top scorer with 71 goals.
Even when you consider his record, Raul will go down in history as one of the most underrated strikers of all time. He was not extremely quick. He did not have an exquisite first touch and did not possess great power of strength.
What he did possess was a telepathic ability to be in the right place at the right time, every time. As a centre-forward he was a dream to play with. He could play in a variety of ways and could easily link up with midfield to orchestrate attacks, and more often than not he would also finish those attacks.
There have been better strikers in the game than the Al Sadd striker, but none have been better when it counted in the Champions League. Ruud van Nistelrooy was a striker supreme with Manchester United and then Real Madrid, scoring a total of 56 goals, and Thierry Henry bagged 50 for Arsenal and Barcelona. However, neither player was capable of matching the Spaniard in the big games.
UEFA Champions League Games: 144
Goals: 71
Honours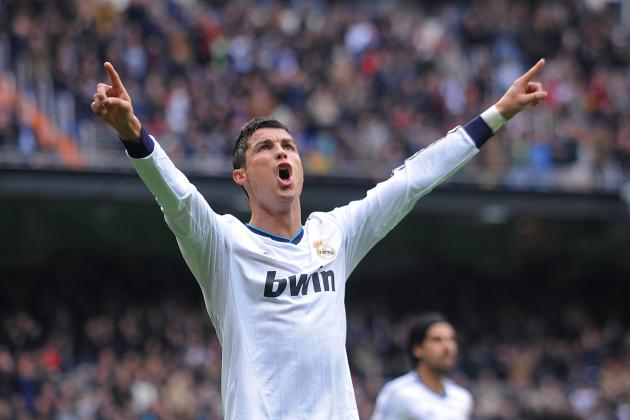 Denis Doyle/Getty Images

It is fitting that Cristiano Ronaldo has a place in the all-time UEFA Champions League team. The ex-Manchester United and Real Madrid attacking-midfielder-cum-striker has scored a grand total of 48 goals in 93 matches thus far.
Staring out with Manchester United as an orthodox right-sided winger, Ronaldo has evolved into one of the most feared forwards of all time with Real Madrid. He now plays in a more centralised role for Madrid but is often found on the right or the left or as a central attacking midfielder.
He is easily the most powerful athlete in world football today and can roast players through sheer speed and strength or bamboozle them with phenomenal skill. His one downfall is his self-indulgence, which has lessened as he has matured.
There have been no better players or more adaptable forwards in UEFA Champions League history than Cristiano Ronaldo. His only peer in the modern game is Lionel Messi, but the likes of Ronaldinho could have matched him at times during his spell at Barcelona. The same could be said of Juventus' Alessandro Del Piero.
UEFA Champions League Games: 93
Goals: 48
Honours
UEFA Champions League: 2008