Argentina 3-0 Venezuela: World Cup Qualifying Final Score, Highlights and Recap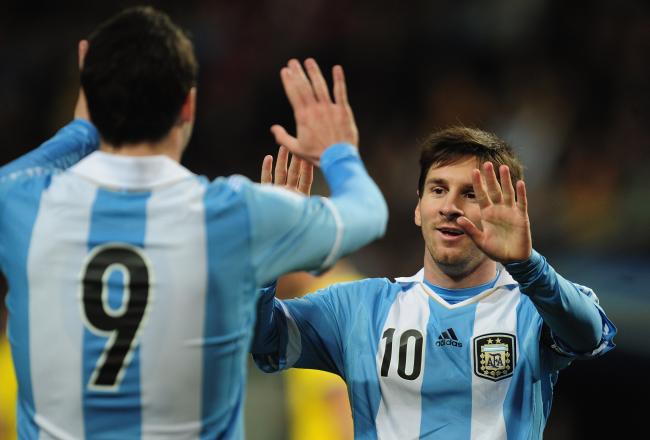 Messi and Higuain were too good for Venezuela
Jamie McDonald/Getty Images
Another Lionel Messi masterclass powered Argentina past a helpless Venezuela and moved La Abiceleste one step closer to World Cup qualification.
The visitors held their own during the early stages, but once Argentina found their rhythm the outcome only looked like heading one way.
Messi, Marcos Rojo, Pablo Zabaleta and Gonzalo Higuain all reigned shots in on Dani Hernandez's goal in the first 30 minutes, before Messi's astute first time flick set Higuain away to break the deadlock.
It was more of the same thereafter and Messi doubled his side's lead on the stroke of half-time after Chichero was adjudged to have handled in the box.
The decision was slightly harsh given that the ball struck the Venezuelan defender high up on the arm, but his movement towards the ball when in pursuit of Messi was deliberate and therefore the spot-kick just about justified.
Messi––playing his 100th game for Argentina at all levels––made no mistake from twelve yards, blasting high to Dani's left with the keeper still in mid-flight as it zipped against the rigging.
Alejandro Sabella's men went through the motions in the second half but always looked like adding to their tally when they upped it a gear, and inevitably it was their star man and skipper Lionel Messi who did just that on the hour.
His perfectly weighted pass cut the Venezuelan back line to bits, allowing Higuain to ghost in and instinctively toe poke home his second of the evening.
Replays showed the Real Madrid man was a yard offside, but that was academic as Argentina eased up well before the end.
They are now four points clear of Colombia at the summit of the South American World Cup qualification table and look a certainty to book at place at Brazil 2014.
Venezuela meanwhile fall to sixth in the table on goal difference after Uruguay had earlier drawn 1-1 with Paraguay, and coach Cesar Farias should be disappointed with the way his side were outclassed after a busy beginning.
Argentina were only occasionally troubled by the lively Salomon Rondon, whilst posing a consistent and concerted threat down the other end.
The fluidity of movement between Messi, Higuain and Ezequiel Lavezzi will have been particularly pleasing for Sabella, as would the contributions of Walter Montillo and Fernando Gago.
The two-time World Cup winners look to have a solid foundation to their team, and that only compounds the fact they have a player capable of single-handedly winning any game he plays in.
Argentina 3-0 Venezuela (Higuain 29' & 59, Messi (PK) 45)
Argentina: Romero, Zabaleta, Garay, Fernandez, Rojo, Gago (Banega 62'), Mascherano, Montillo,Messi, Lavezzi (Maxi Rodriguez 83'), Higuain (Palacio 79')
Venezuela: Dani, Alexander, Vizcarrondo, Túñez, Cichero, Rincón, Lucena, Seijas (Otero 57'), Arango(Gonzalez 75'), Feltscher, Rondón
If you like what you read, hit me up on Twitter @bainesyDiego10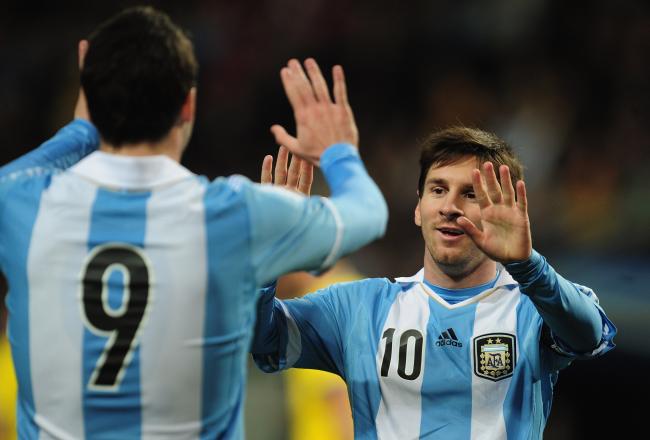 You can see all the goals and plenty of match action here.
Full Time
Argentina 3-0 Venezuela.
Game over, job done. Argentina's performance ticked plenty of boxes and although they eased up well before the finish, Alejandro Sabella will sleep well tonight after another convincing performance.
They'll definitely be in Brazil and on this evidence must be considered amongst the favourites.
Messi was sublime, scoring one, setting up the other two and looking a different gravy to everyone else on the pitch.
La Albiceleste are now four points clear at the head of the South American qualification group, whilst Venezuela slip to fifth following Uruguay's 1-1 draw with Paraguay earlier tonight.
I hope you've enjoyed the show, catch you soon,
John
88mins
The whole thing is drawing to a conclusion and Argentina can sit back and relax and a job thoroughly well done.
83mins
Argentina's third and final substitute with Maxi Rodriguez replacing Lavezzi.
Lavezzi has been lively in fits and starts but has faded after the break.
77mins
This is getting silly. Argentina knocking it about at the back with no great urgency, Messi picks it up on the halfway line, glides past a few challenges and slots Lavezzi in down the left channel and Messi can't adjust himself to meet the return on the edge of the six yard box.
People talk about Argentina being a great team, but one man has just taken them from the halfway line to the six yard box in about 10 seconds and five or six touches.
Higuain has a breather with Rodrigo Palacio coming on.
73mins
It's Ole time here for Argentina as they pop about a million passes together unopposed before Messi has a crack from distance which flies safely over.
That's the cue for the anonymous Juan Arango to depart with Cesar Gonzalez coming on to replace him
I've been saying Messi's the best player in the world for about five years now. Here's an article I wrote at the back end of 2011, and the evidence is even more conclusive now.
If you fancy a read, click here
Higuain did appear to be half a yard offside but even still, Messi's through ball to find him was picked to perfection. His passing from deeper positions is a hugely underrated asset. The amount of goals he sets up for others, that others couldn't set up for him, just adds further weight to the argument that he is indeed the best player in the world right now.
Video link to Higuain's second and Argentina's third can be found here
63mins
Great chance for Venezuela with substitute Otero almost pulling one back with his first touch on his debut.
Rondon skins Zabaleta down the right and pulls back to Otero from the byline, but the new arrival goes to high when well placed. Should have scored.
58mins
GOOOOOOOOAL!!!!! Argentina 3-0 Venezuela
Phenomenal pass from Lionel Messi allowing Higuain to toe poke home his second of the game.
Few players would have seen that pass, let alone pull it off. The bloke is a joke.
56mins
Finally something of note to write about Venezuela.
Arango swings over a teasing cross to Rondon and he controls and rolls back to Seijas to shoot well over. Not great, but better.
There is so much fluidity amongst Argentina's front three of Messi, Higuain and Lavezzi. Nobody seems to be playing anywhere but all three are everywhere.
47mins
Arango proves he is actually on the field by trotting over to take a rare Venezuelan corner, but the Borussia Monchengladbach midfielder swings it straight at Romero in the Argentina goal.
46mins
After 15 minutes of respite, Messi's back at the Venezuelan defence after linking with Gago but he can only hit Dani's chest after dancing past a couple in the box. This is going to be a long half for the visitors.
Right we're back underway for the second half and it looks a long way back for Venezuela.
They started off competitively enough but once Argentina found their passing, Messi came more into it and the rest is history.
I can see them rattling up four or five here. It could be a bit harsh on the visitors but Messi and his team are a class apart.
You can see Messi's penalty by following this link
Most goals ever for Argentina: Batistuta 56 - Crespo 35 - Maradona 34 - Messi 32 - Artime 24 #fcblive #brazil2014

— barcastuff (@barcastuff) March 23, 2013
Messi moves just two goals behind Diego Maradona in Argentina's list of all-time goal scorers, and I wouldn't bet against him matching his idol during the second half. Still some way to go to match Baigol though.
Here's a link to Gonzalo Higuain's opener courtesy of those cracking people at 101GreatGoals
Half-Time
Argentina 2-0 Venezuela
GOOOOOOOOOOOOOAL. Worlds greatest, Messi.

— Francoise ™ (@coolandbreezy) March 23, 2013
And this tweet just about sums it up...
44mins
GOOOOOOOOOAL!!! Argentina 2-0 Venezuela
No messing about here, Lionel slams the ball high to the keepers left and into the roof of the net. Dani got nowhere near it. This could get messy for Venezuela if Messi keeps this up.
43mins
PENALTY to Argentina
Chichero 'handballs' as Messi (again) charges into the box. Slightly harsh but probably fair. Messi steps up.....
41mins
What a goal that would have been!! Messi (again) picks the ball up in the hole, slaloms past a couple, slides it wide to Rojo and his cut back is met by Messi (again) on the full but the skipper proves he's human and lashes it over the bar.
This article is
What is the duplicate article?
Why is this article offensive?
Where is this article plagiarized from?
Why is this article poorly edited?