Michigan Football: Week 1 Spring Practice Stock Report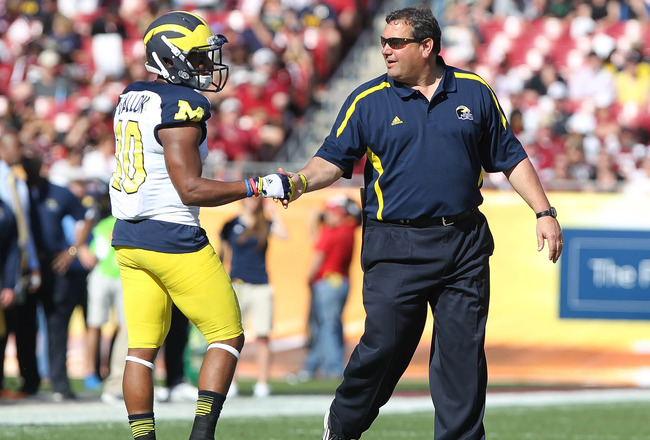 Whose stock went up during the first week of Michigan's spring practices?
Kim Klement-USA TODAY Sports
The Michigan football program's opening week of spring ball is merely days away from ending, and there are some Wolverines who were able to boost their stocks in the first five practices. Meanwhile, others have been on a downward spiral in Week 1.
There is still plenty of time for the dipping stocks to rise again, and jumping out to an early lead in a position battle does not necessarily guarantee things will be the same at the conclusion of spring practices.
The Wolverines were stung by a major injury to their top defensive player, so whoever is going to fill the void will likely be on the rise this week. A position battle at offensive guard has also produced some stock boosts and declines.
Stock Up: Devin Gardner, Quarterback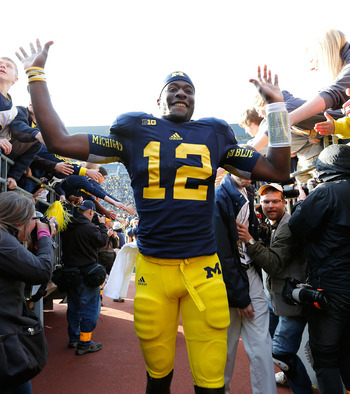 Devin Gardner's newfound leadership has his stock soaring.
Gregory Shamus/Getty Images
There is no doubt redshirt junior Devin Gardner will be the Michigan Wolverines' starting quarterback for the 2013 campaign, but his stock is soaring this week thanks to some newfound leadership.
Gardner spent over two years behind Denard Robinson on the depth chart, and he is out to make sure nobody supplants him for the remainder of his time in Ann Arbor. Senior wide receiver Drew Dileo is one of the Wolverines noticing the changes Gardner has made.
Dileo told Tim Sullivan of TheWolverine.com:
I think he kind of needed to [step up his leadership], just because the quarterback position now is his. I think he had a really good winter conditioning, and from that point in the offseason he did really well. I think he's becoming a little more vocal which he kind of needed to be, so he's doing a good job.
The Inkster High School alum has been watching every practice twice on film, which is undoubtedly helping him correct any flaws in his game.
The increase in leadership and vocal presence provided by Gardner is the reason he is trending upward this week.
Stock Down: Jake Ryan, Outside Linebacker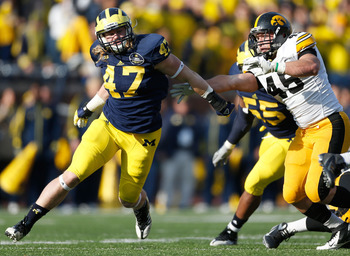 Jake Ryan's season could be over before it even got started.
Gregory Shamus/Getty Images
When the news broke that rising redshirt junior outside linebacker Jake Ryan tore his ACL during Tuesday afternoon's practice, everyone in Ann Arbor likely dropped their heads in disbelief.
Ryan has been a starter since his redshirt freshman season, and spearheaded the Michigan Wolverines' No. 13 overall defense in 2012. The 6'3" 241-pounder led the Wolverines in tackles (88), tackles for loss (16) and sacks (4.5).
This injury will likely keep Ryan out for most—if not all—of the 2013 campaign.
Former Michigan defensive lineman Will Heininger offered a potential silver lining for the Maize and Blue faithful. Heininger tore his ACL during spring practices as a redshirt junior, but he managed to return for the final three games of the season. Although Heininger came back, he noted that he "didn't feel healthy and 100 percent for about 18 months."
Someone will have to emerge as a leader for this Michigan defense, if it hopes to avoid a disastrous drop-off this year without Ryan.
Stock Up: Cameron Gordon, Outside Linebacker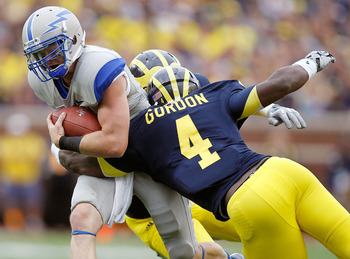 Cameron Gordon is the favorite to replace Jake Ryan.
Gregory Shamus/Getty Images
With Jake Ryan expected to miss a significant amount of the 2013 season, the Michigan Wolverines will turn to fifth-year senior outside linebacker Cameron Gordon to produce in the absence of their best defensive player.
Gordon has just 17 total appearances sand seven starts at linebacker over the course of his career at Michigan.
Still, head coach Brady Hoke had plenty of praise for Gordon in a press conference earlier this week.
"Cam's had a tremendous winter," Hoke said, according to MGoBlog.com. "It will be fun to see the things we can do with both (he and Jake Ryan) of them on the field."
Obviously, the second part of Hoke's statement is no longer an option, but the fact the staff has considered putting Gordon on the field more often is a great sign for the Wolverines.
Defensive coordinator Greg Mattison also had nothing but good things to say about Gordon this week.
"There is one guy that when I looked at the tape from last year, and I coached the position, I said, 'I should have played him more', and that's Cam Gordon," Mattison told Michael Spath of TheWolverine.com. "He made a lot of plays that nobody might have seen and he played better than I gave him credit for."
If Gordon is able to win the starting job, it will keep Michigan from forcing one of its linebackers to change positions. Now that Gordon is the favorite to replace Ryan, his stock is soaring.
Stock Down: Kyle Kalis, Offensive Guard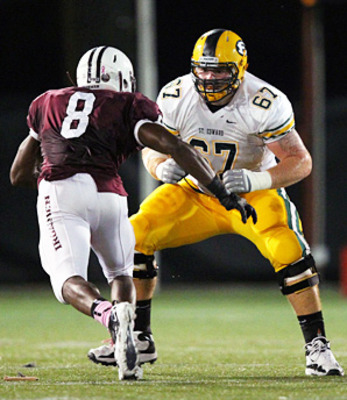 Kyle Kalis is slipping on the depth chart after the first week of spring practice. Photo courtesy of Sports Illustrated.
Although redshirt freshman Kyle Kalis has been projected to win the starting job at left guard, he is currently running with the second-team offense. This shocking revelation is the reason why Kalis' stock took a hit this week.
A screen shot from this week's practice, courtesy of MGoBlog.com, shows Kalis as the second-string right guard. Redshirt freshman tackle Ben Braden has moved inside and is taking reps alongside Taylor Lewan on the left half of the line.
The 6'5" 297-pounder still has plenty of time to make up ground in the position battle, but it is clear the starting spot will not be handed to him. Kalis will have to earn every second of playing time this season.
When everything is all said and done, expect to see Kalis atop the depth chart for Michigan's season-opener.
This week, though, Kalis' stock is trending downward.
Stock Up: Joey Burzynski, Offensive Guard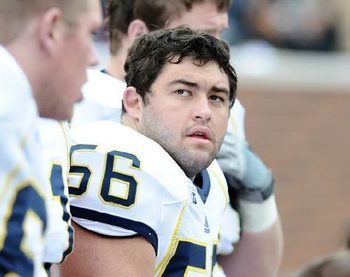 Joey Burzynski is currently taking reps with the first-team offense. Photo courtesy of Burzynski's Twitter profile.
Redshirt junior offensive guard Joey Burzynski is currently running with the first-team offense, which is one of the most surprising things to happen in the Michigan Wolverines' opening week of spring ball.
Burzynski is beating out redshirt freshman Kyle Kalis for the starting job at right guard. Although the 6'1" 291-pounder spent last season as a second-string guard, Kalis has been favored to win the battle for one of the vacant spots on the interior of Michigan's offensive line.
Kalis will make a serious push for the top spot on the depth chart, but Burzynski's experience is going to give him a leg up in the competition.
There is still a long way to go before anyone will be tabbed as the starter at right guard. However, Burzynski's early lead has his stock on the rise.
Keep Reading

Michigan Wolverines Football: Like this team?