UFC 158 Results: What's Next for the Losers?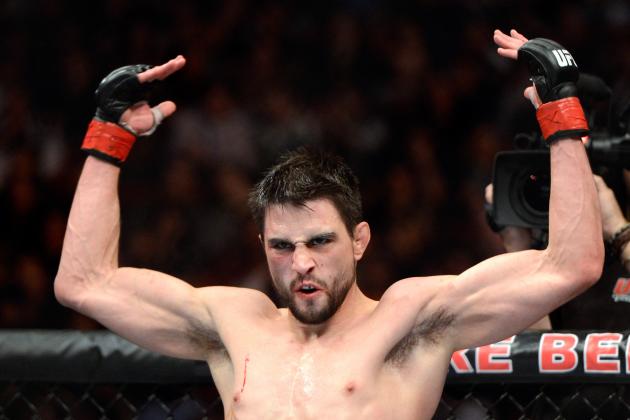 Eric Bolte-USA TODAY Sports

UFC 158 is in the books. Georges St. Pierre successfully defended his UFC welterweight championship, and Johny Hendricks did enough to get by Carlos Condit.
The focus is on the winners of the evening. "Who will they fight next" will be asked, but what about the losers?
Some may be cut, but the majority will earn another fight in the organization to try and pick up a win. Whom should they face?
Let's take a look at the losers of UFC 158, and who is in store for them in their next outing.
Begin Slideshow

»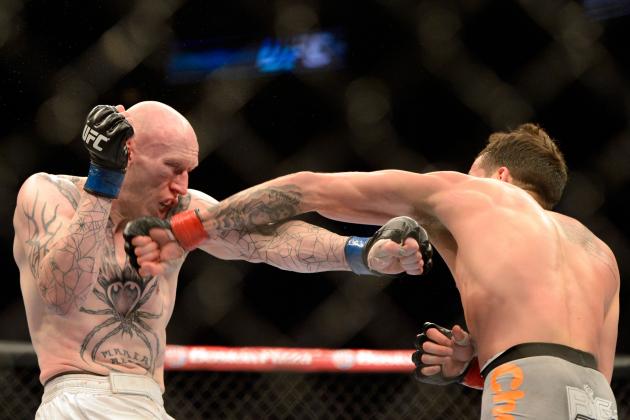 Eric Bolte-USA TODAY Sports

Reuben Duran (8-5-1)
Duran put up a good fight in the first round of his bout with George Roop, but he was unable to do much in the final two frames. It was his second loss in a row and puts his UFC record at 1-3. That's not good enough. He should head back to the regional circuit.
Issei Tamura (7-4)
That makes back-to-back finishes for Tamura. He was TKO'd by Rafael Assuncao, and at UFC 158 T.J. Dillashaw put his lights out, too. At 1-2 in the UFC, and 0-2 at bantamweight, Tamura should head back to Japan to pick up a couple more victories before trying his luck in the Octagon again.
Quinn Mulhern (18-3)
Mulhern entered the night riding a three-fight win streak, but it was not over quality opponents. His best win was a split-decision victory over Yuri Villefort. He has fought two credible welterweights in his recent fights, and both dominated him. Rick Story's TKO should send Mulhern out of the UFC.
Colin Fletcher (8-3)
He didn't win his season of The Ultimate Fighter, and then he lost against Mike Ricci. Freakshow needs to be put back out on the road.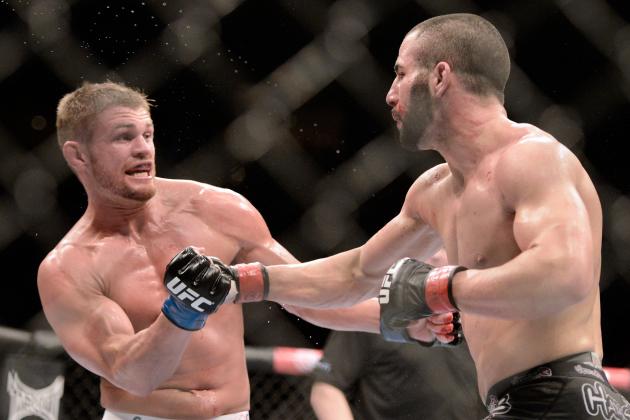 Eric Bolte-USA TODAY Sports

Daron Cruickshank is an explosive and talented striker. He is entertaining to watch. That gives him plenty of options in the UFC's lightweight division.
He should be placed in fights with other strikers so the fans get a stand-up exchange to excite them.
Yves Edwards is just the guy for that.
Edwards is coming off a split-decision loss at UFC 156, and he loves to strike. It is a good matchup stylistically, and one that should entertain the masses. The winner would be right back to where they were prior to their last fights.
The fight could easily be placed on a Fuel TV or FX event.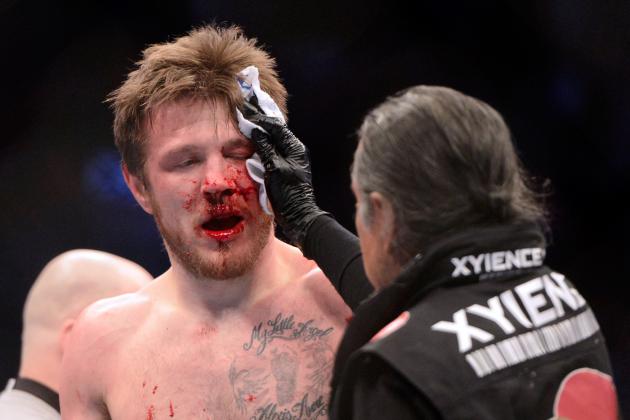 Eric Bolte-USA TODAY Sports

The ever-tough Dan Miller started well enough against Jordan Mein, but the young gun turned it up and finished him late in the first round.
Miller drops to 1-1 in the welterweight division, but his longtime standing in the UFC should get him at least one more crack in the promotion.
With his style and stature, a fight with Kenny Robertson makes sense.
Robertson is coming off a submission win over Brock Jardine at UFC 157. It would make for an interesting ground battle, and give both fighters a chance to work on their stand-up. It is a good preliminary-card style fight.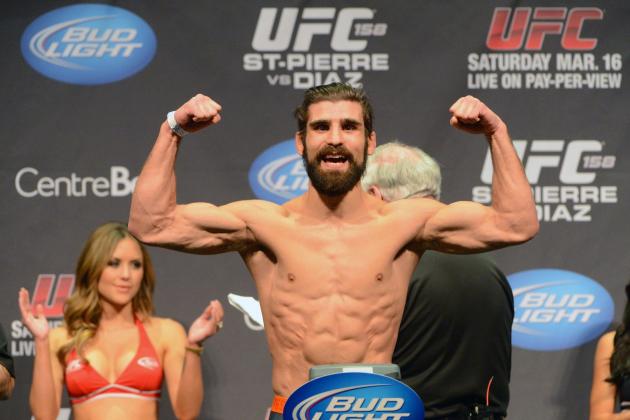 Eric Bolte-USA TODAY Sports

The stoppage in the Antonio Carvalho vs. Darren Elkins fight may have been a tad early, but there is no denying that the writing was on the wall for Carvalho.
He was hurt by Elkins, and then dropped.
The abrupt stoppage put his UFC record at 2-2, but his wins highlight that he belongs in the UFC's featherweight division. He knocked out Daniel Pineda and took a split decision over Rodrigo Damm.
A fantastic fight in the division would be Carvalho vs. Matt Grice. Grice recently dropped a close split decision to Dennis Bermudez at UFC 157, but he earned a lot of fans during that fight. Both of these fighters would slug it out, and should it go to the ground, it would be interesting there, too.
It's a fight that may put the loser out of the organization, but it would also give them a chance to keep their jobs with a Fight of the Night type performance.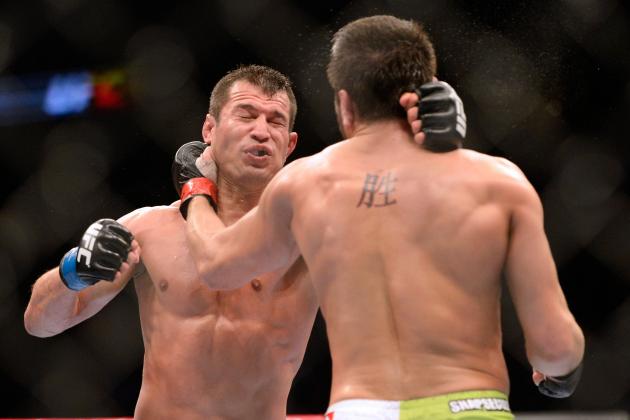 Eric Bolte-USA TODAY Sports

Bobby Voelker put on a good showing against Patrick Cote, and arguably won the fight.
Voelker probably should not have to face a fighter coming off a loss. He should get a lower-level fighter that recently won. It's only fair.
Neil Magny makes plenty of sense in that regard.
Magny was on the Facebook prelims against Jon Manley at UFC 157 and came away with a clean decision win. Magny has good tools and is a solid prospect at only 25 years old.
Voelker would be a good test for the young fighter, and the matchup makes sense for both men.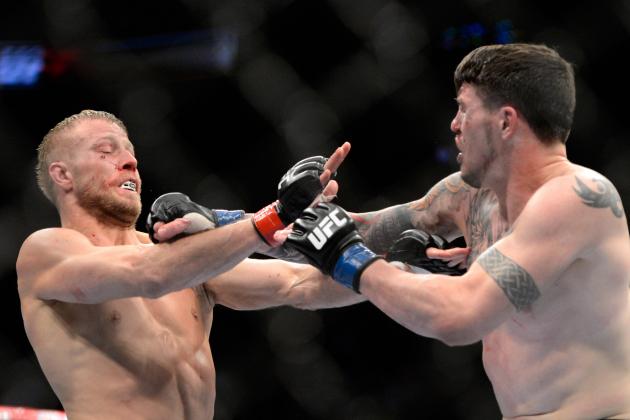 Eric Bolte-USA TODAY Sports

Nick Ring was the faster and more athletic fighter in his fight, but he forgot to add offense to his game. That caused him to drop a split decision to Chris Camozzi.
The middleweight division is not ripe with great fighters at this level, and thus not a lot of great options for his next fight.
That gives the UFC a chance to create a bout to determine the rightful winner, and send the loser out of the organization if they match up Ring against Riki Fukuda.
Fukuda lost to Brad Tavares earlier this month, and back in February 2011, he was involved in a contentious decision with Ring. The Canadian took the unanimous, and unpopular, decision. It can be a loser-leaves type of fight that settles the score between the two.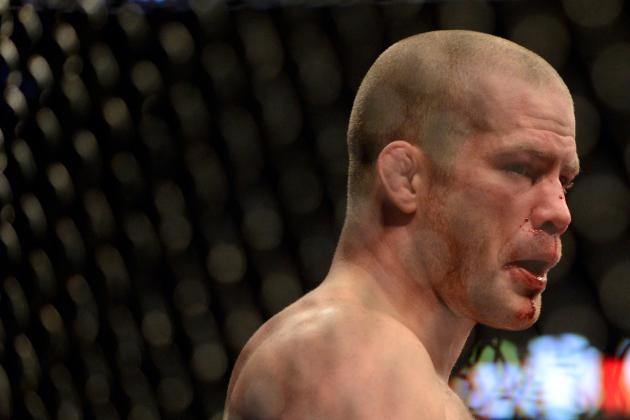 Eric Bolte-USA TODAY Sports

Nate Marquardt is a well-rounded fighter, but after being knocked out in the fashion, he was it may be wise to step away for an extended period of time.
When he returns, he would have plenty of options.
Jason High has a fight scheduled against Ildemar Alcantara at UFC on Fuel 10, but if he wins that fight, he would make a lot of sense against Marquardt. He was close to a Strikeforce title shot, and he called out Nate on The MMA Hour.
A fight against fellow UFC 158 welterweight Patrick Cote could also be the right move.
Marquardt's name value and skills will keep him around. It will also open the door for a number of fight possibilities, but he should take time away to recover before committing to anything in the near future.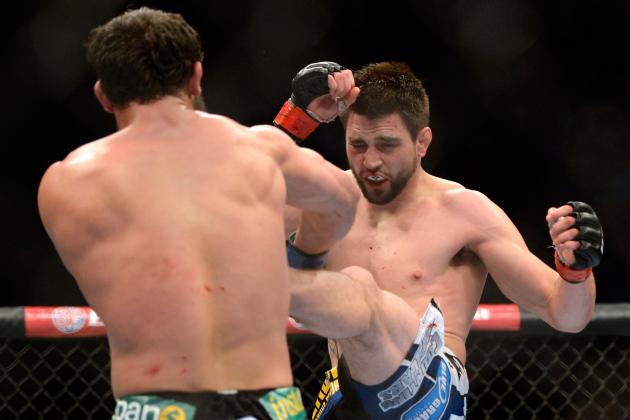 Eric Bolte-USA TODAY Sports

Carlos Condit was very close to upending Johny Hendricks at UFC 158. It was a very close fight, and he pushed Hendricks to the limit.
He is currently ranked No. 2 on the official UFC rankings, but he should not fall much if at all after his performance. His next fight should be against another top-ranked fighter, and potentially for the next title fight.
Rory MacDonald and Carlos Condit want to fight one another, and it was originally scheduled for 158, but an injury forced MacDonald off the card.
MacDonald rushed back to training and re-injured himself. The timing may work out for those two to meet later this year in a high-profile welterweight war.
The other option, should MacDonald not be ready, is a fight against Demian Maia. He is ranked fifth, and it could determine the next contender at welterweight.
Either fight makes sense for Condit and the division.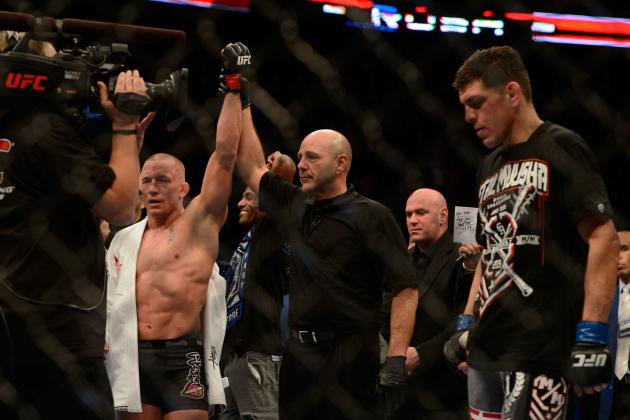 Eric Bolte-USA TODAY Sports

If you are to believe Nick Diaz, he may be done with the sport. But we've heard that before from him. It is more likely he fights again later this year.
Diaz is a fighter's fighter. He doesn't back down and he wants to fight only the best. Unfortunately, after losing soundly to GSP, he won't be in title contention anytime soon at 170. There are decent fights there for him, but it makes more sense to go back to middleweight in an attempt to fight Anderson Silva.
If Diaz wants a fight like that, then there isn't a better option than Yushin Okami.
Okami is currently ranked third in the division, but he is nowhere close to a title shot against Silva. He was TKO'd by the champion, and does not have an exciting style that makes the fans demand that rematch.
The UFC should explore putting Okami against Diaz. If Diaz, wins he can take the fight against Silva whether Silva beats Weidman or not, but if Okami wins, he keeps his spot in the rankings and draws a little closer to earning another title shot.