UFC 158 Predictions: 5 Fighters Who May Be Released with a Loss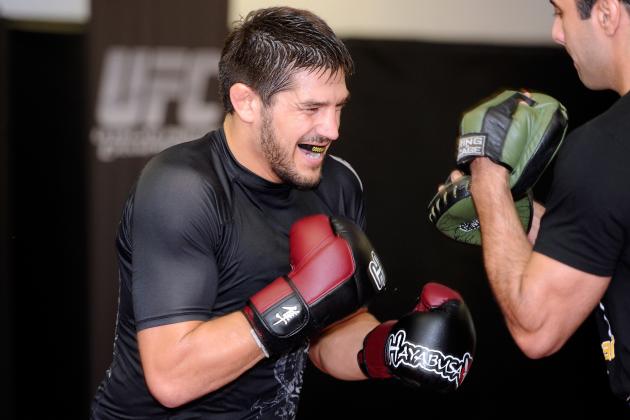 Richard Wolowicz/Getty Images

The UFC is trimming their roster, and that means every fighter has to be on edge. The fighters on UFC 158 are no exemption.
The top fighters are in no danger. They are at the top of the card for a reason. They are quality fighters who can draw and add value to the UFC's bottom line. The fighters on the undercard are not as fortunate, though.
Winning is the most important thing for them, but they must also try to be exciting. The UFC tends to be more forgiving for fighters who excite the crowd. Just look at noted brawler Leonard Garcia. With the pending cuts in the back of their minds it will be interesting to see how they fight at UFC 158.
Here are five fighters who could be on their way out with a loss.
Begin Slideshow

»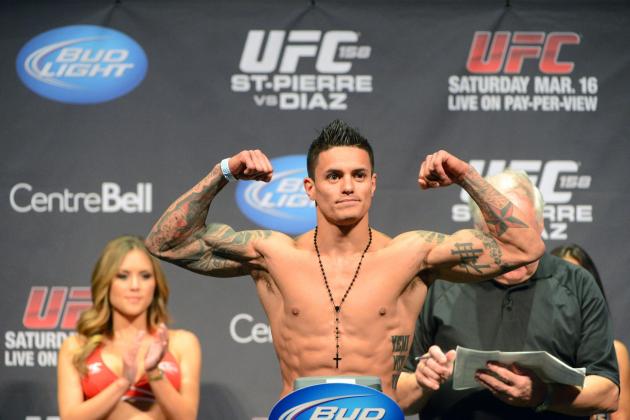 Eric Bolte-USA TODAY Sports

Reuben Duran will make his fourth appearance inside the Octagon at UFC 158, and it could be his last.
He current holds a 1-2 record in the organization, and moving to 1-3 is not going to help his cause. The UFC does not typically keep fighters with that kind of record.
He'll take on George Roop in the evening's opening fight.
Roop poses interesting issues for Duran with his size. If Duran cannot overcome Roop there may be a pink slip awaiting him soon after UFC 158 concludes.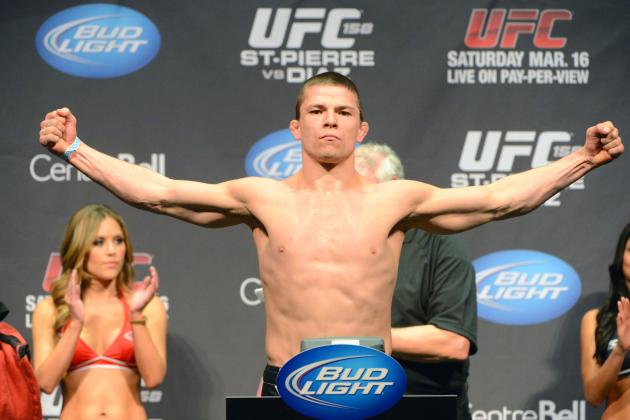 Eric Bolte-USA TODAY Sports

Quinn Mulhern has won three in a row in Strikeforce, but now he's moving on up to the UFC. Typically, a single loss may not see him exit the company after his debut, but these are not normal times.
He competes in one of the deepest divisions in the organization, and that should worry him. With a large welterweight roster he may be shortlisted for a potential cut.
His counterpart Rick Story may also be on that list.
Story is 1-3 in his last four fights. Going 1-4 would be terrible for the powerful welterweight who was once moving in to contendership status.
The loser of this fight will probably head back to the regional circuit.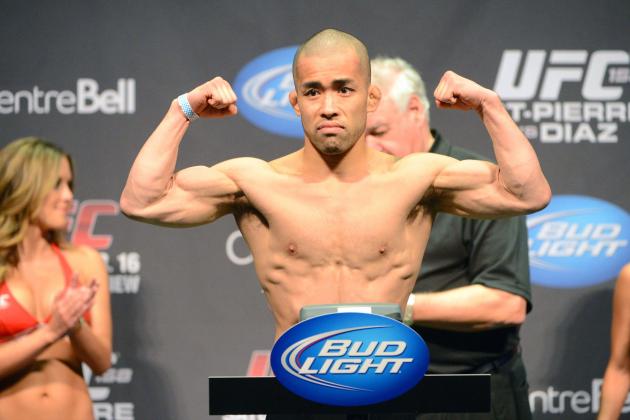 Eric Bolte-USA TODAY Sports

Issei Tamura made a quality UFC debut when he knocked out Zhang Tiequan at UFC 144, but he was TKO'd in his second fight against Raphael Assuncao.
Two losses in a row will highlight his name on the list of potential cuts coming after the event.
T.J. Dillashaw is starting to make a little noise in the division, and stylistically is a bad matchup for Tamura. That should unsettle him.
Tamura is not a notable name for fans either. They probably would not even recognize he is gone from the organization. That makes him an easy cut in lieu of a loss.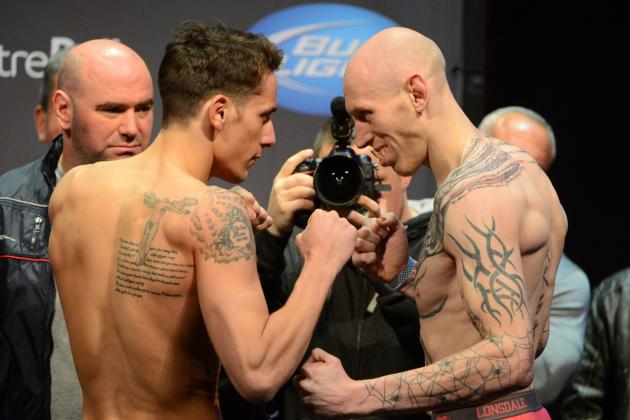 Eric Bolte-USA TODAY Sports

The Ultimate Fighter runner-ups meet in the opening bout for the PPV telecast. It could also be their last UFC fight.
Mike Ricci and Colin Fletcher most recently lost bouts in their respective seasons of The Ultimate Fighter. While they both could be interesting additions to the UFC's lightweight roster it may serve the loser better to be cut.
They are two young prospects who need to continue to develop. Only the winner of the fight will have earned a second opportunity. Moving to 0-2 in the UFC is not worthy of a third chance for where they are in their careers.
Non-winners of TUF are typically cut easily, and also they have an inside track to return by winning in outside organizations.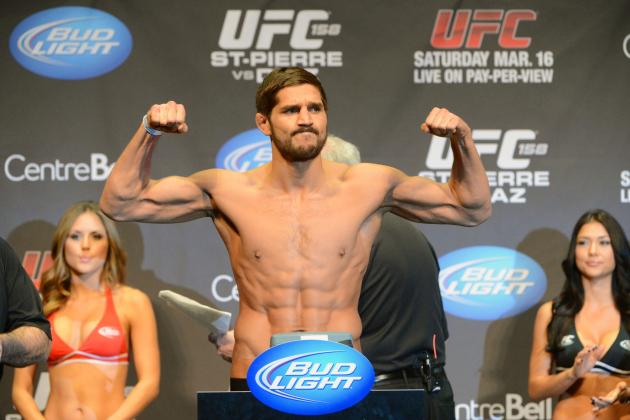 Eric Bolte-USA TODAY Sports

Patrick Cote has typically been an exciting fighter, and stayed in the good graces of the UFC's management. However, with a loss at UFC 158 he may be out once again.
Cote was lackluster in his return at UFC 148, and then was rocked against Alessio Sakara at UFC 154. Due to punches to the back of the head Cote was awarded a DQ win against Sakara. Now, Cote moves down to 170.
It is a crowded division, and Cote is making a bit more money than some of the other mid-level fighters in the division. It could just come down to his salary.
Voelker is a tough fighter that will push Cote. If Cote cannot stop the Strikeforce veteran from picking up the win he may have to head back to the Canadian MMA circuit to look for fighting opportunities.