Alabama Football: Spring Practice Position Battles Tracker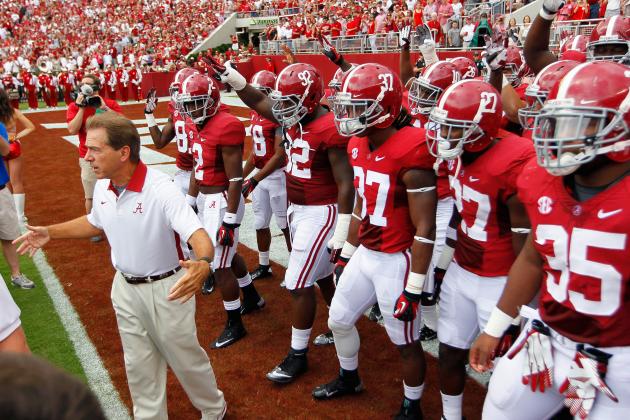 Kevin C. Cox/Getty Images

Nick Saban is entering his eighth season as the Crimson Tide head coach looking to solidify his dynasty in Tuscaloosa. It starts this spring.
Replacing the talent that was lost after 2012 will be difficult, but this is a look at how those positions will be filled heading into summer. We will also follow the Crimson Tide throughout spring and bring the latest news from Tuscaloosa throughout the next few weeks of practice.
The spring game is set for Saturday, April 20 at 2 p.m. CT on ESPN2, but before it kicks off, this will be your guide to the news and developments out of the Capstone.
Note: This slideshow will be updated with the latest news, position battles, injuries and more.
Begin Slideshow

»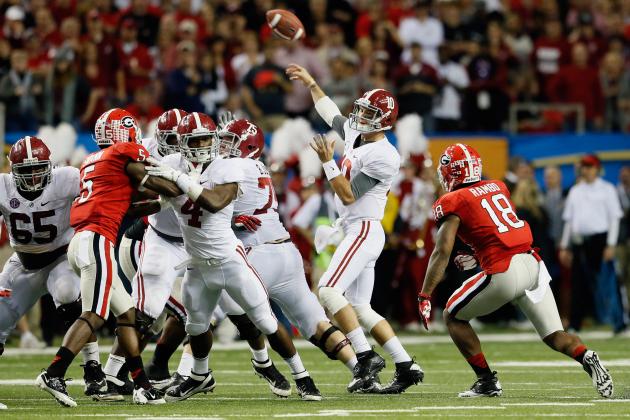 Kevin C. Cox/Getty Images

Update: April 16
Dee Hart had moved to corner back earlier in the spring, but after a few weeks of work on defense he was pushed back into the backfield (h/t al.com).
It was a good thing he was, because the Tide are hurting at running back after the recent announcement (via TideSports.com) that freshman early enrollee Derrick Henry is out with a tibia fracture he sustained in Saturday's scrimmage and will undergo surgery.
The loss will hurt depth in the backfield, but the air attack looks to be doing just fine.
AJ McCarron had a huge day in Saturday's scrimmage, throwing for 319 yards and five touchdowns after a 23-of-28 effort from the pocket (h/t Montgomery Advertiser).
He was able to connect with a number of different receivers with freshman Chris Black having a huge day snagging 10 catches for 113 yards.
The Tide was missing three starters at linebacker with C.J. Mosley, Trey DePriest and Xzavier Dickson all out with injury. Nick Saban told the media (h/t Montgomery Advertiser):
Defensively, we've got quite a few guys banged up, so we've got a lot of new guys in a lot of places. I don't think we tackled real well, and I don't think we probably played the kind of responsibility football that we need to, so we definitely have a lot of things that we can correct on that side of the ball.
The lack of proven starters on the field eases some of the concern that comes with the team giving up a load of yards, but there will need to be a lot growth before this fall in the two-deep.
Update: April 11
Alabama is heading into the final week of spring football this week with some bad news coming heading into the weekend.
Starting linebacker Trey DePriest has been sidelined by a fractured foot (h/t ESPN) and will miss the remainder of spring because of the injury. His injury opens the door for Ryan Anderson and Reggie Ragland to take over the position and battle for playing time.
One rising star to keep an eye on is Jeoffrey Pagan at defensive end. The Tide lose Jesse Williams, Damian Square and Quinton Dial upfront heading into 2013. Pagan is expected to step in for Square this year and play opposite of Ed Stinson.
Losing the three playmakers that the Tide did was a major blow, but Pagan looks ready to fill in for the departed Square.
Nick Saban took some time for the media (h/t WVTM-TV) after the Tide's 10th spring practice and had this to say:
I thought we had two really good days of work Monday and Wednesday. We had a lot of different situations in practice. We started to look at a lot of things that we may not see in our offense that our opponents will show us next year, which always gets the players motivated. When you're at this point in spring practice, you really need to look for some theme or purpose for the players to go out there and want to be motivated.
There are only five practices that remain for the Tide, one of which includes the April 20 A-Day game.
More to come as the spring game approaches.
Update: March 18
Position changes are a regular part of spring practice, but Alabama had two interesting shifts of not in the personnel department when spring opened.
Former 5-star running back Dee Hart has moved from the backfield to the secondary this spring, taking his talents to the cornerback position (al.com). This isn't the first time that a running back has been moved to the secondary, but it may be the first time such a highly regarded back made the move.
Cyrus Jones and Chrition Jones—both former receivers—also made the move to the secondary.
Another interesting shift was linebacker Xzavier Dickson to defensive line (al.com). Dickson had 33 tackles and 3.5 sacks last year as a starting outside linebacker for the Crimson Tide.
These moves may just be experimental, but when a player jumps positions it tends to stick.
Another important personnel development was news that All-American starting linebacker C.J. Mosley would be limited this spring due to shoulder surgery (College Football Talk). It may keep him out of contact drills all spring.
Other news that was released with the first practice was the practice schedule for spring. The Tide will practice Monday, Wednesday and Friday of this week before breaking for a week from March 25-29. They will be back on the field April 1 (RollTide.com).
Update: March 15
The Alabama Crimson Tide are preparing to head into spring training on March 16.
Alabama will welcome in seven early enrollees this spring as the Tide looks to fill voids left by 2012 departures immediately.
The Tide return a number of key starters from last year's national title-winning team, but there will be a few key position battles to watch all spring.
Backup running back and the offensive line will be the key focuses for this coaching staff over the next few weeks.
This is an exciting spring for the Crimson Tide as they prepare to battle for a third-straight national title.
Once spring gets underway, updates will follow throughout practice.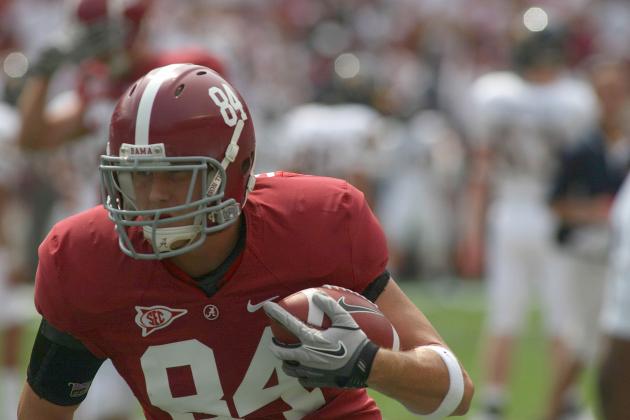 Greg McWilliams/Getty Images

Center
Ryan Kelly (So.) vs. Chad Lindsay (Jr.)
The center position for Alabama is one of the biggest concerns for the Tide heading into spring.
Former all-everything lineman Barrett Jones has now departed the team and leaves the center position wide open with no experienced players remaining to step in and take over.
Entering spring, Ryan Kelly and Chad Lindsay are preparing to battle for the starting center spot, and it will likely be a battle that bleeds into the summer months.
The Tide have to find a solid center to anchor the offensive line or it will be difficult to repeat as national title winners. Kelly was Jones' understudy last year, but he still has yet to take significant snaps against SEC competition.
Heading into the spring, Lindsay is also in a heated battle for the left guard position with Arie Kouandjio that could affect his role at center.
This will be a development to follow all spring as the offensive line tries to find a starting five.
Projected Starter: Ryan Kelly
Actual Starter: TBD
Tackle
Austin Shepherd (Jr.) vs. Brandon Greene (Fr.) vs. Leon Brown (Jr.)
Another key position that will receive the coaches spotlight this spring is right tackle.
Entering the spring, Austin Shepherd is expected to be the leader for the start battling with Brandon Greene and incoming JUCO early enrollee Leon Brown.
Shepherd brings experience to the position and barring a major hiccup in spring will earn the starting nod.
The one hiccup that could occur is the talents of Leon Brown making it to campus.
Brown transferred from Asa College this spring looking for immediate playing time.
Projected Starter: Austin Shepherd
Actual Starter: TBD
Tight End
Brian Vogler (Jr.) vs. O.J. Howard (Fr.)
The tight end position is set to take off this fall with the continued implementation of the Doug Nussmeier offense.
Heading into the spring there are a number of talented tight ends on the roster, but Brian Vogler and O.J Howard stick out as the future stars at the position.
Howard is the pass-catching tight end who can make the Tide offense one of the most prolific in the SEC. It is clear he will be a star when you look at the past work of talented tight ends under Nussmeier's instruction.
Brian Vogler is the most veteran player on the roster at the position, and that will give him an edge heading into spring. Once the spring gets rolling it won't matter. This will be a tight battle for Crimson Tide fans to follow this spring.
Projected Starter: Brian Vogler
Actual Starter: TBD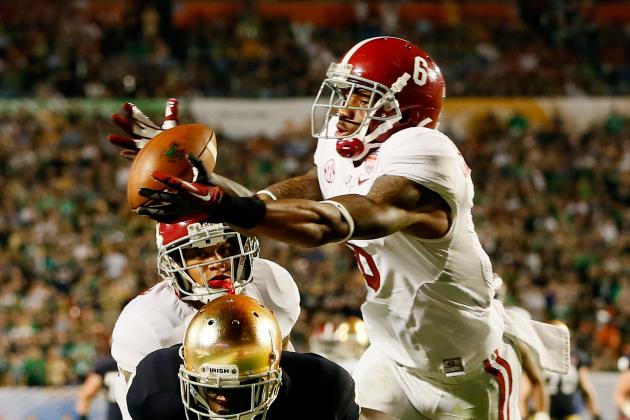 Kevin C. Cox/Getty Images

Cornerback
John Fulton (Sr.) vs. Bradley Sylve (So.)
The Alabama secondary is replacing a few playmakers from last year, but the Tide are in good hands with the rising talent on the roster.
John Fulton is an experienced senior who has seen playing time for the past three seasons in a reserve capacity. Heading into the spring he is expected to lead for one starting corner spot, but Bradley Sylve is pushing hard behind him for playing time.
Sylve is a rising sophomore who saw limited action last fall. This spring is his chance to jump into a starting position. Experience and seniority are a plus for Fulton, but Saban has shown that starting young players is not an issue.
Whether or not Sylve can pass Fulton may not matter as they both should receive quality snaps this fall.
Projected Starter: John Fulton
Actual Starter: TBD
Safety
Ha'Sean Clinton-Dix (So.) vs. Landon Collins (Fr.)
Alabama is set to replace former-starter Robert Lester at safety this season with limited experience but extreme talent.
Ha'Sean Clinton-Dix is one of the most well-rounded safeties returning in the SEC next fall, and is set to start at the No. 1-position on the depth chart entering spring. Clinton-Dix was a starter in nine games last fall and saw the field in every contest.
Behind him is Landon Collins. Collins came to Alabama under a ton of recruiting fanfare when he committed to the Tide on national television and is poised to challenge for snaps heading into 2013.
Clinton-Dix will get the start, but the battle will be fun to watch as he and Collins push each other to become elite players.
Projected Starter: Ha'Sean Clinton-Dix
Actual Starter: TBD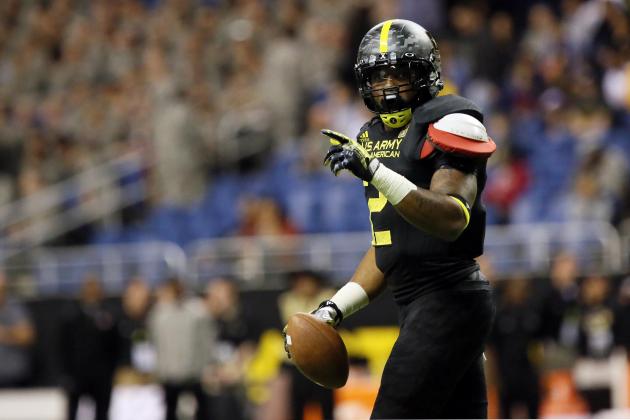 USA TODAY Sports

Derrick Henry, RB, 6'3", 240 pounds (5-star)
Derrick Henry was a headliner for the Crimson Tide recruiting cycle in 2013. He is expected to enter spring and challenge immediately for playing time at running back.
Alabama returns starter T.J. Yeldon, but there is a wide open competition behind him as the Crimson Tide look for a second back to complete the tandem that makes this offense tick.
Henry could easily become that player this spring.
Post Spring Grade: TBD
O.J. Howard, TE, 6'5", 221 pounds (5-star)
O.J. Howard is an elite pass-catching tight end who runs routes like a receiver with the body of a tight end.
Once he arrives at Alabama, he will challenge immediately for starting snaps in the Nussmeier offense.
Howard will start behind Brian Vogler at the position, but his talents will likely place him on the field during most passing situations for Alabama this fall.
Post Spring Grade: TBD
Cooper Bateman, QB, 6'3", 195 pounds (4-star)
Bateman walks into a deep roster at Alabama at quarterback. There is also the player known as A.J. McCarron who has led the Tide to two-straight national titles.
Heading into the spring, Bateman will attempt to learn from a title winner and soak up the Nussmeier offense as he prepares for a redshirt season in 2013.
Post Spring Grade: TBD
Leon Brown, OT, 6'6", 310 pounds (4-star)
Leon Brown is coming in as a JUCO transfer for the Tide and is expected to challenge for the starting right tackle position immediately.
Brown will battle with the experienced Austin Shepherd for the job, but he has seen his share of high-level talent while playing JUCO for two seasons. The battle for tackle will be one of the more tenacious of the spring.
Post Spring Grade: TBD
Raheem Falkins, WR, 6'5", 195 pounds (3-star)
Raheem Falkins is a rangy receiver who has a ton of raw talent and upside.
Spring will be a great learning experience for Falkins, but a redshirt appears in his future.
Post Spring Grade: TBD
Brandon Hill, OT, 6'7", 390 pounds (3-star)
Brandon Hill is a huge prospect out of Hargrave prep school and will take the field as a freshman.
Spring will be a great learning period for Hill, but it will also serve as a shape-up period. Hill needs to whittle down his 390 pounds, and it will happen with the Alabama workout program.
Post Spring Grade: TBD
Parker McLeod, QB, 6'3", 190 pounds (3-star)
Parker McLeod is the second of the two quarterback enrollees for the Tide. Like Bateman, McLeod is expected to redshirt in 2013.
Post Spring Grade: TBD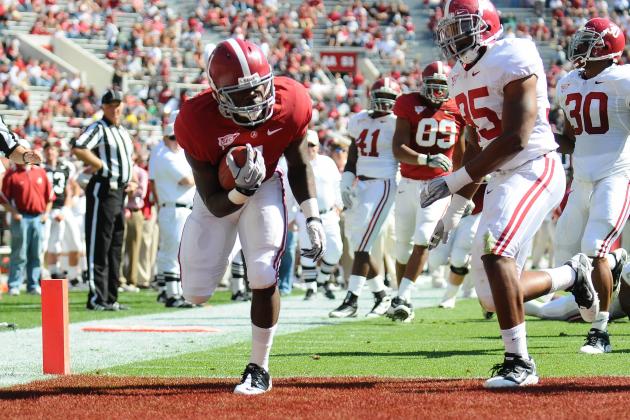 Kelly Lambert

Leon Brown, Offensive Tackle
Leon Brown is an incoming JUCO talent that will challenge for starting snaps at right tackle this spring.
Watch out for Brown as he is a sleeper in the race, but could enter the fall as one of the starting five for the Tide upfront offensively.
Dee Hart, Running Back
Dee Hart has been riddled with knee injuries since arriving at Alabama, but look for a big spring to launch him into the offensive discussion heading into fall.
The Alabama offense is always evolving and being able to utilize the talents of Hart this year will be a huge plus as Alabama looks to overcome the loss of Eddie Lacy in the backfield.
Hart has the talent, he just has to stay healthy and put together a solid spring.