Leonard Garcia vs. Cody McKenzie Head-to-Toe Breakdown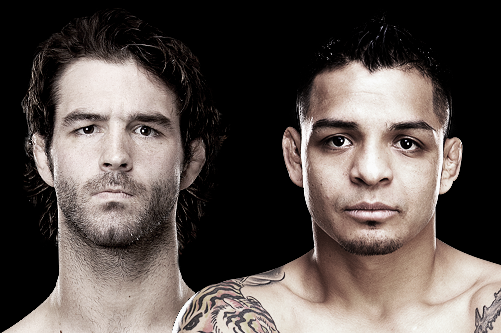 Photo: UFC.com
In an era when the go-for-broke style of fighter seems to be on the decline, matchups like the one between Cody McKenzie and Leonard Garcia are a welcome addition to any card.
Originally scheduled for UFC 155, this fight was moved to UFC 159 after McKenzie was forced out due to injury.
McKenzie is best known for his uncanny ability to secure a first-round guillotine choke. In his 12 wins, the Ultimate Fighter standout has 10 stoppages via this method.
Garcia is a no-nonsense brawler who doesn't know how to back up. With a wild striking style that is a throwback to the early days of the sport, it's incredible to watch a matchup between the Team Jackson fighter and anyone who is willing to trade on the feet.
Here is a look at Leonard Garcia vs. Cody McKenzie, from head-to-toe.
Begin Slideshow

»
Photo: ESPN.com
If there is anything that Leonard Garcia is known for, it is his wild style of brawling. Between looping hooks, flying knees and a push-forward-at-all-costs mentality, this is a fighter who knows how to bring home Fight of the Night checks.
However, because Garcia tends to fight the same way in every fight, his strikes are telegraphed and easily countered.
That being said, Cody McKenzie isn't a striker, and does not have the stand-up skills that warrant a stick-and-move game plan.
If this fight stays on the feet, McKenzie will find himself napping.
Advantage: Garcia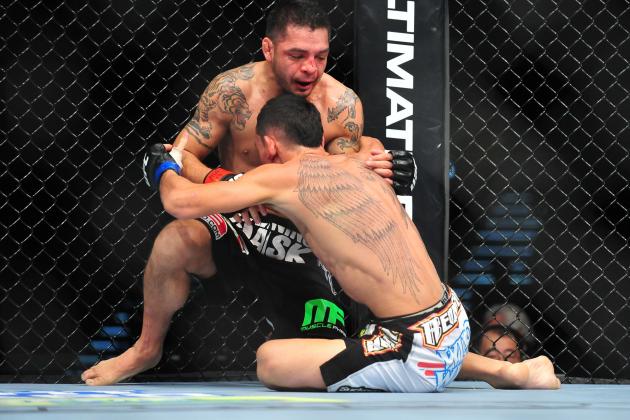 Gary A. Vasquez-USA TODAY Sports

Although he rarely uses it offensively, Leonard Garcia has the kind of defensive wrestling that many fighters envy. Similar to the style of Chuck Liddell, Garcia uses his wrestling in reverse as a way to keep many fights in an upright position.
However, because he swings wildly, Garcia is commonly taken down while off balance.
McKenzie is not a fighter whose wrestling is on par with his other talents. His single-leg takedowns are telegraphed and will not be enough to get Garcia down. However, he doesn't have to worry about Leonard trying to put him on his back.
Advantage: Garcia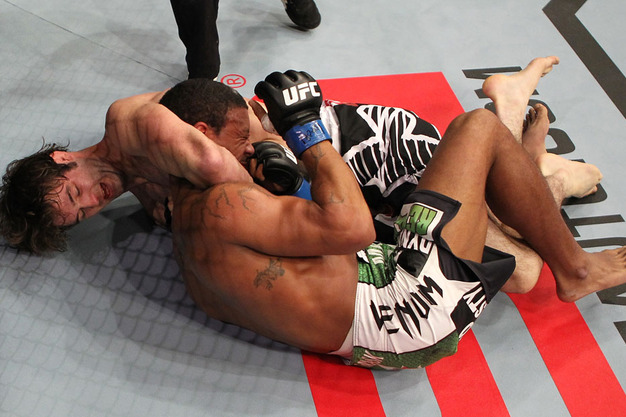 Photo: MMAgospel.com
With 13 wins in his career, Cody McKenzie has notched an incredible 12 submissions. What's more impressive is the fact that 11 of those submissions came by way of guillotine choke.
However, in two of his three losses, McKenzie was choked out by his opponent.
Ironically, despite his brawling nature, Garcia has nine submission wins of his own, which is thrice his total wins by any other method.
In addition, the only times that Garcia has been submitted, it was against WEC champion Mike Brown, or in the only Twister in UFC history.
It'd be easy to say that McKenzie has an advantage in this category, however, don't count out the grappling of Garcia.
Advantage: Push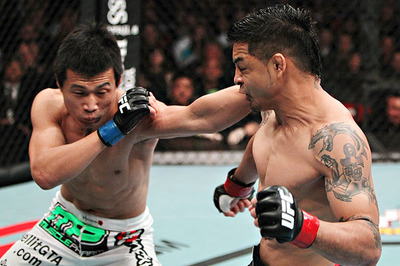 Photo: ESPN.com
Anyone who has ever seen Leonard Garcia fight has likely wondered, "How the hell is that guy still standing?". Most of his ability to absorb punishment is attributed to his granite chin that simply refuses to give in to even the most absurd amount of damage.
Cody McKenzie has never been knocked out, but in his last fight, he was finished by a single body punch from Chad Mendes.
Advantage: Garcia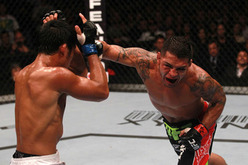 Photo: UFC.com
Other than the first fight of his career, Cody McKenzie has only been out of the first round on two occasions. Maybe it's a coincidence that McKenzie lost both of those fights, but it certainly doesn't bode well for the King of the Guillotine if this fight goes into later rounds.
That's not to suggest that Leonard Garcia is a cardio machine, because it's definitely not the case. However, Garcia can push the pace for 15 minutes, even when he is exhausted. The only difference is that his punches become more telegraphed and he is slightly slower.
The fact remains that Leonard Garcia has experience going the distance. In fact, nine of his last 10 fights have been determined (almost always erroneously) by the judges' scorecards.
Advantage: Garcia
Photo: MMAJunkie.com
There is not a single area of this matchup where McKenzie has an advantage. It's going to be hard for him to get this fight to the ground unless he starts working on his counters. He isn't going to win a striking match, and he can't match Leonard punch-for-punch through the duration of a three-round affair.
Don't let the losing streak of Leonard Garcia fool you. He is reckless and predictable, but dangerous at all times.
Garcia has solid power behind those looping hooks. If he smashes McKenzie once, I think we will see the TUF alumnus begin to circle the drain.
Prediction: Leonard Garcia defeats Cody McKenzie via TKO in Round 2.