Updated NBA Facial Hair Rankings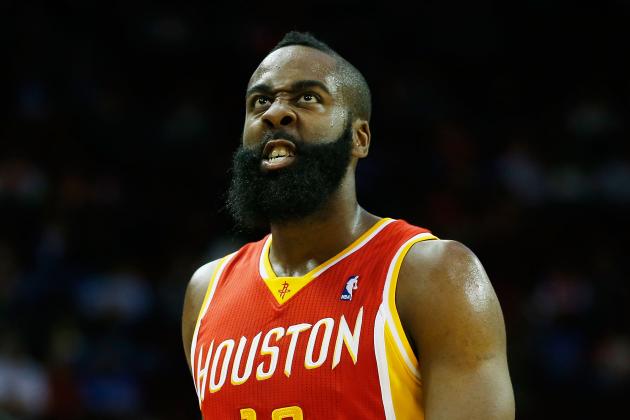 Scott Halleran/Getty Images
James Harden's beard sure is something.
At this point, there are more beards and mustaches in the NBA than there are NBA players.
Alright, so maybe that's not true. But it sure feels like it, doesn't it? Every team seems to have at least one player with some type of outrageous facial hair. Heck, James Harden and Reggie Evans are actually being marketed around their beards.
It's a hairy world out there. And in that world, there are some players sporting more memorable facial hair than others—at least this season.
It's not necessarily always better—sometimes it's way worse, actually—but memorable...certainly.
Begin Slideshow

»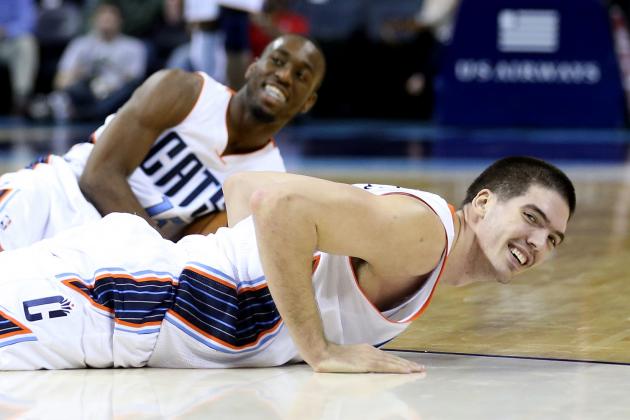 Streeter Lecka/Getty Images
The wispier the better, right?
While some people would choose to call Byron Mullens' facial hair "ugly," I would choose to call it "unique." Apples and oranges.
But even if you don't like it, you at least have to respect Mullens' dedication to his pencil-thin mustache.
His beard may change, but the mustache is always there. Byron has clearly realized that it's the perfect complement to his really thick eyebrows. Top notch.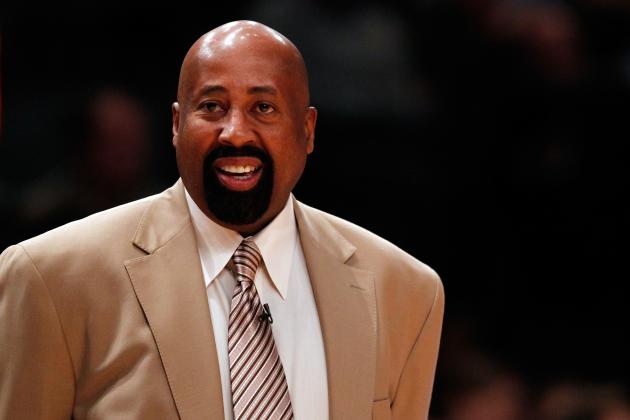 Jeff Zelevansky/Getty Images
Not a hair out of place.
It's a draw between the only two coaches worthy of making this list, the Los Angeles Lakers' Mike D'Antoni and the New York Knicks' Mike Woodson, mostly because they rock very different facial hair.
D'Antoni has the perfect dad mustache. Pretty much every forty-something father has, at some point, had what D'Antoni has right now. It's nothing fancy. Just respectable.
Woodson, on the other hand, has the most carefully maintained goatee in the NBA. It always looks the same. Always.
Believe it or not, Will Leitch of New York magazine actually wrote about Woodson's goatee once, saying (in an article ironically titled "The Anti-D'Antoni"):
His only real distinguishing attribute is that rather epic goatee, which is so solid and rectangular that it almost looks as if it's attached to his head by Lego. "It ain't hard to maintain," he says. "I've got a good barber."
When writers are setting space aside in their profiles to mention your facial hair, you know you're doing something right.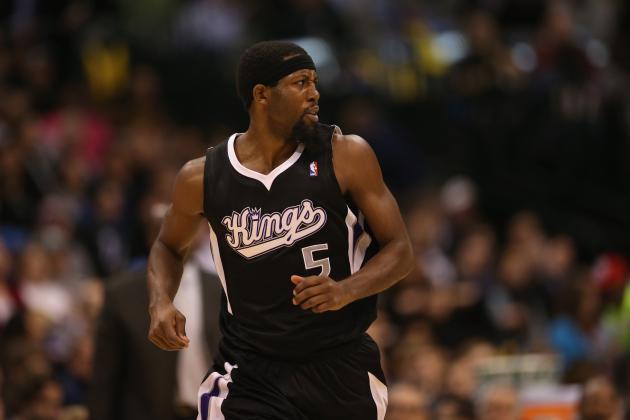 Ronald Martinez/Getty Images
Now that's a chin beard.
John Salmons comes in at a whopping No. 6 after narrowly beating out Kendrick Perkins and Rashard Lewis for the league's best chin beard.
Not that many men can pull off the almost-pharaoh look, but Salmons does it and does it with style.
What's maybe most impressive about Salmons' beard is its consistency. He's pretty much kept the same look for his entire career and never wavered.
We're talking about 13 years and four different cities. Andrew Bynum has changed his hairstyle like seven different times this season alone. Salmons deserves some respect.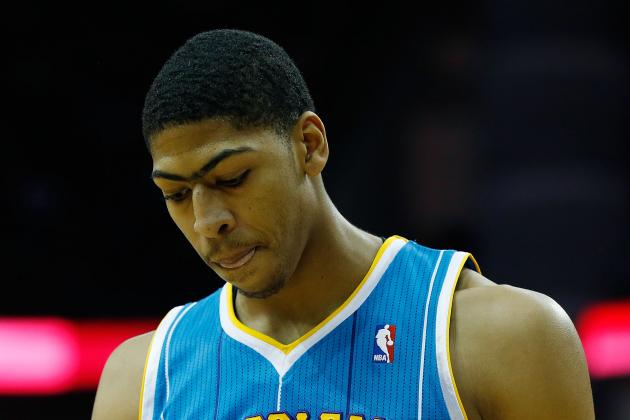 Scott Halleran/Getty Images
It's at least a unique look.
Anthony Davis is the only member of this distinguished list to be included thanks to facial hair above the eyes. And for those who are wondering, the unibrow won't be going anywhere anytime soon.
Davis has already said that he won't be shaving it, telling CNBC's Darren Rovell:
I might have a commercial where I'm acting like I'm shaving it and then I'll throw the razor down.
Exactly what kind of company would pay Davis not to shave remains to be seen, but it does sound like a pretty good idea for a commercial.
In the end, no one pulls off a unibrow quite like Davis does. And if you think that that's just because no one else has a unibrow, you would be wrong.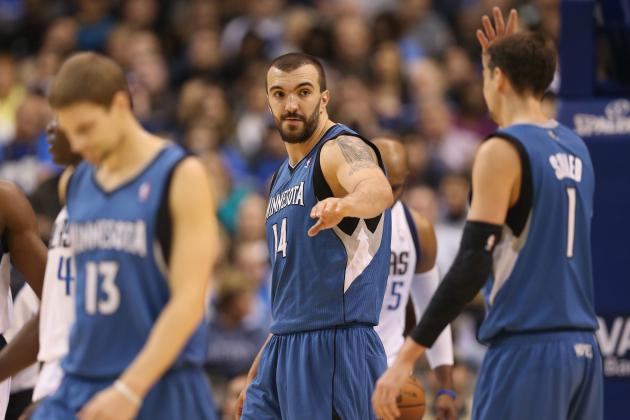 Ronald Martinez/Getty Images
Definitely more hair on Pek's chin than his head.
Nikola Pekovic has it all. He can't feel pain, he's quickly become a fan favorite in Minnesota and he's got some really great facial hair. What more could you ask for?
Pek's teammates Kevin Love and Ricky Rubio are sporting some pretty trendy beards of their own, but Pek's has to be considered the best of the bunch.
And what's funny is that everything we know about Pek pretty much demands that he have an awesome beard.
Pekovic recently described his favorite holiday meal as just "meat." He has a tattoo of a medieval knight standing on a pile of skulls. He also fights bears with nothing but his bare hands during the offseason (according to this totally real picture, anyways).
A man like that will have a killer grizzly beard 100 times out of 100. That's just the way it is.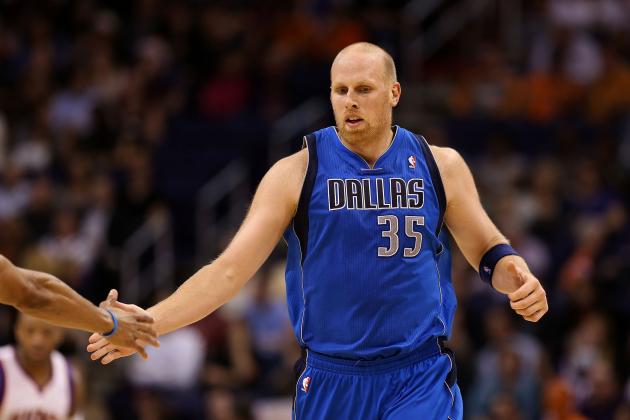 Christian Petersen/Getty Images
Just compare Chris Kaman's early season beard to later this season. Crazy stuff.
This is mostly a respect pick. Chris Kaman's pure dedication to the Dallas Mavericks' "don't shave until we hit .500" pledge is amazing.
Kaman's teammate, Vince Carter, recently said (per ESPNDallas.com's Tim MacMahon) that Kaman looks like "a man who lives in the forest," and honestly, when you see pictures of Kaman, it's hard to disagree.
Just look at that bad boy. If that doesn't evoke a healthy mix of respect, fear and laughter, then I don't know what does. There's nothing quite like a Grizzly Adams-style beard to help offset baldness, right? And when you throw in a black eye...that's just magic.
Okay, fine, it looks terrible. But still, dedication points alone put Kaman on the list. That thing must be incredibly uncomfortable.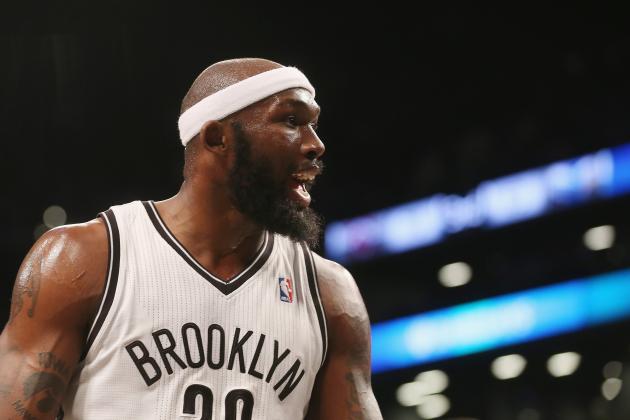 Bruce Bennett/Getty Images
Only one man could surpass a beard like this...
Tyson Chandler and Reggie Evans have some similar—and similarly great—beards. Sure, Evans' fuzz is fuller and a bit more unkempt, but at the end of the day, it's two great beards on two great enforcers.
Chandler and Evans also get dedication points because it's become very clear that having such huge beards can pose some problems. About a year ago, Chandler told Dallasnews.com's Eddie Sefko:
I started growing it out and I said I wasn't going to cut it until the end of the season. I don't know why I made that mistake because it's getting on my nerves at this point. But I said I was going to do it, so I'm sticking with it. It's so annoying when you eat and when you lay down. But it's something I did and I'm sticking with it.
Considering that his beard is even bigger, I'm guessing that Evans has pretty much the same problems. And if your facial hair is crazy enough to make laying down annoying, you deserve to be on this list.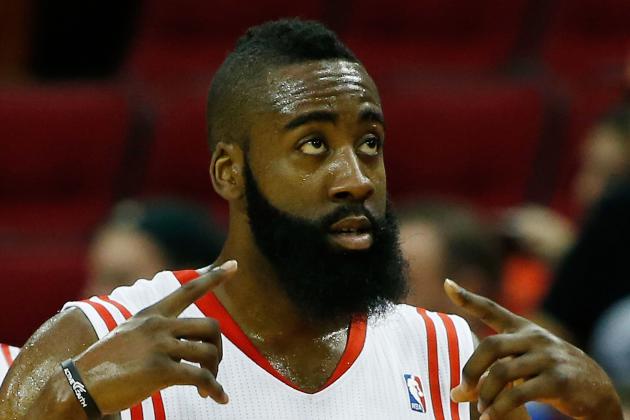 Scott Halleran/Getty Images
It's almost like two beards.
You knew that James Harden would be No. 1 before you even came to this slide, so let's just cut to the chase.
This is Harden with the beard. This is Harden without the beard (he's the one on the left just in case you couldn't recognize him). This is Jeremy Lin with the beard. This is Lin without the beard.
Enough said.