UFC on Fuel 8: Live Results and Play-by-Play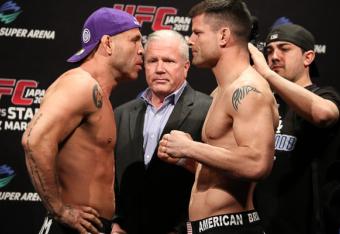 Brian Stann and Wanderlei Silva headline one of the most stacked cable TV cards of all time. Photo via Sherdog.com.

Tonight, we will bear witness to one of the most thoroughly talent-laden cards put together for free television in the UFC's history.
Obviously, the headline features the return to light heavyweight for former WEC champion Brian Stann, and former PRIDE champion Wanderlei Silva. Beyond that, though, there are a slew of intriguing matchups to look forward to.
Diego Sanchez returns to lightweight to meet Takanori Gomi in what is sure to be a back-and-forth slugfest. Dong Hyun Kim and Siyar Bahardurzada fight for a likely top-10 spot in the welterweight rankings. Yushin Okami and Hector Lombard do battle in a critical middleweight tilt. Stefan Struve and Mark Hunt collide to determine, perhaps, a heavyweight title contender.
And there's more! So stay tuned here, folks.
Main Card
Wanderlei Silva vs. Brian Stann
Mark Hunt vs. Stefan Struve
Takanori Gomi vs. Diego Sanchez
Yushin Okami vs. Hector Lombard
Mizuto Hirota vs. Rani Yahya
Dong Hyun Kim vs. Siyar Bahadurzada
Preliminary Card
Riki Fukuda vs. Brad Tavares
Takeya Mizugaki vs. Bryan Caraway
Cristiano Marcello vs. Kazuki Tokudome
Alex Caceres vs. Kyung Ho Kang
Marcelo Guimaraes vs. Hyun Gyu Lim
Brian Stann vs. Wanderlei Silva Official Decision
Wanderlei Silva defeats Brian Stann at 4:08 of round 2 via knockout.
Surprisingly, but not surprisingly, Wanderlei doesn't retire and walk off into the sunset. Still, it's hard to say he has many more fights left in him when he was knocked down three times in the opening round.
Regardless, that's all for me, folks!
Make sure to keep with Bleacher/Report for our post-fight coverage!
Brian Stann vs. Wanderlei Silva Round 2
Both fighters seem a bit more respectful of each others' power. Stann looks for leg kicks and jabs, but only successfully finds Silva's cup again.
Both fighters seem to simply feel each other out, as they throw precise kicks and punches sparingly.
With a minute left, Wanderlei lands a huge left hook and puts Stann on his back. Stann turtles up quickly, and the ref calls it to a close.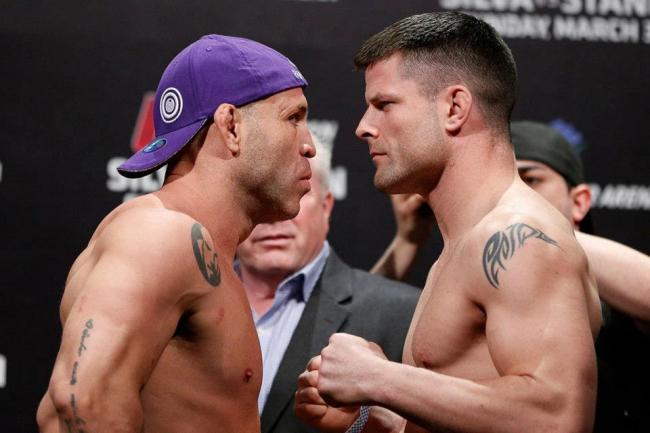 Brian Stann vs. Wanderlei Silva Round 1
An odd series of circumstances led to a light heavyweight bout between Wanderlei Silva and Brian Stann, who have both been competing as middleweights. Both are former 205 lb champions (Stann in the WEC, Silva in Pride) and both have serious knockout power.
Stann presses forward and lands a good hand. Wanderlei and Stann exchange punches. Stann eats one, Wanderlei falls to the ground, but clinches to avoid further damage. Wanderlei taunts Stann, and they both exchange wild punches before, again, Silva falls but survives.
Stann delivers a solid kick to the groin, resulting in a pause in the action. Wanderlei starts landing good jabs to halt Stann's advances as he tries to and leg kicks and crosses.
Again, the two fighters go wild on each other. First Stann falls, then Wanderlei falls. Stann winds up in Silva's guard and is gushing blood. He remains there until the horn, and shows off a good cut.
Ultimately, you've got to give this round to Stann. No way you can't do that when he knocks somebody down three times in a round.
10-9 Stann
Mark Hunt vs. Stefan Struve Official Decision
Mark Hunt defeats Stefan Struve at 1:44 of round 3 via Knockout.
Again, strange ending to the fight. Really seemed like Struve was looking to bait him into his guard rather than being unable to defend himself.
Mark Hunt vs. Stefan Struve Round 3
Hunt lands a huge punch to start the round, and visibly rocks Struve. Unfortunately, he has so little left in his gas tank that he cannot follow up on it.
Struve, too, is tired, and whiffs slow, wild punches. Hunt again rocks Struve, and floors him. After a delayed reaction from Herb Dean, the fight gets called off.
A strange call, honestly.
Mark Hunt vs. Stefan Struve Round 2
Hunt lands a big left hook to start round 2. We've seen Struve get knocked out in crazy fashion a few times before, making any hard hit scary for the big guy.
Hunt continues pressing and Hunt landsmore and more punches. Struve is doing a remarkably bad job at utilizing his reach as Hunt starts to land combinations. Hunt lands a sweet throw and gets into Struve's half-guard. Whether or not that's wise is another story.
Hunt decides to let Struve up, but Struve actually takes Hunt by the hand and pulls him back to the ground and tries to go for submissions. Struve takes Hunt down and gets into mount and pours down punches on him. He goes for a weird armbar, but forgets to control his arm, allowing Hunt to finish the round on top of him.
Tough to call...
10-9 Hunt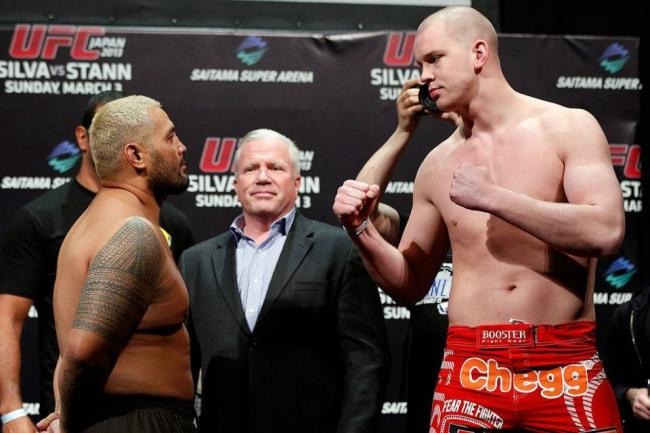 Mark Hunt vs. Stefan Struve Round 1
Once again, there are some dark horse title implications here. Stefan Struve has a solid four-fight winning streak and Mark Hunt is a heavy-handed fan favorite with three wins in a row.
Struve opens with some kicks, but Hunt responds with a looping right. Seeing the two fighters next to each other is absurd with Struve's height and reach advantages.
Hunt keeps landing punches and kicks, but Struve pulls guard. Struve sweeps and lands in mount position on top of Hunt, who shifts Struve into half-guard. Still a very scary place with somebody as skilled with submissions as Struve.
Struve goes back to mount and lands massive ground and pound. Hunt gives up his back and Struve goes for an armbar. Hunt resists, rolls, and gets on top of Struve. Hunt lands a big right hand, but Struve continues to threaten an armbar or triangle. with those long legs.
Hunt moves into side mount on Struve and starts landing hands to steal the round.
10-9 Hunt
Mixed responses to Gomi vs. Sanchez:
Whatever... I thought Gomi won... No need to call out the judges, they never know what they're doing anyways...

— Vinny Magalhaes (@VinnyMMA) March 3, 2013
@diegosanchezufc great win bro , keep building proud of you !

— Derek Brunson (@DerekBrunsonMMA) March 3, 2013
I had it 29-28 Takanori Gomi. Not a big fan of that decision. Judging just confounds me sometimes. #UFC

— Damon Martin (@DamonMartin) March 3, 2013
@diegosanchezufc great job brother!!! #GodBless #devineplan

— Colton Smith (@ColtonSmithMMA) March 3, 2013
Takanori Gomi vs. Diego Sanchez Official Decision
Diego Sanchez defeats Takanori Gomi via Split Decision (29-28, 28-29, 29-28)
Somewhat surprising that Gomi didn't get the home court advantage with the judges, but round one ultimately came down to whether the judges prefer modestly successful takedowns, or good-but-not-great striking.
Takanori Gomi vs. Diego Sanchez Round 3
While Greg Jackson encouraged Sanchez to go for takedowns, he seems even more reluctant. Gomi continues as the aggressor, but Sanchez ends up landing some solid jabs and leg kicks to stuff advances.
Gomi maintains the center of the cage for essentially the entire round. Sanchez lands a few hits, but not a serious number more than Gomi. Sanchez repeatedly gets tripped up trying for kicks. As the "ten seconds left" clapper gets clapped, Sanchez starts swinging wild, but fails to land any particularly hard shots. Still, Sanchez gets the round here, which makes the fight much tougher to call.
Takanori Gomi vs. Diego Sanchez Round 2
Both fighters exchange stand up. Gomi lands hands and Sanchez lands kicks. Sanchez gets warned for groin kicks by the referee.
Gomi quickly starts landing jabs and finds the range for hooks. Sanchez seems much more reluctant to shoot or kick after the warning, and Gomi continues peppering "The Dream" with leg kicks and hands.
Gomi starts looking for a one-punch knockout, and ends up whiffing a couple haymakers that Sanchez capitalizes on. He then starts freely landing jabs, and stuffing Sanchez's takedowns. Both fighters go back and forth from there, but neither really lands a particularly relevant strike.
10-9 Gomi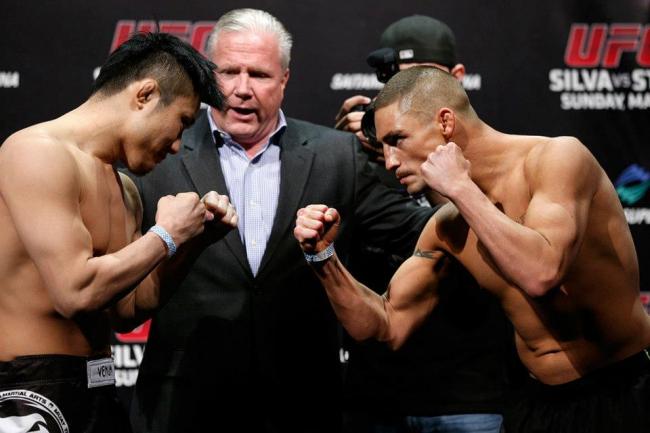 Takanori Gomi vs. Diego Sanchez Round 1
The front-runner for Fight of the Night! Diego Sanchez (more or less) makes his return to lightweight against former Pride great Takanori Gomi.
Diego Sanchez quickly takes the center of the cage and Gomi looks for his trademark right hand. Both fighters are looking for a homerun, but after a groin kick, Sanchez finds a single, lands some hands and then gets kicked off quickly.
Gomi gets a raucous cheer with each punch that comes remotely close to landing. Gomi lands a knee and gets taken down and Sanchez slips into a quick kneebar attempt that, initially, looked pretty solid.
Gomi lands a hard shot to the body, and Sanchez seems to have the wind knocked out of him, and the two fighters end up trading blows until the horn sounds with Sanchez charging through a takedown. Tough round to score, but have to go with Gomi's effective striking.
10-9 Gomi
Did Hector Lombard just become really fucking expensive?
— Trent Reinsmith (@TrentReinsmith) March 3, 2013
Yushin Okami vs. Hector Lombard Official Decision
Yushin Okami defeats Hector Lombard via Split Decision (29-28, 28-29, 29-28)
Remarkable, really, that this was a split decision. Okami dominated the first two rounds, and left no real doubt about it.
Yushin Okami vs. Hector Lombard Round 3
Lombard comes out swinging hard, and finds a few big punches. Okami, remarkably, is standing in there, rather than trying to grapple, but finds a few nice knees.
Okami goes to the ground and invites Lombard into half-guard. Okami squeaks away, and locks up a single. Lombard sprawls and lands hands before getting back on top. Lombard lets Okami back up, and Okami goes for another takedown, ditches, and lets Lombard get into half-guard.
It's a smart move by Okami, as he is very capable of keeping Lombard in place and avoiding a knockout. Lombard tries to finish, but ultimately cannot posture to get into position to land the necessary strikes.
10-9 Lombard
Yushin Okami vs. Hector Lombard Round 2
Okami opens things with a nice knee down the pipe, and starts to demonstrate some solid hands. Lombard is already showing some fatigue partway into the second round, and Okami is capitalizing by landing jabs and slipping away.
Okami drives through Lombard for an impressive single-leg takedown (keep in mind, Hector Lombard is an accomplished Judoka). Okami spends a length of time above Lombard before getting into mount with 40 seconds left. Okami spends the rest of the round there, and easily takes another round.
10-9 Okami
Yushin Okami vs. Hector Lombard Round 1
Another big fight on this card, with two fighters desperately looking to cement themselves among the elite in the middleweight division. Hector Lombard is deceptively close to a title shot, given his relative fame while Yushin Okami is just a generally great fighter.
Yushin Okami starts pedaling around the cage, rightly fearful of Lombard's power punching. Lombard goes for a leg kick, but Okami instantly catches it and gets a single leg takedown. Lombard gets up remarkably quick, and gets back to work standing.
Okami is demonstrating solid head movement, but Lombard keeps finding homes for his hands. Okami finishes another solid single-leg takedown. Okami gets into half-guard, and starts landing some solid ground and pound.
Lombard works things back to the feet, but Okami keeps him pressed to the cage and lands knees and punches. The horn sounds there, which knots things up for Okami.
10-9 Okami
Mizuto Hirota vs. Rani Yahya Official Decision
Rani Yahya defeats Mizuto Hirota via Unanimous Decision (29-28, 29-28, 29-28)
Mizuto Hirota vs. Rani Yahya Round 3
Yahya keeps looking for early takedowns, but Hirota bruses them away, until he starts sprawling over Yahya. Yahya ends up leaving an arm out there, and Hirota locks up a quick triangle, but Yahya ends up surviving by threading his other arm back into Hirota's legs.
Yahya ends up back into a dominant position, until Hirota gets up and takes things back down. Hirota lands some ground and pound but gets back up. Yahya is visibly tired, and the crowd is up and cheering. Hirota begins pouring it on, but Yahya clinches and ends up saved by the bell.
10-9 Hirota
Mizuto Hirota vs. Rani Yahya Round 2
Yahya again gets top control early, and locks up an arm triangle, then gets to side control. He holds it for a good while, and it seemed like he would get it, but Hirota miraculously survived (for now).
Yahya still has top control, and uses tat to land ground and pound. They shift advances, but Yahya ultimately keeps superior position from bell to bell.
10-9 Yahya
Mizuto Hirota vs. Rani Yahya Round 1
Mizuto Hirota has a lot of gold between his Cage Rage, Sengoku and Deep belts, but is best known for having his arm snapped by Shinya Aoki in 2009. He joined Strikeforce in 2012, but lost to Pat Healy, meaning his job with Zuffa is likely on the line. WEC veteran Rani Yahya, meanwhile, has not strung together wins since 2009, and is 2-3 over is last five.
Two guys with their jobs on the line.
Hirota ends up nearly having his arm taken in the first minute, but Hirota slips out. Yahya pulls guard, and ends up getting a sweep to get into top position half-guard. Yahya gets forced off, but lands a big takedown get right back to work with ground and pound.
With thirty seconds left, Yahya threatens with a kimura, and then goes for back control until the bell rings. Easy score here.
10-9 Yahya
Dong Hyun Kim vs. Siyar Bahadurzada Official Decision
Dong Hyun Kim defeats Siyar Bahadurzada via Unanimous Decision (30-27, 30-27, 30-27)
Sitar needs to learn some BJJ.White Belt
— Ben Askren (@Benaskren) March 3, 2013
Dong Hyun Kim vs. Siyar Bahadurzada Round 3
Again, Bahadurzada goes for the big punch. Again, Kim lands a big takedown early on, and starts off in side control. He then jumps into a crucifix position, and then goes to mount for the third time this fight.
Kim lands a huge, crafty knee while he has an arm triangle locked in. Bahadurzada defends the arm triangle, but once again does little to try and remedy Kim's superior position. The crowd starts to boo, but Kim responds with some huge elbows and punches.
Again, Kim taunts his opponent and goes for huge punches. Bahadurzada finally gets Kim out of mount position but, ultimately, the horn sounds with five excellent minutes of DHK ground work.
10-8 Kim
Dong Hyun Kim vs. Siyar Bahadurzada Round 2
Again, Bahadurzada looks for a big right hand. Kim works the fight to the cage and starts going for singles, and finds one a minute into the round. He lands in side control, and works towards mount.
Bahadurzada rolls over, but Kim holds on and ends up in a reverse north-south, and then goes for his back. Kim then works his way back into mount position, and goes for light punches. Bahadurzada seems to be very content in letting Kim out-work him on the ground, and Kim actually starts taunting, and goes for Donkey Kong-style double hammer-fists.
The round ends with "Stun Gun" securely in mount position.
10-9 Kim
This article is
What is the duplicate article?
Why is this article offensive?
Where is this article plagiarized from?
Why is this article poorly edited?