The Ultimate Fighter 17, Ep. 6 Live Play-by-Play: Tor Troeng vs. Josh Samman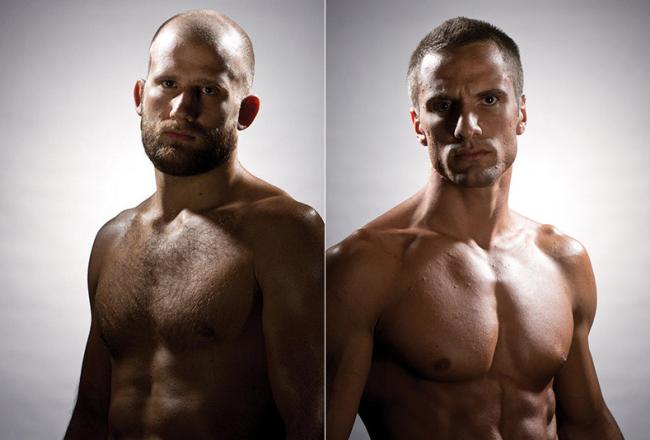 Can Team Jones' Josh Samman (right) overcome various injuries to defeat Swedish slugger Tor Troeng?

Season 17 of The Ultimate Fighter continues Tuesday night at 9 p.m. PT/ET on FX with the middleweight tournament between Team Jon Jones and Team Chael Sonnen, and MMA fans are in for a real treat tonight.
In one of the most evenly-matched bouts of the season, Team Sonnen's Tor Troeng will attempt to put away Team Jones' Josh Samman in a highly-anticipated battle.
Compared to their teammates, Troeng and Samman are two of the season's highest ranked fighters, carrying an impressive 24-6-1 record between both of their respective careers.
(Check out the full list of competitors and team rosters.)
As such, both men are so dangerous that many of the other cast competitors have outright avoided fighting them, as Sonnen candidly pointed out in Episode 5 when he set-up the match (read the full episode recap here).
However, Team Jones' No. 2 pick may be going into the fight with injuries, as Jones and his coaching staff have noticed Samman's frequent attempts to manipulate their match order.
'Question is, can Team Sonnen's elite Swedish capitalize against the series' villain?
UPDATE: Check out the full episode recap and results right over here, with impressions and thoughts on the Bubba McDaniel vs. Kelvin Gastelum fight.
Here's your full episode recap.
• TUF 17, Ep. 6 Results and Recap: Tor Troeng vs. Josh Samman Ends in a Vicious KO
This was a pretty good one all around, with lots of conflicts in and out of the gym.
It's surprising that Josh Samman of all people is the "Team Mom" for his crew, though.
(Maybe he's just a control freak.)
And once again, it's entertaining to see that Uriah Hall is rubbing everyone the wrong way—FX should change the show's name to "Everybody Hates Hall" or something.
Preview highlights for the next episode:
• Josh Samman goes to the hospital for surgery, due to his leg injury.
• Someone takes off their shirt in a Hooters, or some sports bar.
And that's it for the episode, folks—full recap and a new poll coming up soon.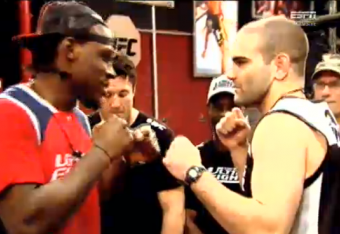 Chael Sonnen consoles Tor, who seems despondent about losing.
Samman comes into Team Sonnen's locker room and gives him a hug.
Hall isn't impressed.
Hall: "Josh is that guy in a movie, you want to see him get his ass kicked."
Everyone's at the fight picks, and Jones selects Clint Hester vs. Jimmy Quinlan.
Sonnen is confused, as he claims that Quinlan is a vastly superior grappler to Hester and will likely keep him on the mat during the fight.
Recapping the fight, Sonnen says that Tor didn't have a sense of urgency.
Sonnnen: "For whatever reason, he doesn't practice this, but Tor always drops his hands."
Heh, Samman asks his team if he did anything wrong.
Samman: "I'm pretty sure that I'm the No. 1 guy in the house right now."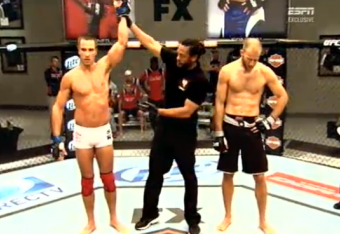 Result:
Josh Samman def. Tor Troeng via KO, Round 1
(Team Jones improves to 2-3 against Team Sonnen.)
That finish came out of nowhere, folks!
Tor looked like he tiring as the fight went on, and Samman just caught him with his hands down. That's a good win for Team Jones.
Judging by comments online, Samman isn't too popular, so I'm sure people won't be happy he won.
Tor Troeng vs. Josh Samman
Round 1 - Brief feeling out period starts off the round. Josh Samman blitzes forward hits Tor with a solid 10-punch flurry that backs him up against the cage fence.
Samman goes to the clinch and grinds Tor against the fence. Tor has some trouble getting his bearings, but eventually gets the better position.
Tor lands some knees against the fence and Samman starts looking for a way out.
Tor gets a trip takedown and hits some ground-and-pound before backing off. Chael is telling Tor stay on top of Samman, and Tor goes to the ground to deal some more damage.
Samman hits a beautiful sweep from the bottom, stands up and almost takes Tor's back. Tor fights for a bit, but drops to a knee and leaves his head wide open.
Samman hits Tor with a big flurry against the fence, but Tor grits through it and presses Samman against the fence. Samman reverses the clinch, and throws knees to the legs against the fence.
OH OH! SAMMAN KOs TOR!
Herb Dean jumps in as Samman catches Tor with his hands down! Tor is out! That was a good fight. Impressive, great win by Samman!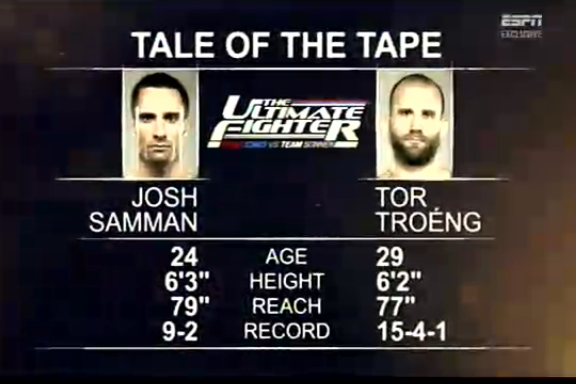 Here we go!
Tor is relaxing at the house and says he wants a stoppage win.
Samman says that "no one" in the house does as much cardio as he does, and he starts waxing about metaphysical warrior stuff while getting ready for the fight.
Chael Sonnen gives Tor a pep talk, and both guys look very healthy.
This is gonna be a good one, folks—can't wait to see these bros bang, bro.
Both Tor Troeng and Josh Samman make weight, and the match is official.
Uriah says that this could be the fight of the season—and I'm sure that Kelvin Gastelum hopes it isn't.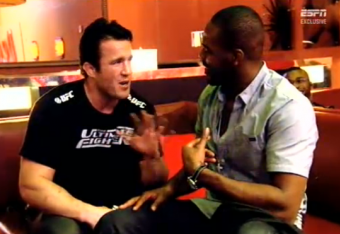 We've at a bowling alley, and Jones is cutting an interview.
Chael Sonnen jumps in, though, and makes a bet with Jones that he can beat him in a bowling match.
FINALLY! Some inter-coach conflict!
Jones isn't bad at bowling, and he gets a few good hits. Sonnen, on the other hand, is just FLINGING the ball at the pins, not even bothering to roll it.
As the set comes to an end, Jones loses the match by a few pins, which means that he has to coach a session wearing a "Team Sonnen" jersey.
Heh, what a silly challenge—but pretty fun to watch, though.
Next morning, Uriah Hall seems unapologetic about the spat he had with Team Jones.
Uriah talks to Bubba about it and says Josh Samman is a "dick".
Hall: "I don't want to be involved with them. I don't want to give away time to something that's stupid. I just want to go in the ring and smash. I want to talk with my fists."
This guy frightens me now.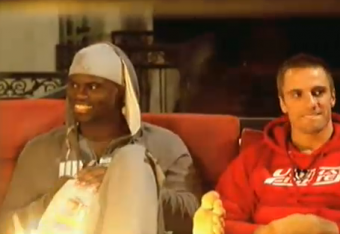 Daaaaaamn.
Uriah Hall is taking Team Jones to ask for being bullies, and tells them that he doesn't like being bullied.
I missed it, but he apparently called someone's girlfriend a "bitch" just a minute ago.
Collin Hart says Uriah has "hatred in his heart" and that he's a loose cannon.
Samman: "I have no ideas what issues he has, but he's distancing himself from everyone else. It's like he's bullying us."
That was the most house drama I've seen on the show yet (because Jones and Sonnen don't do anything).
Back at the TUF house, everyone's talking about who they want to fight in the next round.
Smells like trouble.
Uriah Hall says that he wants to like Luke Barnatt next, and Barnatt is PISSED. Barnatt doesn't like that Hall would say that when they're still on the same team.
Kevin Casey agrees and says that Team Sonnen "doesn't need the division at this time."
Uh-oh, things are getting heated and all the fighters start talking trash.
Hall: "Watch your friends. They can turn into your enemies just like that."
Barnatt is still pissed, saying that Hall is "cuthroat" and doesn't look out for the team.
Pretty awkward stuff. Barnatt says that Uriah Hall would be better off on Team Jones. Next scene shows Hall hamming it up with Team Jones, and they try to convert him to their side jokingly. Hall admits that he may have been in the wrong to call out Luke.
Good to see my homeslice Tor getting the spotlight on TUF. He and Urijah Hall are the most complete fighters on the show — smoogy (@smoogymma) February 27, 2013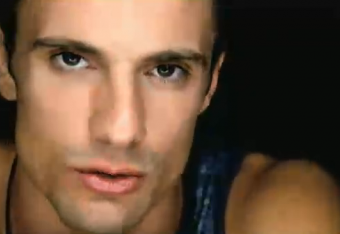 Interview time, and Jon Jones talks about Josh Samman having a well-rounded skill set with "great triangles from the bottom."
Samman interjects with stories about how he was a gifted student and the tournament being a stepping stone for his MMA career.
Samman: "This is my path to greatness, so to speak."
Jones seems to know what's up, tells his team to keep his No. 2 picks in good spirits and says they need to make sure Samman doesn't get pranked at the TUF house.
Team Jones talks about Josh Samman being a team mother.
Footage shows Samman leading the team in group exercises at the TUF house, managing their diets and essentially acting as a coach.
Everyone seems to take it in stride, though.
Hilarious exchange between Samman and Clint Hester: "Damn Clint. Stop eating carbs after 'dem workouts, bro."
Back at the TUF gym, Samman talks about a recurring injury he has in his quad, detailing the doctor telling him that he could've lost his leg before going under for surgery.
Brrr, that's some creepy stuff to hear.
Words of wisdom from Tor.
Speaking is silver, silence is gold. #TUF — Nathan (@ACCBiggz) February 27, 2013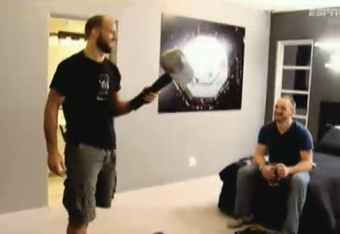 Well, that's cute.
Everyone couldn't miss the obvious pun, so they made Tor a hammer out of duct tape and piping.
We cut to a training sequence, and Luke Barnatt talks about Uriah Hall hitting him with hard jabs and being a terrible training partner.
Hall: "Dude, have you seen the SIZE of you?"
Luke steps away from Hall and criticizes him for having a bad attitude.
Barnatt: "We're a team. We should be thinking about Tor's fight."
More camera with Tor, and he's talking about how MMA fighters tend to underestimate European fighters, obviously setting the ground for Tor's interview.
Tor talks about his full-time university job, and not liking having to sit in front of a computer all the time.
OK, we're live.
First segment has Bubba, dismayed about losing to Kelvin. Jones says that he has no damage, so Bubba could be ready to fight if he's a wild card pick.
Josh Samman says that Tor Troeng isn't a finisher, and that he's not worried.
Chael Sonnen: "Tor is a sleeper. It's definitely a winnable fight."
This is the most camera time we've seen on Tor so far.
Team Sonnen seems to have no idea how Tor will approach beating Samman, Kelvin notes.
Here's something interesting.
Josh Samman apparently tried out for TUF four times and didn't make it.
That's rough.
Wonder what made the difference this season?
Ultimate Fighter: Samman's Straight Talk
OK, let's recap the tournament while we're waiting.
So far, Team Sonnen's leading 3-1 on Team Jones, with Uriah Hall as the favorite to win the show.
As it stands, Team Jones has their two top picks and their No. 7 pick left, while Team Sonnen has all their mid-level guys on standby.
(Note: Winners are in bold, losers are scratched off the list and the next competitors' names are in italics.)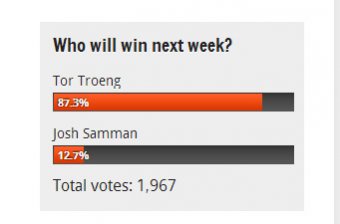 Team Jones:
1. Clint Hester (7-3)
2. Josh Samman (9-2)
3. Robert "Bubba" McDaniel (20-6)
4. Gilbert Smith Jr. (5-1)
5. Collin Hart (4-1-1)
6. Adam Cella (4-0)
7. Dylan Andrews (16-4-1)
Team Sonnen:
1. Luke Barnatt (5-0)
2. Uriah Hall (7-2)
3. Zak Cummings (15-3)
4. Tor Troeng (15-4-1)
5. Jimmy Quinlan (3-0)
6. Kevin Casey (5-2)
7. Kelvin Gastelum (5-0)
Tor Troeng looks to be the heavy favorite tonight, both on-paper and per your votes in last week's poll, which isn't surprising, given his record.
But to Samman's credit, he beat the hell out of his opponent in the qualifiers, and he was Jon Jones' No. 2 pick ahead of even a seasoned veteran like Bubba McDaniel, for what that's worth.
All right, ladies and gentlemen, we've got two hours until "go time".
I'll be filling in small updates until the episode airs on the East Coast at 9 p.m. ET, so check back here for poll results, videos and more.
Oh, and I've been hearing you guys complaining about spoilers, so we'll try something different.
Hopefully, the programming team doesn't bork it, but I'll fix the headlines to not give away who won the Tor Troeng vs. Josh Samman fight tonight.
This article is
What is the duplicate article?
Why is this article offensive?
Where is this article plagiarized from?
Why is this article poorly edited?